The Journey to Designing Your Wedding Cake
Even though dessert normally comes last on your reception day, deciding what type of dessert or wedding cake you want to have is a crucial part of the wedding planning process. There are a few things that you want to make sure you do as you start thinking about what kind of cake you want to have:
Have your big wedding details figured out before you purchase a cake
Having certain pieces of information - like location, guest count, and general design concept - in mind is crucial to getting a cake that meets all your needs. The more details you have when you meet with bakers, the better they'll be able to create a confectionary masterpiece that lives up to your vision. No detail is too small—bakers sometimes even bring in textures from the wedding gown or the types of flowers in your bouquet! Make sure you have a strong idea of your big day even if you don't have too many specifics in mind for the cake itself.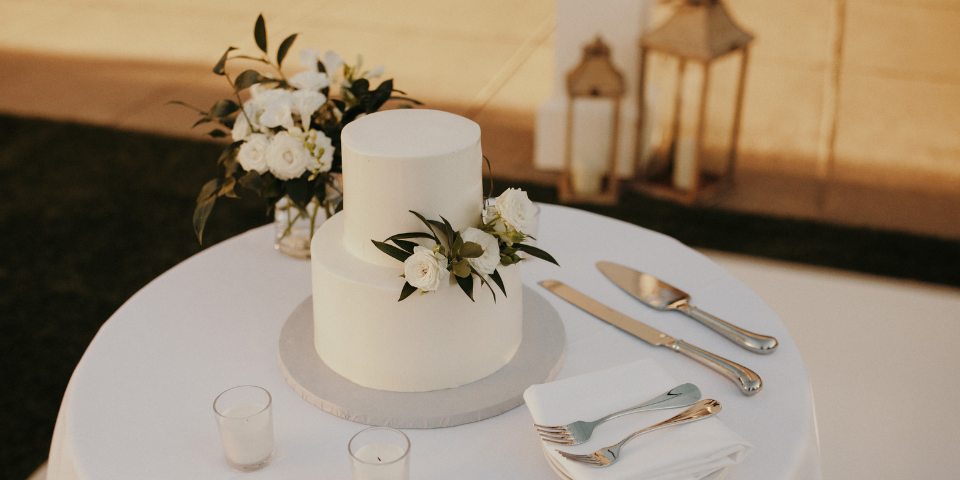 Have a budget laid out
Unlike other cakes, wedding cakes are usually priced by the slice. This is one of the reasons why it's important to have a rough headcount for the reception before making any cake decisions. It also means you'll have to plan out your cake based on what you can afford. Usually, more flavors means a higher price. The same goes for complicated shapes and decorations. Be sure to communicate with your baker about what your budget is so that they can create a cake that doesn't break the bank.
Don't forget about the venue specifics
While it may seem odd to match a cake to a location, it's important to think about the specifics of your venue before you make any cake decisions. If you're getting married outside in the middle of July, avoid frostings like buttercream or whipped cream. They'll probably melt before you ever get a chance to enjoy them! If your reception is in a giant ballroom, think about adding some more tiers to your cake so that it conveys the same sense of height as the space around it. We've even heard from an expert that buttercream frosting can sometimes absorb smells (like smoke) from its environment. So, if you're planning on enjoying your cake around a fire or hiring a smoker for a BBQ dinner… maybe consider fondant.When you've decided on a baker, it's time to realize all of your cake dreams! Here are a few things to keep in mind as you're planning out your cake design:
Height
As we've talked about, you may want to base the height of your cake off of your reception space. However, height is an important design consideration no matter where you're holding your reception. Make sure you're considering both how many people you have to feed and your overall wedding style. If you're not into the idea of a tall, tiered cake, we love the look of multiple single tiers on pretty cake stands! Feel free to find a balance that works for you!
Color and Theme 
The options for cake decorating are pretty much endless. Start by considering what accent colors might tie your cake design into the overall theme of the wedding. Or, go all out and make the whole thing colorful! Much like wedding dresses, while tradition may tell you to go for something white, a wedding cake is defined by being a cake at a wedding, not by its color. Wedding cakes can even be metallic.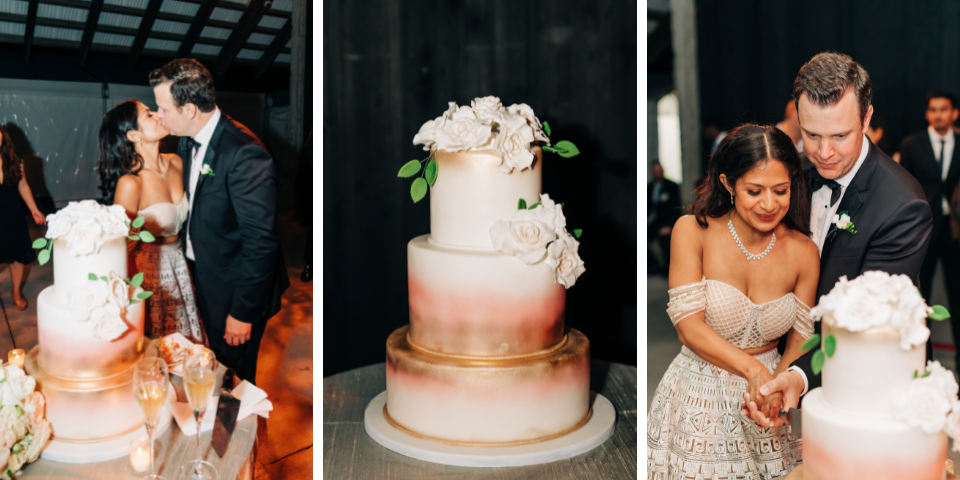 Texture
Besides color, texture will have the biggest impact on what your cake ends up looking like. Do you like the look of soft, fluffy cakes or sleek, smooth cakes? Do you like spiky frosting or sculpted edges? Don't worry if you don't have all the language of cake decorating down pat, just get a sense of what looks you like and your baker will be able to make it work. Be sure that you're considering how the color and texture will work together to create a fantastic final result. 
Toppings
Once you've decided on the height, color, and texture of your cake, it's time to think about toppings! Much like accessories, toppings are what will give your cake its personality and charm. You may go with flowers, fruit, or icing ribbons. You also might think of topping your cake with something that isn't edible. While some couples stick with the traditional cake toppings, others go for something that fits in with their theme like a fondant maple leaf for an autumn wedding or a monogram of their initials. 
A Wow Factor
All of the above are basic ideas to get you started on your wedding cake design, but we highly recommend that you seek out inspiration before meeting with your baker to talk about design. It's time to hit Pinterest, Instagram, and Google to see all of the amazing wedding cake designs people have come up with over the years. Whether you're drawn to something simple and homey or something extravagant and colorful, having examples to show your baker will help communicate your vision more clearly.
COVID-19 Friendly Desserts
If you're looking to have a safe and COVID friendly dessert celebration, consider designing something that your guests receive on personal plates. For example, some bakers have designed cakes that are baked in individual cake jars so each guest can have a personal dessert experience. Another option is to offer bite size items like cookies, brownies, doughnuts, or churros. Regardless of the dessert you choose, make sure to discuss your concerns with your baker or caterer up front so they have time to accommodate.