As you're looking for caterers, make sure to ask about sample menus and see if you can do a tasting before signing a contract with them. Understanding what they have to offer in the menu department should be a key part of the research process
The Main "Menu" Event
 Each catering company is different and will have different expectations and experiences, so be sure to go into each meet-and-greet with a fresh set of eyes and an open and mouth… mind, sorry! Caterers will want you to have the best experience possible with their food, so be honest (but respectful) about menu items that don't sit right with you. Be sure to talk about the logistics like how many guests you're expecting, any dietary restrictions, any allergies they should be aware of, and a general expectation for how many options will be provided. Caterers will have different amounts of flexibility with their menu offerings, so be sure to make your expectations clear upfront.
If you're opting for a sit-down dinner, this is a good time to review the timeline for your reception so that you can plan out a rough dinner timeline. Think about how many courses you want and roughly when you'd like them to be served. Be sure to mention any other food requirements you might need throughout the evening: late-night bar snacks, pre-reception munchies, etc. Also, talk with your caterer about how far in advance they'll need to know final menu numbers so that you can be sure to gather that information from your guests and pass it along.Ultimately, the most important thing is finding good food that fits the feel of the wedding you're going for. That might be brick-oven pizzas, Texas BBQ, a raw bar, duck confit - the options are limitless and you know best! Understanding and articulating the feel you want your guests to get from your menu is key to developing a productive relationship with your caterer.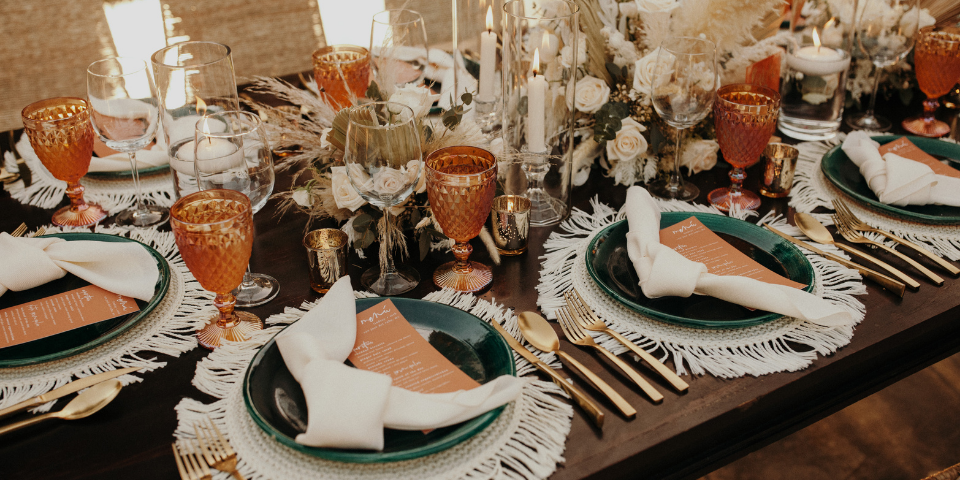 Feeding the Masses: The Flow of Service 
After you've decided on the menu and what will be served, it's time to discuss when things will be served. As we talked about in
Course #4
, flow is everything when it comes to planning a big event. This will become especially apparent when it comes to food service. 
The first step to managing your food and beverage flow is understanding exactly what you're offering. As we discussed in the menu section, making a decision about what type of food service you're offering—buffet, served dinner, passed appetizers, etc.—is crucial to making the necessary plans with your catering staff. The next step is understanding a general timeline of the evening and answering questions like when you want food to go out, in what order you want people to be served, which tables should be called to the buffet first, when next courses should be served, and what time dinner should be finished and cleared away. Remember, your caterer may not be responsible for making all those decisions for you. You should talk to your wedding planner and do some serious brainstorming on your own about what you want the event to look like so that you can communicate clearly with the caterer.
Also, remain open to their professional advice. Once you've decided on the flow, it's important to consider the amount of staff you'll need in order to bring your vision to life. A sit-down dinner will probably require more staff than a monitored buffet line, but understanding the scope of what you're asking for and what it will take to get it accomplished is an important part of being a respectful and informed client. Caterers aren't superheroes! As you finalize the timeline for the evening, make sure to communicate it to any other vendors that may need to be in the know. Think about the DJ or band, the bartenders, and any venue staff who may be helping with general logistics. Ensuring that everyone understands the timeline will make sure that they can do their best to help keep the flow flowing.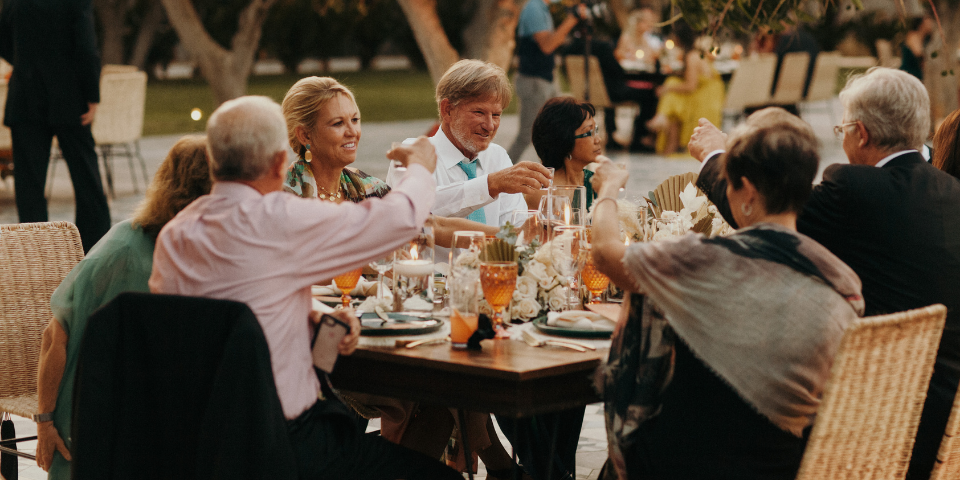 Be sure to think through these details well in advance of your wedding day so that when it comes, you can relax while you watch everyone enjoying their meals. This is just another reminder that being organized pays dividends. Be sure to ask for help wherever and whenever you need it, and don't be afraid to ask for advice from the vendors you're working with - they're experts and have seen countless weddings! As long as you are respectful and kind, they'll be more than happy to work with you on a plan that will work the best for everyone. And as long as you're really excited about the food and mindful of the event logistics necessary to keep a good flow for food service, we're positive you're going to have a wonderful catered experience.