Choosing Your Wedding Menu
When thinking about food on your wedding day you first need to establish what type of meal you want to serve. If you and your partner are big foodies and love trying different cuisines, then catering may be a focal point of your wedding.
To get started, we've included some basic questions below for you and your partner to answer to help nail down your wedding menu. 
What are some of your favorite restaurants?
What are some of your favorite dishes?
Do you have a favorite cuisine?
Do you have favorite flavors?
Do you have any family recipes or dishes that you would consider incorporating?
What are your favorite appetizers or hors d'oeuvres? 
Do you prefer plated meals over buffet style?
Do you love 3-course meals or do you like your meals a bit lighter?
Use this download to organize your thoughts:
Once you've established your favorite foods and dishes, you then need to consider the different styles of catering services available. What we're talking about here is how the food will actually be brought to your guests. Remember, there are multiple options and depending on the one you prefer, this could be where a bulk amount of your budget is going so make sure to spend some time considering all options before you make your selection. 
Buffet Style
A buffet-style meal service is perfect for couples who want to have a more informal wedding reception. Buffets are also popular due to the fact that you can personalize the food to your liking. Feel free to add fun options like a S'mores or a carving station! Remember that buffets still usually require staff to help with serving guests and ensuring food is properly heated and plated. 
Cocktail Style
A cocktail style service offers guests a variety of hors d'oeuvres instead of one, big sit down meal. This is great for couples who don't want an overly formal wedding and those who want their reception to feel relaxed and comfortable. The great thing about this option is that there are TONS of hors d'oeuvres to choose from. You can be assured your guests won't go home hungry.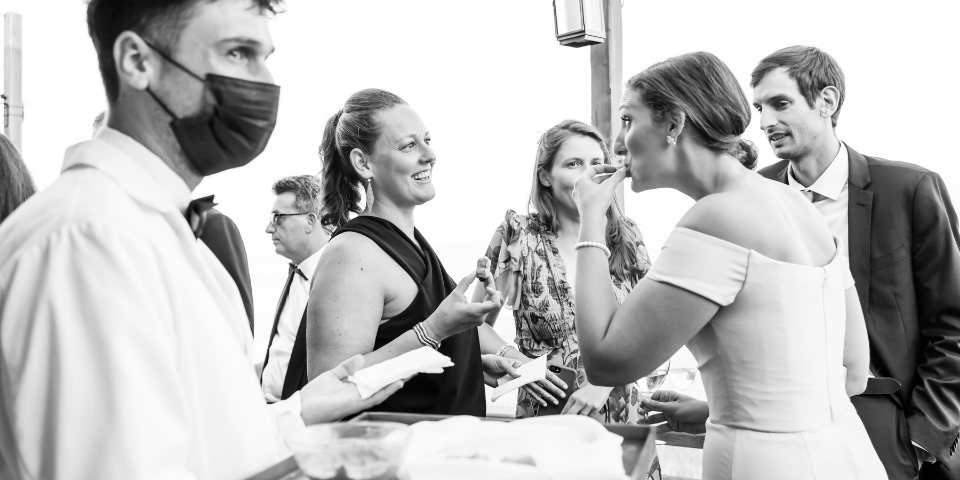 Family Style
 A family style dinner is similar to a plated sit down service. The main difference is that you pass platters of food throughout your table just like you would at home. This is a great option for smaller weddings and if you're trying to get your guests mingling!
Food Stations
Like a buffet, food stations are more relaxed alternatives to a sit down meal. The main difference is that food stations aren't usually placed on one long table. Instead, they're normally scattered throughout the room. This encourages guests to get up for food whenever they'd like to. This option is great for couples who don't want their guests to feel free and comfortable during the meal.
Food Truck
Having food trucks at weddings is becoming more and more popular as many couples are branching away from traditional catering options. The possibilities are endless when it comes to the kinds of food you can buy from food trucks these days, not to mention it's a fantastic photo-op for your guests!
Plated / Sit-Down
A plated, sit-down dinner is a more traditional route to take when it comes to planning your meals. This style allows you to highlight elegant decor elements and beautiful centerpieces on every table, which makes this a wonderful option for elegant wedding receptions. This option is also perfect for elderly or disabled guests as they won't need to worry about getting up for their food!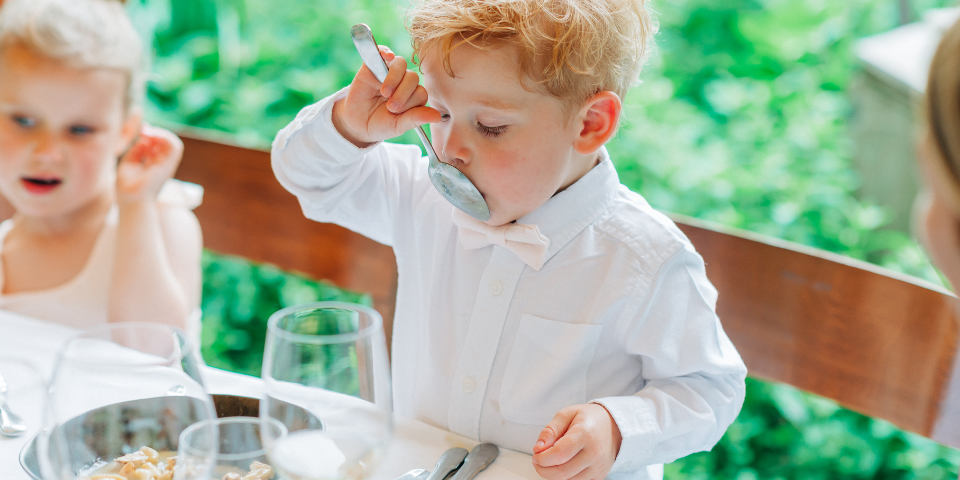 Potluck
A potluck wedding reception is a wonderful way for guests to come together. It's ideal for couples who want their families to work together in celebrating their love and marriage. Another great perk? Picky eaters will rejoice when they see how many tasty options they have to choose from!