Wedding 101
Why Wine Themed Weddings Are THE Wedding Trend of 2023
Enter to win a 2.6 lab grown diamond ring, complimentary suit or tuxedo rental, photography and day-of coordination.
Let's face it, you have a lot of decisions to make in order to plan your big day!  You've likely never planned such a huge event in your whole life and likely never will again.  You need a roadmap and a guide to plan the most spectacular day filled with gorgeousness, love, and memories made, and most importantly you're trying to plan your wedding without losing your mind.  In addition, you and your partner will evolve and change over time, as will your tastes.  So, your wedding day choices should stand the test of time.  The last thing you want is to look back on your photos in decades, shaking your head in regret, wishing your photos did not look so dated.  The challenge, then, is to create long lasting memories you will always cherish.
Enter, the Wine Themed Wedding
Like your unique love, wine is timeless. A single bottle of wine captures a moment in time that will not be repeated. In it, the very essence of mother nature who provided the sun and the rain that caused the grapes to grow, the vineyard workers who picked the grapes, the winemakers who lost sleep creating their art, and the countless cellar workers and delivery people who eventually brought the bottle to your local wine store or winery shelves. These workers stories and lives live on in this beautiful beverage we call wine, and the love of their craft can be tasted in the result of their labors. Winemaking is an art, a labor of love. And its timeless nature can convey a sense of elegance to your wedding day.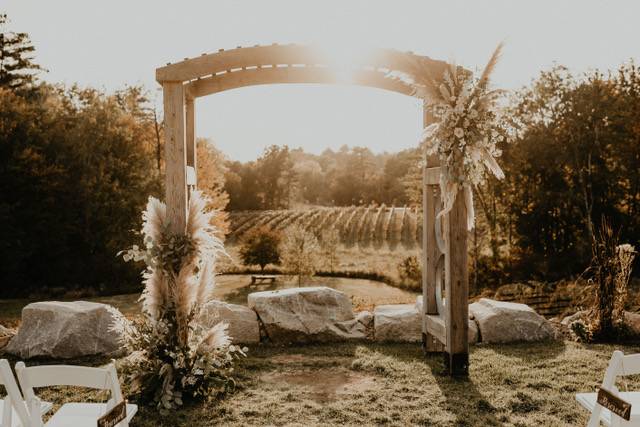 Selecting a wine theme for your wedding alleviates stress in decision making, streamlines options and choices (too many options from which to choose is NOT good).  Every single decision can be made through the lens of wine.
As the owner of and winemaker at LaBelle Winery, I've seen every style of wedding imaginable over the last decade of my events venue, which sits atop the hillside of the beautiful vineyard at LaBelle Winery. I've seen beautiful weddings, elegant weddings, corny weddings, weird weddings, Halloween-themed weddings, holiday weddings, Disney-themed weddings, weddings themed on color schemes, and weddings themed on architecture. Not all brides who choose to have a wedding at a winery, you see, choose to theme their wedding as a Wine Wedding. 
Some of these weddings have been awesome, a beauty to behold, and come together with grace, creating a special event that lives on in the memories of those in attendance. Some of them don't ever gel properly, leaving guests with a not-so memorable event that could have been better. Worse, the bride and groom are left with regret if not in the present moment, years later when, in looking at wedding photos or remembering their special day, they see a dated theme and look that does not stand the test of time.
Wine weddings are timeless and elegant. Wine has been around for thousands of years and will be thousands more. It's universally regarded as a culinary wonder that, if chosen correctly, makes excellent food taste even better. A wine theme provides a natural color palate that blends seamlessly with your chosen venue. Wine-based menus will make your cocktail hour a delight and your dinner menu memorable. The endlessly awesome choices for wine favors, décor and other special touches for your wedding will leave guests with special memories for years to come. 
A good wedding, like a good marriage, cannot be pursued or forced; it must ensue as a result of a hundred choices; the side-effect of which is a cohesive, beauty to behold that heralds a gorgeous life.
Where to begin...
Your wedding requires an overall vision, and that is where we should start. For this process to begin, you must ask yourself the tough questions. Budget may be the overall driving factor so it is important to work that out early because it will steer many other decisions. Then, consider whether you have a certain type of wedding in mind. When you close your eyes, do you see a huge, fluffy wedding dress with loads of bridesmaids in a garden setting while 300 of your friends and relatives gather? Or do you see a small celebration by the sea? Do you long for a very formal affair with multi-course dinner and tall glistening candelabras gracing every table or a casual backyard event or barbecue. You must find the authentic expression of your heart's desire for your wedding day, and then bring to express it through your choices.
What is your own personal color palette? To what colors are you drawn? What colors do you like to wear or use to decorate your home? These favorite colors can help you zero in on your wedding colors. Small personal touches to showcase your individual style are the key to creating memorable weddings. Collecting all of these elements in one place as a vision board will be crucial to success of your overall vision. If choosing a wine themed wedding, the color palate practically chooses itself!   Straw golds (chardonnay), deep ruby reds (Cabernet) and shimmery metallics (Champagne) are in order here.
I strongly suggest you visit a fabric store and settle in for a while. There, you will find the richness of hues, colors, textures and fabrics that may inspire you. Pay attention to the colors and fabrics to which you are drawn – in those colors, textures and fabrics you will find your true self. When I did this for my own wedding, the sage greens and burgundy wine colors kept catching my eye and heart, and burlap textures were able to express a timeless but not stuffy elegance. 
At the fabric store, purchase a small length of your favorites in the ribbon and fabric sections and be sure to also check out the trims and décor rolls.   I realize the trend is to make digital vision boards online, but there's something more special about touching and experiencing the fabrics and textures all together so you can have a real feel for the overall picture you are painting. With these samples in hand, you can begin to build your Wine Wedding Vision Board.
Another way to weave wine into your theme is through your cocktail hour and menu choices.  Here, choose wine-based cocktails and wine-infused menu items to really drive your theme home.
Signature drinks are a favorite way of mine to really put your personal stamp on cocktail hour. You can create one cocktail to represent you both or you can create one to represent the bride and one to represent the groom. I've seen both work really well! 
One wedding at LaBelle Winery successfully created two signature drinks – one for the bride and one for the groom – that represented the areas of the country from which they came. In this case, the bride was from the South so her signature drink was a Mint Julep. The groom was from New York, and his signature drink was a Manhattan. For them, I created cocktail recipes that were wine-based.
In another wedding, the couple used a signature drink that they had on their first date – Moscow Mules. Still other couples get inspiration from their honeymoon destinations, and one such couple created a tropical rum punch with cocktail umbrellas as their signature drink because they were going to Tahiti to celebrate their honeymoon. If choosing something meaningful like this, please be sure to include a fun sign at the bar that would help guests make the connection and so you can invite your guests into your story. I have had success with creating signature cocktails that represent different heritages, milestones of their relationships, or simply making something delicious that they both enjoy!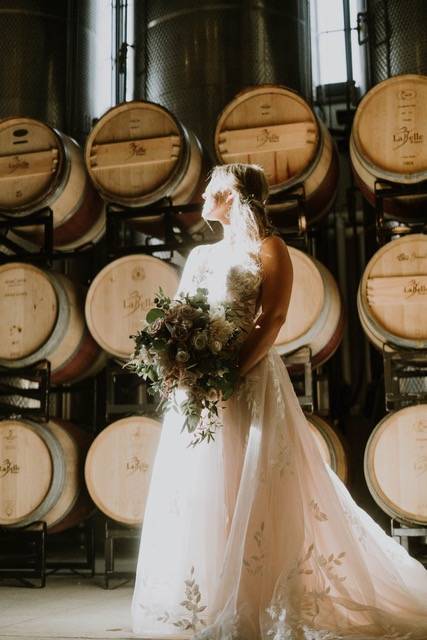 For one couple, one bride liked beer and the other bride liked wine, so I created a Summer Shandy that incorporated both. Find your creativity and be inspired to let the cocktail hour express you as people and represent your relationship to kick off your celebration with a personal touch. Wine cocktails are unique, interesting, slightly lower in alcohol, and downright delicious, because they layer flavor on flavor and become a memorable part of your celebration. A nice touch would be to print copies of the recipe for guests to take with them when they fall in love with your special creation so they can re-create it at home and remember their excellent day celebrating with you!
My wish for you is that you see that once you choose a timeless wine theme, your wedding will be much easier to plan. You will feel in control of the wedding plan and not stressed. And, as a result, you will throw the wedding of your dreams and want to bask in the beautiful memories forever. Having run all your decision making through the lens of a wine theme will have made the days leading up to your wedding easy and you'll be able to sit back with a glass of Seyval Blanc, put your feet up, and actually enjoy some of the best days of your life.  
Happy Planning!
----
In Wine Weddings, Amy LaBelle, the esteemed founder and winemaker at LaBelle Winery, draws from her many years of professional experience as she hand-holds you through every step of planning a wine-themed wedding. In simple, stress-free terms. The book is available at 
Barnes & Nobl
e and 
Amazon
 and of course at 
Amylabelle.com
.
Plan your wedding like a pro.