Real Las Vegas Love Story at The Neon Museum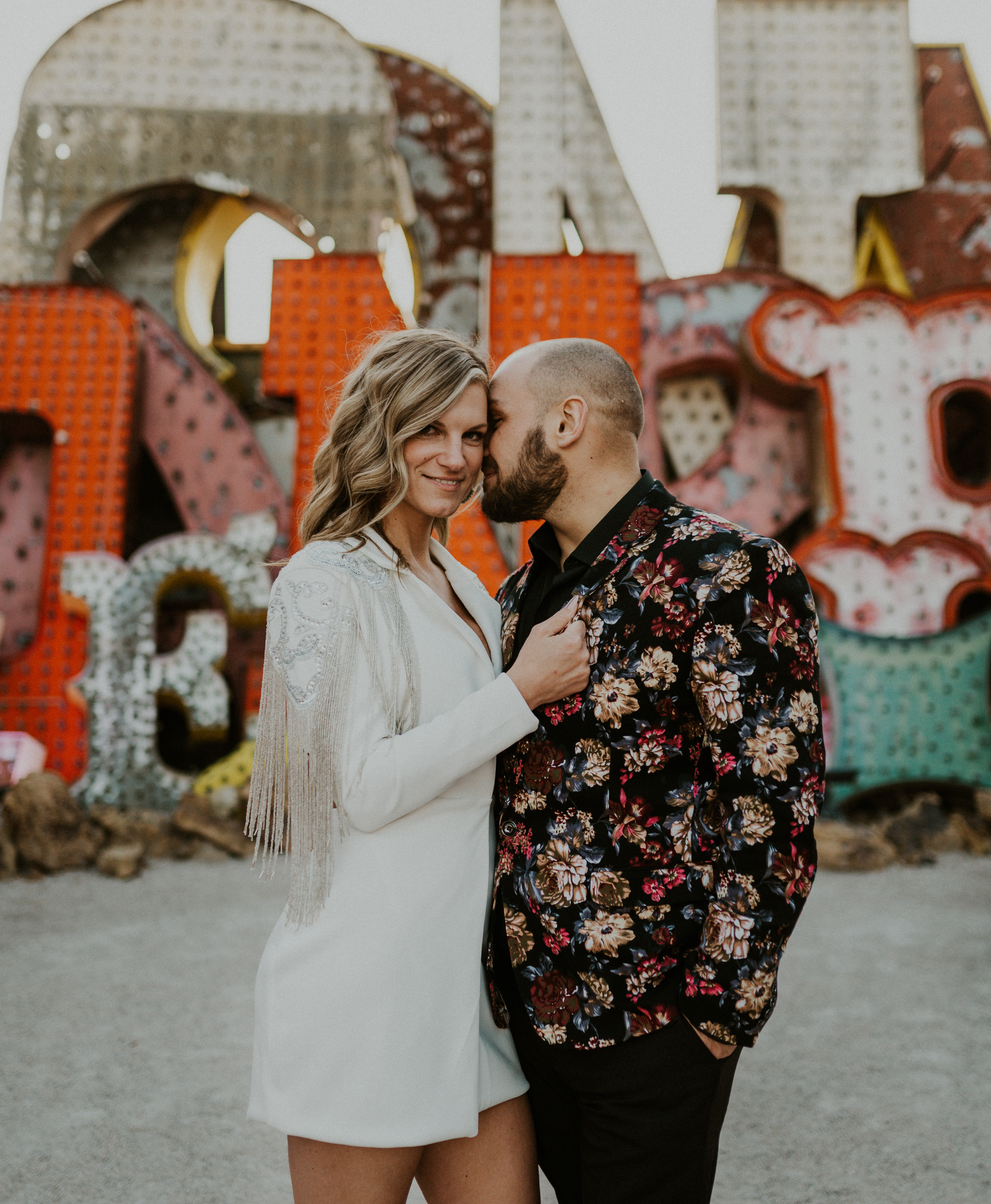 Las Vegas Couple
Are you looking for bright, playful and colorful scenery you can only find in Las Vegas?
The Neon Museum
may be the perfect fit for you! This outdoor museum covers two acres of land and displays hundreds of iconic Las Vegas signs, which explains why so many newly engaged couples chose to have it as the backdrop to their engagement or wedding photos. Couples from all over the world have been drawn to this beautiful and historic gallery of art to celebrate their love. We spoke with one couple who did just that. 
Years before their engagement celebration at
The Neon Museum
, Marci and Bobby re-connected with each other at a time when their lives were at a crossroads. Read on to hear their epic love story and how they finally found their happily ever after.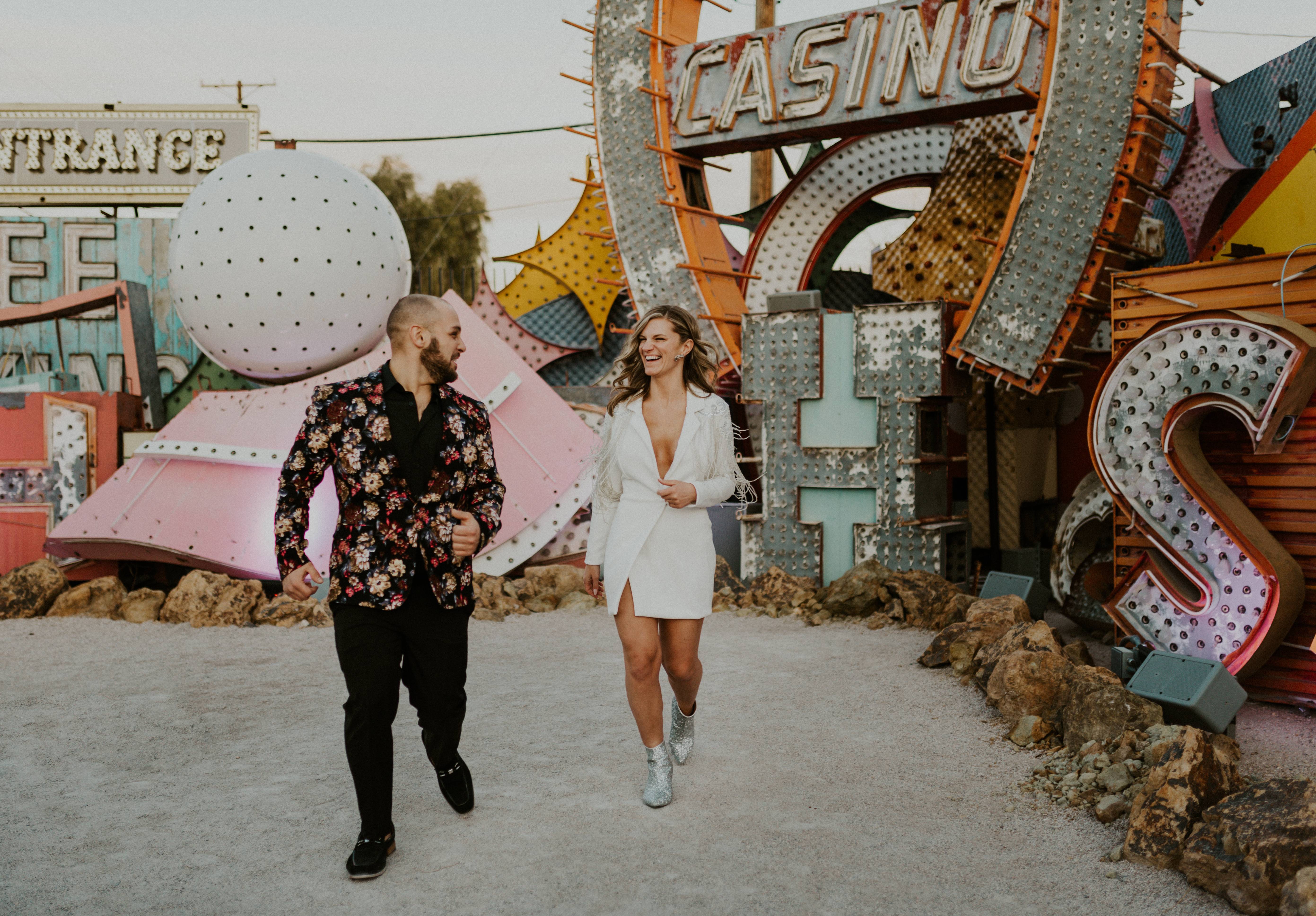 Marci and Bobby became best friends in middle school and after losing touch throughout the years, they finally re-connected as adults. As Marci recounts their love story she said "I was out for pizza after my daughter finished cheering at a football game a few years ago and ran into Bobby's parents and chatted with them for awhile and found out Bobby was no longer with his girlfriend, so I messaged him to reconnect, and it was like no time had passed at all. Something about him being a responsible dad made me see him in a different way! We just knew right away that we would be more than friends this time. Everyone told us they always knew we were in love, I guess we just needed 20 years of friendship to realize it!".  When asked about why they chose to get married in Vegas, Marci replied, "We went to Vegas for our first time two years ago and experienced all of the party life it had to offer. We went again this October and realized how freaking beautiful it can be when we went horseback riding at Red Rock Canyon! What I love is how easy and affordable it is to get to Vegas and stay there, but also how close to all the beauty is."
Bobby and Marci happily celebrated their engagement with a photo session at
The Neon Museum
done by
Hotzel Photography
. The couple both wore eclectic Vegas-style clothing that aligned with the natural decor of the venue and that spoke to their creative personalities. Walking under the Nevada sky, the two laughed and memorialized their love next to graffiti covered walls and renowned Las Vegas signs. Marci, the bride-to-be, wanted their engagement shoot to be the exact opposite of their wedding day. She explained, "We definitely wanted these to be fun, and a little cheesy - our outfits are not typical attire we'd wear for a shoot but were very VEGAS! Romantic but edgy is how I'd describe what I envisioned!"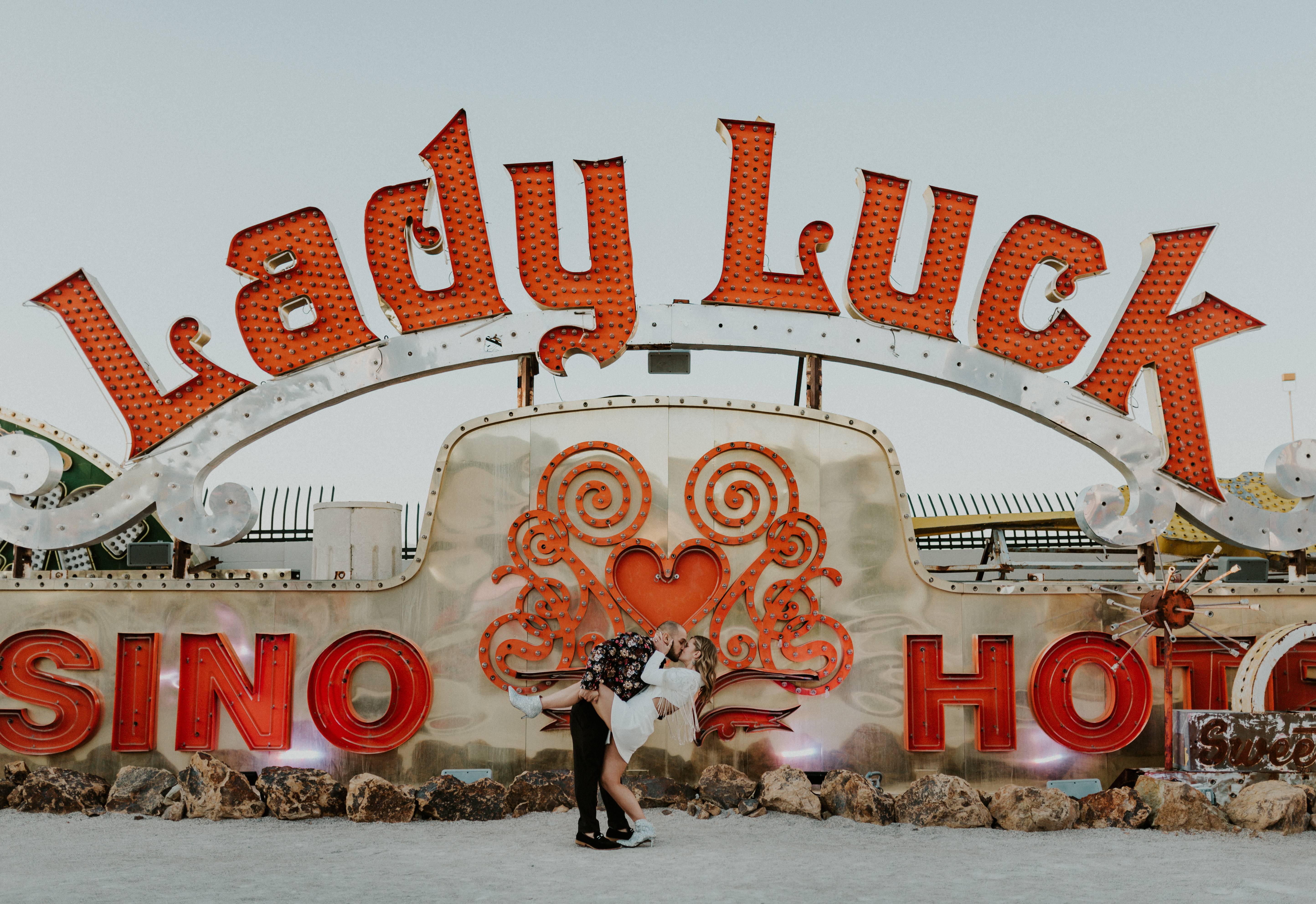 The Neon Museum
was founded in 1996 and showcases Las Vegas' history throughout the years with signs and art pieces from some of the most iconic locations. Sitting on 2.5 acres of outdoor space, it's one of the most beloved and special places in all of Las Vegas to visit and make memories with loved ones.
The Neon Boneyard
Main Gallery holds over 200 restored Las Vegas signs, which illuminate during sundown, while the Neon Boneyard North Gallery is open for commercial video and photo shoots just like Marci and Bobby's engagement shoot.
The North Gallery
is also open for celebrations, such as engagement parties and wedding receptions which we would highly recommend.
It's hard to pick a favorite sign when there are so many awe-inspiring and legendary signs to choose from at The Neon Museum. Luckily, Bobby and Marci posed near some of our favorites including the Lady Luck sign from the Lady Luck Hotel & Casino built in 1964 and the Jerry's Nugget's sign, which is the oldest family-owned casino in Vegas. 
Not only can The Neon Museum be used as a backdrop for engagement shoots like Bobby and Marci's, but it can also be the venue for stunning wedding ceremonies, receptions and get-togethers. Open seven days a week, the word unique doesn't even begin to cover this Las Vegas treasure, and we know it will hold amazing memories for everyone and anyone that visits.
We know you only deserve the best, that's why we only partner with brands we trust and love! That said, we still need to bring home the bacon, so this article may contain some affiliate links. This means that Loverly makes a small percentage of the profit generated from any sales, so we can keep doing what we do best: helping you plan your dream day!