Wedding 101
6 Cocktails to Serve at Your Post-Wedding Brunch That Are NOT Mimosas
Collect, manage, and organize your wedding guest information for each event and track their preferences.
One of the best parts of the post-wedding brunch? The booze that helps suppress your hangover. We love a good mimosa as much as the next wedding guest, but when we see an unexpected brunch-worthy cocktail... Heart eyes! Here are six original sips to serve-up: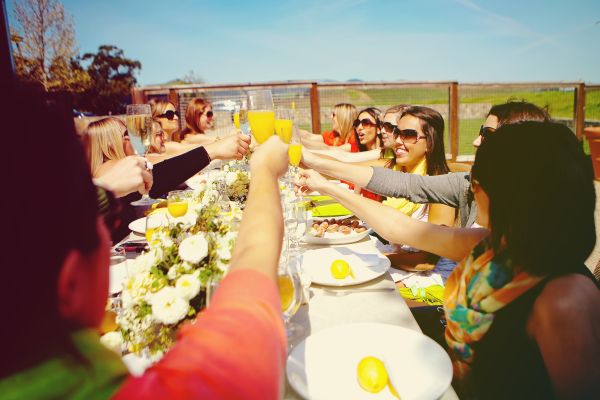 Photo by Tiny Water Photography on Inspired By This via Lover.ly
Bellinis
What do you get when you mix sparkling wine and peach puree? A crazy-refeshing drink that's arguably better than a mimosa.
Boozy Sweet Tea
Sweet tea is refreshing on its own, but imagine how perfect it is with a little vodka and lemonade mixed in! Get creative with fruit-infused teas, too—spiked peach tea, anyone?
Spiked Coffee
Set up a coffee bar with the essentials (like cream and sugar), but add a few fun mix-ins like Bailey's Irish Cream, rum, or coffee liqueurs. Having a summer wedding? Be sure to offer iced coffee, too!
Sangria
When you think about it, fruit juice and sliced fruit are perfect for breakfast—a little booze can't hurt, right? Try stirring up a libation with prosecco and breakfast fruit favorites like grapefruit and oranges.
The Bloody Beer
Bloody Mary's are about as basic as a mimosa... Try a twist on the classic: Mix tomato juice with a light beer—sounds weird, but people love it.
Love brunch? We've got more for you:
The BEST Things About Having a Brunch Wedding
How to Not Look Like a Hot Mess at Your Morning-After Brunch
6 Perfect Menu Items to Serve Up At Your Pal's Bridal Shower Brunch
Plan your wedding like a pro.