Wedding 101
The Ultimate Bridesmaid Budget Guide
Collect, manage, and organize your wedding guest information for each event and track their preferences.
Congratulations on being chosen as a bridesmaid!
 As a bridesmaid, it's essential to support the bride on her special day, but it's also important to stay within your budget. 
Here's the ultimate bridesmaid budget guide to help you navigate the costs of being a bridesmaid.
The Dresses and Alterations
One of the most significant expenses for bridesmaids is the dress and accessories. The bride may choose the dress for the bridal party, or she may allow you to select your own. 
How Much: If you must purchase a specific dress, consider the cost of alterations, shoes, and accessories like jewelry and a clutch. You can expect to pay between $150 - $500 for a bridesmaid dress.
How to Save: See if you can use a dress you have or a secondhand option. You might find used bridesmaid dresses online. If you can choose your dress, keep in mind the style and color scheme the bride has in mind. Put money away immediately for the dress. It will need to be paid for first out of most other expenses.
Hair and Makeup
If the bride has a professional hair and makeup artist, she may ask the bridesmaids to pay for their services. Be sure to inquire about the cost of these services in advance and decide if it's in your budget.
How Much: The costs will vary depending on where the wedding occurs (hairstylists and makeup artists in big cities are more expensive than those in small towns), how complex the 'dos are, and how fancy the wedding is. Expect $80 + per person for each service.
How to Save: From DIY tutorials to budget-friendly salon packages, there are lots of options available that can help you look beautiful without breaking the bank. In this article, we'll explore some of the most effective ways to save money on hair and makeup as a bridesmaid.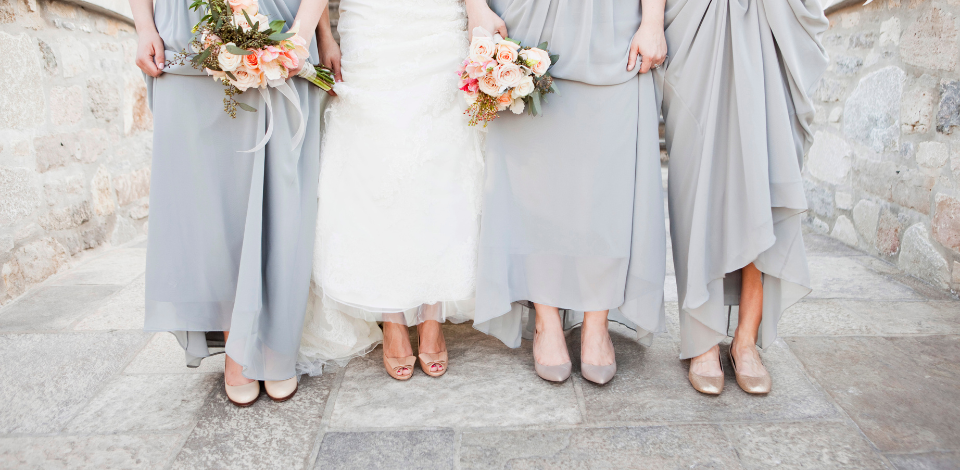 Bridal Shower and Bachelorette Party
As a bridesmaid, you may be expected to contribute to the cost of the bridal shower and bachelorette party. This may include decorations, food, drinks, activities, and transportation. Talk to the maid of honor and other bridesmaids to determine the budget and what you're comfortable contributing.
Who pays: It depends. Hosting responsibilities may fall to the bridesmaids, but the bride's mother or another relative may also jump in to plan and pay.
How much: If you're asked to host, set a budget before you start planning. Consider the location cost, food, drinks, and game prizes when determining the maximum amount you want to spend. And don't be afraid to ask the other 'maids to chip in. Most bridesmaids can expect to pay $150 - $500.
How to save: Configure the cost based on the estimate (with 15% added wiggle room) and count back the weeks until the event, and create a weekly budget.
Travel and Accommodations
If the wedding is out of town, you'll need to factor in the cost of travel and accommodations.
Who pays: The bridesmaids.
How much: Whether driving or flying, it could be anywhere from $50 for gas to $700 for flights, rental cars, or taxis for an international destination wedding.
How to save: Start looking at flight costs at least four months in advance and keep an eye out for seat sales. Consider carpooling with other bridesmaids to save on transportation costs, and look for affordable hotel options. You may also want to consider sharing a room with another bridesmaid to cut down on costs.
Transportation on the Big Day
Who pays: The bride.
How much: Depending on the wedding style, the marrying couple may rent a school bus, a vintage ride, a big ol' pick-up truck, or a fleet of town cars. Costs will vary widely.
How to save: The transportation doesn't have to be fancy! A rented SUV (with that family member who keeps offering to help with the wedding behind the wheel) can get everyone where they need to be for much less than a limo.
Gifts for Bride and Groom
It's customary for bridesmaids to give a gift to the bride and groom. This can be a significant expense, significantly if you're also contributing to the bridal shower and bachelorette party. 
Look for meaningful yet affordable gift options, or consider pooling funds with other bridesmaids to purchase a more significant gift. 
How much: You can expect to pay anywhere from $100 to $300 on average.
How to Save: If you're giving money, you can wait closer to the event to see how much you have in your budget.
Miscellaneous Expenses
Miscellaneous expenses may be associated with being a bridesmaid, such as a manicure, pedicure, or waxing. Be sure to factor in these costs when creating your budget.
Final Thoughts
Overall, it's essential to communicate with the bride and other bridesmaids about your budget constraints. There may be ways to cut costs, such as choosing a more affordable dress or opting for a low-key bachelorette party. 
It's important to remember that these percentages are just guidelines, and your actual budget breakdown will depend on your priorities and preferences. By creating a detailed budget and sticking to it, you can have the wedding of your dreams without breaking the bank.
Being a bridesmaid is an honor, but it shouldn't put you in a financial bind. With careful planning and budgeting, you can support the bride without breaking the bank.