Travel
How to Plan an Extraordinary Wedding in Las Vegas Within Budget
Plan your wedding step-by-step with our guided video series featuring every part of the wedding planning process.
One of the most important things to keep in mind when planning your wedding is your budget. Luckily, if you're planning a Las Vegas wedding, we've got the inside scoop when it comes to
choosing a location
that's just right for you. The following four venues highlight how you can plan an incredible Las Vegas wedding, no matter your budget — or dream-day vision.
_____
The Glam European Experience
Paris Las Vegas
Established: September 1, 1999
Capacity: Small accommodations for between 30-90 guests 
Address: 3655 S. Las Vegas Blvd., Las Vegas, NV 89109
Wedding Style: Romantic, Glam, Destination 
Why We Love It:
With wedding packages starting at under $1,000, this iconic hotel is truly budget friendly for any couple with on-the-Strip wedding dreams. All of the wedding packages at Paris Las Vegas include your choice of the hotel's two gorgeous chapels, as well as a wedding coordinator to help turn your big day's vision into a stunning reality. You can even say "I do" in front of the hotel's Eiffel Tower or Arc de Triomphe for the full Parisian experience.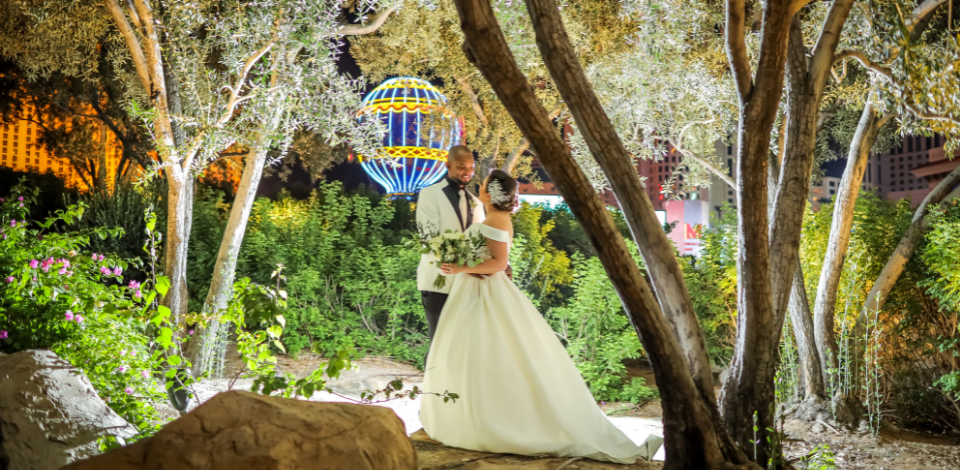 _____
The Classic Las Vegas Option
A Little White Wedding Chapel
Established: 1951
Capacity: Small accommodations for up to 20 guests
Address: 1301 S. Las Vegas Blvd., Las Vegas, NV 89104
Wedding Style: Classic, Unique, Vintage
Why We Love It:
This famous location is the ultimate venue for couples looking for that classic Vegas wedding experience. You can choose to get hitched in one of this property's four decked-out chapels, outside in its lush garden, or opt for a drive-thru ceremony in a classic pink Cadillac. It's safe to say that if you choose to get married at A Little White Wedding Chapel, you, and your guests, will never forget this quintessential Vegas experience. 
_____
The Historical Gem
El Cortez
Established: November 7, 1941
Capacity: Mid-sized accommodations for up to 150 guests
Address: 600 E. Fremont St., Las Vegas, NV 89101
Recommended Wedding Style: Glam, Vintage, Eclectic & Artistic 
Why We Love It:
As the very first major resort in Downtown Las Vegas, El Cortez is brimming with history. Set against the backdrop of magical Fremont Street, your nuptials can take place amid glittering lights and major vintage Las Vegas vibes. With so many unique settings around the property, you'll come away with stunning photos — and cherished big-day memories.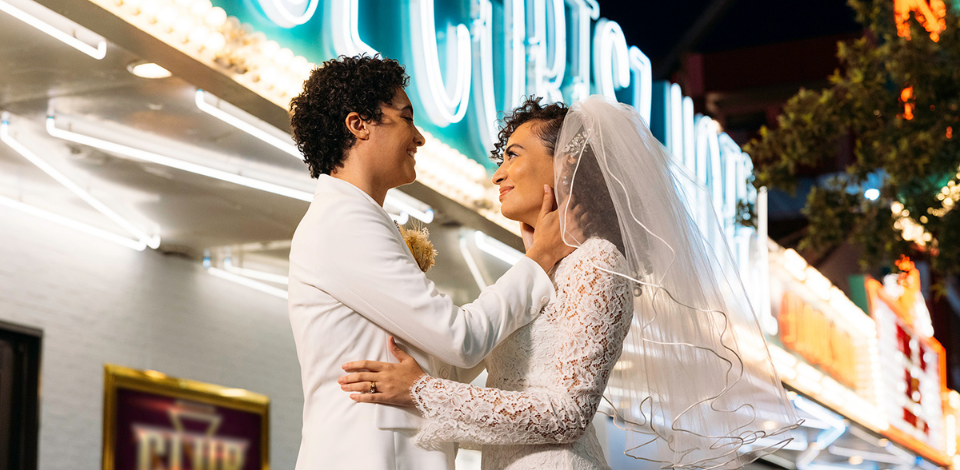 _____
The Tropical Oasis
Mandalay Bay Resort & Casino
Established: Mandalay Bay Resort & Casino opened on March 2, 1999.
Capacity: Small accommodations for up to 50 guests 
Address: 3950 S. Las Vegas Blvd., Las Vegas, NV 89119
Wedding Style: Beach, Nautical, Tropical
Why We Love It:
This setting gives you all of the perks of a beach wedding without the often tricky logistics of the actual beach. You'll say "I do" in front of the property's stunning private lagoon while the on-site pianist provides a romantic musical accompaniment to your ceremony. The venue fee also includes an officiant, a wedding coordinator, and limo service to obtain your marriage license.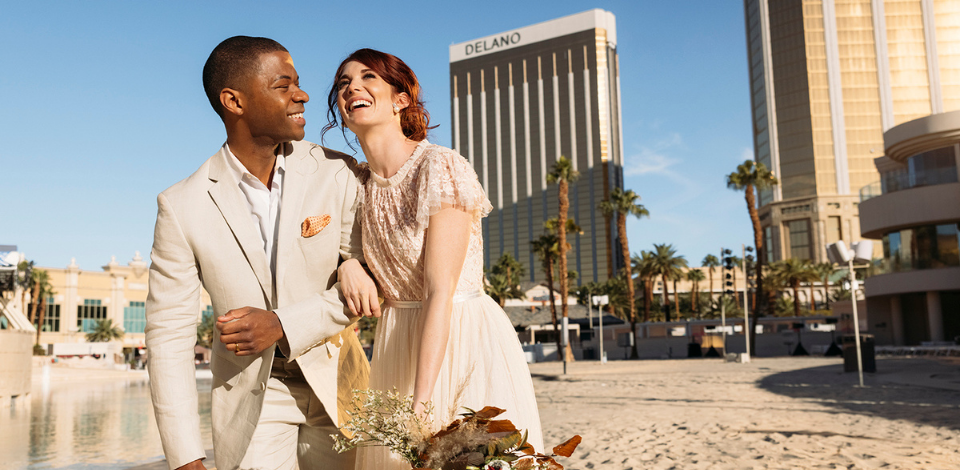 _____
Find Your Forever Here
The bottom line is that there are a number of absolutely incredible Las Vegas venues that can fit even the tightest wedding budget. (You can see even more stunning Las Vegas venue options here.) Making your big day's dreams come true doesn't have to break the bank. With so many fabulous locations to choose from, the hard part will be narrowing it down to just one. 
Learn more about
Las Vegas
and all the possibilities this destination has to offer. 
We know you only deserve the best, that's why we only partner with brands we trust and love! This article is sponsored and may contain some affiliate links.