The 10 Worst Things About Planning a Destination Wedding (and How to Fix Them)
Are you engaged and daydreaming about a destination wedding? Getting married on the beach, on top of a mountain or at an Italian villa may sound super romantic, but planning a destination wedding brings about a whole slew of wedding woes. Here are the 10 worst things about planning a destination wedding...plus our advice on how to solve them!
No. 1: Wondering if your wedding is even going to be legal
Marriage laws vary in different countries (and even different US states), so do your homework in advance! Find out who is an acceptable officiant (friends ordained on the Internet don't always count), if there is a residency requirement, and what the marriage license process is. You may find that you need to have a small courthouse ceremony at home, and make your destination wedding more of a symbolic gesture.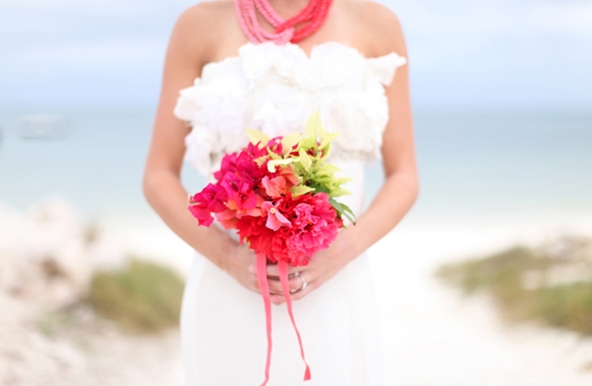 Photo by Troy Grover Photography
No. 2: Finding the perfect hotel block for your guests
If you're trying to find the best group accommodations, we're making it way easier to
book your hotel room block
. It's a fast, free, and simple way to cross that item off your checklist.
No. 3: Booking a hair and makeup person in a foreign country
We
know
you looked into the cost of flying your trusted hair stylist to Mexico. Since that likely isn't in the cards, consult your stylist at home first -- he or she may know someone in your destination -- and be sure to read reviews for any vendors you have to book long-distance. We also suggest scheduling hair and makeup trials for the day after you arrive at your destination.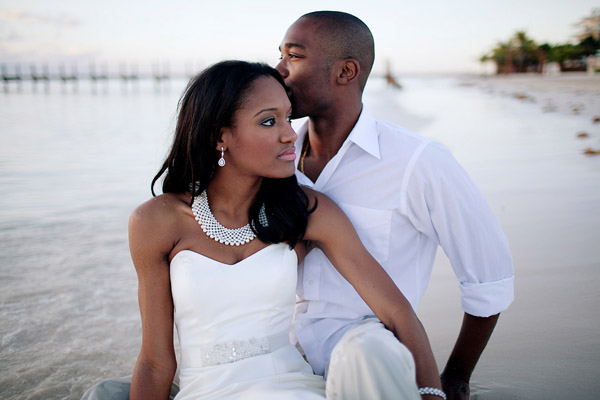 Photo by Vida Carson
No. 4: Assembling and shipping the welcome bags for your guests
Yes, they look adorable and guests love them...but they still might cost a fortune to ship or worse — they might get caught up in customs. We suggest asking your bridal party and families to each pack a few welcome bags in their checked luggage (or to pack the supplies so you can assemble them on-site).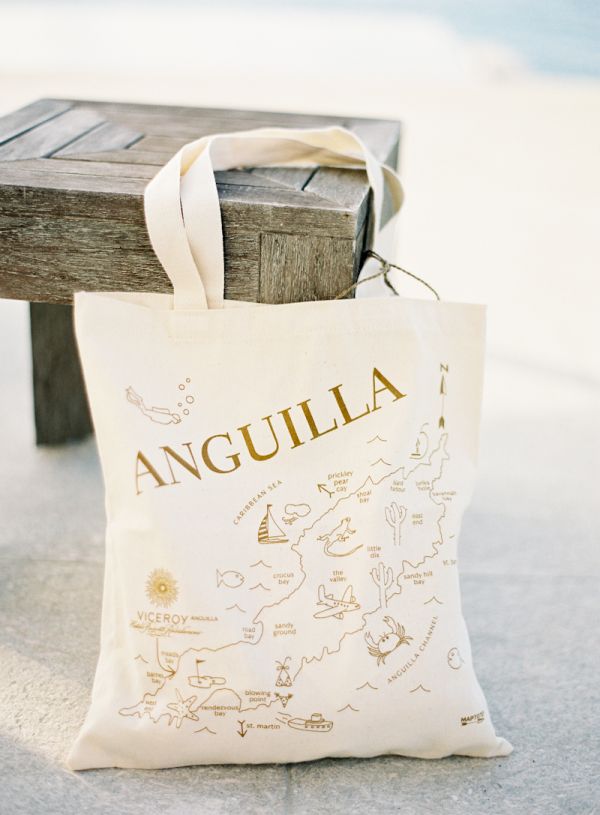 Photo by Jen Huang
No. 5: All the "no" RSVPs you'll receive
Sure, you know not everyone can afford to make the trip, but it's still a bummer when people officially decline. Try to remember that it has nothing to do with how much they love you and is mostly about their personal budgets and work schedule.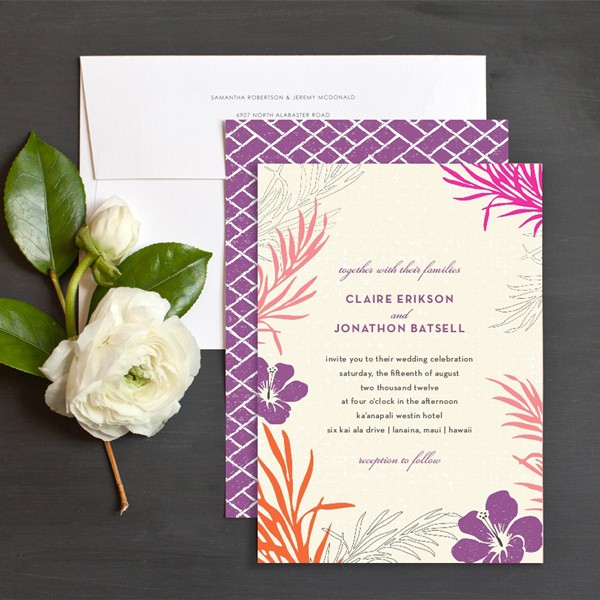 Island Bliss - Purple From elli
No. 6: Not having your pick of vendors
If you opt for the more convenient all-in-one wedding package at your resort, you may not be able to get that
gorgeous bouquet
or super unique
wedding cake
you want. If you have your heart set on a certain look for your wedding, it might be best to hire a wedding planner who has experience at your venue, and who can find the best vendors to help bring your vision to life.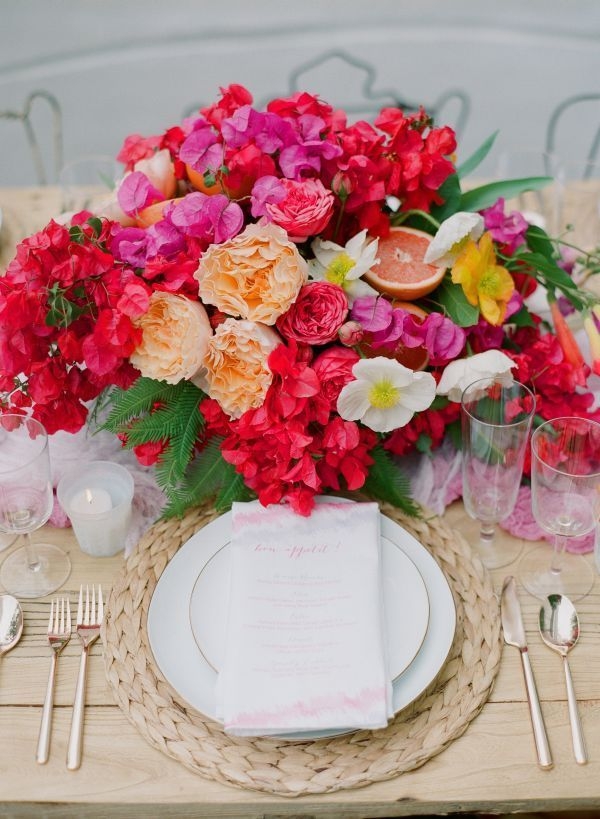 Photo by Barbara Cox Hidden Key Designs
No. 7: Not seeing your venue in person before the big day
If you are planning from afar, you may have to book your venue without seeing it first...which can lead to (more) wedding planning nightmares. We suggest going beyond the photos on the venues website and searching on Lover.ly or doing a Google search for "Wedding blog [destination name]" to find photos of other weddings at your venue. (Hint: photographers' blogs are a great resource for this!) Seeing multiple photos of the venue in use will clue you into the lighting, the layout, and any quirks about the space.
Photo by KT Merry
No. 8: Packing
Packing for any trip is bad enough, but packing for your wedding is even MORE stressful. You have to make sure you get your wedding dress, shoes, accessories, and everything else to its final destination at once. There's no "quick trip back home" to get something. We suggest starting as early as possible and making extremely detailed packing lists. To avoid the "I thought
you
were bringing the wedding rings" moment, list
everything
you and your partner need to bring, who is responsible for packing it, and what suitcase or bag it will be packed in.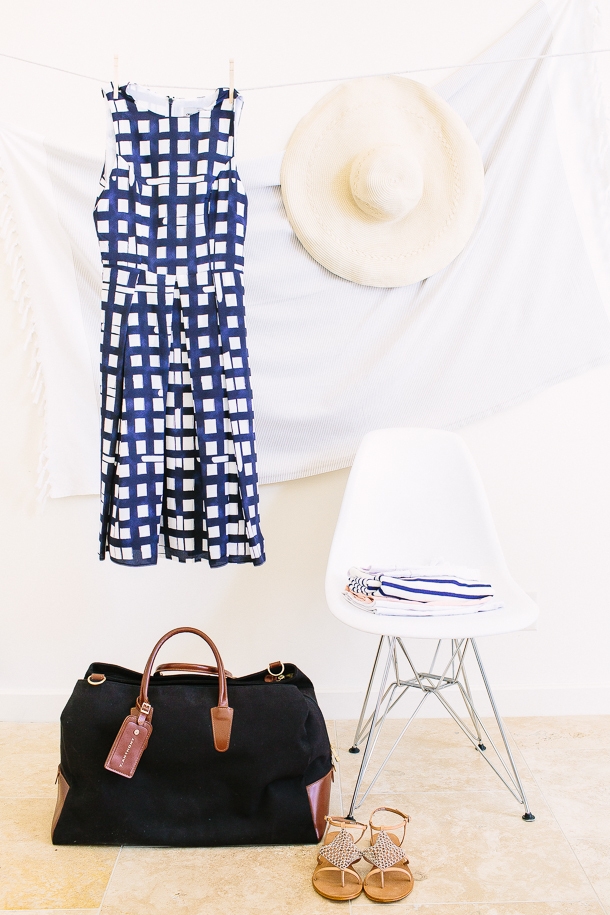 Photo by Wynn Myers
No. 9: Making sure friends and family members all make it to the destination in one piece
From people who wait until the last minute to book to sudden storms, getting everyone to the destination can be super stressful. Our advice? Request that VIPs book by a certain date (four weeks before the wedding is a good rule of thumb), create a spreadsheet with everyone's flights and cell phone numbers, and pray for good travel conditions the week of the wedding.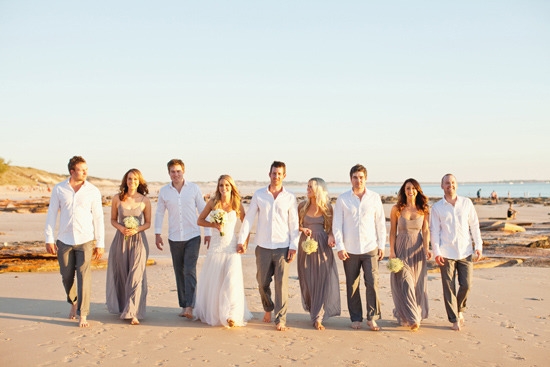 Photo by Angela Higgins Photography
No. 10: The sheer number of people who complain that you're having a destination wedding
It's an invitation, not a summons, people! If they don't want to make the trip, they shouldn't make the trip. And as long as you aren't making people feel guilty for not attending (you aren't, right?), they shouldn't make you feel guilty for planning a destination wedding.
Get more travel advice on Loverly:
How to Plan a Destination Bachelorette Party on a Budget
5 Destination Wedding Ideas That Don't Involve the Ocean
Why It's Totally OKAY to Skip the Honeymoon