Ideas
12 Sweet Treats That Were Made for Your Summer Wedding
Customize your own wedding checklist with due dates, personal reminders, and timelines for all your wedding to do's.
If you're planning a warm weather wedding, you're going to have to be extra choosy about your big day desserts. Why, you ask? Well, not only will you want to serve something that's refreshing and seasonal, but you also have to pick sweets that won't melt in the heat and humidity! Here are twelve summer wedding dessert options your guests will love on a sweltering day: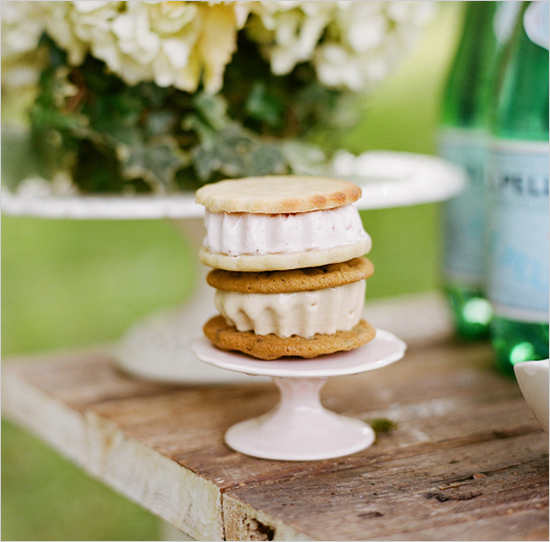 Photo by Nathan Westerfield
1
.
Watermelon Lollipops. 
Cut small wedges of watermelon and skewer them with lollipop sticks. Drizzle with honey for a little extra sweetness!
Photo by 
rawpixel
2. Hand pies.
Add a little Americana flair by serving up mini cherry and rhubarb pies on your big day.
Photo by
MidWest Living
3
.
Boozy popsicles.
These
r
efreshing treats are totally perfect for cocktail hour!
Photo by 
Alison Marras
4
.
Ice cream sandwiches. 
Consider an ice cream sandwich bar with different flavors and cookies. Just make sure that ice cream stays super cold...
Recipe from
Martha Stewart
5.
S'mores. 
Chocolate, graham crackers, and marshmallows make for an ideal wedding treat!
From
Dinner Then Dessert
6.
Lemon bars. 
This seasonal snack is light and refreshing. Yum.
Photo by 
Dana DeVolk
7.
Frozen Key Lime bites.
Try a graham cracker base topped with key lime ice cream and brûléed marshmallow.
Recipe from
Barbara Bakes
8.
Banana pudding. 
A summer picnic classic!
Photo from
Center Cut Cook
9
.
Strawberry shortcake.
 Fill mini Mason jars with strawberries and angel food cake. But keep that whipped cream topping refrigerated until the last minute.
Photo by 
Karly Gomez
10. Snow cones. 
Get creative with your flavors! Serve up classic flavors like cherry or grape, or opt for boozy cones.
Photo from
Food Lion
11. Banana tartlet.
Serve a tart shell filled with banana patisserie cream or banana pudding, caramelized and topped with a fresh slice of banana.
From
Cook and Be Merry
12. Naked cake. 
Naked cakes are perfect for summer because they have very little icing. If you opt for a more traditional cake, make sure to choose an icing that won't melt easily, and keep it refrigerated until cake cutting time!
Photo by 
Photos by Lanty
Sweet tooth? Check out more dessert ideas now:
10 Drool-Worthy Wedding Desserts We Found on Insta
Quiz: Which Big Day Dessert Should You Serve?
16 Dessert Bars We Double-Tapped on Insta This Week
Plan your wedding like a pro.