Ideas
Spruce Up Your Spring Wedding with DIY Bouquets
Discover, manage, and track all of your vendor communication, contracts, and timelines in one place.
Spring is the perfect season for colorful and vibrant blooms that fill the air with their sweet fragrance and what better way to capture the beauty of spring than in your wedding day bouquet? Whether you're having an indoor or outdoor wedding, a gorgeous spring inspired bouquet made from the comfort of your own home will be the perfect touch to your wedding day look. Not only are these DIY bouquets more affordable than what you can buy, but they're simple enough for anyone to make regardless of how crafty you may be.
Before we jump into our recommendations for creating your bouquet, there are a few essential items you'll need in order for you to successfully pull it all together. Aside from your flowers of choice, you'll need floral scissors, floral tape, floral wire and ribbon to tie off your flowers when you're done. Be sure to keep your flowers in a vase or bucket of water to keep them fresh as you assemble your flowers in an arrangement that you love. You'll first begin the process by creating the base of your bouquet. Choose a few of your largest blooms and arrange them in your hand, with their stems crisscrossed to create a dome shape. Add in some greenery to fill in any gaps.

Continue adding more flowers to your bouquet, working in a circular motion and alternating between different types of blooms. As you continue to add more flowers, you'll want to turn the bouquet in your hand to ensure that the flowers are evenly balanced and symmetrical all around. Once you've decided on the perfect arrangement, go ahead and cut the stems to your desired length, wrap the base in floral wire, cover the wire with the floral tape, and finish it off with your ribbon of choice.
Now that you're ready to get creative, here are five simple DIY bouquets ideas perfect for a spring wedding.
Pastel Flower Bouquet
Pastel flowers are the perfect way to capture the softness and delicacy of spring. For this bouquet, choose a selection of pale pink, lavender, and pale-yellow flowers such as roses, ranunculus, and hydrangeas. Add some greenery like eucalyptus leaves to give the bouquet some texture and depth. Tie the stems together with a pretty ribbon or twine to complete the look. A loose, natural arrangement can be a great option for a more casual look, while a tightly packed bouquet with clean lines can be perfect for a more formal event. Finally, don't be afraid to play around with different color combinations. You can consider adding some bolder colors like coral or mint green for a fun and unexpected twist or forget-me-nots or larkspur to create a whimsical look.
Wildflower Bouquet
A wildflower bouquet is a great option for those who want to embrace the natural beauty of spring. To create this look, choose a variety of spring wildflowers such as daisies, poppies, and cornflowers. Add some grasses or herbs like lavender and rosemary for a rustic touch. Another option is to add in some cherry blossoms that are usually in full bloom during April and May. You could also consider adding delicate baby's breath flowers or some bright yellow daffodils to create a cheerful and sunny bouquet. Looser bouquets are probably going to be your best friend here to truly embody the natural state and feel that wildflowers give off.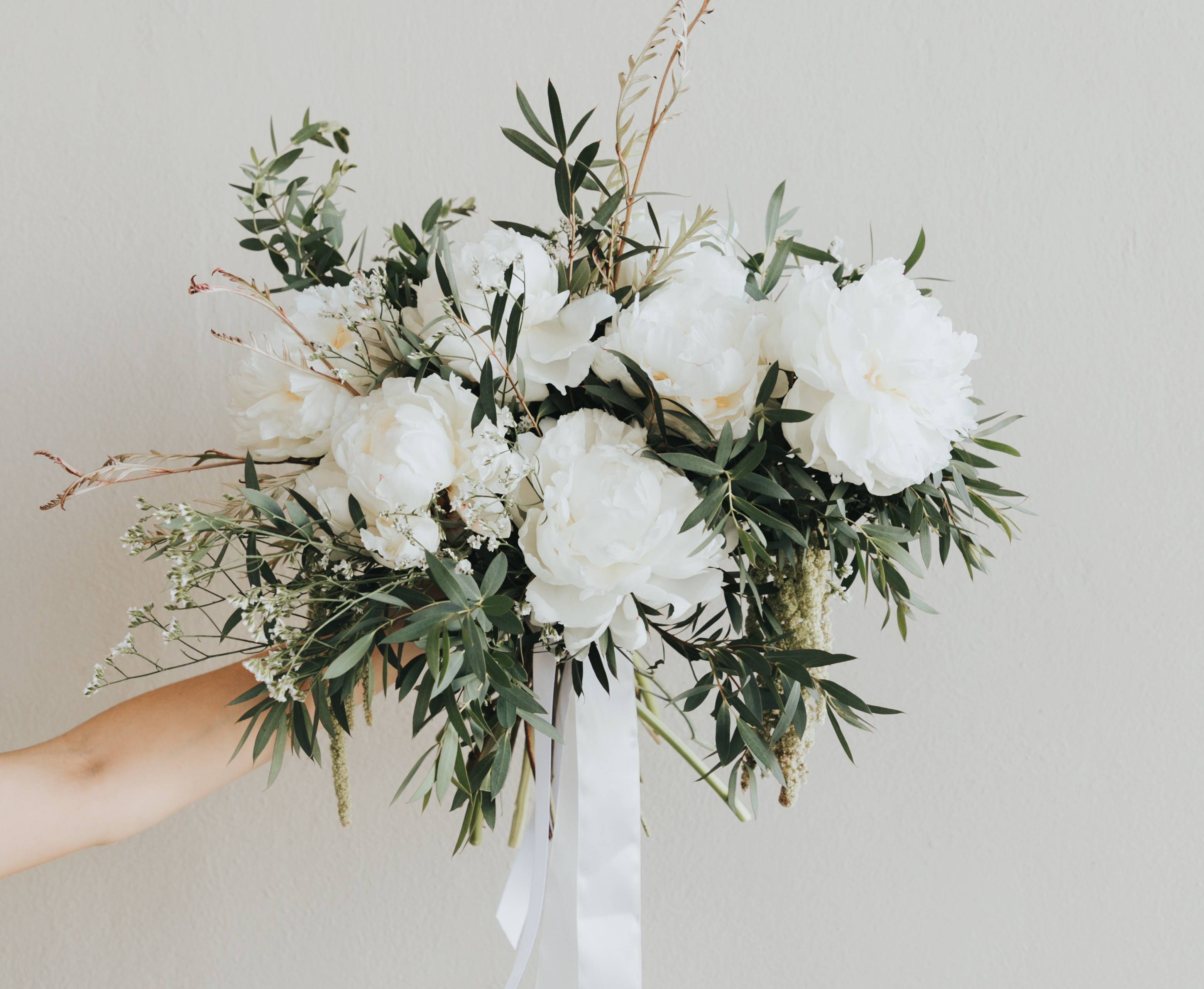 Monochromatic Bouquet
A monochromatic bouquet is a chic and sophisticated way to celebrate spring. Choose a single color such as pink or purple and select flowers in various shades of that color. For example, you could choose pink peonies, roses, and carnations to create a stunning pink bouquet. Add some greenery like ferns or ivy to give the bouquet some contrast. You can also add fragrant tulips – a springtime favorite – to your bouquet to add a more colorful and livelier feel to your bouquet. Going for a more compact bouquet will help to keep the colors uniform and vibrant so be sure to tie them off with a complementary color that won't clash with your color of choice.
Citrus-Inspired Bouquet
If you love bright and bold flowers and want to incorporate them into your wedding look then consider creating a citrus inspired bouquet. Citrus fruits are a staple of spring, and you can easily incorporate their vibrant colors into your bouquet. Select flowers in shades of orange and yellow such as tulips, daffodils, roses, orange ranunculus, and marigolds. Add some greenery like lemon leaves or ferns for a refreshing touch or soft touches of white like baby's breath to help soften the vibrancy of these bold colors. Tie the stems together with a complementary ribbon to complete the citrus-inspired look or stick with a green ribbon to blend in the color of the stems for a more natural look.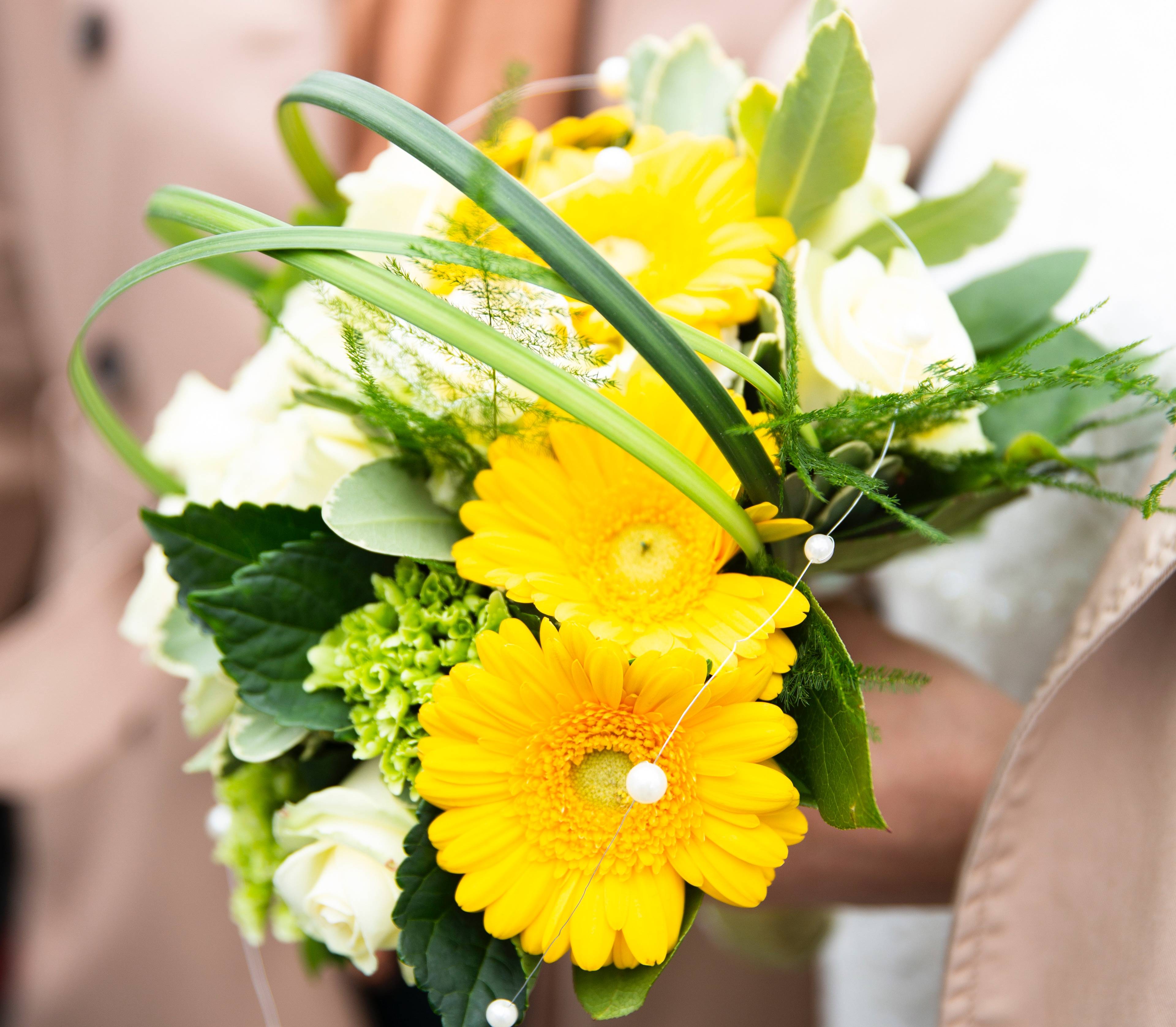 Garden-Inspired Bouquet
A garden-inspired bouquet is a beautiful way to celebrate the beauty of spring. Choose a variety of flowers such as peonies, roses, and dahlias in soft shades of pink, peach, and cream. Add some natural foliage like ferns, eucalyptus, or dusty miller for texture and contrast. You could also add some delicate flowers like sweet peas or lily of the valley for a charming and romantic vibe. Another option is to incorporate some seasonal elements like spring bulbs, tulips or hyacinths for a burst of color and texture. Whether you opt for a looser or more compact bouquet, you can't go wrong with showcasing your gorgeous selection of garden inspired flowers. To finish off the look, tie the stems together with a simple ribbon or twine for a natural look.
Creating your own DIY bouquet for spring is a fun and easy way to celebrate the season. With these five ideas, you can create a beautiful springtime bouquet that will be  a fresh and beautiful addition to your wedding day look as you walk down the aisle with your uniquely designed bouquet. Don't be afraid to experiment with different colors and textures to create a personalized look that embodies everything you've ever dreamed of. It may take some time to find the right flowers for the big day, but once you have them, you'll be so glad you chose to design your own wedding bouquet. 
Plan your wedding like a pro.