The Best Places to Buy Your Wedding Invitations Online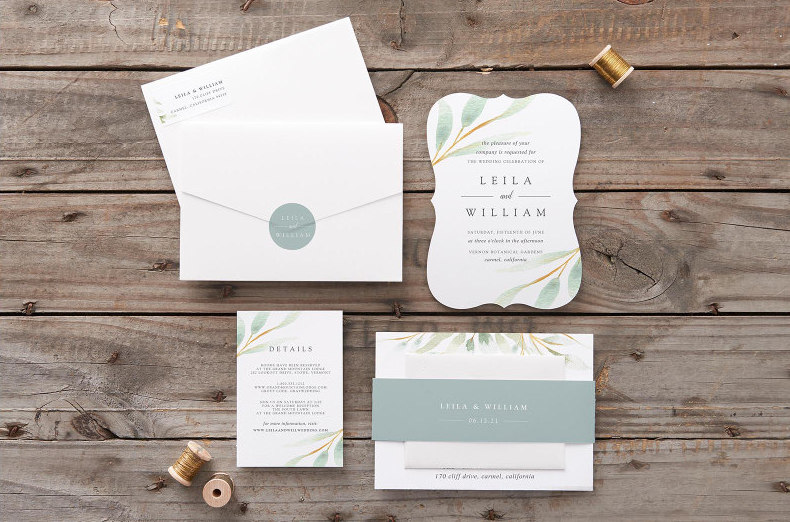 Whether you're thinking about your save-the-dates or researching your wedding invitations, we've compiled a list of places to buy your wedding stationery so that you don't have to spend hours researching.
From digital to letterpress invites, to foil save-the-dates, embossed, to thermography, the styles are endless! While it's always great to have options, we know it can entire shopping process for you. Here are our top 6 places to buy the perfect wedding stationery to match your style and budget.
Zazzle is one of our favorite places to shop for wedding stationery (especially if you're looking for less expensive options).  With 
Zazzle
, you can shop from thousands of templates and matching wedding collections so that you can match and order your save-the-dates, wedding invitations, stamps, stickers, and so much more all in one shop! The site has thousands of themes (shop by season, style, color, etc) to choose from and you can even personally
create your own
 from scratch.
If you're looking for stationery that is elegant, luxurious, and has that "wow" effect, Artifact Uprising is the perfect choice. Choose from many contemporary and bold designs, including foil-stamped and hand-lettered options. Their wedding invitations, RSVP cards, and save-the-dates are definite statement pieces as your guests will be so impressed by the quality of your 
wedding invitations.
3.
Unique Designs by Independent Artists
If you're looking for something more fun, 
Minted
 is the best options as you can choose from hundreds of stationery designed by independent designers. What makes 
Minted
 so amazing is that you can order a sample of any wedding invitation and have it delivered to you for 
FREE! 
That's right, with Minted you don't have to risk it and worry about how the invitations will turn out because you can order a 
free sample kit 
and see what your actual invitation will look like before having to commit to the full order--how awesome is that?
4.
Budget-friendly Digital Designs
If you're trying to be eco-friendly or just simply want to save money on invitations, don't shy away from 
Evite
. Brides everywhere are now choosing online stationery in order to stay environmentally friendly and save major money! What's efficient about these sites is that your guests can RSVP and choose meal preferences right then and there, without your guests having the hassle of mailing responses back. You can even link your invitations and create your own 
wedding website
 so that your guests can find everything from your invitation, directions to your wedding, pictures, and more, all on your own personalized website!
5.
The All-In-One Solution
Most people don't realize that 
Basic Invite
 is one of the best places to order your wedding stationery--especially if you're looking to add a picture to your announcement, engagement invitation, or thank you note. Want something super cute? Basic Invite offers customizable suites you can order for your engagement, bachelorette, or wedding that all match within your wedding theme. As always, with 
Basic Invite,
 the possibilities are endless with so many products to choose from and they even have a 
seal and send option
 (bye-bye stuffing envelopes).
6.
Unique Handcrafted Invitations
Etsy
 is a great place to order your wedding invitations that most people don't usually think of, and because of that, it's what makes it particularly unique.  With Etsy, there are so many small vendors and artists that personally design and 
hand-make wedding stationery
. Browse their marketplace of talented artists and share your vision. If you can dream it, they can design it. So stand out and choose something totally you.
Stories you might like