Fashion
The 5 Bridal Trends You Need to Know for the Fall 2021 Season
Collect, manage, and organize your wedding guest information for each event and track their preferences.
While the world may seem very different this year, NYC Bridal Fashion Week goes on! From October 5th-9th, fashion designers from around the world came together to show off some of their new designs for the 2021 bridal season, and we have to say: we're obsessed. Two designers specifically focused on what they thought would be fashion trends for the world of bridalwear in Fall 2021, so that's what we're here to talk about today! Elizabeth Fillmore is a designer driven by passion. "The women I design for have an independent vision, feminine sophistication, and creative spirit," 
says Fillmore
.
She is known for using top-quality fabrics to create ethereal and elegant dresses that fit an ever-evolving clientele. Fillmore is certainly an innovator and incredibly in tune to what comes next in wedding trends, so it makes complete sense that we're following her lead! Leanne Marshall is a name you may know if you're a fan of the show Project Runway, as she was crowned the winner in Season 5. Since then, Marshall has been a huge trendsetter in the fashion world, constantly transforming what's possible in the world of design while also keeping a strong moral and ethical lens to her actions. All of her dresses are sustainably made in the New York City area, and her dresses are clearly designed for brides who want to shine on their wedding day. Both Marshall and Fillmore released new collections this past Fashion Week and have come together to describe some of the trends they're following and predicting for the Fall 2021 bridal collections. Let's take a look!
1. Crop Tops
Two-piece wedding outfits have been changing the game for years now, but according to Marshall and Fillmore, they will make even more of a mark in the Fall 2021 collections. Crop tops are a great way to show off some skin when you're maybe not as comfortable going low- or high-cut anywhere else. We love the way that they accentuate your natural shape and give your body the freedom to move the way it wants to without any constricting boning or corseting.
Leanne Marshall
's design features a wrap top with wide sleeves and is so simple and sweet!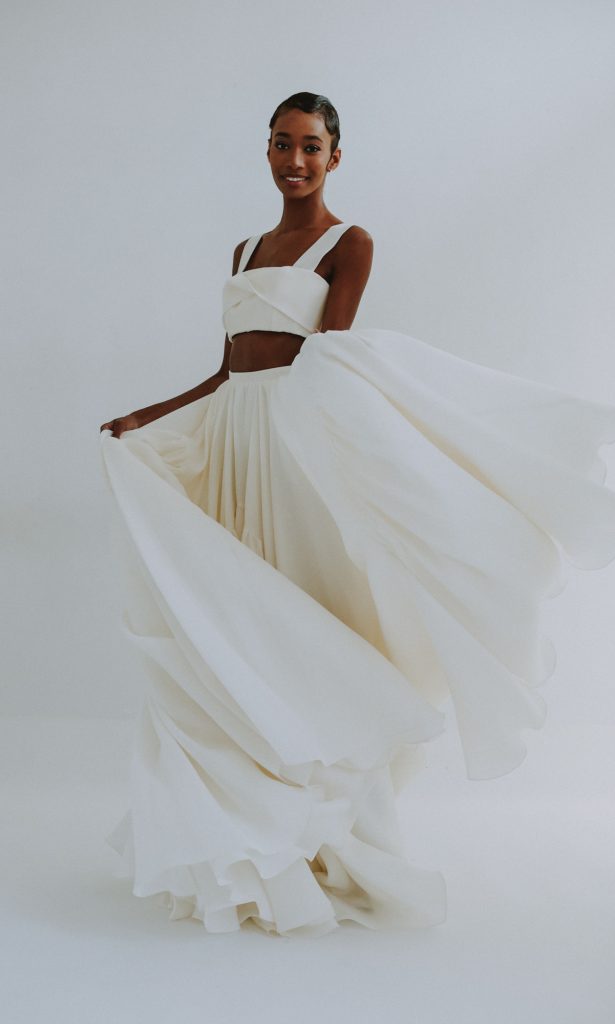 lf there's something that we love even more than crop tops, it's crop tops paired with pants for an ultimate wedding suit look. We are truly in awe of 
Elizabeth Fillmore
's look here with the barely-there lace crop top and these pleated white pants. Feminine, sexy, and just a little bit hard-core, we can't wait to see more looks like this in 2021!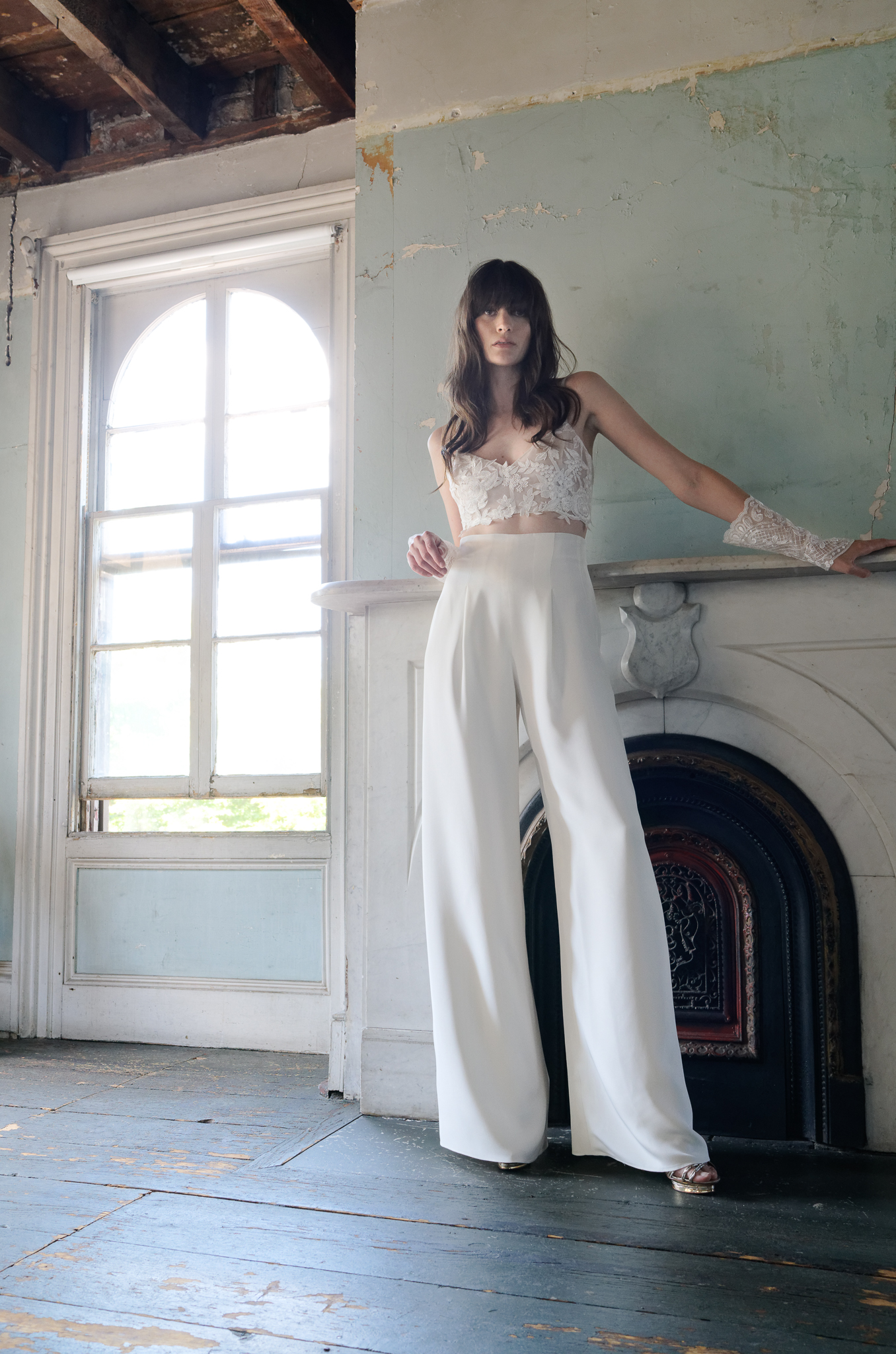 2. Scallops
Next up on the list of Fall 2021 bridal trends is scallops! We love, love, lovethe fun and flirty look of scallops on weddingwear, and we are so excited to see them making a mark on these two designers' collections! Whether on a train or a neckline, scallops are a no-muss, no-fuss way to add detailing without sacrificing the look or the feel of the original fabric. They create beautiful movement and shape, seen here on the hemline of the Agatha dress by Elizabeth Fillmore. We can't wait to see this dress in action!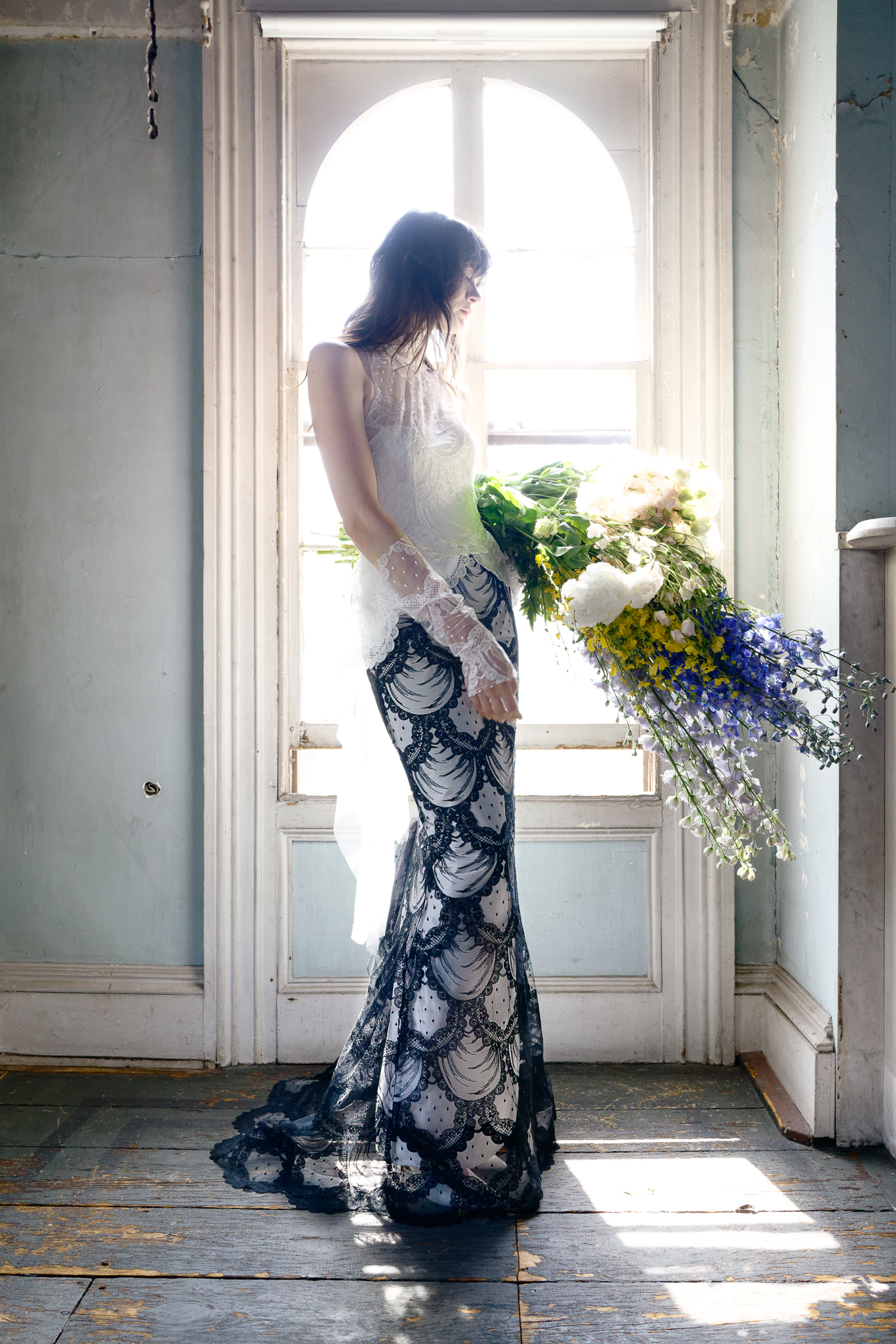 Leanne Marshall's contribution to the scallop trend is this beautiful cream gown with a scalloped neckline. The off-the-shoulder neckline with the scallop edging creates a beautiful look around your collarbone, and we love the flirtiness of the neckline paired with the high slit in the skirt. Simple jewelry accents are all you need to bring this look all the way together!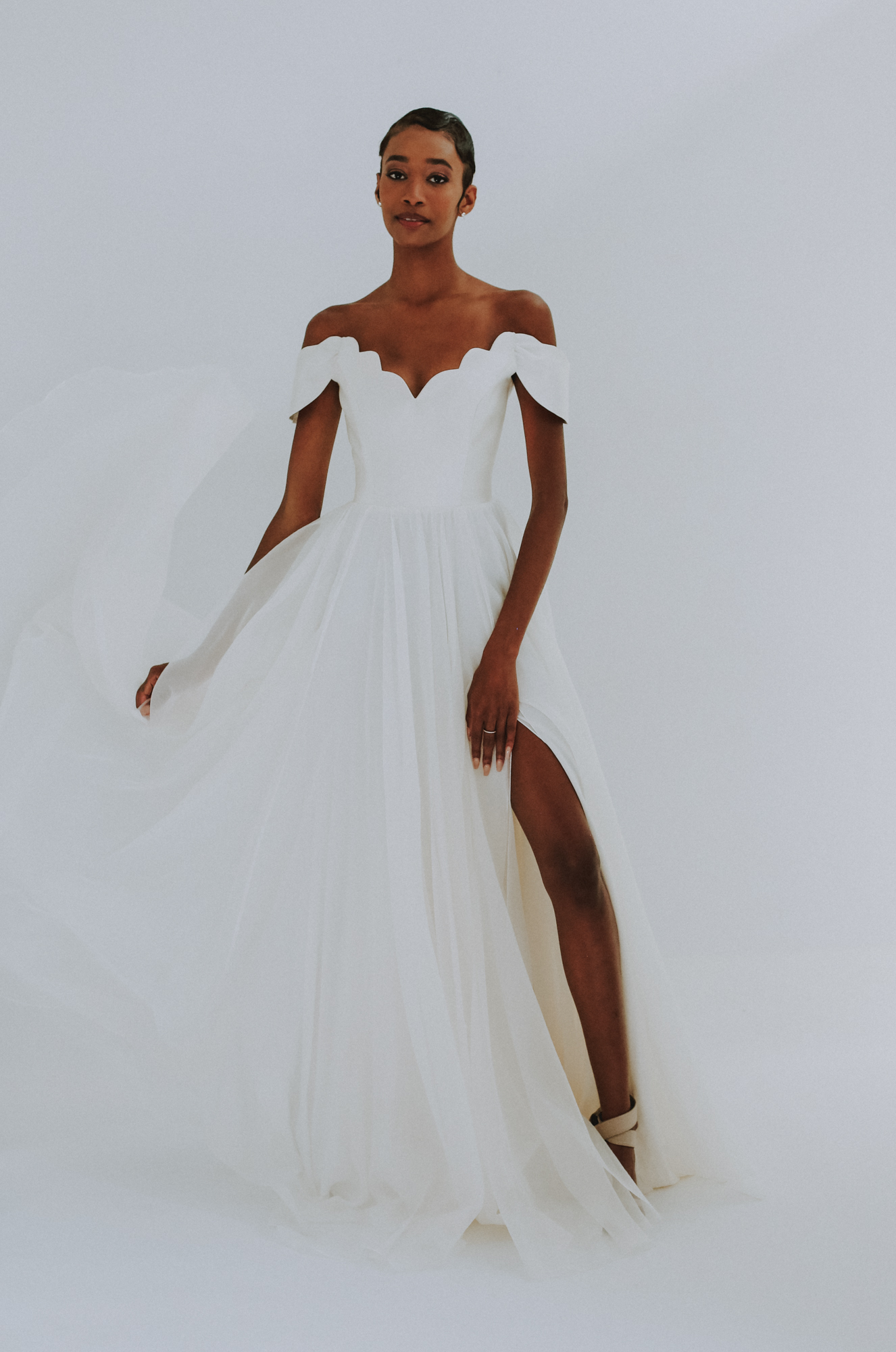 3. Not All White
One of our all-time favorite wedding dress trends is trends that break from tradition in an especially colorful way. Although any bride who has been in a bridal gown boutique can tell you that there is a huge difference between cream and bone, Marshall and Fillmore are taking it one step farther by providing beautiful gowns that are sure to make their mark. This gown from Leanne Marshall has all of the colors of a sunset and all of the class of a runway look, without losing that special wedding gown feel. It's truly the dress of a goddess.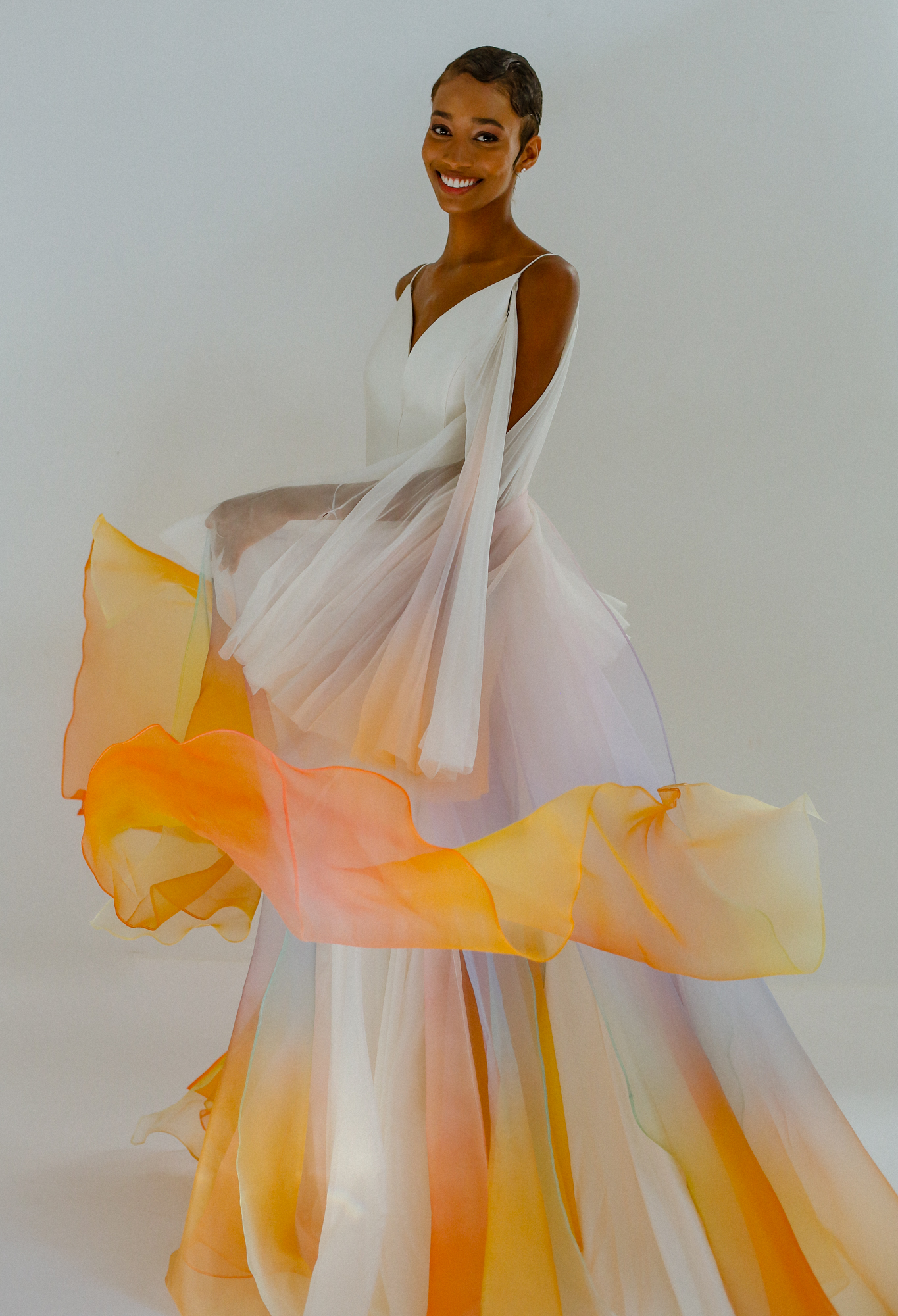 Elizabeth Fillmore is taking a slightly different approach to the "not all white" trend, but it's one that is nonetheless incredibly striking. This half-white, half-black gown creates a beautiful shape and is sure to highlight your natural curves. We love the pairing of the pure matte black bodice with the slight sheen of the skirt fabric. If you're thinking black-tie wedding, this dress will pair perfectly with even the most expensive tuxedo and still make you look like the stunning bride you are.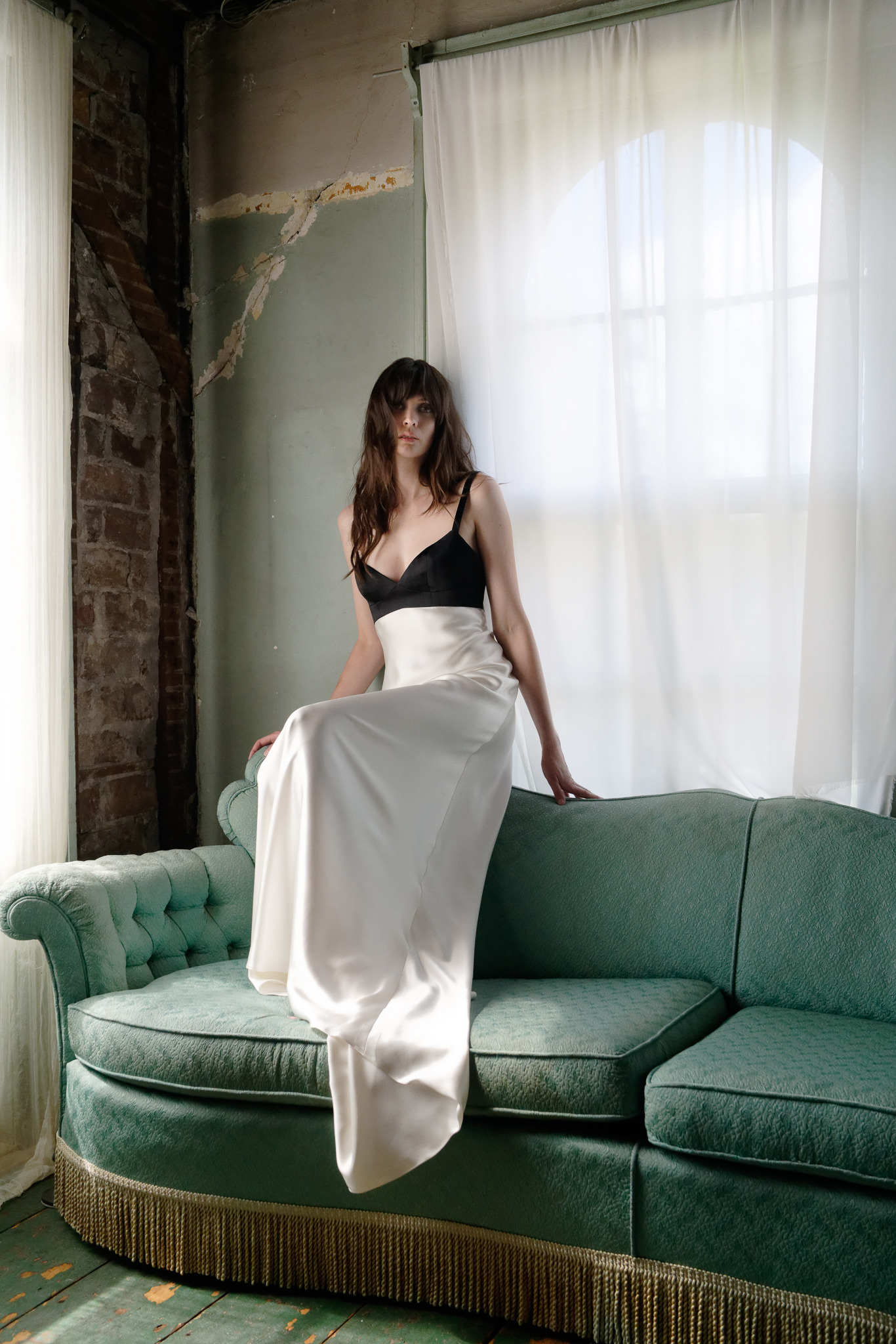 4. Accent/Balloon Sleeves
If you like the black and white look but don't think that that first Elizabeth Fillmore gown has quite enough pizzazz for you, this next dress by Fillmore combines two of her expected trends: not all white and accent sleeves. These mesh balloon sleeves are beyond spectacular and create a lightness to the all-black fabric. We love the eyelash lace accents, and we can guarantee that all jaws will drop when you walk down the aisle in this masterpiece.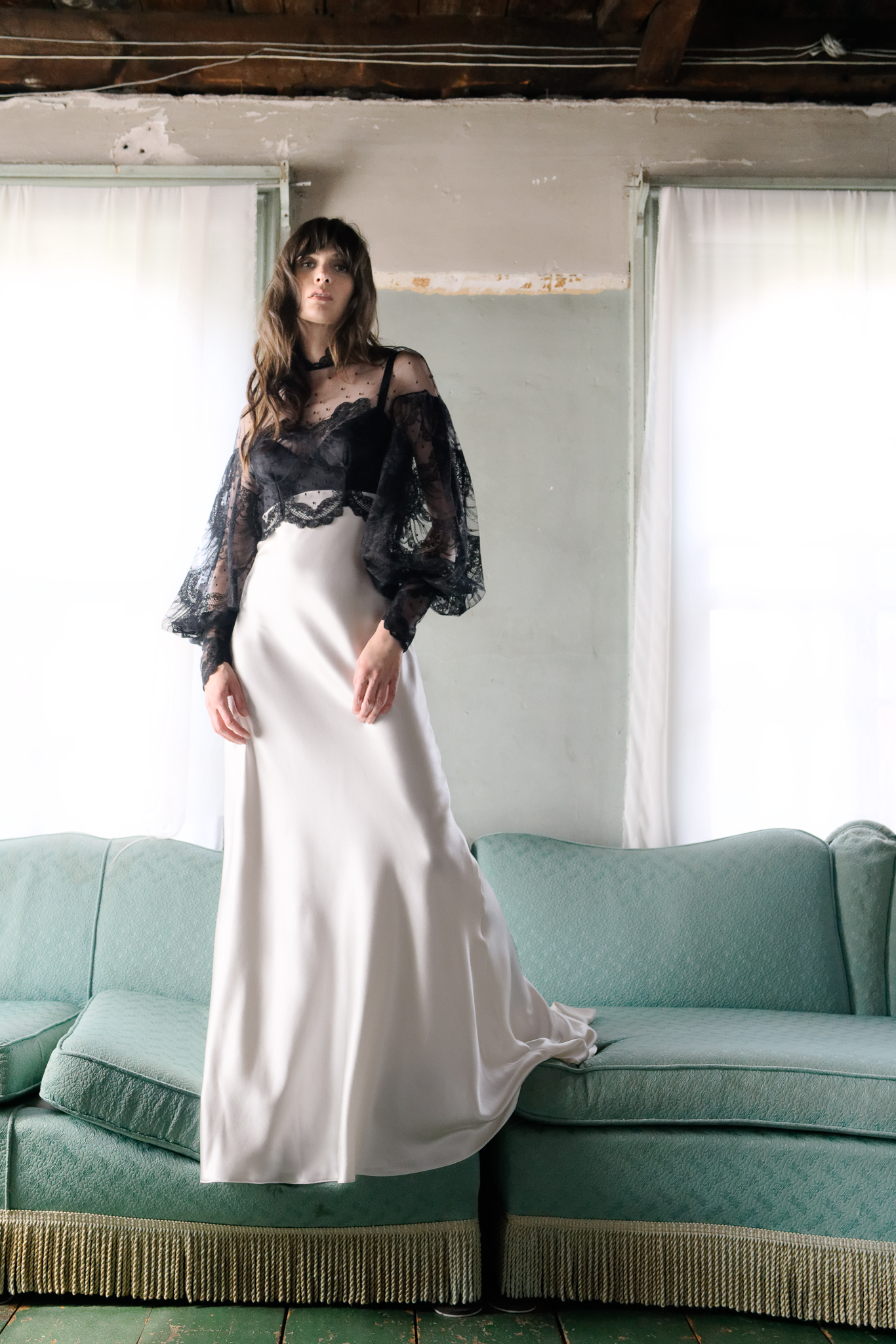 If you want a big-sleeve moment but are looking for something a little bit more demure, Leanne Marshall has some stunning gowns in her Fall 2021 collection that are sure to fit the bill. We're particularly obsessed with this cap-sleeve style for a classic vintage look. Nothing about this dress says outdated though, with its beautifully pleated skirt and square neckline. Marshall's use of cap sleeves here is very "old Hollywood glamour," and we're sure that you won't be able to get enough either.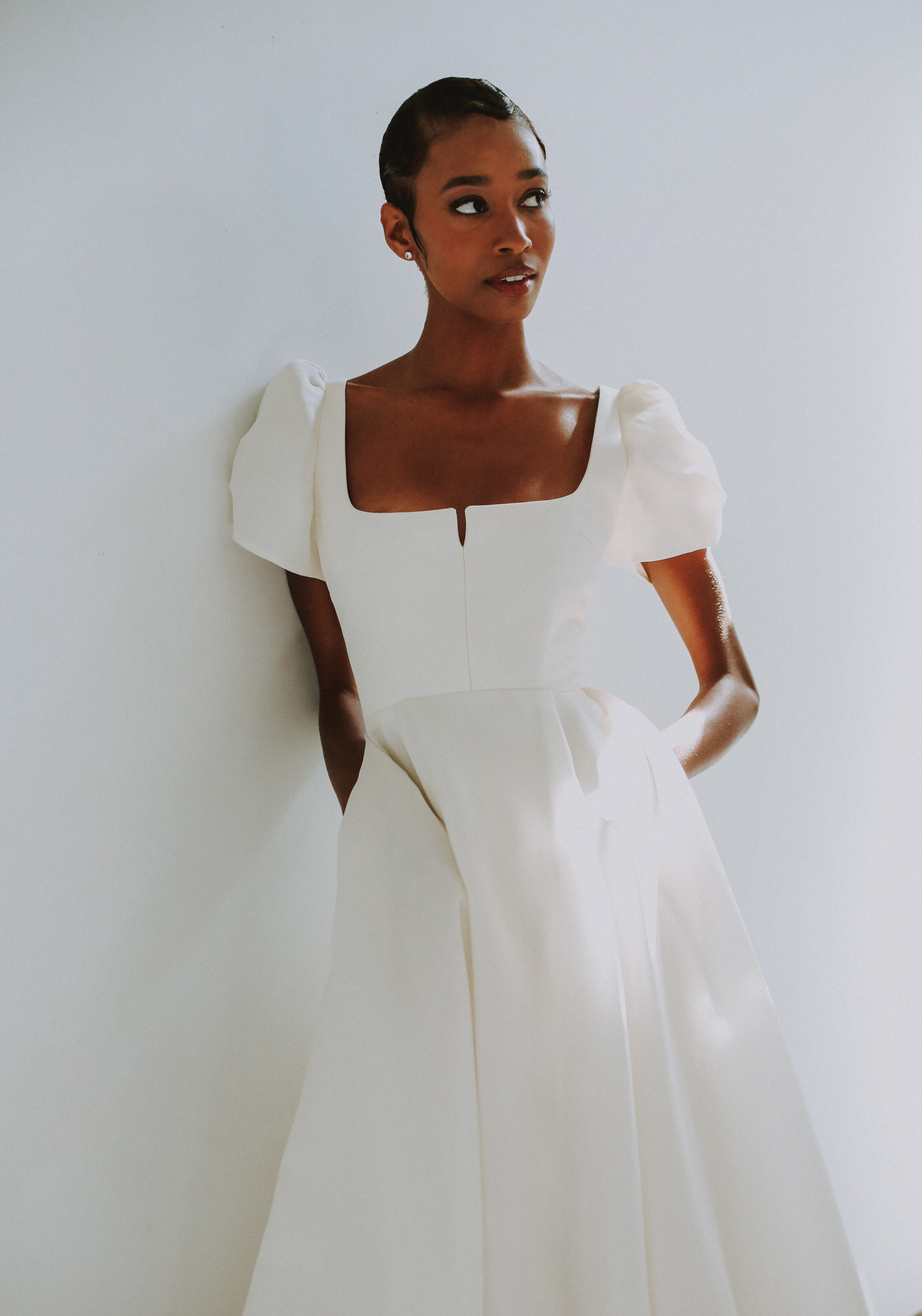 5. Cut Outs/Barely There
Our final trend for the Fall 2021 season is the definition of "less is more." Both of these designers are highlighting cutouts and barely-there designs to truly let your natural beauty shine through. Now, these dresses may not be for everyone, but if you're a bride who is confident in your own skin and wants to show off as much of that skin as possible, Marshall and Fillmore have some incredible designs that will be perfect for you. This Leanne Marshall dress has an absolutely stunning neckline, and we love the use of geometric cutouts to add structural contrast to the beautifully full skirt.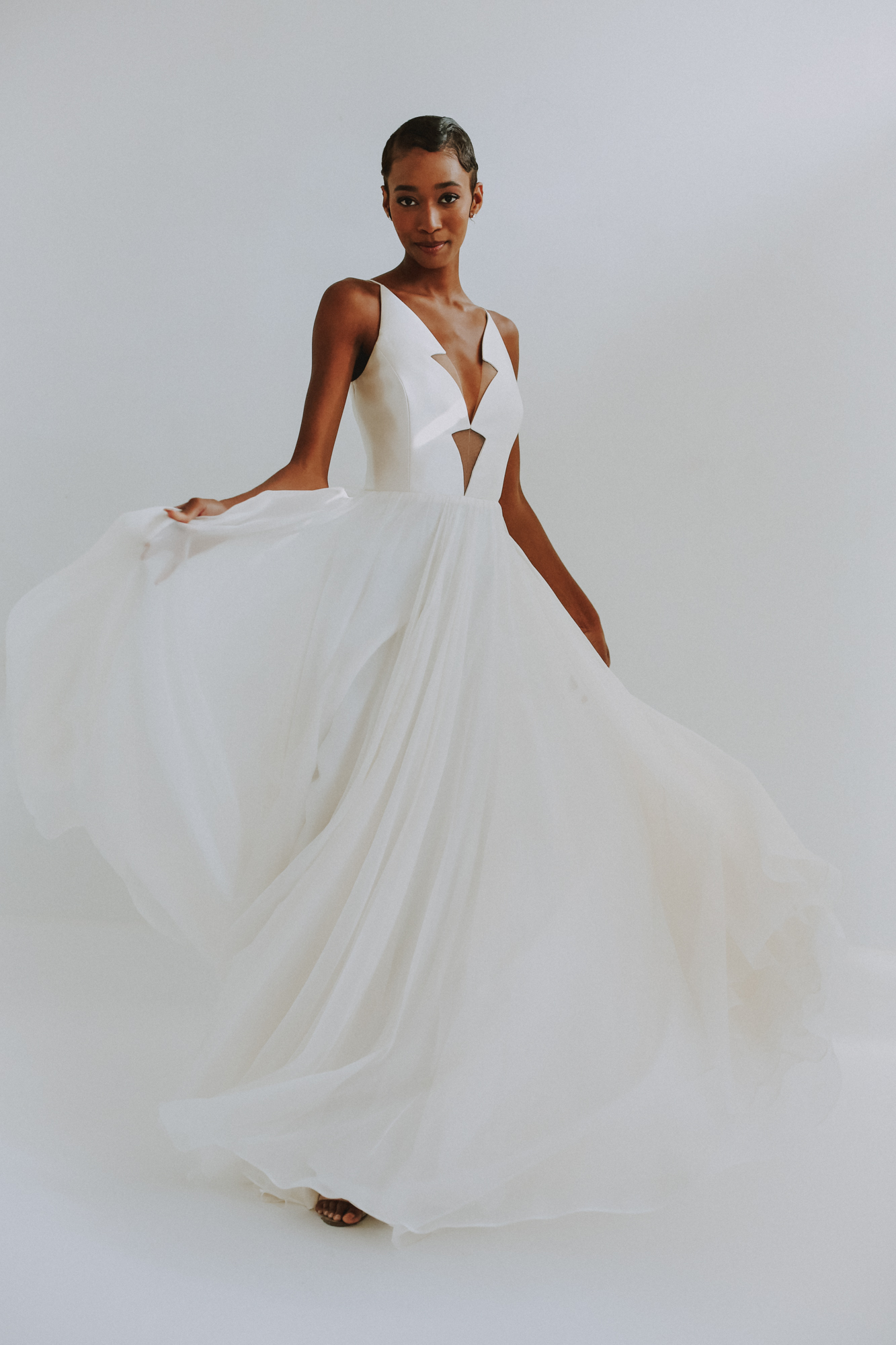 If lace is more your style, check out this beautiful gown from Elizabeth Fillmore. The sheer lace bodice gives a barely-there appearance that is breathtaking. For a dress that will make you feel powerful and glamorous, sexy and sultry, the Empress gown is perfect for you. The sheer bodice and sleeves against your natural skin tone make this dress almost appear two-tone but in a much less dramatic manner than the black and white.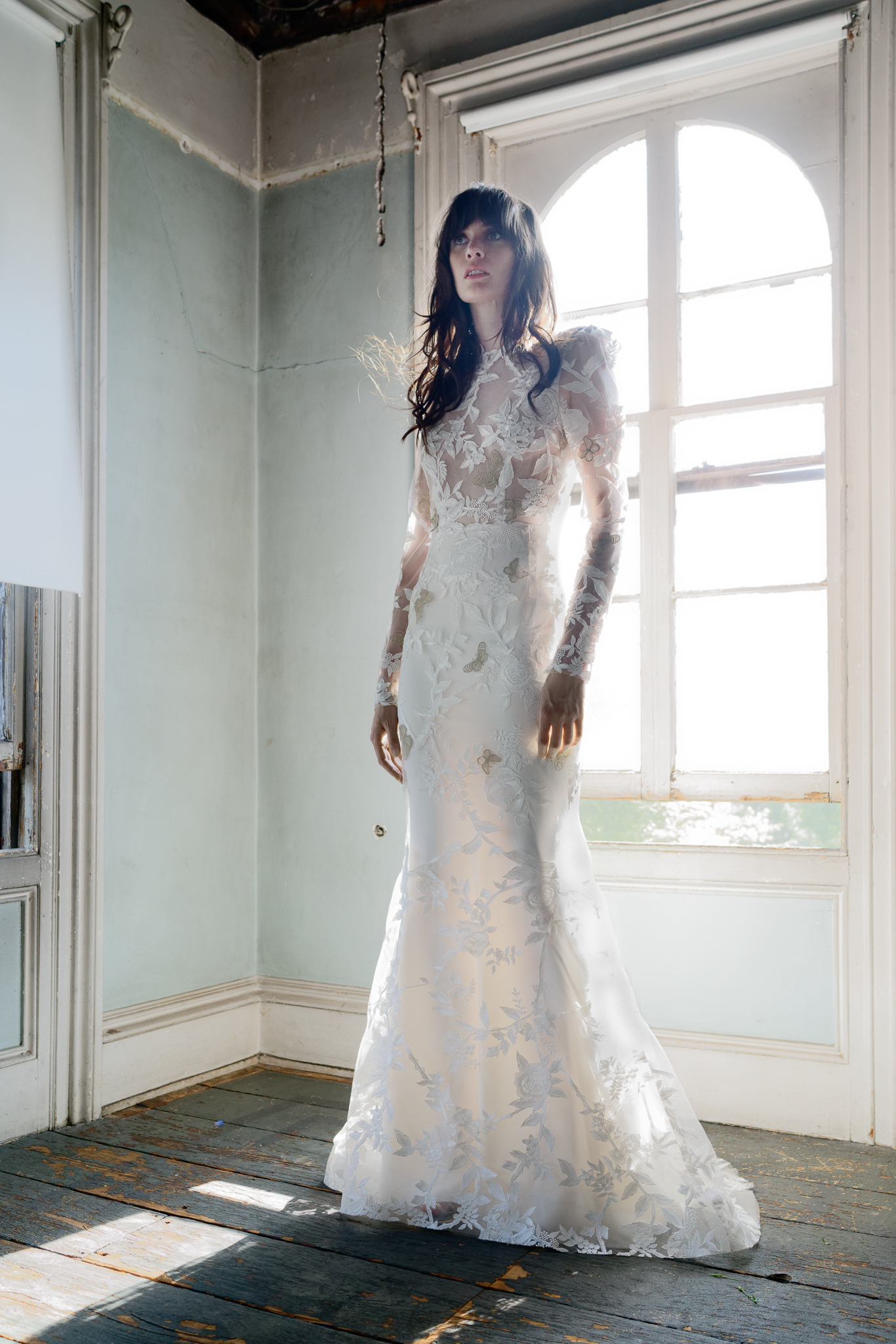 We are sure that these five trends won't be the only ones we see as designers release their Fall 2021 collections, but they are a good start! If you're looking for something that will truly meet your classy couture needs, be sure to check out both of these designers: 
Elizabeth Fillmore
 and 
Leanne Marshall
. Keep an eye out for more trendsetting dresses coming soon!