3 Things to Consider When Choosing Your Personal Wedding Flowers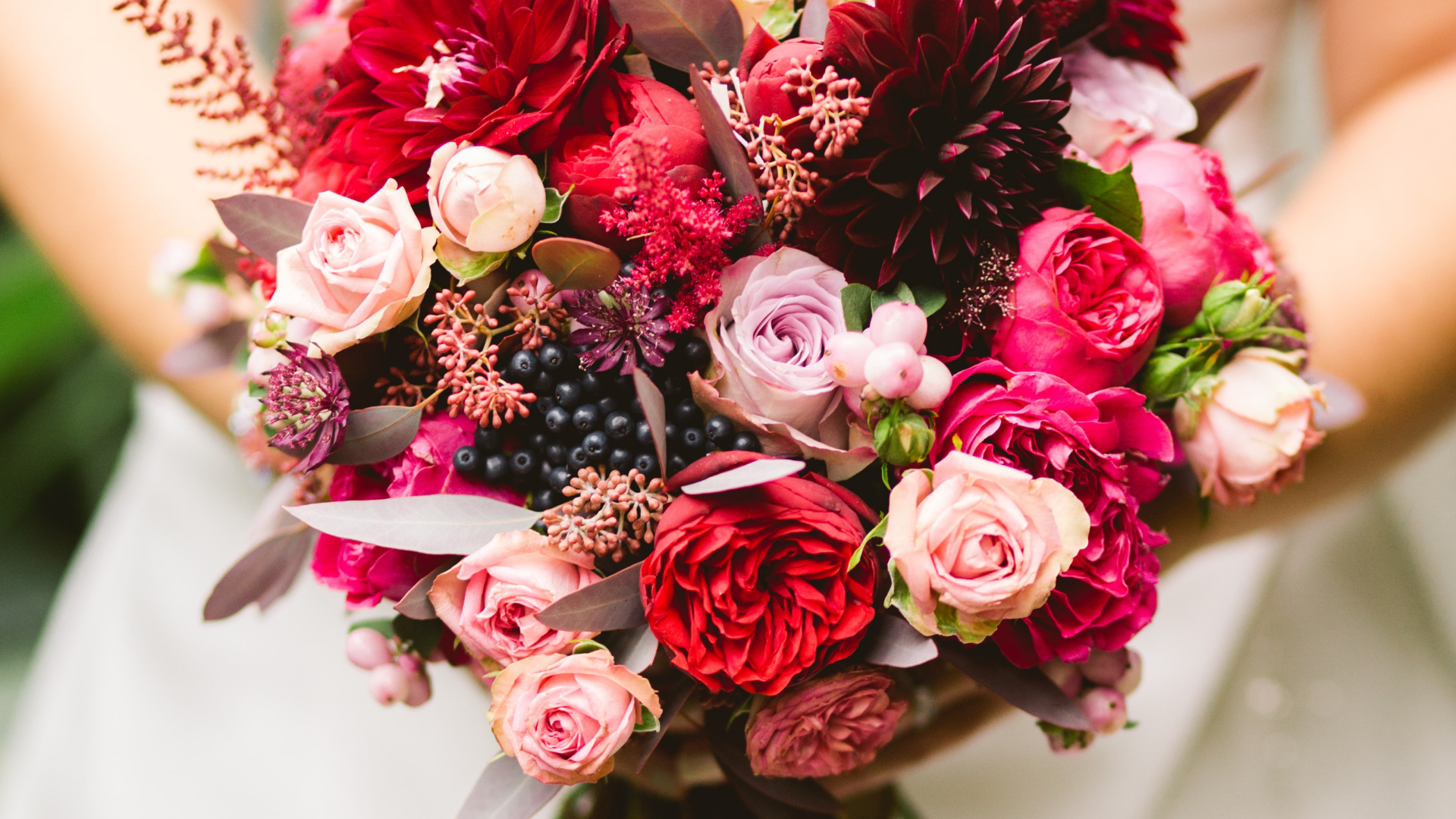 Your dress shape 
Ideally, you want the size of bouquet to be compatible with your dress shape—and body size. While oversized bouquets are super popular right now, this style might overwhelm you if you're very petite. Likewise, if you're wearing a ball gown it might make more sense to have a fuller bouquet to coordinate with the span of your dress. Or, if you're wearing a sheath, you might choose to juxtapose a tighter-fitting gown with big blooms—it all comes down to the overall look. Making a mock bouquet with fake flowers and holding it during your dress fitting is always a great idea for evaluating what bouquet size will work best for you. 
Your height 
Another floral trend of late is the cascading bouquet—which is undoubtedly gorgeous. However, you want to consider the length of the cascade before making the final call—if you're on the shorter side, having a longer flowers can make you look smaller in stature. If you're on the taller side, and want to appear shorter, having a cascading bouquet can work in your favor. It's really all about your preference and understanding what a longer bouquet might highlight as far as your physique goes. 
Your hairstyle 
Before determining whether or not you want to wear flowers in your hair, settle on a hair style. Flower wreaths, also very on-trend right now, work for a variety of 'dos, from long curls to braided crowns. However, you might want to work with your florist to create some mock wreaths before putting in your order so you can see how large (or small) certain types of flowers will seem on your head. A peony wreath would be breathtaking, but the big blooms might overshadow your gorgeous face. If you'd like to wear one bloom or a clutter, either behind your ear or tucked into an updo, it's worth playing around with options as well. You may have an idea in your mind as to what your hair flowers might look like (or saw a picture of another bride with the look you want) but it's definitely worth doing a trial run before the big day to be sure this really is the style you want. Need a little more flower power?
More like this