26 Bridal Robes Guaranteed to Make You Swoon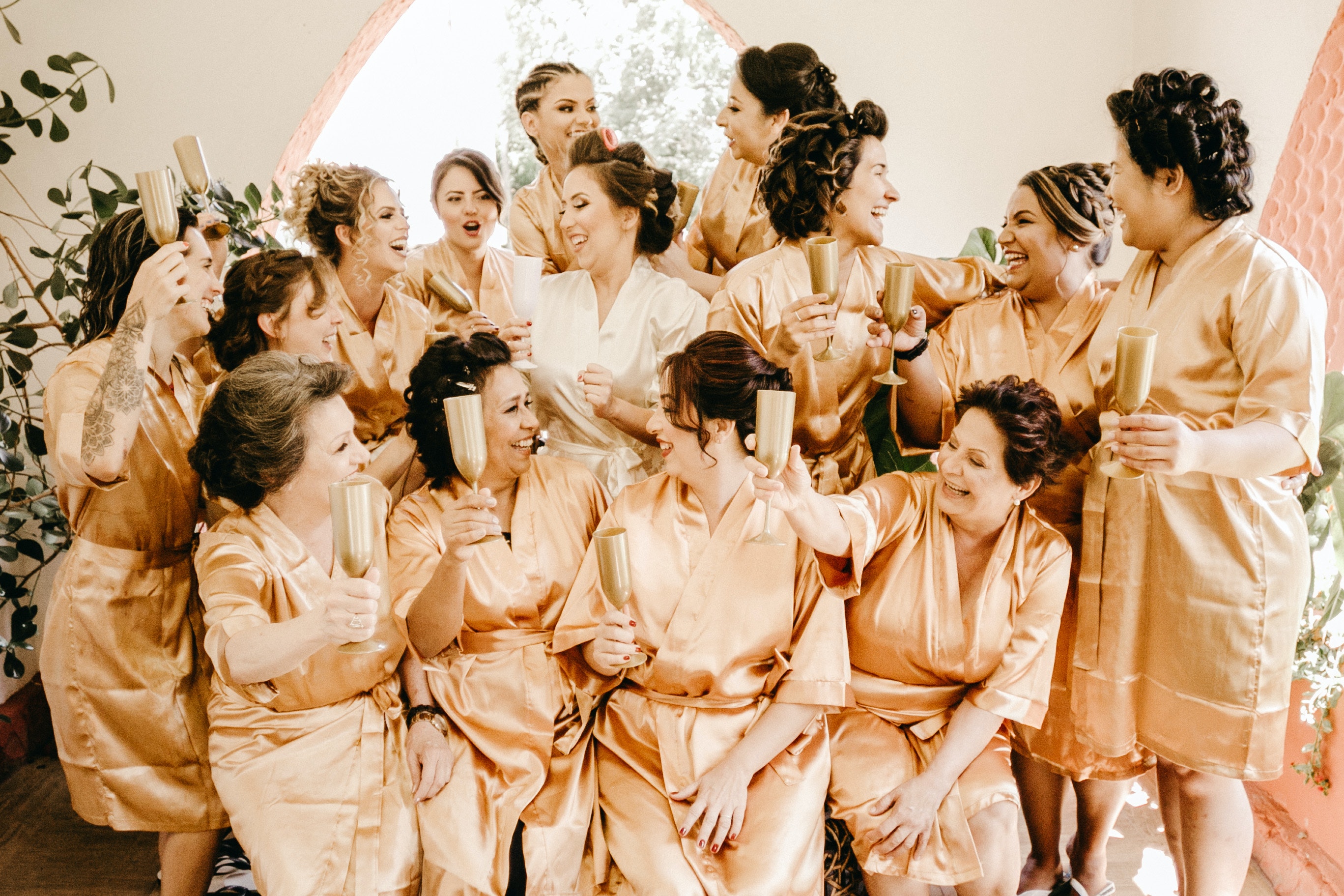 In search of a gorgeous bridal robe? Or maybe a whole set of robes for your bridesmaids to truly embody the luxurious girl gang you are? Just when you thought hanging with your closest gal pals, getting seriously pampered, and sipping mimosas couldn't get any better, you could be doing all that in silky, soft robes, too. Is the wedding itself really the best part of a wedding day? Because this sounds pretty heavenly already…just kidding! (Or maybe…?)We've organized all our faves into some easy-to-follow sections, including:
Where to buy bridal robes?
Where to buy robes for bridesmaids?
The Best Luxury Bridal or Bridesmaid Robes
The Best Cheap Bridal or Bridesmaid Robes
The Best Plus-Sized Bridal or Bridesmaid Robes
Here are our 26 favorite bridal robes for you and your whole wedding squad!
Where to buy bridal robes?
Here are our favorites brands with tons of great bridal robes if variety is a must for your decision-making process.
We are living for this sheer polka dot sleeve! This is a particularly unique robe, but if you're a fan of sheers, this is definitely the right one for your big day.
This brand is an undeniable staple in the wedding industry, and by the looks of this boho crochet maxi robe, you can probably tell why.
This website is entirely dedicated to robes! What more could you ask for? We especially love this perfect champagne option.
Where to buy robes for bridesmaids?
Now don't think we're forgetting about your squad! Finding bridal party robes that also work for your entire wedding party can seem a little overwhelming, but we've found some of the greatest bulk buys that will make your big day getting ready session a smash for everyone included.
This shop has endless options when it comes to colors, size, style, and customizations! We just happened to pick our favorite print option here, but if you're looking for options above all else then search no further.
The Best Luxury Bridal or Bridesmaid Robes
Weddings and luxury go hand in hand, so why not buy a robe to match?
For fans of florals who don't want to compromise on the classic bridal white, your search is over! This gorgeous kimono-style robe also comes in black and purple, if you prefer to go your own way color-wise.
Lace-back and maxi length? This robe is so gorgeous, forget about getting ready, you'll want to spend your whole wedding in this beauty.
Wearing ostrich feathers is basically a guarantee to make any bride feel like the queen they are!
The Best Cheap Bridal or Bridesmaid Robes
With all the added details like the ruffle hem and sleeves, this robe will make you feel like a satin-draped princess for as low as $9.99 depending on sizing and color.
We're cheating! We already included David's Bridal on this list, but it's such a standard and has plenty of options for any price range, just like this sweet little number!
If you're looking for a maxi robe at a mini price then we've found the answer to your search!
We love the modern semi-sheer strip on the sleeves, and we're sure you'll bridal party will love them, too!
The Best Plus-Sized Bridal Robes
It's not easy for everyone to find the right fit for their wedding! Some but not all of the above options do come in plus sizes, but we wanted to shout out a few of our faves here as well. Maybe the robe for you is on this list. 
Plus sizes, child sizes, and a sweet lace hem! We're sold.
*Please note that a few of these products utilize affiliate links, but we only ever share what we truly love with our Loverlies!