Discover, manage, and track all of your vendor communication, contracts, and timelines in one place.
Whether or not you've been dreaming of trying on wedding dresses since you coveted Barbie's white dress, the act of trying them on for yourself for the first time is exciting. It's a big step in the wedding planning, and will probably be one of the first times you truly envision yourself as a bride.
Given all this, shopping for a wedding dress can also be an intimidating and mildly stressful endeavor. The pressure! The anticipation! The desire to look like the models on Pinterest!
To take a bit of the anxiety out of wedding dress shopping, here are the six things that you need to have with you while you're heading out to shop for wedding dresses:
Ideas: Do your research! Start looking around online to start to get an idea of what kind of wedding gown is right for you. The options are endless, so come prepared to narrow the scope..
Positive Attitude: Okay, so this is a little cheesy but bear with us. Wedding dress shopping should be fun, so don't put too much pressure on yourself.
Supportive, Honest Entourage: Squad up! Make a day of your dress shopping, you'll have more fun and get some accurate insight.
Comfortable, Convenient Outfit: You're going to be trying on a lot of stuff, so maybe leave the overcomplicated.
The Right Undergarments: There is definitely a time for neon pink flower underwear, but now is not that time.
Heels
: Or, at least, a similar shoe to what you'll be wearing on the big day. You want to make sure you have a good idea of how the length will work in practice or if you'll need alterations.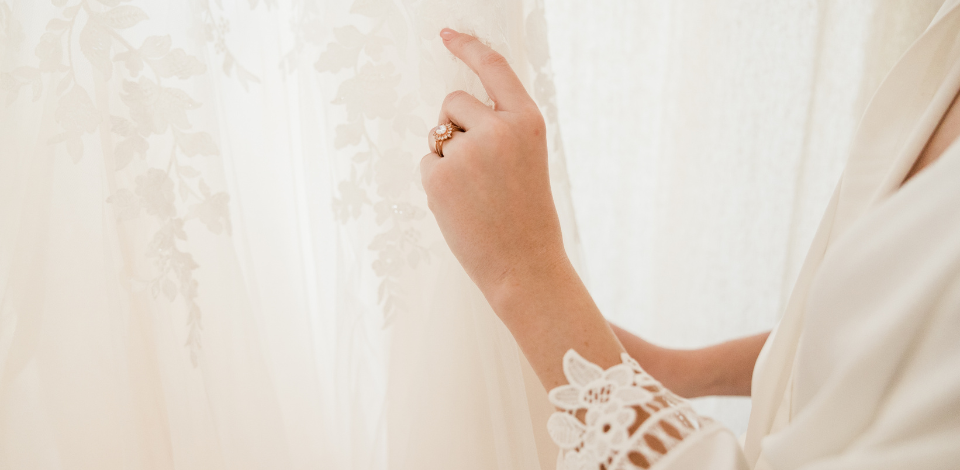 We all have different shopping habits, so you may have to consider your own preferences when you decide what to bring wedding dress shopping, but this simple list is a great place to start. With all the pressure that comes along with wedding planning, the additional strain of having to find the perfect dress can be overwhelming...
Some of the most commonly asked questions include: How should I wear my hair for wedding dress shopping? Can I wear a thong to try on wedding dresses? Who are you supposed to take wedding dress shopping? And, how long before your wedding should you go dress shopping? But don't let all these questions overwhelm you because we're about to give you all the answers you need and more!
Whether you're headed to the bridal salon to sip champagne and be waited on hand and foot or if you're huffing it to the next sample sale to fend off other nearlyweds, the biggest piece of advice we have to make the most of your wedding dress shopping experience is to simply come prepared. Thankfully, if you're reading this then you are well on your way!
1. Ideas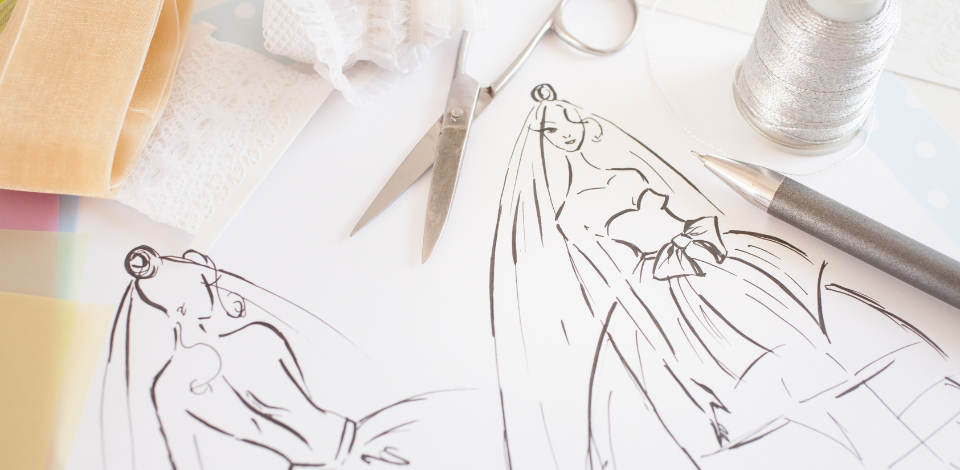 If you're going to a bridal boutique that assigns you a personal stylist (most do), the first thing they are going to ask you is what kind of style you're going for. Things like: What silhouette do you like? Do you like lace? What's your favorite fabric? Designers? How about sparkles? How do you feel about trains? What's your budget?
And if you haven't really thought any of these things through before stepping into the shop, you might just stare at the poor person blankly — until they awkwardly say, "Well, we'll just start somewhere!"If you're not going somewhere with a dedicated stylist, then not having any idea of what you like will leave you even more at a loss! You could be left staring down seemingly infinite aisles of white dresses in every style known to man, where do you even begin? What size do you need? How many months in advance do you need to plan (
nine months is ideal
)? Are you going to look at every wedding gown they have on the rack? That will take forever, and you've got enough on your plate right now. So let's work smart and not hard.
Some brides may already have an entire scrapbook worth of inspiration that they've been working on since middle school, if this is you than you are definitely ahead of the game! At any rate, it's time to start gathering up some inspiration to see which dress styles you like best.
We may be biased, but our inspiration gallery is the perfect place to start as you're able to save recommendations into personalized boards that you can share with your dress shopping squad before you all head out! There's also Pinterest, bridal magazines, even good old Google Images. If you have a specific designer you love, you can also save some images from them onto your phone, if you want to keep it simple.
This step is important for two reasons--
1. As you go through collecting inspiration you'll find yourself automatically sorting out and get to know what will work for you on the big day
2. Once you've gathered up all this inspo, you have a reference point that you can share with others to get their insight and potentially some recommendations!
Here are some things to keep in mind while you're getting prepped.
What's the overall wedding vibe or style you're going for? Make sure your dress won't clash!
What season is your wedding going to be? Keep the weather in mind, you don't want to be left out in the cold for the sake of style.
What's the venue? Or what type of venue are you looking into? Again, the weather is a major factor here.
However, this isn't to say that you should have your heart set on that one dress you saw on Pinterest and stop at nothing to make it yours. There's a happy medium here, folks. By doing just a bit of homework you'll have a much better experience when it comes time to actually try on gowns.
---
2. Positive Attitude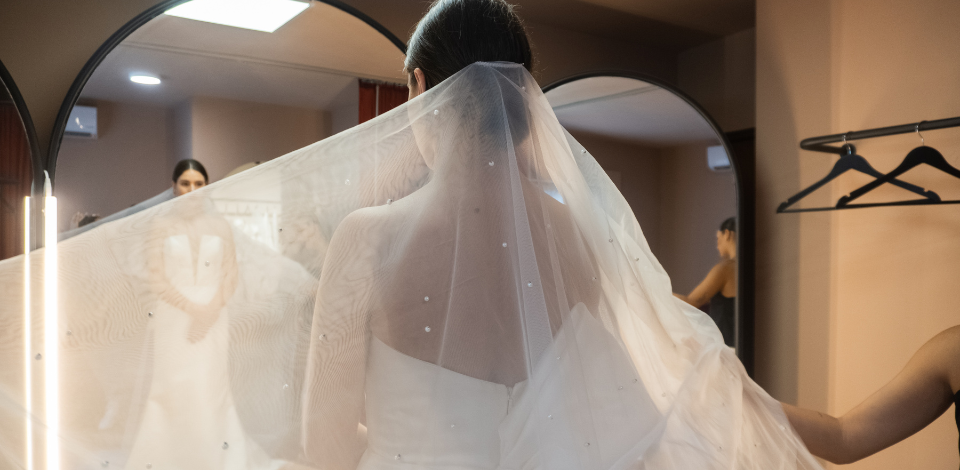 The best things you can bring to your wedding dress shopping experience are positivity and perspective. Any shopping experienced is a very emotionally charged event even when it's not attached to one of the biggest days of your life. We've all been there, standing in the fitting room with garments strewn around our feet just wishing anything would work. It's easy to get pulled into negativity, we know, but try not to let that happen to you.
Be sure you're going into this with an optimist mindset, wedding dress shopping can and should be fun. You're already going in prepared, which should take some of the stress out, but here are a few more key reminders to help you keep your positivity and perspective in check:
You will probably feel terrible and ugly in at least one dress you try on.
Don't let it get you down. Shopping is hard, but you'll find the one—don't you worry! Don't let one bad dress sour your whole shopping experience. If a certain dress doesn't work, it just wasn't meant to be. Let it go and move on.
You might fall in love with a dress that doesn't look like anything on your Pinterest board.
Just go with it! Even though shopping prep is important, you never know which dress is the one until you've tried it on. If you feel great in a particular gown, go with it! You'll never know what you find until you're there, so keep an open mind.
You might have to try on dresses at three different salons or stores before you "say yes to the dress."
Don't get frustrated and depressed along the way, it's important to be picky when you're selecting the dress you'll wear on the biggest day of your life! (No pressure though!)
You probably shouldn't immediately buy the first dress you like—there are so many other wedding dresses in the sea.
That said, if you know it's the one and you don't want to look at another wedding dress as long as you live, it's cool! It's your day, your decision. So if you know, you know.
Try to resist the urge to try on dresses grossly out of your budget, just don't go there!
Chances are you'll fall in love with the $10K gown when your budget is $2K and your mom will have to drag you out of the salon kicking and screaming or you'll be on Craigslist selling everything you own. It won't be pretty either way.
On that note, make sure you're going in with three prices in mind, 1) Your bargain best—this is the dream deal and will be the lowest price you'll likely get. 2) The most likely candidate—a midding amount that you'd be content with. And 3) the almost (but not quite) bank-breaker—this is your absolute maximum and may require you to scrimp on spending when it comes to other facets of your overall wedding budget.
Set yourself up for success by surrounding yourself with people who are ready to boost you up when you need it! Which brings us to our must-bring...
---
3. Supportive, Honest Entourage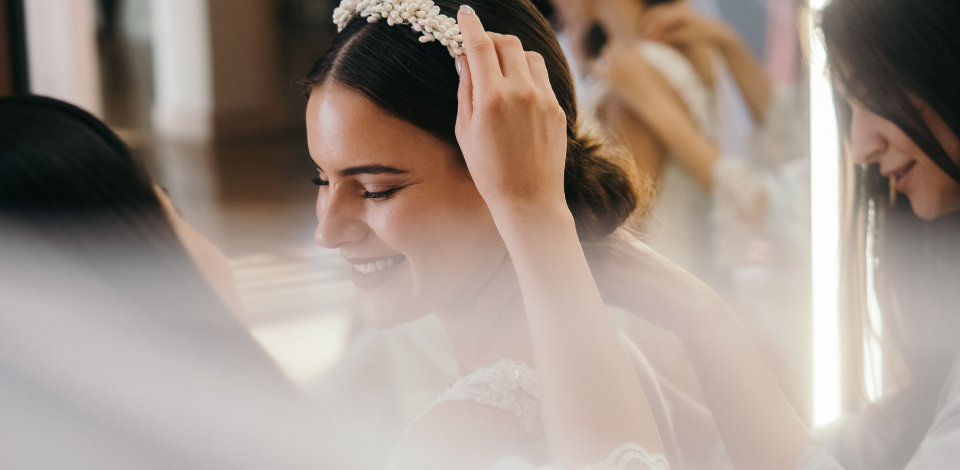 Of course, your family can make for a great wedding dress shopping posse, but sometimes the people closest to us are more concerned with making us feel good than telling the truth. We get it, a little sugar coating here or there can be nice, but in this case, you really want to know the hard truths. Consider bringing one or some of your bridesmaids or wedding party members to help you make sure your dress shopping wedding woes don't come true.
Basically, if you want to find a dress you truly love (and not just like) you're going to need to call in the most brutally honest friend you have. Yes, it's important to have a fun and fulfilling shopping experience, but you also want to make sure you're picking the right dress for your wedding day. The perfect wedding dress shopping companion will be someone who can help lift you up while keeping it real.
There are also some logistical benefits to having a supportive team to help you out. If you're not at a bridal salon with an attending stylist, you're probably going to need some help trying on dresses. It's hard to zip up a dress from behind at the best of times, let alone one that looks like a tulle factor exploded around your waist. No shade, if that sounds like the wedding dress for you, but that will be a challenge to try on!
Finding the right dress is hard, but two heads (or more) are far better than one. When you're sorting through tons of dresses alone, it's easy for things to begin to blur together. But having your entourage by your side will make the process much easier and more pleasant. They can take pictures so you can have a proper look at the back of the dress, they can help narrow down what styles you like best, and overall just make you feel great.
Other than being by your side to make sure you're picking the right wedding dress for you, they'll also just make the whole shopping experience a lot more fun!
---
4. Comfortable, Convenient Outfit
Does anyone else have a go-to shopping outfit or is it just us? Really though, trying on clothes is stressful whatever the circumstances. You're going to be in and out of different dresses all day long, so be sure to wear something that you don't mind changing out of frequently.
We'd recommend a simple, comfortable, stretchy outfit that's easy to throw on and off to make your shopping experiences as pleasant as possible. You should also wear basic shoes that you don't have to re-lace over and over again. (More on shoes later, though!) Something like a t-shirt dress and slip-ons is ideal! Whatever your style, wear what you want just keep it comfy and make sure you feel good in it.
And don't forget, the outfit doesn't end at the clothes. Leave the accessories behind, it'll detract from the look of the wedding dresses you're trying on and it'll make changing a lot more annoying if you're trying to work around tons of extra bracelets and necklaces. Plus, fewer accessories means your engagement ring will stand out all the more!
One last note, If you're planning to wear your hair up on your big day, be sure to bring a hair tie or wear your hair in a ponytail to the appointment. That way, your brutally honest friend isn't also stuck on hair-holding duty while you try to get the full effect of each dress. Not to mention, it's easier to get changed when you have your hair pulled back.
---
5. The Right Undergarments
Now that we're got the outfit figured out, we have to discuss what's going on underneath!
The actual act of trying on dresses is not very glamorous—sorry to break it to you. To describe the bridal shopping experience, you'll be in a kinda small dressing room with your stylist and about eight giant dresses at one time. It's...cozy, to say the least. So, since you're in close quarters with a complete stranger and you're trying on white(ish) wedding dress, it's important to wear the right underwear and bra.
Make sure you're wearing simple,
nude undergarments
—leave the granny panties at home. (No shade to granny panties, just not today.) There's nothing worse than trying on an exquisite dress only to turn around and see some unflattering panty lines. Trust us.
Go for seamless,
nude panties
and a bra that's similar to what you imagine wearing at your wedding. Thongs are completely great too, so long as you're comfortable showing your buns to your stylist! As long as you're comfortable, the stylist will not mind. They're experts! So wear what you like.
Keep your preferred wedding dresses in mind when you're selecting your shopping day undergarments. For example, if you have your heart set on a strapless sweetheart neckline try to wear a strapless bra so you can see how it will really look on your wedding day. A strapless bra may not work for everyone though, so if you know you'll need more support, wear a bra that's comparable to what you'll need at your wedding so you can be sure your dress will sufficiently cover your straps.
Not all dress styles are created equal. Nobody wants to be worried about one of the girls making a guest appearance while you're tearing it up on the wedding day dance floor!
Whether you like thongs or granny panties, strapless or supportive bras, just be ready to try some dresses on and know that either way, you'll probably be wearing something else on the big day. Who's ready for some bridal lingerie shopping?
---
6. Heels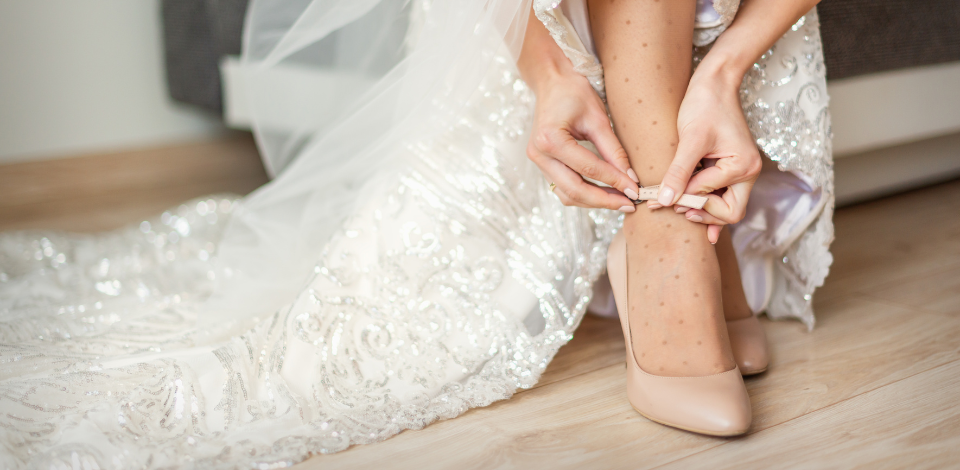 Think you're going to rock giant stilettos on your big day? Or are you pulling a short and sweet wearing some converse or flats? Whatever you're planning on, be sure you come prepared with a shoe that will reflect what you had in mind for the big day. You'd be surprised at how much an extra four inches can alter the look and fit of a gown.
That does not mean we expect you to strut into the bridal salon in your fanciest pair of
heels
you own, rather just throw an appropriate pair into a tote bag and bring it along with you. Or, if you're not sure what you'll feel comfortable wearing why not bring a few and see how they work with the dresses?
Wherever you're shopping, whatever you're wearing, or whoever you're doing it with, just be sure that you're setting yourself to feel good and find something that works for you. We're offering you these tips so you can go into bridal shopping feeling prepared and comfortable, but at the end of the day, we just want you to find your perfect dress and have a good time doing it.
Happy shopping, Loverlies!
Plan your wedding like a pro.