Celebrity
YouTuber Lele Pons & Guaynaa Say "I Do" in Sizzling Miami Style
Customize your own wedding checklist with due dates, personal reminders, and timelines for all your wedding to do's.
One of our favorite couples, Lele Pons and Guaynaa, just tied the knot in a beautiful wedding ceremony in Miami, and it was everything we could have hoped for and more. We've been following Lele's hilarious YouTube channel and Guaynaa's awesome music for some time, so naturally; we were over the moon when we heard they were engaged.
And along with her other
17+ million YouTube subscribers
, we have been eagerly waiting to see how their special day would turn out. And let us just say it did not disappoint! From the breathtaking venue to the heartwarming vows, their wedding was a fairytale event. So, if you're ready to swoon over some wedding photos and hear all about the magical day, keep reading for all the exciting details!
The ceremony took place on Saturday, March 4, 2023, a gorgeous Miami day, with the couple surrounded by the people they cherish most.
Inside Look at Lele Pons and Guaynaa's Star-Studded Wedding 
Lele Pons and Guaynaa certainly know how to throw a wedding that's as beautiful and whimsical as it is luxurious. They chose one of Miami's most famous botanical gardens (Fairchild Garden) as the stunning backdrop to their special day, and they couldn't have picked a better setting for their modern fairytale wedding. 
Lele is larger than life in her fun, creative, and dramatic YouTube videos, so it only made sense that they would choose a venue that matched. And what could be more fabulous than a 100-foot wedding aisle for some drama? The happy couple was surrounded by swaying palm trees, shimmering water views, and a crowd of undoubtedly dazzled guests. The Florida sun shone, Lele looked stunning, and the venue was picture-perfect.
The Decor
With the help of designer and planner Gianna San Filippo and her team, their celebration was infused with a whimsical garden vibe that made everything feel like a dream.
The Fairchild tropical Botanical Garden is a magnificent place on it's own, but for this wedding beautiful floral installations and decor were created by the talented team at
Birch Event Design
elevating this natural wonder into a luxurious soi·rée. They transformed the venue into a breathtaking oasis overflowing with oversized, lush blooms and large floral installations that had guests gasping in awe.
The couple chose Miami's famous Fairchild Tropical Botanical Garden for the setting, so we really leaned into the lush garden and floral design. Birch Event Design created the most magical modern garden decor - from the ceremony arch to the tabletop to the stage backdrop - everything was so lush and oversized. Twinkle and Toast created the stationery using different shades of green, copper metallic and white leather.

- Gianna San Filippo
Lele's Wedding Dress
One of the most anticipated parts of any wedding is what the bride will wear. And on this day, there was no shortage of bridal fashion. Lele looked stunning on her wedding day, and she showed off her fashion-forward style with not one, not two, but three different gowns!
Whoever said you have to wear just one dress on your wedding day? That's so yesterday's news! While many brides still dream of a classic white gown fit for royalty, the truth is, lugging around layers and layers of fabric can be pretty uncomfortable after a few hours. 
Thankfully, modern brides like Lele Pons are breaking tradition and opting for multiple dresses on their big day. It's the perfect way to showcase your personal style and keep things fresh and exciting throughout the celebrations. Plus, who doesn't love an excuse to slip into different ensembles during the biggest party you'll ever host?
Ceremony Dress
Lele donned a romantic and princess-like ballgown custom-made haute couture wedding dress by Zuhair Murad for the ceremony. She looked radiant in the stunning white number with a full ball gown skirt and long sheer sleeves. The dress was adorned with sparkling crystals and silver branch-shaped details extending from the waist to the chest, giving it a regal touch fit for a princess. With its princess-like vibe and elegant detailing, this gown was the perfect choice for Lele's walk down the aisle.
To complete her bridal look, Lele wore her hair in a chic bun with loose tendrils of hair framing her face, accentuated with a stunning crystal tiara. And for a little extra drama, she wore a very long veil of tulle that cascaded down from her hair and gently draped over the train of her dress, adding a touch of glamour and romance to her overall look. It was a breathtaking combination that perfectly complemented the intricate details of her dress and emphasized her radiant beauty on her special day.
The Reception Gown
Kicking off the reception is pure Miami style, Lele wore the Kira gown by Julie Vino, a breathtaking mermaid wedding dress. This showstopping wedding dress fits like a second skin and features a romantic high neckline, intricate and unique lace, whimsical detachable sleeves, and a nude lining. What a gorgeous dress to kick off their party and celebration.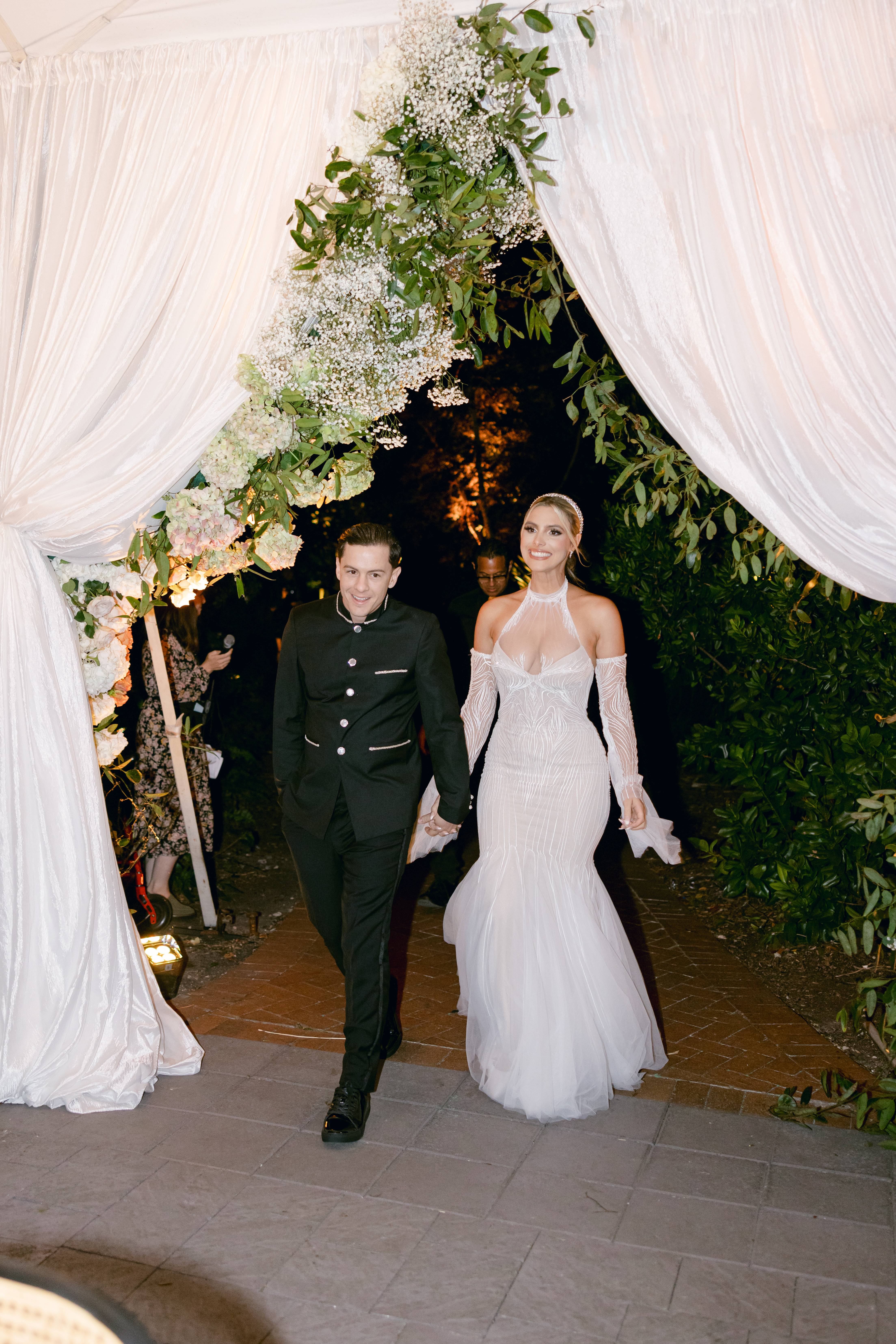 The Short, Party Dress
As the evening progressed, Lele changed yet again into a fun and flirty short satin halter dress by Pnina Tornai. This allowed her to let loose and enjoy the celebration. 
The Marvelous Cake
Of course, no wedding is complete without a delicious cake, and Lele and Guaynaa pulled out all the stops for theirs. They worked with Divine Delicacies Cakes to custom-design an opulent 10-tier cake in varying flavors of chocolate and vanilla that had everyone reaching for seconds. It was a masterpiece in design, and we're sure it was yummy.
Entertainment
And let's not forget about the entertainment! First, Natalia Jiménez serenaded the newlyweds during their first dance, accompanied by a lively mariachi band. Then, as the night went on, the party heated up with performances from some of the biggest names in Latin music, including Nati Natasha, Becky G, Sebastian Yatra, Mau and Ricky, and even the happy couple themselves!
The entire event took about 6 months to produce. They are both musicians, so we incorporated live music everywhere we could: strings and vocalists at the ceremony, live strings at cocktail hour, Natalia Jiminez and a 15-piece mariachi serenaded the couple for their first dance and multiple guests got up and sang during the dance portion of the night. 

- Gianna San Filippo
The dance floor was packed all night, with many fancy and weird dance moves. There's something unique about a wedding that gets even the worst dancers out on the floor. But, as you can see in the
wedding video
, Lele shared on YouTube, everyone had a great time. 
Star-Studded Bridal Party
Lele Pons and Guaynaa's wedding day was a stunning affair, filled with love and joy from 300 of their closest friends and family. Lele's bridesmaids were a star-studded group featuring Brazilian singer Anitta, Paris Hilton, Hannah Stocking, Kimberly Loaiza, Nicole Garcia, Isadora Figueroa, and Isabela Grutman.
Guaynaa's groomsmen were an equally impressive group of guys, including YouTuber Twan Kuyper, Colombian singer Sebastian Yatra, Mau Montaner, Ricky Montaner, Lorenzo Figueroa, Manuel Turizo, and Julian Turizo. The groomsmen looked dapper in their attire and showed their unwavering support for Guaynaa throughout the day. 
Celebrities In Attendance
The wedding was also attended by several other big names from the entertainment industry, including Becky G, Camila Cabello, Tana Mongeau, Steve Aoki, Diplo, Logan Paul, Winnie Harlow, Natti Natasha, Calle y Poché, Domelipa, Natalia Jiménez, Jonathan Cheban, Montana Tucker, and many more. It was a star-studded affair, and it was clear that everyone was having a blast celebrating the love between Lele and Guaynaa.
The wedding was captured in all its glory by talented photographers Phraa and Emily Prada, who didn't miss a single detail. It was a day that Lele Pons, Guaynaa, and their guests will never forget.
Lele and Guaynaa's wedding was an unforgettable celebration of love, filled with glamour, luxury, and joy. From the stunning venue to the beautiful floral arrangements, everything was designed to perfection. The bridal party, including the bridesmaids and groomsmen, added to the festive atmosphere, while the star-studded guest list made it clear that this was a wedding to remember.
And, of course, the stunning gowns and bridal looks Lele Pons wore throughout the day were breathtaking. This was a truly magical event, and we wish the newlyweds a lifetime of happiness together.
Lele and Guaynaa's Vendor Team
Venue
Fairchild Tropical Botanic Garden
Plan your wedding like a pro.