The Types of Flowers To Consider For Your Wedding Day
Narrowing down what flowers you will choose for your big day is hard, but knowing the florals names is even harder.
Roses
Everyone knows what roses look like. But did you know that there are more varieties of roses than you could ever dream of? With over 150 species of roses and thousands of hybrids, roses can be found in nearly every color and shape you could want. The possibilities are endless!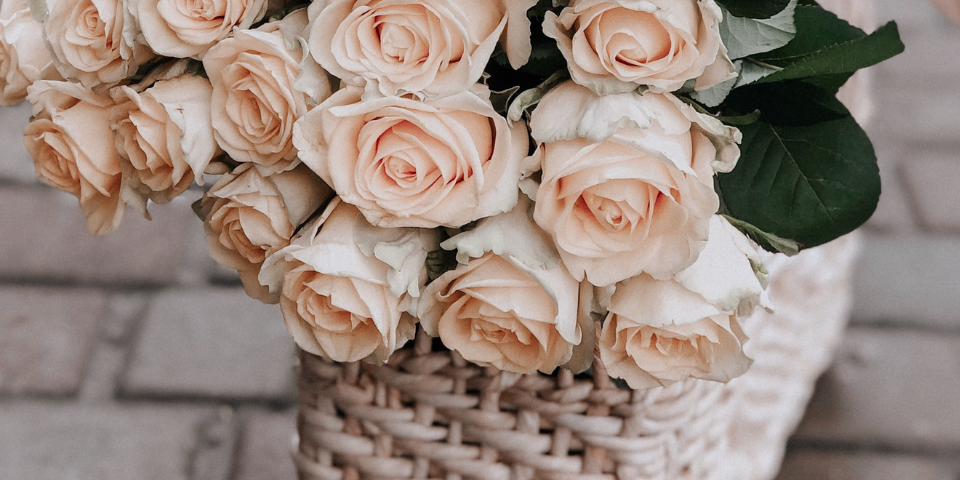 Peony 
Although peonies can be a tad pricey, they're extremely lush. A couple of blooms in a bouquet go a long way! Our favorite peony creation is a soft mix of light pink peonies, white garden roses, and sprigs of dusty miller. 
Anemone 
Anemone's are ideal for the modern couple because of their black and white tone. The great thing about anemones is that they stand out on their own, but can easily be mixed in with other flowers as accent pieces. They are delicate, though, so make sure they're watered properly before the big day. 
Dahlia 
Dahlias are one of Loverly's all-time favorite flowers! Dahlias have such a big presence in whatever setting they're used in. For example, they look stunning in reception table centerpieces without breaking the bank. Plus, they come in tons of beautiful colors, so there's no shortage of options.
Daisies
Daisies are beloved for their cheery presence as standalones or in bouquets. They're also extremely versatile. They're perfect for boho wedding, rustic wedding, woodland weddings - basically any style of wedding!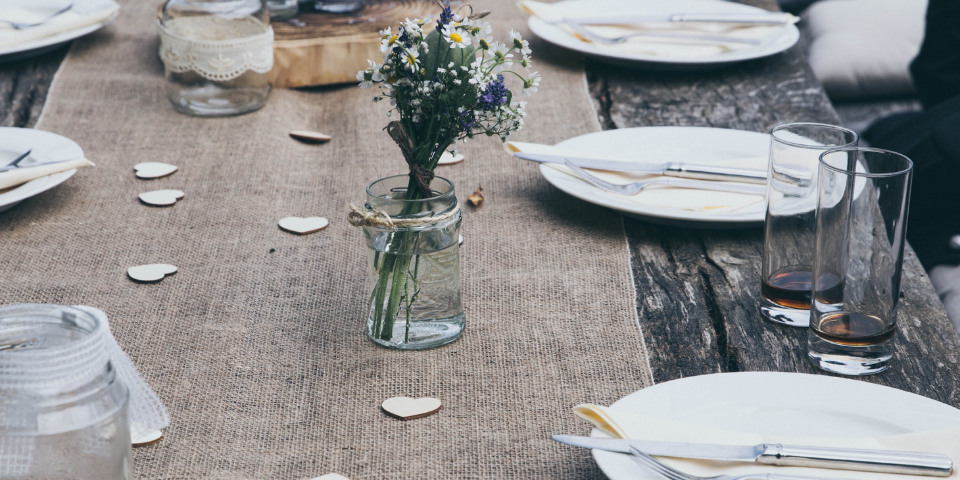 Lilac 
Lilacs may look sweet, but they smell even sweeter. Lilacs are incredibly romantic and can also work well on their own in a bouquet. They're perfect for the romantic,elegant weddings that feature a soft color palette.
Lilies
Lillies are another favorite because of their unique bell shaped blossom and delicious scent. If they're good enough for Kate Middleton and Princess Diana, they're good enough for us! We love combining lilies with lush greenery to highlight their brilliant shade of white. 
Lavender
Lavender is cost-effective and smells absolutely delightful! We love the idea of incorporating lavender throughout your wedding as a garnish with the food, in signature cocktails, and, of course, in your flower arrangements. Lavender is best paired with other wildflower blooms like baby's breath, daisies, and heather flowers.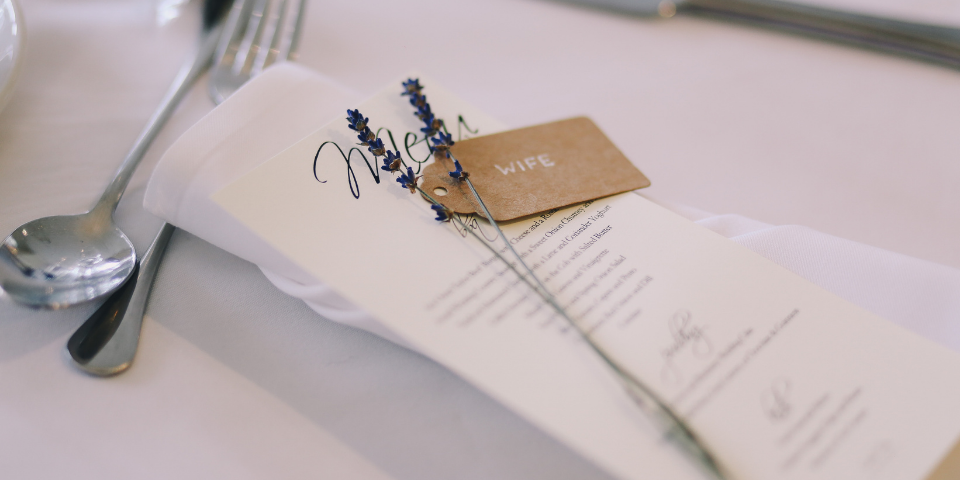 Ranunculus 
You've probably seen Ranunculus all over the web, and we know why! These gorgeous little flowers are typically used as accents because of how small and delicate they are. They're great for adding a little bit of wildness to a bouquet or centerpiece. They come in a huge range of colors and are always adorably petite.
Sweet Pea 
Everything about sweet pea flowers - from their scent to their dainty stems - is oh-so sweet and they add a soft, ethereal look to any bouquet. We totally love the idea of a simple
bouquet
of sweet peas held together by a loose silk ribbon.
Hydrangeas
Hydrangeas are sophisticated, chic, and are mainly seen in classic blue or white. But you can definitely find hydrangeas in all kinds of colors if you hunt for them! These gorgeous flowers look great by themselves due to their sizable, cloud-like shape or with a daintier flower like baby's breath in a larger bouquet.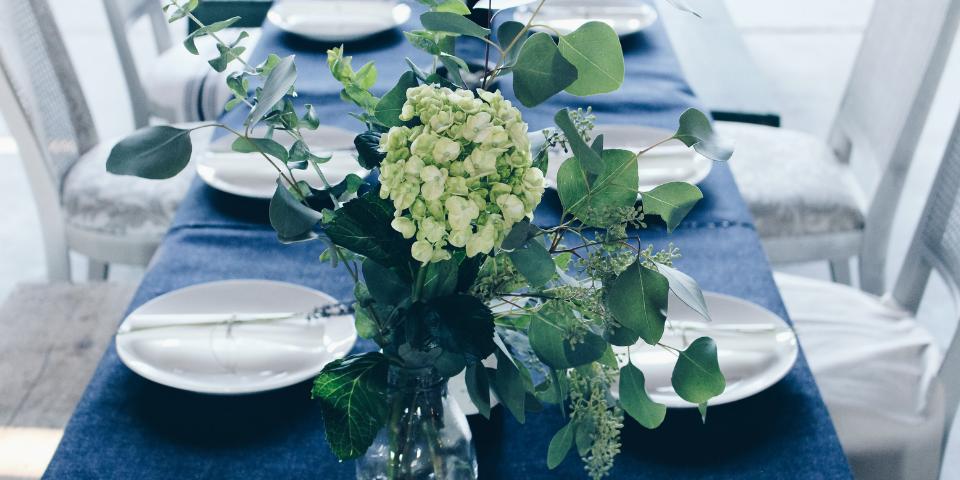 Orchids
Orchids are colorful and beautifully fragrant. They're sure to elevate any wedding they're a part of. They come in gorgeous sherbet, pastel shades and some dusty colors that are absolutely stunning. Take a chance on this modern classic.
Tulips
Tulips can be so much more than that generic flower you're probably picturing right now. They come in a huge variety of colors - but we're suckers for the classic white variety.
Baby's Breath 
Baby's breath is a symbol of everlasting love—which is one of the reasons it's a popular wedding flower, the other is that it's beautiful! It's incredibly delicate and can even be used to decorate your hair on the big day. It's also perfect as an accent to bigger flowers for a stunning bouquet. 
Faux Florals 
In the past, faux flowers would probably have been thought of as tacky. We're here to let you know that they've come a long way! Faux flowers are a great option that allows you complete freedom regarding the kinds of flowers you go for. No need to worry about climate or season.
Sunflowers
We love sunflowers for their bright and cheerful presence. They're also wonderful for helping create shabby chic or rustic wedding vibes when included in a larger bouquet combined with smaller and neutral toned flowers.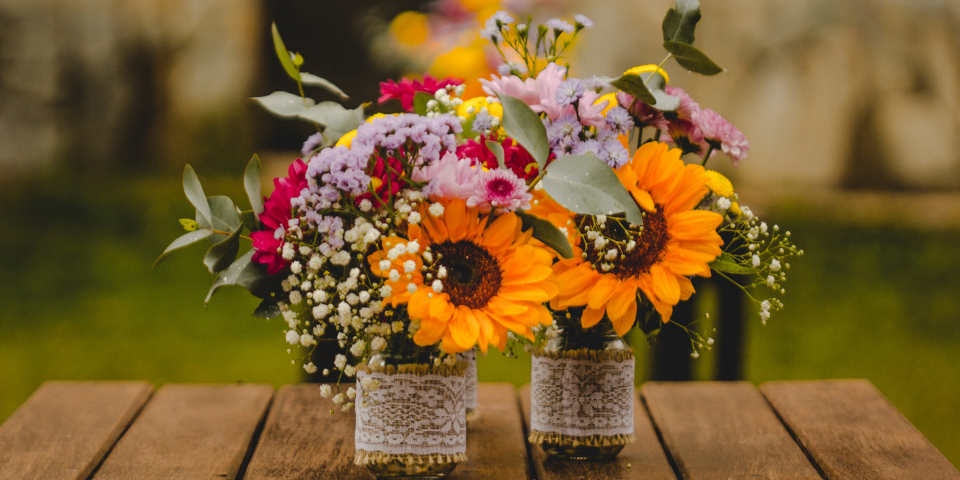 Greenery & Succulents
​​Succulents are drought-resistant, but they do better with water and fertilization. The fleshy leaves of the succulent are extremely fragile, so use caution when moving a succulent from its original vessel into a centerpiece or favor container. We love the rustic vibes they can give any wedding. 
Dogwood
We loved dogwood because it looks gorgeous on it's own with it's dainty and intricate blooms, while also being a lovely addition to any bouquet or flower arrangement. It's a gorgeous choice for a spring wedding, and is available in white or blush toned colors.
Snowdrops
Snowdrops are the ultimate flower for winter weddings and are rising in popularity as the years go by. Since snowdrops are the first flowers to bloom at the end of winter, and at the beginning of spring, they normally symbolize hope and unity: perfect for a wedding. 
Goldenrods
Goldenrod is a beautiful native wildflower that bursts into bloom in late summer. With its bright yellow finish, we love how this looks alone or paired with other fall colors like mocha or burgundy. If you're looking for a pop of color to add to your wedding, this is the perfect option for you! 
Iris
Iris's are hugely popular for nearlyweds, and for good reason, too! These small but widely colorful flowers pack a punch when alone or paired with other florals. We love how these look for spring or summer weddings either as an addition to a bouquet or even as centerpieces for your wedding reception.
Black Eyed Susans
Black Eyed Susan blooms are cheerful, sunny, and welcoming. These flowers are ideal for main entrances to your reception area as well as possibly alongside the arch where you'll wed. We adore Black Eyed Susans for fall weddings, as the colors accentuate the autumn color palette. 
Primrose
Primrose are incredibly romantic and come in a variety of different shades like sunny yellows and deep purples. We love how in each primrose is a yellow center, making this an ideal option for spring or summer weddings. We think these would look lovely and whimsical in small mason jars along your wedding reception tables. 
Protea
While there are many different varieties of protea, at Loverly we especially love the Queen and King varieties. They are luxurious, tropical flowers that sport fuzzy-like petals. If you want to have a glamorous wedding that will stop the crowd in their tracks, protea is the exotic touch you're looking for. 
Daffodils
While daffodils may seem simple, we just adore these brilliantly bright blooms that will encapsulate happiness and eternal love on your special day. Personally, we think these would look gorgeous alongside burnt orange and magenta colored bouquets, or by themselves in small vases at your wedding reception. Fun fact: In China, the daffodil symbolizes good fortune.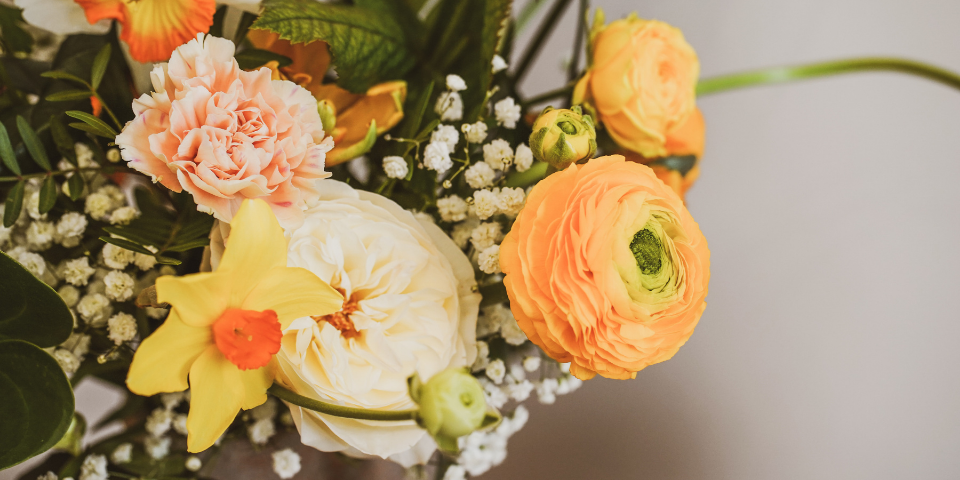 Morning Glory
Morning glories bloom from early summer to the first frost of fall. With their slender stems and heart-shaped leaves, they will be sure to symbolize your love on your wedding day. Their unique trumpet-shaped flowers come in colors of pink, purple-blue, magenta, or white. These beautiful blooms are also very fragrant, and are not only attractive to our eyes but also beloved by butterflies and hummingbirds.
Marigolds
Marigolds are the ultimate flower for your wedding if you're going for a whimsical or DIY vibe. The versatile Marigold flowers can bring about a soulful quality to any bouquet and are incredibly popular in Hindu weddings because they represent the sun, symbolizing brightness and positivity.
Holly
Holly is known as the flower of December and with their bright red and green coloring, it's easy to imagine why. The delicate red buds that come from the evergreen leaves are stunning, especially alongside a nearlywed's bright white dress. We know holly will look lovely as a bouquet, especially in the wintertime. 
Mums
Mums are incredibly popular, especially in autumn when their bright yellow, green, orange and white buds start to take off! We love how inexpensive these are and how much volume they offer—you can get a bunch of them for centerpieces or as altar decorations. 
Cherry Blossoms
Cherry blossoms are also known as Japanese cherry and Sakura and are the national flower of Japan. We love these blush colored petals that add a feminine and romantic charm to any bouquet, whether it's for the nearlywed or their bridesmaids. Keep in mind, they can be expensive as they only bloom a short period of time between March and April.
Chamomile
When you think of chamomile you probably think of a relaxing cup of tea, but chamomile blooms are actually the ultimate addition to any whimsical, boho wedding. They add a beautiful pop of bright white and yellow to any bouquet or flower arrangement. 
Larkspur
Larkspur flowers symbolize an open heart and have long been associated with feelings of romance. They come in several different colors ranging from cream to indigo, but the classic colors are white and baby blue. They are great filler flowers because of their size but can definitely be used as a standalone statement flower too. 
Carnations
As the flower that symbolizes love, carnations are often a great flower to include when trying to fill a bouquet, centerpiece or other large decorative element. Carnations are sturdy, long-lasting flowers that come in a variety of colors.