YOUR Thoughts on the Whole Kids-at-Weddings Debate
by Loverly Editorial •
15 Jan 2015 •
3 min read
We're no strangers to the
kids-at-weddings
discussion, but yesterday we
opened up the floor to you
and asked you weigh in on the great debate (and you sure had a lot to say on the subject!). Here's a little snippet from the conversation:
Chunk F.
: "Nope, sorry. Weddings r for adults. Unless it's a back yard BBQ wedding."
Danielle N.
: "Yes. The kids at my wedding took great selfies and did funny things with the disposal cameras and then had dance offs on the dance floor it was great!!!"
Cindy W.
: "yes! But give them something to do during the reception so they don't go bonkers out of boredom. I can't stand parties where the parents just let their kids run amok and ruin everything."
Susan F-R.
: "I had them at mine and hired a young girl to entertain them with coloring and games etc... it allowed the parents to come but they were about to relax and not have to be all over their kids"
Michelle L.
: "Depends on the style of wedding, mine was a relaxed family focused wedding so loved having kids there."
Kelly H.
: "Hope! We had kids in my ceremony but they left after dinner, it was a time for adults to celebrate and I had a band playing doing socials all night everyone had a great time!!"
Cari T.
: "I would say no, but we've got four in our wedding party (teen, preteen, 6 & 3) plus a couple guests have been told they can bring their children. The ones in our wedding party are ones I wouldn't dream of not having there. But, I dread the possibility of screaming kids during the ceremony or them being "let loose" to run wild during the reception causing havoc."
Annie M.
: "No!! Unless they are part of bridal party."
Mary W-C
: "Our son was 9 months when we got married her was our ring bearer & did very well on little sleep!"
Suzan F.
: "Yes but depends on how old they are. All the kids at our wedding were aged 7 yrs to 18 yrs. We put them at their own table and gave them a menu totally different from the adult menu. Their menu consisted of French fries, chicken wings, mini beef subs and 4 different kinds of soda. Also, a big hit, we had a candy buffet set up with a dozen different kinds of candies. One boy hollered out "hey Dad our food is better than your food"."
Trina W.
: "Yes. I want my kids at my wedding. So they can see their mother happy."
Maggie I.
: "No, let the parents enjoy the evening too!"
Lenora's Legacy Estate
: "Yes, love to see the little ones at weddings!"
Tracy A.
: "I totally agree with your own kids been there but everyone else's I don't - they have no interest, get bored, parents can't relax etc..."
April M.
: "Definently!! They're family too!! Not all night but def till 11-ish!!"
Lauren B.
: "It depends on the wants of the couple and what they are to the couple. My and my other half have 7 all together it will be a blended family and we want the kids to be part of the day but we also want time for us to enjoy our day and we are planning for the other parents to pick them up at a time so we can enjoy our day as well..... But I have been to weddings that have an open bar and they don't want kids there because of that reason so something doesn't happen to the safety of them."
Daniela R.
: "Yes. I'll have a day wedding and there will be 10-15 kids, so i'm going to have a special area with food and inflatable games for them. All kid-friendly!"
Amy B.
: "Yes, it should be a family event...not a quiet and somber funeral."
Maureen A.
: "No one under 12 unless in the wedding party"
Claire S.
: "Absolutely. Marriage is about family values!!"
Rachel S.
: Depends. Babies? NO!
Lynnette B.
: "Yes, but also have place for the kids to hang out at that is supervised so they don't tear up the place; because depending on the age some kids they may get bored." Want to share your thoughts, Loverlies? Let us know in the comments or by sending an email to us at
thescoop@lover.ly
!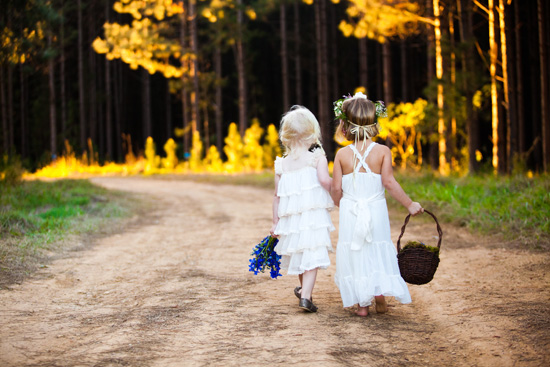 Still on the fence about including kids on your guest list? These adorable photos of children at weddings might just convince you!
[[bundle_id: 126578]]