The Ultimate Guide to Planning a Fall Wedding
When the leaves start to change, and there's a crispness in the air, you know that autumn has arrived. It's a season of vibrant colors, cozy vibes, and pumpkin-spiced everything. So, why not embrace the magic of fall and weave it into the most special day of your life?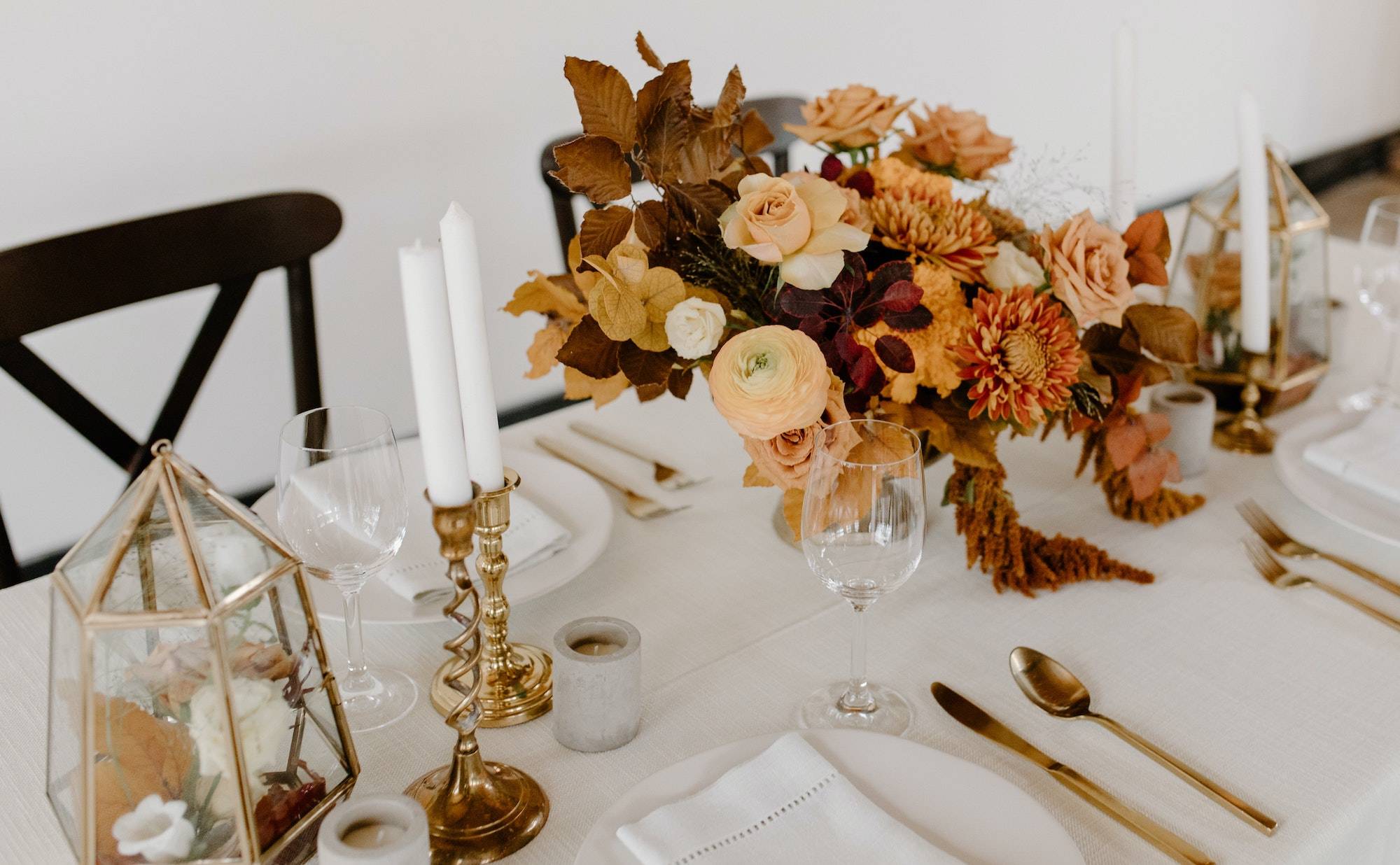 When the leaves start to change, and there's a crispness in the air, you know that autumn has arrived. It's a season of vibrant colors, cozy vibes, and pumpkin-spiced everything. So, why not embrace the magic of fall and weave it into the most special day of your life? Whether you're having a fall themed wedding or simply want to add a few elements of your favorite season into your special day, we'll explore how you can successfully incorporate the beauty and charm of the autumn season into your wedding.
Autumn-Inspired Color Palette
Autumn is known for its earthy and cozy color palette which can be easily incorporated into your wedding color scheme. When selecting your wedding colors, aim for deep burgundies, rich oranges, rustic browns, golds, warm beige, and muted greens. These warm and earthy tones can be integrated into every aspect of your wedding, from the bridesmaids' dresses to the floral arrangements and table settings. Consider using seasonal flowers like dahlias, sunflowers, and roses in your bouquet and centerpieces to add that vibrant burst of autumn color to your venue.

When it comes to designing your tablescape, opt for gold dinnerware with burgundy or orange napkins. Choosing tables made of natural wood is the perfect way to bring the fall aesthetic indoors, but if that's not an option, then going for a beige or ivory tablecloth will be the perfect option as it'll allow each element of your tablescape to pop.

Invitations that Set the Tone
Your wedding invitations are the first glimpse your guests will have of your special day, so make them unforgettable. Design your invites with fall motifs like leaves, acorns, or pumpkins. Use calligraphy or fonts that evoke a rustic and cozy feel or consider choosing font colors like dark reds, browns, or greens. This will not only get your guests excited for your fall-themed wedding, but also set the tone for the entire event. Explore
Minted's Fall Wedding Invitations
to create or customize the perfect fall stationery for your wedding that utilizes your favorite fall colors. 
Cozy Ceremony and Reception Spaces
One of the many perks of having an autumn wedding is being able to host it outdoors without the scorching summer sun or the chilly winter air. To really embrace the fall vibes, opt for an outdoor venue like a rustic barn, garden, or vineyard to make the most of the season's beauty. You can choose a location with a scenic view of the changing leaves or simply add fall-inspired decor to your venue to bring nature's beauty to you. You can also enhance the ambiance with hay bales, blankets, and mason jar lanterns for a cozy, rustic atmosphere.
Seasonal Decorations
Fall offers an abundance of natural decor options that you're going to want to take advantage of. Use pumpkins, gourds, and apples as table centerpieces or use different colored fruits with numbers drawn on them to help your guests find their tables. Consider incorporating branches, twigs, and leaves into your decor, either as part of your floral arrangements or as standalone pieces and add scented pinecones as a way to bring that earthy scent to your guests. Hanging autumn-inspired wreaths or garlands is another perfect way to add a touch of rustic elegance to your venue.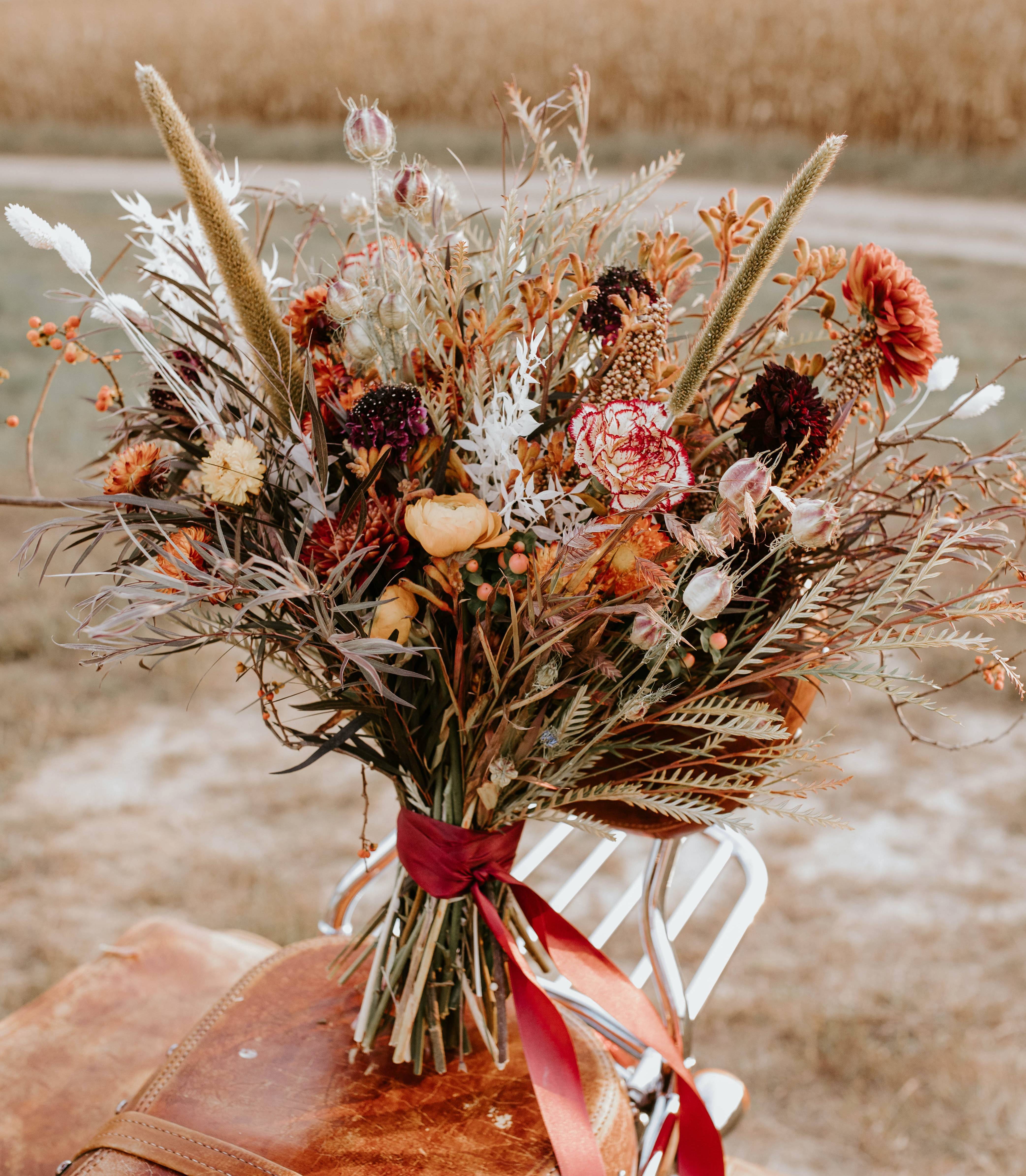 Warm and Comforting Food
One of the many joys of the fall season is the vast array of seasonal flavors and comfort foods that are available for a short window of time. To make the most of the season's harvest, consider incorporating your favorite flavors into your wedding menu. Dishes like a warm and creamy butternut squash soup, a medley of roasted root vegetables, tender, herb-infused roasted chicken, or salmon glazed with a sweet and tangy cranberry sauce are all wonderful options to have on your menu.

When it comes to desserts, you can have a variety of pie flavors or stick to your favorites. For an added level of fall fun, consider setting up a s'mores bar or a candy apple station with slices of candied apples, caramel apples, and chocolate covered apples. Last but not least, don't forget to serve warm drinks like apple cider or hot chocolate to keep your guests nice and cozy as the night progresses.
Fall-Inspired Favors
Show your appreciation to your guests with autumn-inspired wedding favors. Treat your guests to a taste of fall with mini bottles of pure maple syrup. gift personalized, individually wrapped caramel apples, choose candles with warm, spicy scents like cinnamon, pumpkin spice, or apple pie for a fragrant reminder of your autumn celebration, or share beautifully decorated sugar cookies shaped like pumpkins, leaves, or acorns to match your wedding theme
Wedding Day Look
Incorporating autumn elements into your wedding look doesn't have to be extreme. For the bride, consider a wedding gown with long sleeves or warmer fabrics like satin or velvet. A faux fur stole or a stylish shawl can add an extra layer of warmth and elegance. When it comes to your makeup look, ask your makeup artist to create a makeup look that incorporates warm, earthy tones like bronze or copper eyeshadow, a subtle berry lip color, or a warm blush. Grooms and groomsmen can sport tweed or wool suits to complement the fall theme or incorporate fall-colored ties or pocket squares into their wedding looks.
Creative Photo Opportunities
We all know that autumn is the perfect season to witness the beauty of nature, so why not take advantage of the scenery by capturing some memorable photos? The beautiful autumn foliage provides a stunning backdrop for wedding photos, and with the inclusion of some additional fall-themed elements, you can easily create the most stunning and memorable pictures. Choosing a location where the autumn foliage is at its peak will be the best option for you if you're looking to capture those stunning fall colors in the background. If you want photos that are more up close and personal, excluding much of the background, have your photographer capture moments under a canopy of leaves, amidst a pile of fallen leaves, or with the setting sun casting a warm glow on you and your spouse. For an added touch of charm, consider placing pumpkins, hay bales, and a basket of apples nearby.
Entertainment with a Twist
If you're looking to elevate the entertainment at your wedding then consider adding a few fun autumn activities into the mix. To keep both adults and kids thoroughly entertained, set up a caramel apple station where guests can customize their own caramel apples with different toppings. Hiring a cider doughnut truck to be on hand is a sweet addition that will surely keep your guests going back for more. Lastly, depending on your venue, arrange a hayride for guests to enjoy. These unique experiences will keep everyone engaged and entertained as the night progresses, creating a unique memory for all in attendance.  
Incorporating autumn elements into your wedding is not only a beautiful way to celebrate the season but also an opportunity to infuse your special day with warmth, charm, and character. With the right planning and creativity, your fall-themed wedding will be a memorable event that captures the magic of the season and your love story. So, let your love bloom like the changing leaves and create a wedding day that's as breathtaking as the autumn itself.
Plan your wedding like a pro.