Wedding 101
What to Rent vs. What to Buy For Your Wedding Day
Customize your own wedding checklist with due dates, personal reminders, and timelines for all your wedding to do's.
Wedding planning is a process that's already filled with tons of decisions, so having to decide what items you should actually purchase and what items you should rent can add an extra level of confusion. When it comes to deciding what you should rent and what you should actually purchase for your wedding day, the best thing to do is to factor in reuse and sentiment! As Maya Holihan, Founder & CEO of
EWeddedshares
, "practicality can quickly get tossed aside when planning a wedding, but being practical (and honest) about all the wedding must-haves you think you will or will not use again or may want to pass down as family tradition is all you need to figure out what's worth buying and what's better off renting. If you think through those items that may just end up collecting dust in your garage or attic, renting may be the sensible choice." There can be endless options for your wedding day florals, décor, fashion accessories, and more, but ultimately, there are a few things that should definitely be purchased, while others can be rented to avoid ending up with a stockpile of items that will collect dust in your home (and to potentially save a little money!). Keep reading to find the expert-approved list of what to rent and what to buy!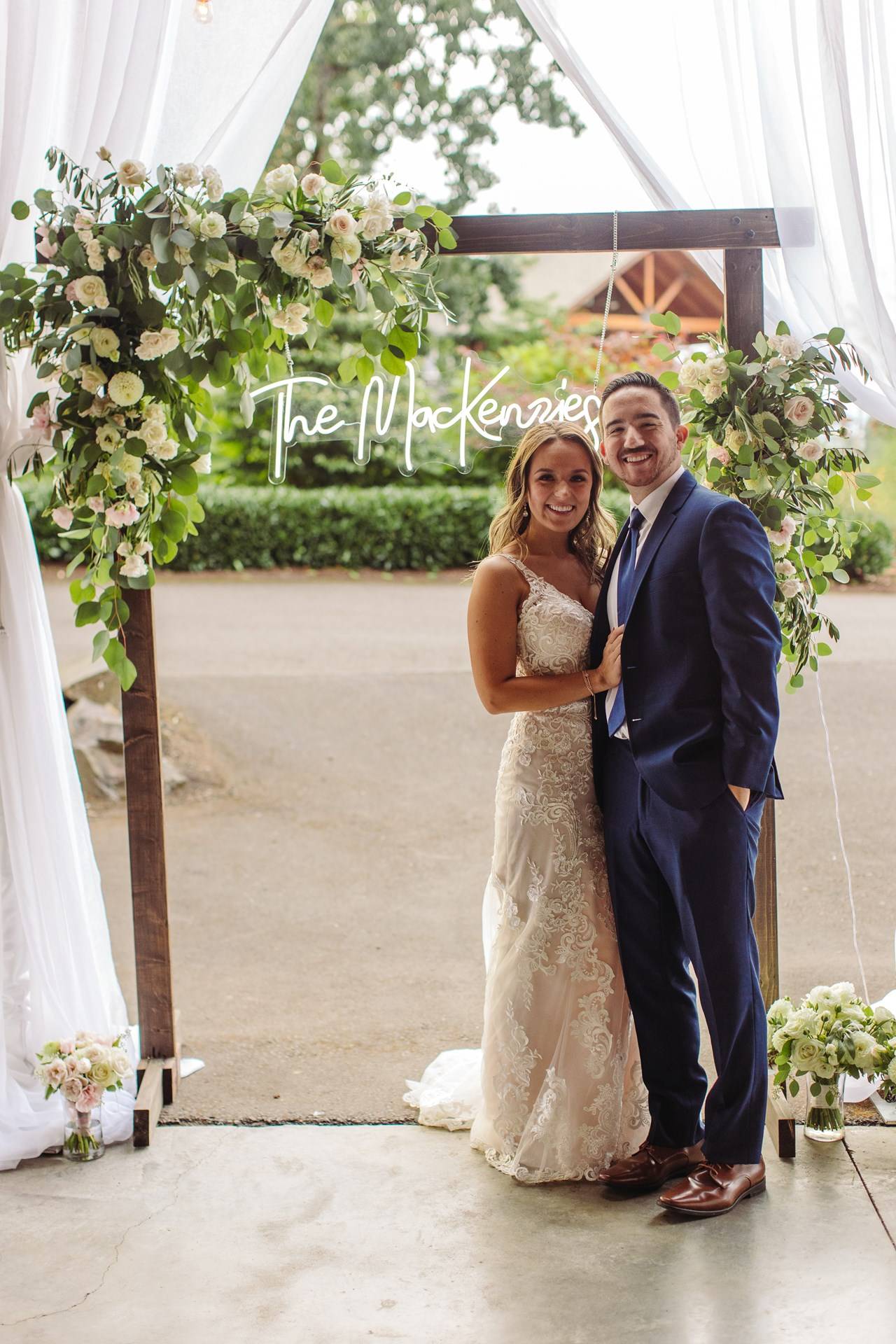 What to Rent:
Artificial flowers.
"They're a very sustainable choice and budget friendlier than real ones." -
Sarah Alouache
, Creative Director, Designer & Founder of Sarah Alouache Bridal
Suits and tuxedos.
"We all know weddings can get expensive, and not just for the wedding couple. Your friends and family are also going to have some expenses to be a part of your big day. One way to ease that commitment for everyone is the cost-friendly option of renting. Suit and Tuxedo rental has come a long way. You can get current styles, fashionable fits, and trending colors to build your perfect wedding look. Renting is a fraction of the cost when compared to buying, and you'll save yourself some closet space down the road. And now, you can do everything online and coordinate everyone to make sure they look perfect, no matter where they are in the country. Save some money for yourself, and your wedding party, and look great while you're doing it." - Matt Ramirez, SVP of Marketing,
Generation Tux
Linens.
"When planning your wedding, factor your time and preparation into your DIY cost. Often times couples think that buying linens themselves will save a ton of money--but when you add in steaming them, transporting them, and cleaning them-it really adds up! I definitely recommend renting all the linens over purchasing them! Designers and rental boutiques also have a wider variety of specialty linens and colors to make your wedding day decor pop!" - Taylor Brione Ballard, CWP,
Experiences By Taylor Brione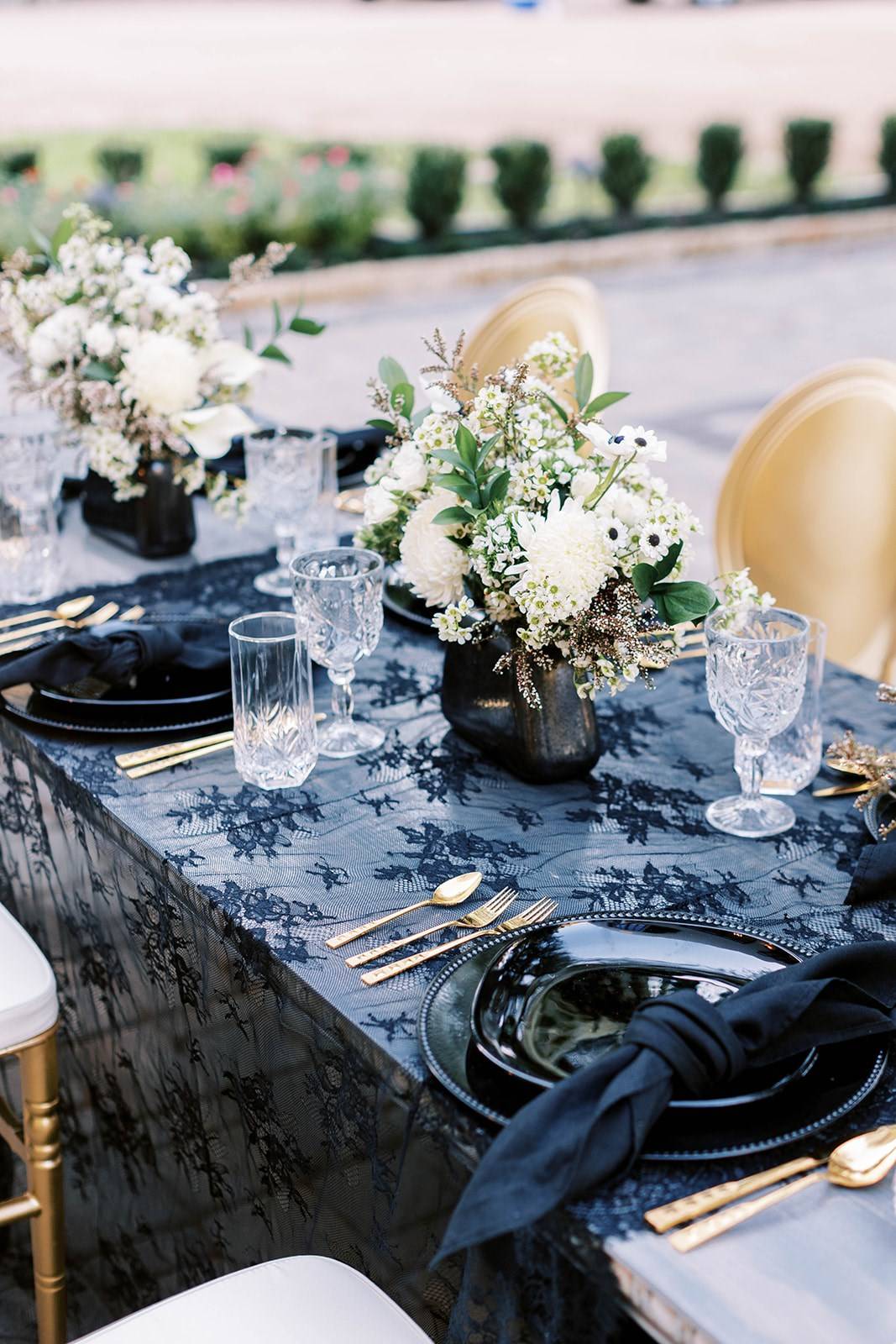 Table numbers.
"Table numbers are a wedding day detail that often gets overlooked, but are an essential day-of detail. After all, how else will your guests know what table to sit at? If you're on a budget, opting to rent your table numbers is an affordable alternative to purchasing custom ones without sacrificing the look of your tablescape. Acrylic table numbers are versatile and lend to most wedding styles, while wood table numbers are great options for a rustic, woodsy, or boho vibe." - Meghan Shaughnessy,
Lace and Belle
Candles, votives, and vessels.
"Candles, votives and vessels are an item we recommend renting from your florist or decor company. Filling your tablescape with candles and votives adds texture and light to your table design but in our experience not worth the time ordering, transporting, packaging and repackaging. Sourcing inexpensive candlesticks, vases, and votive holders may seem like a great idea but you end up with everything to pack up and take home post-wedding." - Jamie & Stephanie,
Cape Cod Celebrations
Wedding arbor or chuppah.
"If needed,rent your wedding arbor or chuppah! It does sound really sentimental to have your dad or fiance make it, but hauling it to and from the wedding and setting it up based on your venue and florist's timeline will contribute to added stress the day of the wedding -especially if it does not stand up on its own, or straight!" - Jamie & Stephanie, Cape Cod Celebrations
Anything other than wedding day attire!
"I'm sentimental, so when it comes to your wedding day attire, I say own it! Everything else? Rent, rent, rent. Not only will stress be taken off of your plate with delivery and pick up, but let's be real: what WERE you going to do with 65 brass candlesticks after the big day? Or dozens of tea light candle holders? Renting ensures that other couples automatically have access to all of that without the hassle of you dealing with folks ghosting you from Craigslist or Facebook Marketplace." - Ashley Lachney, Owner of
Alston Mayger Events
Your wedding dress.
"When it comes to your wedding dress, getting the perfect fit makes a world of difference. That's why we always recommend buying your wedding dress over renting, so you have free range over the modifications and alterations you need to ensure the fit is impeccable. The beauty of being a bride is that there are usually multiple opportunities to celebrate. Renting may be a great option for events surrounding the wedding but for wedding dress, you won't regret this once in a lifetime purchase." - Ashley Hunt + Felicia Joffe, Co-founders,
Dresshunt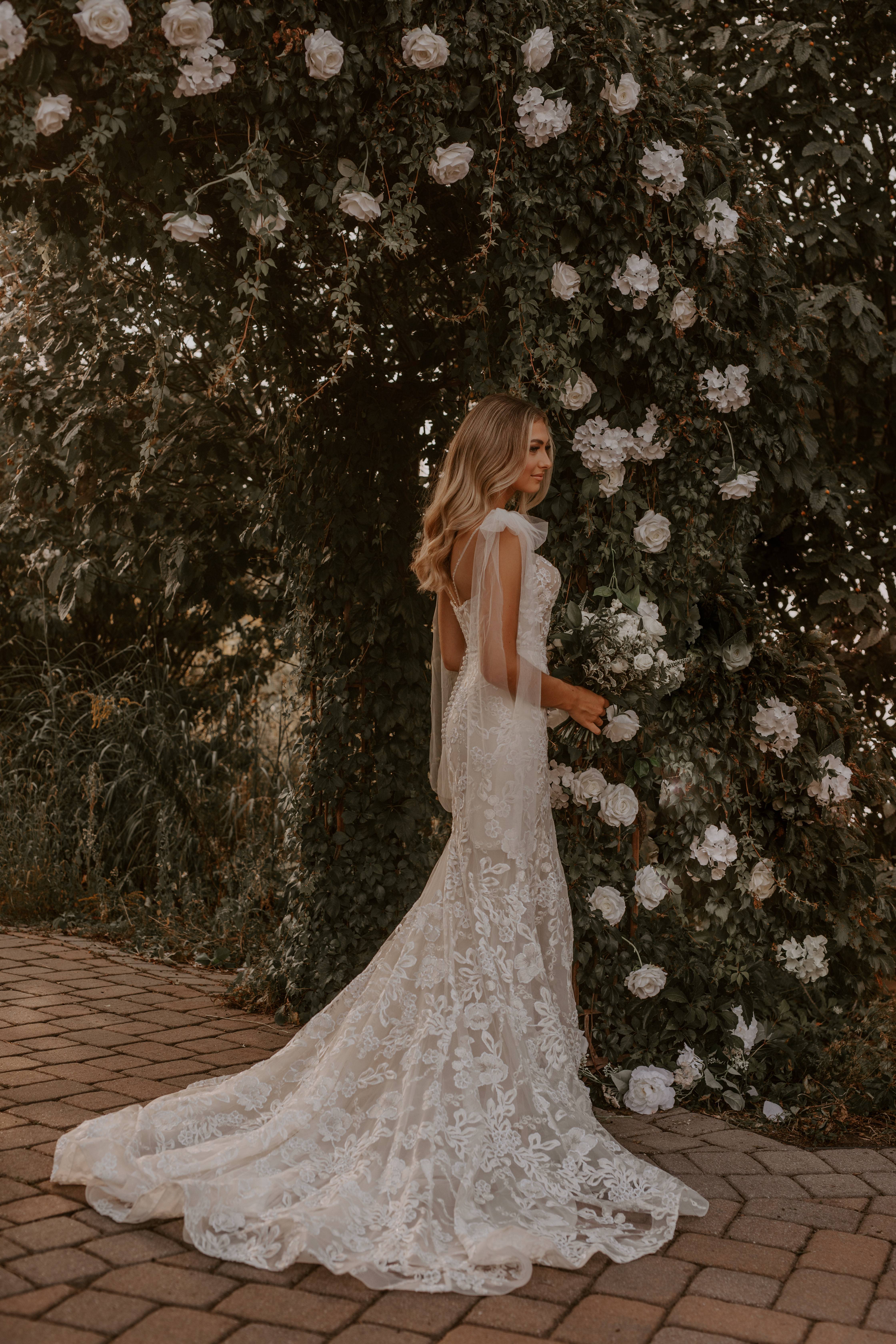 Wedding accessories that you will wear on your big day.
"You can re-wear your wedding accessories on your honeymoon or on other occasions." -Sarah Alouache, Creative Director, Designer & Founder of Sarah Alouache Bridal•Custom items!"I recommend purchasing (and keeping!) anything custom that you had made that symbolizes something to you." - Sarah Alouache, Creative Director, Designer & Founder of
Sarah Alouache Bridal
Custom items!
"I recommend purchasing (and keeping!) anything custom that you had made that symbolizes something to you. This can definitely be repurposed into a décor moment in your home, and will serve as a special reminder of your wedding day." -Sarah Alouache, Creative Director, Designer & Founder of
Sarah Alouache Bridal
Your bouquet.
"Your bouquet is something that will be so special to you on your wedding day. Plus, you can have it preserved and stay with you forever!" - Sarah Alouache, Creative Director, Designer & Founder of
Sarah Alouache Bridal
Wedding signage.
"It's important to purchase the things that are super sentimental or completely customized to you. One item that fits into both of these categories is a signature wedding sign. For example, commission a laser-cut wood monogram to hang behind the sweetheart table, or put a neon sign with your favorite quote up in lights. While they may be on the pricey side, this is something you'll be able to display in your home forever—continuously reminding you of your wedding day. And that's a priceless thing!" -Jenna Miller, Creative Director of
Here Comes The Guide
Keepsakes
. "When trying to decide whether to rent or buy, think, 'Is this something I would like to keep to remember my wedding day?' Typically, special keepsakes, like embroidered handkerchiefs, fall into the buy category." - Colleen,
The Handkerchief Shop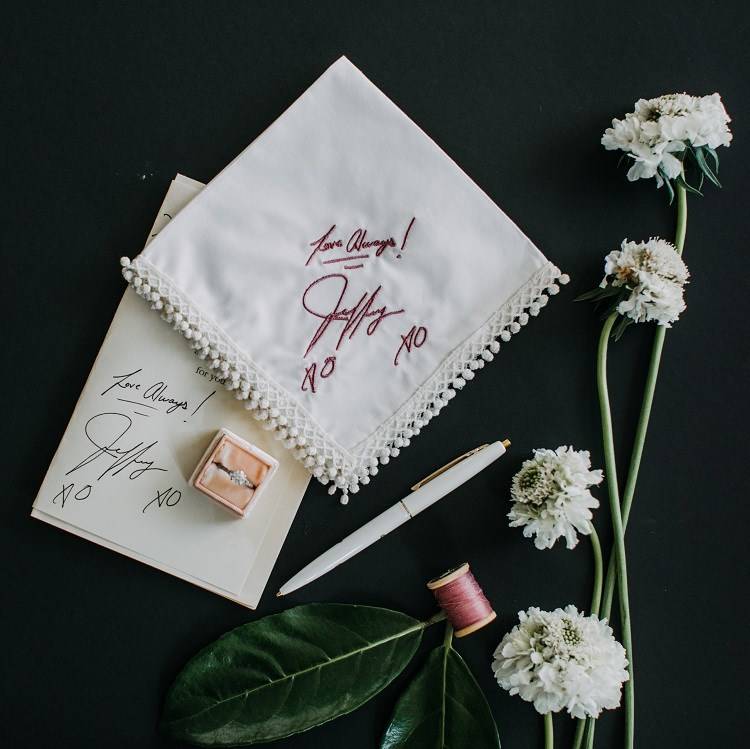 Items you'll use again in your home.
"When deciding what is purchase worthy for your wedding day, be sure to consider whether or not pieces can be repurposed for future usage. Items like candle holders, dessert stands, and the currently hot trend of neon signs can become stunning home decor pieces and serve as a special reminder of wedding day." - Ari Busch, Operations Manager and Lead Planner at
Bridal Bliss
Specialty items.
"Interested in a specialty item? There are instances where some visions from client's dreams simply don't exist in inventory. The great thing about being in the creative industry is our ability to connect you with the resources for items to be constructed specifically for your event. You may even be able to sell the piece back to the company at the end of your event, if they feel it would be a fit for their rental clientele." - Ashley Lachney, Owner of
Alston Mayger Events
No matter what items you rent and what items you buy for your wedding day, the number one thing to keep in mind is your design vision! Stick to décor, accessories, rentals, and details that will enhance and elevate the overall design you're looking to achieve for your wedding day. There are endless options available for couples with any kind of wedding aesthetic, so take your time researching your options to find what works best for your budget and style to choose wedding day touches that will help you bring your vision to life!
Plan your wedding like a pro.