Everything You Need to Know Before Attending Your Tasting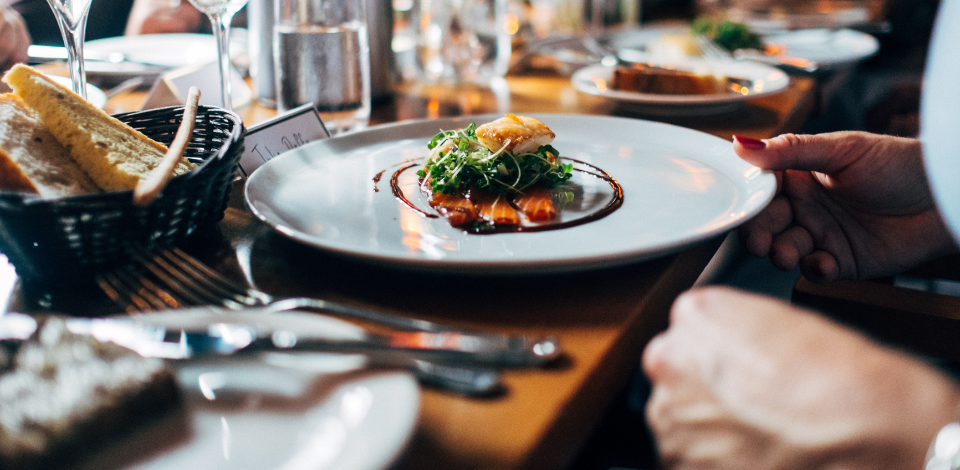 Dress shopping is fun. Bachelor and bachelorette parties are fun. Spending all day adding gorgeous wedding photos to your bundles is fun... But you know what enjoyable part of wedding planning is often overlooked? Tastings! Seriously, what could be better than sampling a ton of different kinds of foods and then picking your favorites?
Once you've narrowed down your options, you may choose to set up tastings with a few front-runners or you may simply hire your favorite caterer and do a tasting later on to select the menu. There's no right or wrong way, but make sure you understand your options before you book. Some caterers won't offer a complete tasting until you've signed, others might suggest you visit them at an expo or event, while others might hold private or group tastings anytime in the process.
How to Prepare
Don't eat too much beforehand.
Usually, caterers will give you mini-portions of various courses. But by the time you try it all, you'll likely be in a food coma! Remember, too, that you don't have to finish everything the caterer puts on your plate — after all, it is called a "tasting," not a meal.
Know your budget (and how flexible it is).
You're going to taste a ton of great food and you're probably going to want to serve it all. (Can't blame you there!) But we're guessing you've got a budget in mind — and you should remind yourself of it during your tasting. Otherwise, you run the risk of dipping into the fund for your DJ, dress, or venue.
Make a list of food allergies and diet restrictions.
The two of you may l-o-v-e the filet mignon…but what the heck is your vegan cousin supposed to eat? Knowing your own and your guests' dietary limitations going in will help you plan a menu that will work for everyone.
Learn what's in season.
Your strawberry spinach salad probably won't taste as good at your February tasting as it will at your July wedding. If you know this ahead of time, you'll go in with a better attitude!
During the Tasting
Take photos and notes.
Okay, you don't have to Instagram every dish you taste, but taking photos and jotting down notes about what you did and didn't like can help jog your memory when you're making decisions.
Ask questions!
"Could we offer a little extra sauce on this side?" and "Would you be able to serve this without the onions?" are totally valid questions — that's half the reason you're doing the tasting in the first place!
Be honest, but polite.
It's okay to speak up if you're not a fan of something you've tasted. But remember that this is the caterer's passion — don't be rude by dissing their dishes. After all, if you insult them and then hire them, the results might not be great.
Let your taste buds guide the way…but not make all the decisions.
While you undoubtedly want your wedding food to taste good, you also want to work with a caterer who's accommodating, consistent, and reliable. Be sure to talk to past customers for testimonials and read reviews online!
What to look for in presentation.
Are the dishes laid out on modern plates with intricate garnishes or displayed artfully on a platter? What about portion size? (Note, though, that smaller portions are offered at tastings, so make sure to ask about actual serving sizes.
Food freshness.
Do the fruits and veggies look freshly picked, or are they wilting a bit? Was the meat frozen? You can ask! Also, note if the food is hot when it comes to you.
Serving style.
If the food is laid out in a buffet, is it properly heated or cooled? If it's delivered by servers, are they courteous and prompt? Don't forget to ask the caterer about different service styles and what's available at what price point.
Table settings.
The caterer may be providing linens, plates, dishes, and silverware for your wedding. If that's the case, at the tasting, is the flatware clean and polished? Does the china fit your style, and if not, does the caterer have other options?
Common Tasting Questions (And Answers)
Do we get to pick the tasting menu? Depends. Oftentimes, if you haven't already hired the caterer, they'll choose the tasting menu. If you've sealed the deal already, you might be able to pick the foods you want to sample. Either way, it's worth asking for specific items you want.
Will we taste what we'll eat at the wedding?
You'll either taste a preset sample of the company's typical wedding foods or specific menu items that you've selected. In the former case, don't freak — you'll still be able to get a sense for their style.
What's the deal with the money?
It wouldn't be smart for caterers to hand out free meals left and right — they'd go broke in no time. But how they charge for samples varies. Some will charge you only if you don't choose them; the ones you choose might add the tasting cost to your total bill. Ask each caterer ahead of time.
Who goes to the tasting?
Sometimes, caterers do group tastings, which are often more convenient for them. Others host private tastings. If you're attending a private tasting, it may just be just you and your fiancé (date night!). If you'd like to bring your parents, honor attendants, or wedding planner, ask the caterer beforehand to see if they can accommodate.
More like this