What to Put in Your Wedding Day-of Emergency Kit
Whether you're a bridesmaid, the mother of the bride, or the bride herself, knowing there is a worst-case-scenario kit handy on the big day is a huge relief. If you're putting together an emergency kit for a wedding, here are the easy-to-forget necessities you'll definitely want to collect ahead of time. We break down what to put in your wedding day emergency kit: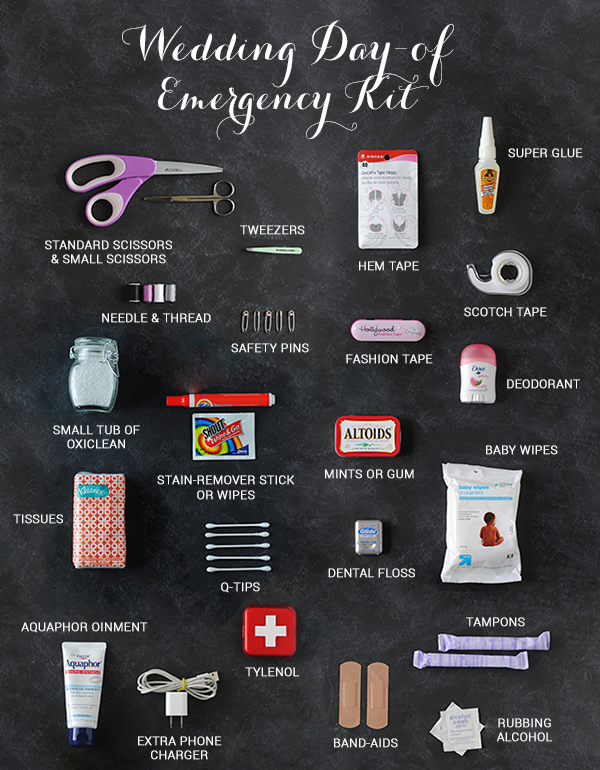 The fixers
- Two sizes of scissors (a standard-size pair for cutting large items and a pair of nail scissors for little snips) - Safety pins - A sewing kit with needle and thread in your wedding colors - Tweezers
The adhesives
- Super glue - Scotch tape - Hem tape - Fashion tape
The cleanup crew
- Q-tips - A small tub of Oxi Clean (If someone -- heaven forbid! -- spills red wine on your dress, you can dump Oxi Clean on it to help draw out the stain.) - A stain-remover stick or wipes - Tissues
The refreshers
- Deodorant - Dental floss - Mints or gum - Baby wipes
The Healers
- Rubbing alcohol - Tylenol and any OTC medication the bride needs regularly (Tums, Benadryl, etc.) - Tampons - Aquaphor (For everything from dry lips to cracked heels!) - A backup phone charger. With so many people texting vendors, fielding questions from family members, and snapping photos throughout the getting-ready process, having at least one iPhone 4 and iPhone 5 charger on hand is an absolute must. A dead phone when you're trying to track down the photographer during cocktail hour is not good.
Ready to go shopping? Here are a few more tips: 
- Keep in mind that both almost-newlyweds will need an emergency kit (especially if they're getting ready in completely separate locations) so shop with that in mind. - For things like safety pins, Q-tips, and Oxi Clean, you don't need to buy duplicates; buy one container of each, and then separate them into plastic bags or reusable containers for the two kits. - Hit the trial-size aisle for inexpensive mini-packs of things like tissues, deodorant, and baby wipes.
Get more wedding advice on Loverly:
10 Completely Brilliant Wedding Hacks You Definitely Need to Know
10 Things NOT to Forget to Bring on Your Wedding Day
10 Little Things Your Guests Will LOVE at Your Wedding