Wedding 101
21 Hacks All Budget-Conscious Nearlyweds Should Know
Enter to win a 2.6 lab grown diamond ring, complimentary suit or tuxedo rental, photography and day-of coordination.
Some believe the only way to have that picture perfect wedding is to go all out. But it's easy to crowd your wedding with events, stationery, and treats that seem to liven up the space, but ultimately aren't necessary. Beauty often lies in the simple things in life, that's why nowadays we're seeing more and more couples looking to cut their wedding costs in creative ways. 
If you haven't already discussed some ways to save with your wedding planner or soon to be spouse, it's imperative you incorporate a wedding budget breakdown into your wedding planning process. The last thing you want is to be bombarded with surprise fees and expenses on your wedding day that could've been foreseen way before you exchanged wedding bands and vows.
Contrary to popular hearsay, post-wedding debt isn't inevitable and a lot of the time is easily avoidable while planning a wedding. To help steer you towards financial freedom and a blissful marriage, we've devised a list of clever ways that will help you and your partner save. We have tools to help you organize your wedding budget so your life together as newlyweds doesn't start with debt, but continues to grow with love and joy!
Loverly's Expert Wedding Planning Masterclass
Packed with videos, downloadable worksheets/checklists, perks, AND benefits, these premium insights from leading experts will definitely quench your curiosity. Learn where to save big on your wedding planning through the Loverly expert wedding planning masterclass. Some of the topics covered include general planning, budget, venue, event designer, photography, stationery, fashion, wedding party, logistics, floral, and catering. Best of all, it's free to get started!

Get a FREE Minted Stationery Kit 
If you were wondering how to really start off by saving, there's nothing like a free stationery kit to get you brainstorming on invitations.
Minted
has plenty of options and styles for all types of weddings, and if you'd like to know more about wedding stationery and how to save, the following articles will do just that!
Buy a Pre-owned Wedding Dress
To stay on budget, consider buying a used dress or a floor sample gown. These gently-used versions retail at a fraction of the price. The same goes for tuxedos and suits! Rentals are also a great way to save, especially if neither of you are planning on wearing those fancy garments again.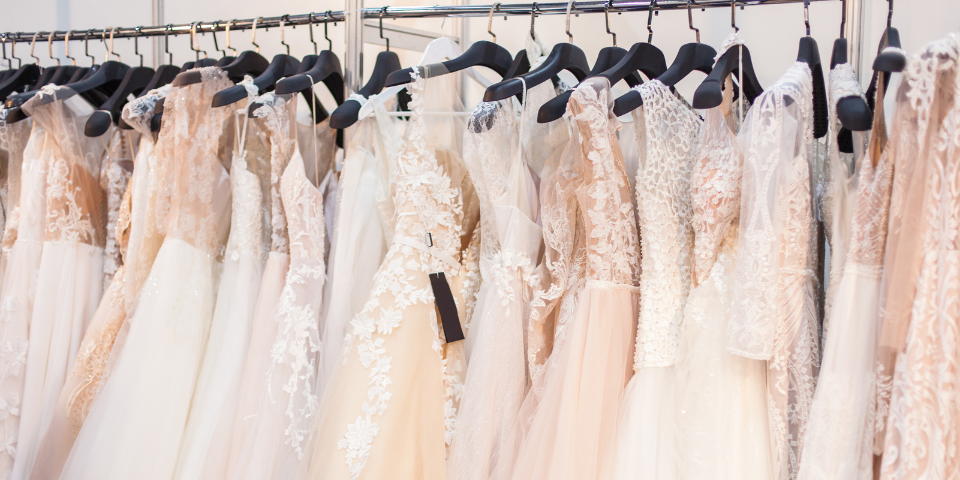 Opt for a Standing Ceremony
Electing to use no chairs (save for a few chairs for elderly or disabled guests) can save money on the rental furniture costs. Just make sure your ceremony is short and sweet if attendees will be standing. If you're planning on having a destination wedding at, let's say, a beach or a beautiful backyard, you could even cut the cost of the furniture rentals if you simply use them for both the ceremony and the reception.
Find a Wedding Venue That's Flexible With Vendors
Look for a space that allows you to use caterers, florists, and bakers outside of their preferred list. If you choose a location that requires you to use their partners, you'll be locked into using wedding vendors that might be out of your range.
Follow Vendors on Social Media for Discounts
Sometimes, businesses will give special promotions or discounts to their Facebook, Twitter, or Instagram fans! Follow along to see if they offer any deals.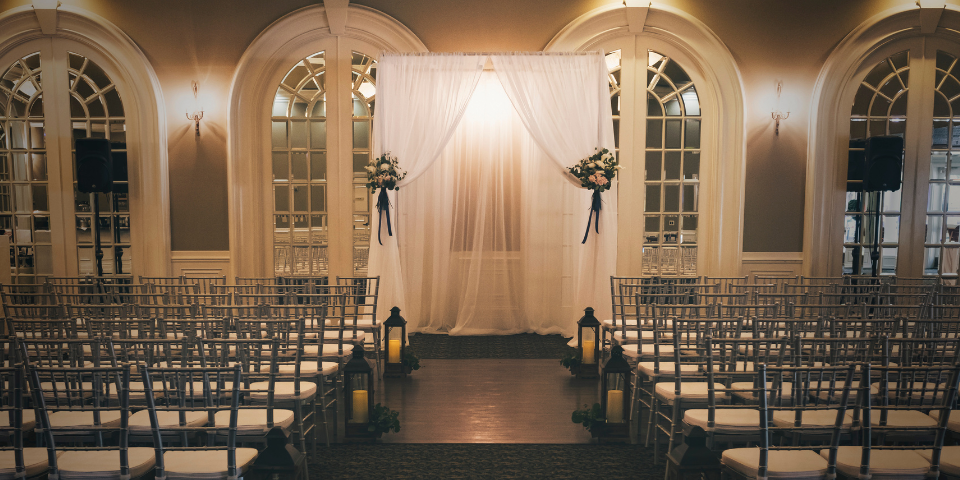 ---
Use Credit Cards to Purchase Services and Get Rewards
Invest in a card that offers cash rewards or airline miles. Then you can spend your perks on other "I do" items or put those bonuses toward your honeymoon.
Choose Your Wedding Invitations Wisely
Good news, there are several ways to save hundreds of dollars just on your
invitation suite
alone! To list a few examples, while that beautiful letterpress may be exactly what you're looking for, you could cut the cost of the suite by $500 if you keep that letterpress exclusive for the main invitation and use flat-printing on the insert cards. 
The same goes for your paper stock, if you absolutely love that two-ply then boast it on your invitation while the rest of the suite has one-ply thickness.The idea is to make the invitation stick out since it's the main attraction of the suite. 
Have Your Ceremony and Reception at the Same Place
If you opt for one wedding site, you'll cut the costs associated with renting two venues and the transportation between spaces. Not to mention, you'll be saving a bunch of time during the interim to just relax and socialize. Plus, it'll be easier to explain to your guests on your wedding website/invitations.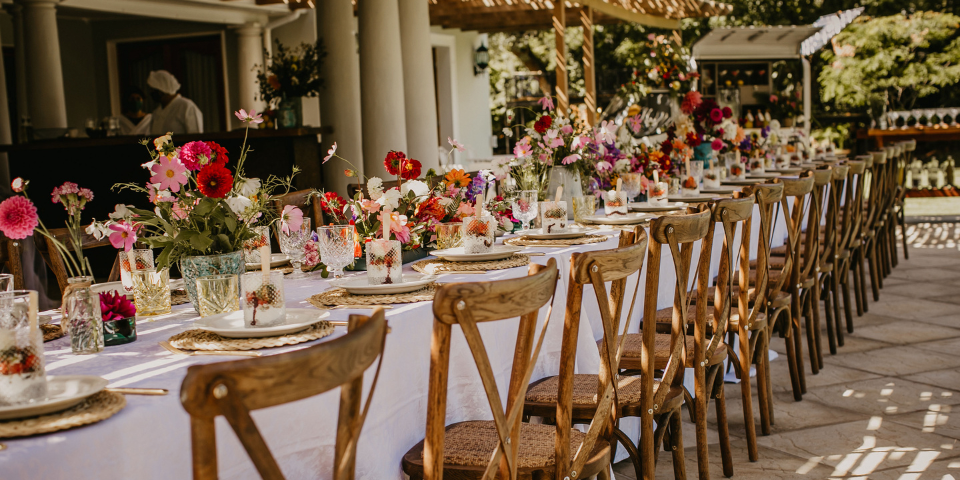 See if Your Favorite Market Can Caterer
Some supermarkets, like Whole Foods, offer specialty catering services (and flowers too). Check your local store to see if they provide any services you can incorporate into your reception.
Get Creative With the Bouquet
Ask your florist to use a few impactful flowers, and then fill-in with less expensive blooms, like Queen Anne's lace and baby's breath. This will help make each arrangement cost less. 
As a reminder Loverly's Masterclass offers six complete videos on
Florals
alone. From knowing the different types of floral arrangements to hiring a florist, also included are ways to save on your floral budget. 
Purchase Flowers Wholesale Online
If you're planning to DIY your flowers, look into purchasing them online. A retailer like FiftyFlowers helps cut costs and increases the variety of blooms available to you.
Provide Your Own Alcohol
If the caterer allows you to purchase alcohol for the reception, you could potentially save some big bucks. By eliminating the vendor's markup, your finances will stay intact. However, you'll be putting in extra time to purchase and deliver the alcohol to your big day venue.
Serve a Signature Cocktail Instead of Having an Open Bar
Get crafty with your mixed drinks to ensure that you don't overspend on liquor. Serve guests beer and wine with one or two specialty drinks, like a mint julep or a martini to wet their whistles.
Create Wedding Signage Instead of Printing Hundreds of Paper Items
Display the menu or program on a canvas or in a frame as opposed to printing one for each guest. Trust us, it'll be totally cost-effective.
DIY All or Some of Your Day-of Stationery 
A lot of couples, especially those that are into arts and crafts, save a bunch of money by creating their own Day-of stationery. Whether it's shiny bunting banners, tissue paper pom poms, or something more personalized like pictures or decorative banners with romantic quotes, if you have the time and energy to utilize this, we suggest it! 
If you're not 100% sure exactly what you want and would like a consultation from a stationery expert, Minted offers
free concierge consultations
!
Consider a Buffet
During cocktail hour it is not only typical to find a bar nearby, but also a few buffet tables too! With guests serving themselves, it can considerably cut some of the waitstaff fees. Adding a buffet to your dinner could also help introduce more options rather than your usual 2-3 entree options.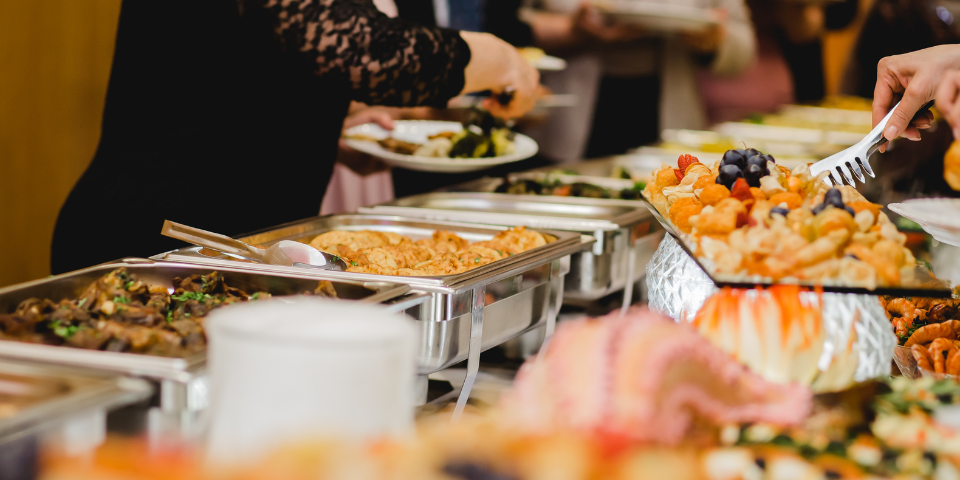 Sometimes Buying is Cheaper Than Renting
When it comes to décor items, table settings, and linens, sometimes it's better to purchase outright. Once you get a quote from the rental company, determine whether it's more cost-effective for you to purchase them. You may even be able to sell the items after to make a little money back.
Keep Stemware Simple
Instead of going overboard with your glassware, go for minimal and classic. You'll keep more money in your pocket.
Use Bouquet Flowers as Centerpieces
After the ceremony, have your florist or coordinator place the bouquets in vases for your tables.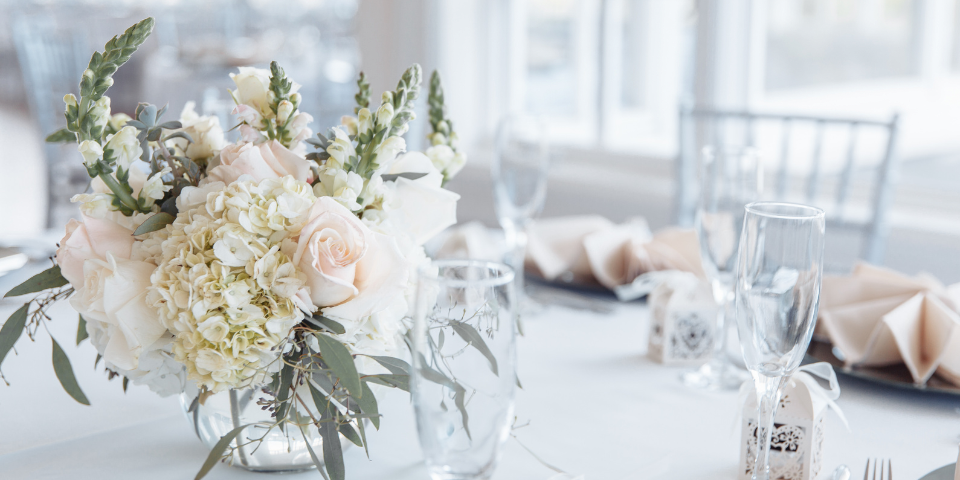 Faux Flowers
While we're on the topic of flowers, buying real bouquets depending on the size of your wedding is going to cost you. If you're looking to save a decent amount of money you should definitely consider buying/renting fake flowers. If you're really missing the fragrant scents that real flowers give off, a clever way to bypass this is to use the fragrance of the main flower you decide on using.
Have Your Baker Create a Faux Cake
Ask your baker to make the top tier of your cake real (for cutting). Then, create other tiers out of styrofoam and decorate it accordingly. Your presentation cake will still be gorgeous while saving you a bit of cash—and you can have sheet cakes in the back for serving.
To get you started with all the tasty treats from the wedding cake to dessert, our
Masterclass
includes 6 videos and 6 lesson plans all about the sweets!
Serve up a Spread of Delightful Sweets
Creating a dessert bar can be a cheaper alternative to the wedding cake. You can purchase the treats from local establishments, set up a candy or cookie bar, or even ask friends and relatives to bake some tasty confections for an on-budget dessert display.
24. Be Your Own DJ
Create a playlist on Spotify or iTunes and play your music through the venue's sound system. (If your venue happens not to have a speaker system you could always rent the equipment needed, there are tons of places that offer rentals. For the music itself, we've pulled together some awesome
wedding playlists
to get you started. 
Stay Local
Many nearlyweds find destination weddings an attractive way to entice your guests to go on a mini-vacation with them to someplace exotic, but not only will you be saving money if you decide to stay local, you'll also be making it easier on your guests, especially if you're planning on inviting a lot of people. 
Another budget-conscious decision that has caught quite a bit of attention is for the nearlywed to host their own wedding party (sometimes even the ceremony too!) at either their home or a relative's property who has a large enough space to fit an event of this order. 
Skip or Minimize the Rehearsal Dinner
A lot of the time rehearsal dinners can go upwards of $1000, but if you're having a simple, straight forward ceremony or you are planning on having a small wedding to begin with then feel free to skip this tradition.
Last year's national average wedding budget was between $29k-$31k (wedding rings included). Depending on which state you live and where you're having your wedding it may be slightly higher. But if it's any lower than this, you're definitely saving.
To think that something as simple as scheduling the wedding date a day later could save you from spending twice as much; or that buying your own alcohol for the bar will not only save you money, but also give you the chance to handpick your absolute favorite cocktails; or by creating your on day-of stationery will inevitably make your big day even more memorable are all great catches if you ask us at Loverly!
So whether you decide to utilize only a few of these ideas or the lot of them is of course up to you and your partner, but one thing is for sure: you'll definitely be saving a bunch! Check out
Loverly's Wedding Planning Masterclass
and get started watching their videos, they'll make you feel more like a pro, before you even get started! 
Plan your wedding like a pro.