The Ultimate Proposal Guide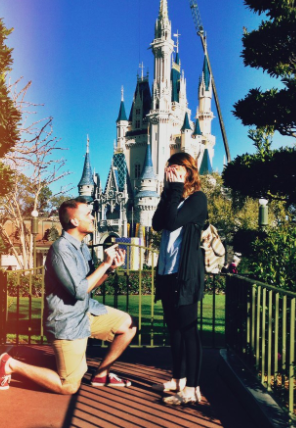 A proposal is such a special moment, and when you're the one proposing or being proposed to, it can go by really really fast. Make the memory last by documenting it! Here are five ways to make sure you don't forget a minute of how it all goes down: Photo by
Gina & Ryan Photography
1. Hire a photographer. 
Pictures are amazing keepsakes because they catch joy and surprise in an intimate moment. Plus, you can use them later for engagement party invites, save-the-dates, your wedding website, and so much more. These days, there are photographers who specialize in just proposals. The pros are good at laying low so your partner doesn't expect a thing — in fact, some will stay in hiding the whole time so you can later surprise your new fiance with the photos! We've also heard stories of couples or families going on what they think will be an ordinary photo shoot that turns into something special. Not sure you want to splurge on a photographer? Ask a talented friend to snap a few pictures in hiding. Or, if your friend is in on the plan, make it seem like a normal picture, then surprise your partner by getting down on one knee. Photo by
Planning for Dudes
2. Catch it on video.
A picture's worth a thousand words, but why not take it to the next level with a video? A video makes sure you capture every word (you've been practicing your proposal speech, right?). We've heard of plenty of couples who sort of forget all the sweet things their partner say just before popping the question — don't let that be you! Just like pro photographers, skilled videographers can stay out of the way so your unsuspecting love won't know the proposal is coming.
3. Snap a selfie.
Proposals are super personal and intimate, and lots of couples would prefer to be alone — with no photographers or friends and family around to capture the moment. If that's you, don't worry! We LOVE proposal selfies and be sure to get both of you in the photo — and the ring! 
4. Save a souvenir.
Whether you get engaged on an exotic vacation, at your favorite local spot or your own backyard, you can remember the special location by saving some memorabilia. While traditional souvenirs — Christmas ornaments, magnets, mugs, even postcards — are absolutely perfect, they might not be available. So get creative! Take a jar full of sand from the beach and use it in your unity sand ceremony on the wedding.
5. Write it down.
You know how those special moments that you think you'll remember slowly start to fade away over time? Do not let your proposal be one of them! The day it happens (or the day after) write down everything you can remember — what you said, what your partner said, both of your reactions, what you did right after. It could be a Facebook update, a blog post or just in your personal journal. You'll cherish your writing years later! If you're the one planning the proposal, don't let documenting the event be a last-minute thought. And if you're the one who's expecting a proposal? Bring your phone and prepare for some selfies!    
More like this