Wedding 101
Social Media Wedding Planning Etiquette for Couples
Customize your own wedding checklist with due dates, personal reminders, and timelines for all your wedding to do's.
We think the web and wedding planning go together like, well, love and marriage, but we also believe that not every moment of the engagement or the wedding needs to show up in your friends' social media feeds. And these days, more and more couples don't
want
it to. Here are our top tips for navigating social media as you plan your wedding.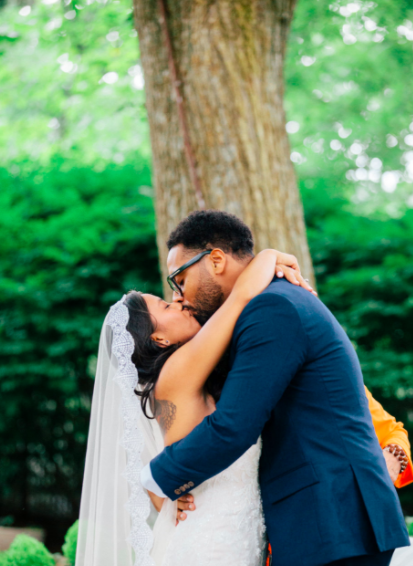 Photo by Samantha Lauren Photographie
1. Tell friends and family personally first.
While Facebook is a great way to update everyone in your life at once, many people feel slighted if they find out the important news this way. So tell people in person or pick up the phone if possible...but know that in most cases, even a personalized text is going to sit better with your BFF than a status update.
2. Don't go overboard with the ring pictures.
If you want to post a couple showing off your ring, no biggie. But most people find it annoying when there is an entire album devoted to an engagement ring shot from 25 different angles.
3. Don't make all of your wedding decisions based on what would look great in photos.
Sure, you want to capture your special day, but you can't really experience the day for what it is if you're worried about creating perfect photo op.
4. Make the most of your wedding website. 
A well-organized and easy to read wedding website (major bonus points if it's mobile-friendly!) is a great resource for guests. And if your wedding website template has a blogging feature, use it! Then, instead of posting every detail of wedding planning on your social media sites (and making your friends sick of the wedding before you've even mailed the invites), you can let guests check in periodically for updates if they are interested. And you won't wind up inundating all the people on Facebook and Twitter who you aren't inviting with all the details of your wedding.
5. Evites are cool, but skip social media invitations.
If you want to go green or save money by using evites, it's totally cool. (Hint: if future mother-in-law can't accept that evites are here to stay, meet her halfway and send the older generation paper invites and your friends evites.) But we don't recommend using Facebook for invites or RSVPs. (Surprise! Not everyone has a Facebook account!)
6. Make sure your contact info is easy for guests to find.
 Managing wedding questions coming at you from Facebook messages, emails, texts, and phone calls is tough, so pick a method and stick with it. If you're a diehard email person but hate texting, put your email address on your wedding website and let guests know to send questions there. (Someone texts you anyway? Reply with "Sure, could you email with this info?" Eventually, they'll get the picture.) We love the idea of setting up a separate email address for emailing with vendors; put that on your wedding website too so guests can send questions there.
7. Know that it's totally fine to request an unplugged wedding.
If you don't want guests snapping photos during the ceremony or posting on social media, just put a note in your wedding program letting guests know. But if you go this route, make it easy for guests to see and order the photos your photographer takes by sending out the link to the online gallery as soon as possible.
8. Don't try to keep guests from posting pictures of themselves at your wedding on social media.
We understand not wanting everyone to see you, but if your bridesmaid wants to put up a cute shot of herself with her date, you shouldn't try to confiscate her phone.
9. Unplug on your big day...for a little while anyway!
Even if you're a social media all-star (hey, we totally get it!), remember to be present with the guests who are there to see and celebrate you. You can update your Facebook status tomorrow.  
Get more big day etiquette on Loverly!
The Gift-Giving Etiquette Wedding Guests Need to Know
Etiquette Guru Lizzie Post Reveals How to Handle Awkward Wedding Guest Situations Is It EVER Okay to Un-Invite a Guest to Your Wedding?