Wedding 101
11 Social Media Do's and Don'ts to Keep in Mind for Your Big Day
We're living in the age of Facebook, Twitter, Instagram, Snapchat, TikTok and Pinterest, which brings a whole new layer of wedding etiquette to the planning process. And while we think social media can make pulling off your "I Do's" even more fun (we love seeing couples get creative with everything from their hashtags and snapchat filters to their websites), it's important to remember that the internet is a public place. So here are 11 rules of wedding NETiquette—see what we did there?—to keep in mind as you prepare for the big day.
---
DO
post an engagement ring picture. Everybody wants to see your new bling, so indulge them with a
ring selfie
. A quick Instagram or Facebook photo is a totally appropriate way to announce your good news. Just don't go overboard — one picture of your latest accessory is enough.
---
DON'T announce your engagement on social media before telling your nearest and dearest. While it's OK to post a ring selfie, don't make that your official engagement announcement. Can you imagine what it would it feel like to find out your brother of your bestie popped the question while you were scrolling through Twitter? Ouch. Before posting any status updates, give your loved ones a call so they're the first to hear the news...and they can hear it from YOU. There's no rush to make things Facebook official — if you don't update your adoring fans within the first hour of being engaged, everyone will understand.
---
DO ask for opinions about wedding colors or themes. Even if you're not inviting everyone in your social network to your nuptials, it's totally okay to ask the internets for some inspiration. Just make sure you know when to draw the line. While asking for advice on what accent color goes well with gray is absolutely acceptable, asking for input for what to include in your vows might be going too far.
---
DON'T share your registry on Facebook or Twitter. Your registry should live in two places: your wedding website and your bridal shower invitations. That way, if someone wants to send you a gift, they'll be able to figure out where you're registered. But even though a tweet or post with the link to your wedding wish list may seem like an efficient use of your time, it can actually come off as tacky or childish. No matter how badly you want that new set of knives, you don't want to seem like you're demanding that people buy you presents.
---
DO
let your guests know how you feel about them using social media. If you don't want your partner to see you in your big day ensemble before you see each other in person, ask your bridesmaids not to post anything to Insta before the big reveal. Maybe you want to keep your ceremony or vows to between you, your partner, and your invited guests — it is an intimate moment, after all. While you don't need to have an 
unplugged wedding
, if you have feelings about sharing the details of your big day, make sure you make them known!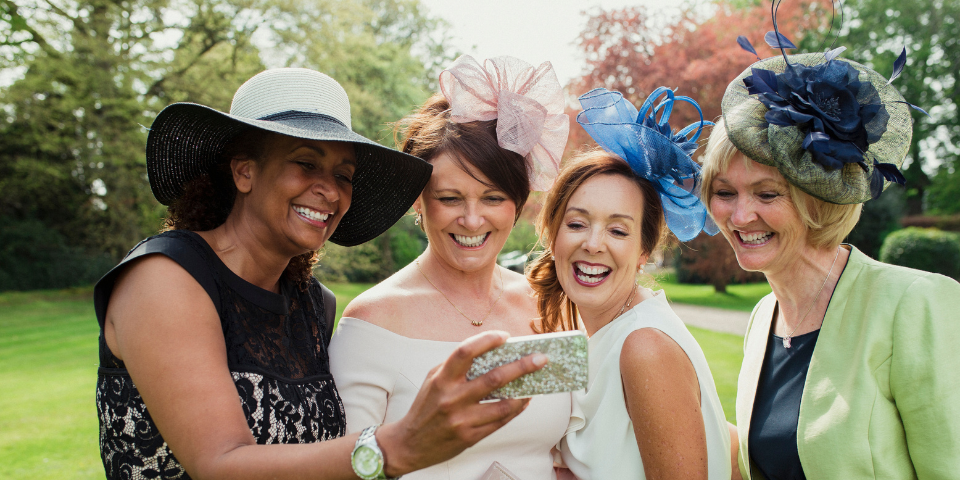 ---
DON'T vent your frustrations on social media. We've seen it time and time again: a frustrated, overstressed bride complaining about the wedding planning process in an emotionally charged Facebook update. The worst part? A family member, bridesmaid, or vendor is often the victim, which leads to lots of hurt feelings. If you need to vent, keep it between you and your spouse-to-be or maybe your maid of honor. And whatever you do, don't post anything that's outright aggressive... Just don't.
---
DO be sensitive to the people in your network you can't invite. Even if you have an endless wedding budget and the biggest venue of all time, you're probably not inviting every single person who follows you on Instagram or Twitter. While you shouldn't completely censor yourself (this is an exciting time for you!), be sensitive to those who won't be getting an invitation. Think before you tweet! You should definitely share some shots from your bachelorette bash, your bridal shower, and the big day, but just limit how much you post (and how often) so your more distant friends and acquaintances won't feel bad about being left out.
---
DON'T let social media substitute for a real invitation or thank you note. Evites and Facebook events are a great (and affordable!) option for bachelorette or bachelor parties and maybe even your save-the-dates, but they're probably not the right way to invite your loved ones to your nuptials. Sending a "thanks for coming!" message to your guests over Facebook won't cut it either. Break out the stationery and thank them the old fashioned way. Everyone from grandma to your college roomie will appreciate the handwritten note.
---
DO
feel free to use a wedding hashtag or snapchat filter or make it
unplugged
. In the last few years, couples have found lots of creative ways to use social media throughout the wedding day. Some use a
wedding hashtag
or snapchat filters or even take a selfie at the altar. Others, though, don't want any social media at all. Either option—or something in between—is fine. Choose whatever fits your style and wedding best, and be sure to communicate your wishes to guests.
---
DON'T spend your wedding day on your phone. Even if you do have a wedding hashtag, avoid indulging in endless Instagram photos or tweets. A few here and there are fun, but if you're constantly looking at a screen, you'll miss out on all the memorable moments. Ask a friend or relative to be in charge of posting a few social updates throughout the day, and remember that your photographer and guests will take plenty of pictures for you. Updating your last name and marital status can wait until the next day!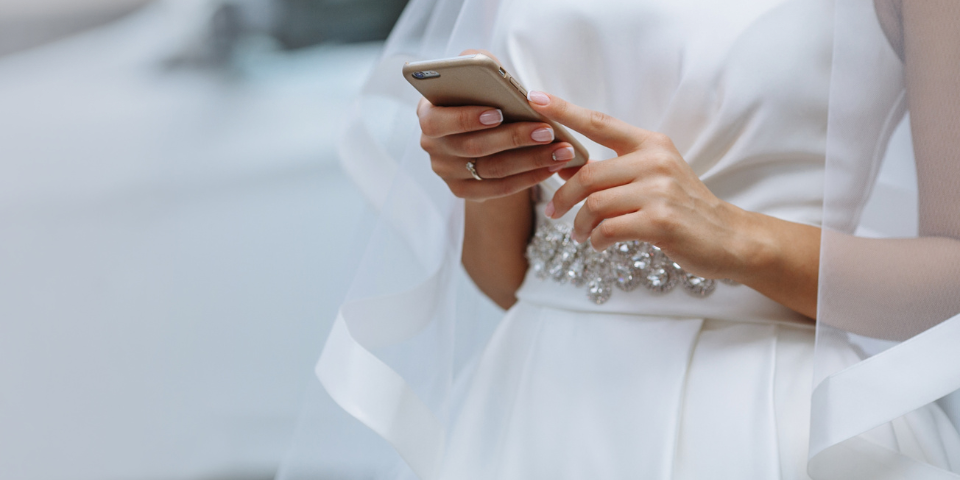 ---
DO
utilize social media to find and vet vendors. Vendors are turning to social media to help build their business, so it's a great place to start your search. Look up how many followers they have, read any reviews available, and check out their photos to get a glimpse into their portfolio. Consider following that florist you're thinking of hiring or that photographer you just booked as they often will post deals for their online friends.