7 Rules for Picking Your Bridesmaids Without Having a Breakdown
In the excitement that follows your engagement, it's easy to get carried away and start in on planning your wedding right away. But it's important to take a few minutes (or even days) to really think through the important decisions that you need to make, from your picking your wedding date to picking out your
color scheme
. Another major item on your to-do list? Choosing your bridal party. That's a decision you shouldn't make lightly (they're the ones who you'll call upon in times of need), so here are seven tips to keep in mind when choosing who will stand by your side when you say "I do."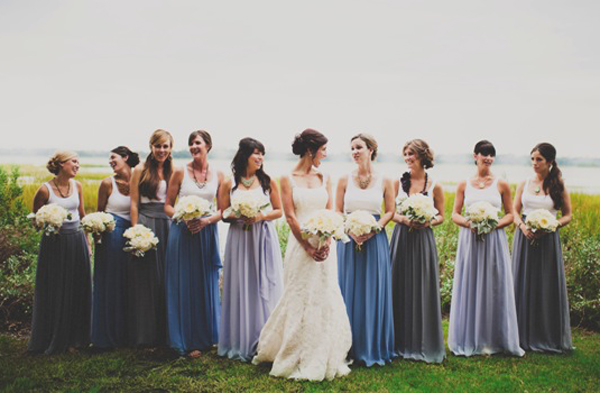 Photo from Southern Weddings on Loverly. 
1
Think before you ask. 
As you announce your engagement, you may feel inclined to ask everyone to be by your side on the big day; your cousin, your co-worker, your childhood best friends. But be patient and allow yourself to relish in the excitement before you start choosing a bridal party. Everyone will be excited for you, but you want to make sure you have the best group of girls standing up there with you. You want to be sure before you ask. Your friends will definitely be honored you chose them for the role, and the last thing you'd want is to have to break the news to them that they actually won't be included.
2
Do include ALL of the sisters.
Even if you have three sisters and your fiancé has four, you should try your best to include everyone in the wedding party. Your friends have obviously been through a lot with you, but family will always be there no matter what. You may not be particularly close to your soon-to-be sister-in-law, but remember, you're planning on spending forever with her sibling…and that means, they'll forever be a part of your life too.
3
Consider including men and women.
If you've got a boy for a best friend, don't let anyone tell you that they can't be included. This is your wedding, and the people closest to you — both male 
and
 female — are the ones who should be by your side. Consider having a 
mixed-gender bridal party
 with a Man of Honor or a Groomsmaids. An all female bridal party is one tradition that can go out the window to include all of your nearest and dearest.
4
Talk numbers with your groom. 
While you may want to include your five immediate best friends, your fiancé may only want to have a Best Man. Unless you can both get on board for having a small wedding party or an uneven number on each side of the aisle, make sure to talk with your partner about who he/she wants to include. See if the two of you can reach a compromise before inviting anyone to be a part of your party.
5
Research other roles. 
If your college roomie knows how to have a good time but isn't necessarily the most responsible, consider assigning her a role other than MOH. Maybe she can handle being a bridesmaid, but also consider having her do a reading at your ceremony, plan your bachelorette party, or put her in charge of mimosas on the morning of your wedding. Make her feel included in your big day without putting yourself at risk of having a flighty bridesmaid.
6
Set expectations. 
Your bridesmaids want to be there to support you, but as in any successful relationship, they need to know what is expected of them. Clearly communicate what you'd like for your bridal shower, bridesmaid's dresses, and if you plan on asking them to travel or spend any particular amount of money. By letting them know what's in store, you'll be able to see early who is able to commit, and who may need to bow out. Getting this out of the way early will help avoid potential drama, and save you from doing any permanent damage to your friendships.
7
Choose the MOH who makes you feel supported.
You may have two best friends, two sisters, or someone you promised the role when you were 13. Put all of that aside and think of who makes you feel the most supported. An MOH isn't just your closest friend, they also need to be the most responsible. Choose a MOH who feels comfortable speaking in front of a crowd, is reliable enough to plan your shower, can handle your mom when she gets a little overbearing, and who supports you (and your relationship) through and through. For anyone who is upset by your final choice, communicate to them that you chose so-and-so for their resourcefulness, not because you love them any more than anyone else. Make sure your other girlfriends have roles that make them feel special as well. What if you really can't choose? Make your own rules! Have 2 MOH's and split the responsibilities between them.
-By Kimberly Watson
Get more bridesmaid inspiration on Loverly:
18 Awkward Bridesmaids Photos That Literally Made Us LOL
3 Things You Can Let Your Bridesmaids Choose Themselves
8 Good Reasons NOT to Have Bridesmaids