Real Las Vegas Love Story, Right Outside Seven Magic Mountains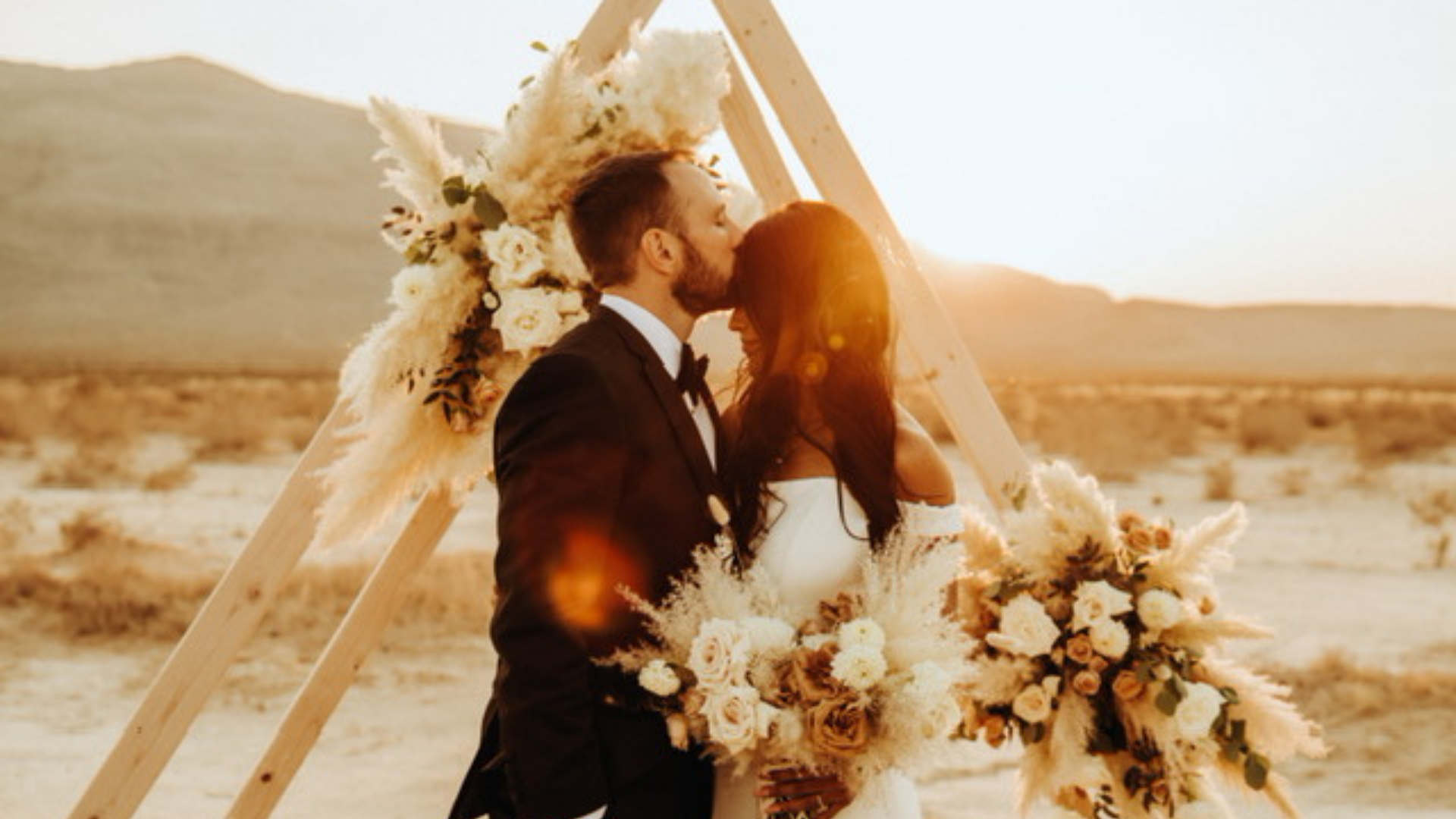 Las Vegas hosts more than just the glitz and glamour, bringing spectacle that goes beyond
nightlife and a show
. Enter: The Las Vegas, Nevada, desert — home to natural art, serenity, and beautiful backdrops for saying "I do!"
Just outside the
Seven Magic Mountains
is a peaceful and gorgeous setting that offers the beauty of mother nature, intimate privacy of a remote location, and a mountainscape horizon that'll compete for your guests' attention during your nuptials. 
Don't believe us? Read on for Zohra and Rich's real love story, an epic tale whose most magical milestones took place in one of our favorite destinations, Las Vegas.
Zohra and Rich met each other by coincidence in 2013; two neighbors who happened to step out of their next-door balconies in Downtown Las Vegas at the same time. After an initial "hello" from Rich and an unexpected five-hour conversation that followed, Zohra agreed to a first date that Friday and recalled they "instantly caught feelings for one another."
Fast-forward to
Las Vegas
January 2019. It was an annual birthday trip for Zohra that solidified what Rich already knew: He wanted to spend the rest of his life with her. He proposed that spring.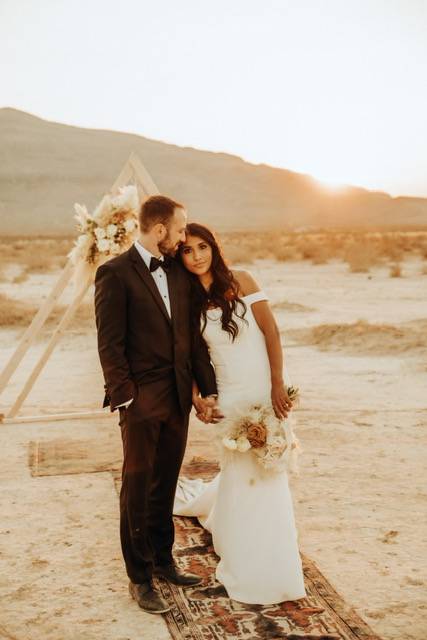 When it came to planning a wedding in 2020 and facing the adversities that accompanied COVID-19 shutdowns, Zohra said, "We originally planned the ceremony in Santorini, Greece, followed by a reception in Las Vegas. We had the entire wedding planned and paid for, but we had to cancel both the ceremony and reception due to COVID-19 restrictions. Lo and behold, it worked out for the better! We ended up planning a very intimate ceremony at the dry lake bed, about 20 minutes outside of Las Vegas. The reason why we chose the dry lake bed was because during sunset, the beauty of the environment was absolutely breathtaking. You could instantly feel a sense of romanticism and love. It had this magic of reminding us that in this big world, all we needed was each other. We knew right away that was the location we wanted to share our vows."
Zohra and Rich's wedding was an intimate and relaxed ceremony, featuring neutral colors that matched the desert sand perfectly. She wore a modern, off-the-shoulder gown, and her bouquet encompassed cream and earthy red tones inspired by the Las Vegas desert environment. The aisle was set with a gorgeous Moroccan-style rug that elevated the cozy and intimate setting for the ceremony. As they recited their vows, sealed them with a kiss, and celebrated with their closest loved ones, an unforgettable desert sunset cast a wonderful glow behind the mountain-filled background.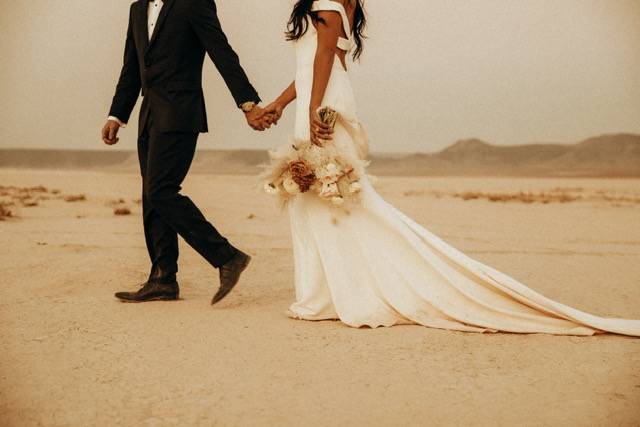 Though it was not the global destination wedding they originally had planned, they were grateful that changes out of their control led them back to Las Vegas. Zohra reflects on her perfect day, saying they "could not have been happier" and the entire setting and execution of her wedding ceremony was a "whole different level they couldn't have imagined."
We know you only deserve the best, that's why we only partner with brands we trust and love! That said, we still need to bring home the bacon, so this article may contain some affiliate links. This means that Loverly makes a small percentage of the profit generated from any sales, so we can keep doing what we do best: helping you plan your dream day!
Stories you might like