Wedding Planning Tasks You Can Check Off on Your WFH Lunch Break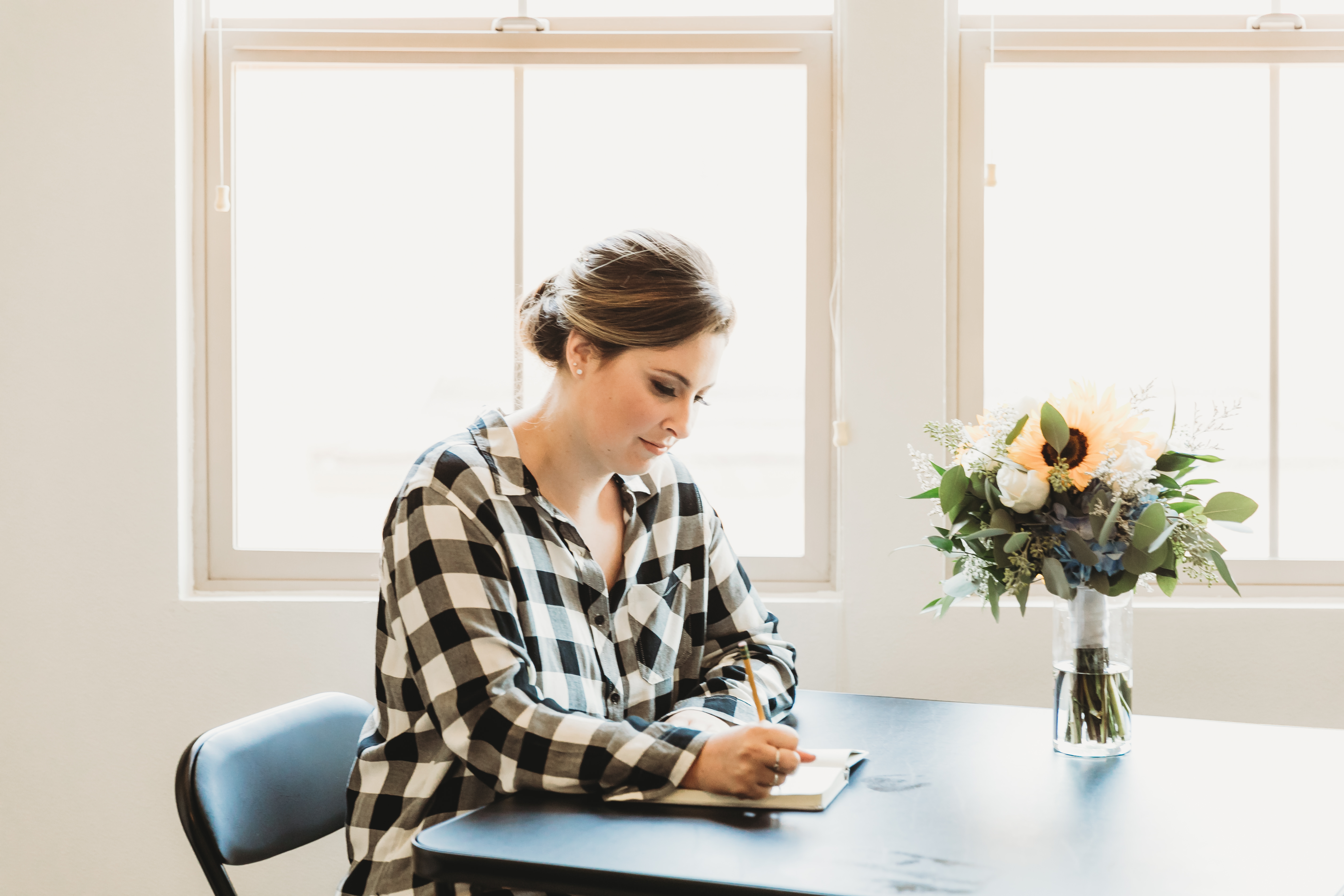 A woman in a flannel shirt sitting at a table and writing in a notebook.
"Planning a wedding can be overwhelming, but it doesn't have to be. During your lunch, you can go ahead and start contacting your top vendors and even asking them for references. This allows you to get a good feel for your vendor and helps you make the right decision for your wedding. You are now one step closer to the wedding of your dreams!" — Lisette Gatliff,
Lisette OC Photography
2.
Focus on checking off one thing per day.
."Working from home is challenging, but it has its benefits. Between meetings, peek at your wedding to-do list and try to check off one thing per day. Even the small things like adding items to your registry or creating a mood board of your favorite flowers can make you feel accomplished. Pro tip: remember to always add one fun part of wedding planning to every day. Hello, honeymoon! We've got the perfect bathing suit and cover-up for you! Now, that is a fun part of planning!" — Kat Platt, Co-Founder & Designer,
Bliss-On by Kat Platt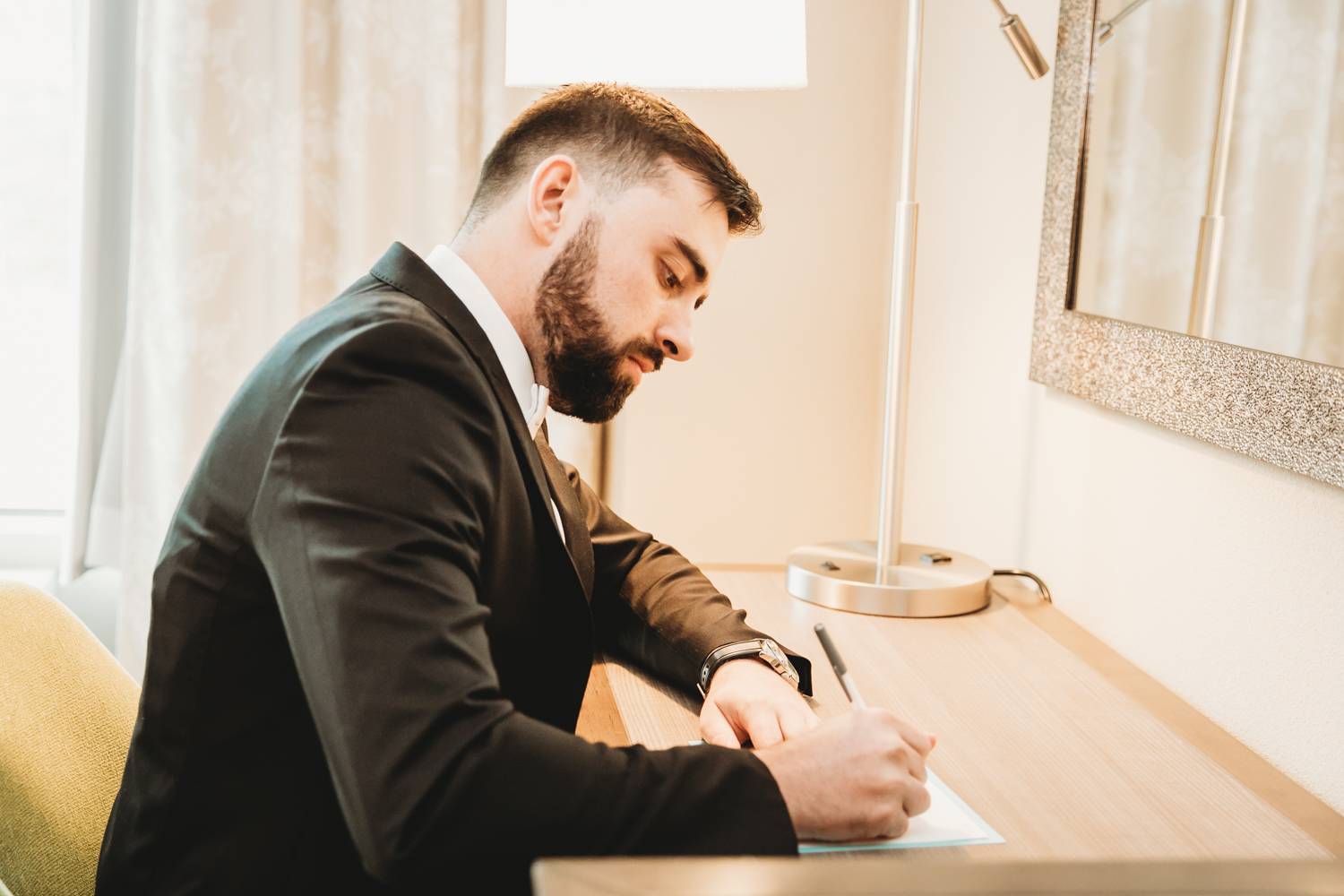 3.
Look into eco-friendly fashion options.
"Stillwhite.com is a digital marketplace where brides-to-be can link up with former brides who are selling their dresses for less than the retail price. Turning your Pinterest board dreams into a reality that you can afford, Stillwhite.com has made it possible for the budget-savvy bride to purchase a wedding dress straight from her mobile device in a matter of minutes. On an eco-friendly note, purchasing a pre-loved dress creates less waste." — Bruno Szajer, Co-founder,
Stillwhite.com
4.
If you've already purchased your dress, think about what to do with it after your special day.
"Do you want to save it, donate it, or sell it? Regardless of your choice, you'll need to get your gown cleaned right away. The delicate fabrics wedding dresses are comprised of begin to yellow in as little as six months; we always advise a bride to order her wedding dress cleaning and preservation when, or soon after, purchasing her dress," — 
The Wedding Gown Preservation Kit
5.
Get help from a professional wedding designer straight from your couch.
"With so many planning tools and resources out there grasping for your attention, it's time for one that focuses on design. With
Bridal Design Box
, there is a team of professional wedding designers that will virtually design your wedding to your budget, style, and more, to provide you with a comprehensive design proposal plus all the resources you need to execute your design. Take the stress out of being a DIY bride and work virtually to create the wedding design of your dreams all within the budget of your reality." — Marnetia ReFour, Founder,
Bridal Design Box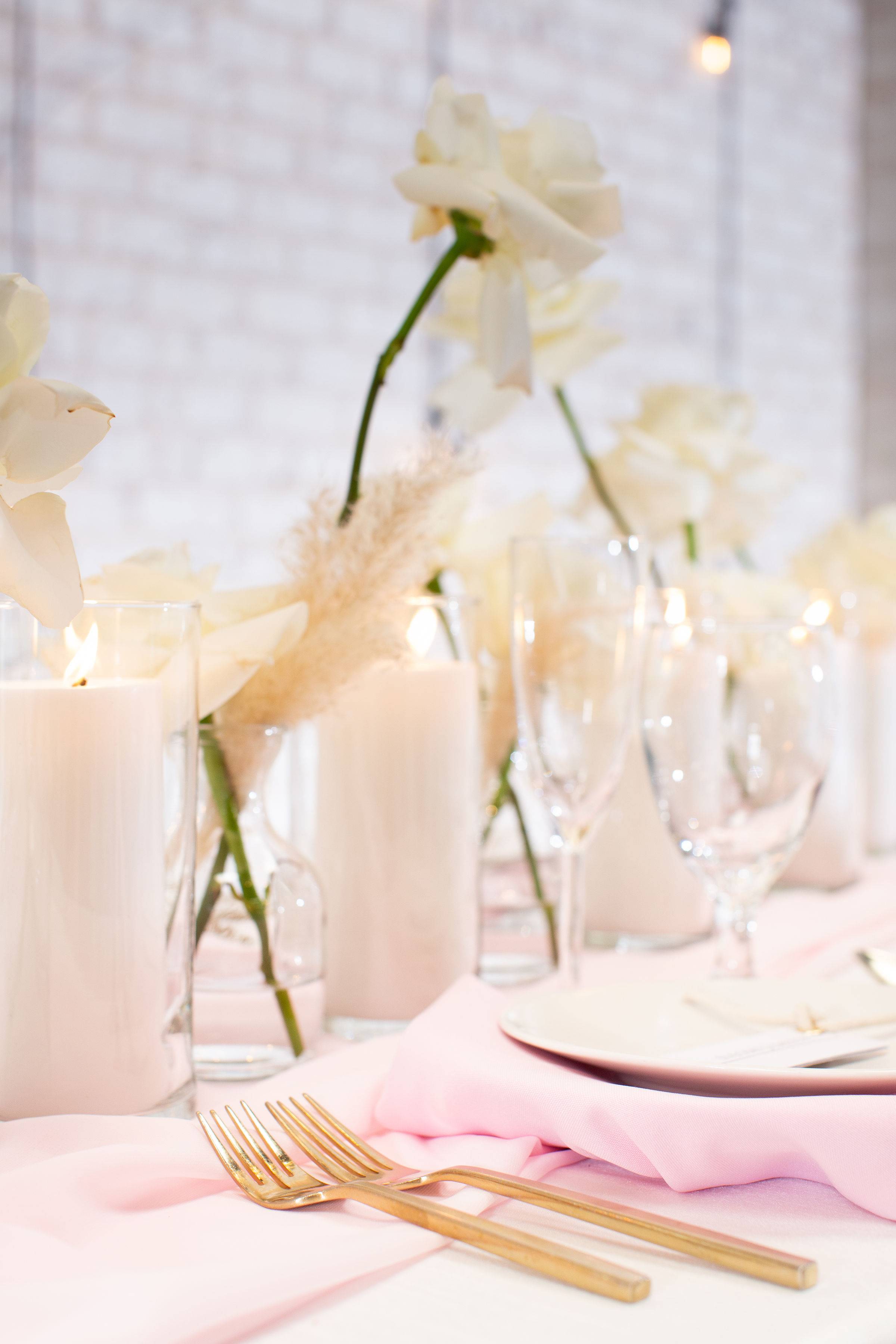 6.
Shop for a wedding dress—it can be exhausting and time-consuming, but it doesn't have to be.
"We recommend doing your research first to identify your aesthetic and to learn which designers' options align with it. With
Dress Hunt
, we streamline the research phase by helping you find options that fit your aesthetic, shopping preferences, and budget. Pre-shop your boutique experience to find the styles you love near you or shop ready to ship and/or made-to-order wedding dresses online. If you still don't know exactly what you want or where to begin, our
Bridal Concierge
service is there to be your personal bridal guide.
From identifying additional designers available at boutiques near you that resonate with your style, to setting up meetings with out-of-reach designers to make the online buying process seamless, we'll help you find your perfect look so you can get back to the fun parts of bridal fashion." — Felicia Joffe + Ashley Hunt, Co-founders,
Dress Hunt
.
7.
Register for the items you actually want—virtually.
"The days where you had to walk into a store and meet with a consultant to create a wedding registry are long gone. Online registries have become quite the norm and give you the freedom and ability to create a registry within minutes and from the comfort of your home. With the
Nook+Cove
online registry, you can select beautiful furnishings and décor from pre-curated designs for your home.
Since Nook+Cove's design professionals have already pulled cohesive looks together from top home retailers such as Crate & Barrel, Anthropologie Home, and Pottery Barn to name a few, the strenuous task of having to decide what furnishings go together is eliminated, enabling you to create a registry within minutes.
The Nook+Cove Registry also allows for Room Funds and group gifting. Having group gifts and funds enables guests to contribute at their comfort levels, eliminating the need to register and track gifts in different price categories. You can also easily link your Nook+Cove registry to your wedding website at The Knot or anywhere else with just a few clicks. From start to finish, you can create a Nook+Cove registry, add gifts or funds, share your registry with guests, and begin to receive gifts in under 10 minutes!" — Silpa Yadla, Founder and CEO,
Nook + Cove
.
8.
Consider gift ideas for guests.
"This is a super easy task to check off on your lunch break! Pick out your favors and/or welcome bag items for your guests!" - AJ Williams, Founder & Creative Director,
AJ Events
9.
Think of gift ideas for the wedding party.
"You can also select gifts for your wedding party in about an hour - plus it's fun to think about treating your favorite people!" - AJ Williams, Founder & Creative Director,
AJ Events
Stories you might like