How to Pull Off a Mixed-Gender Bridal Party Like a Champ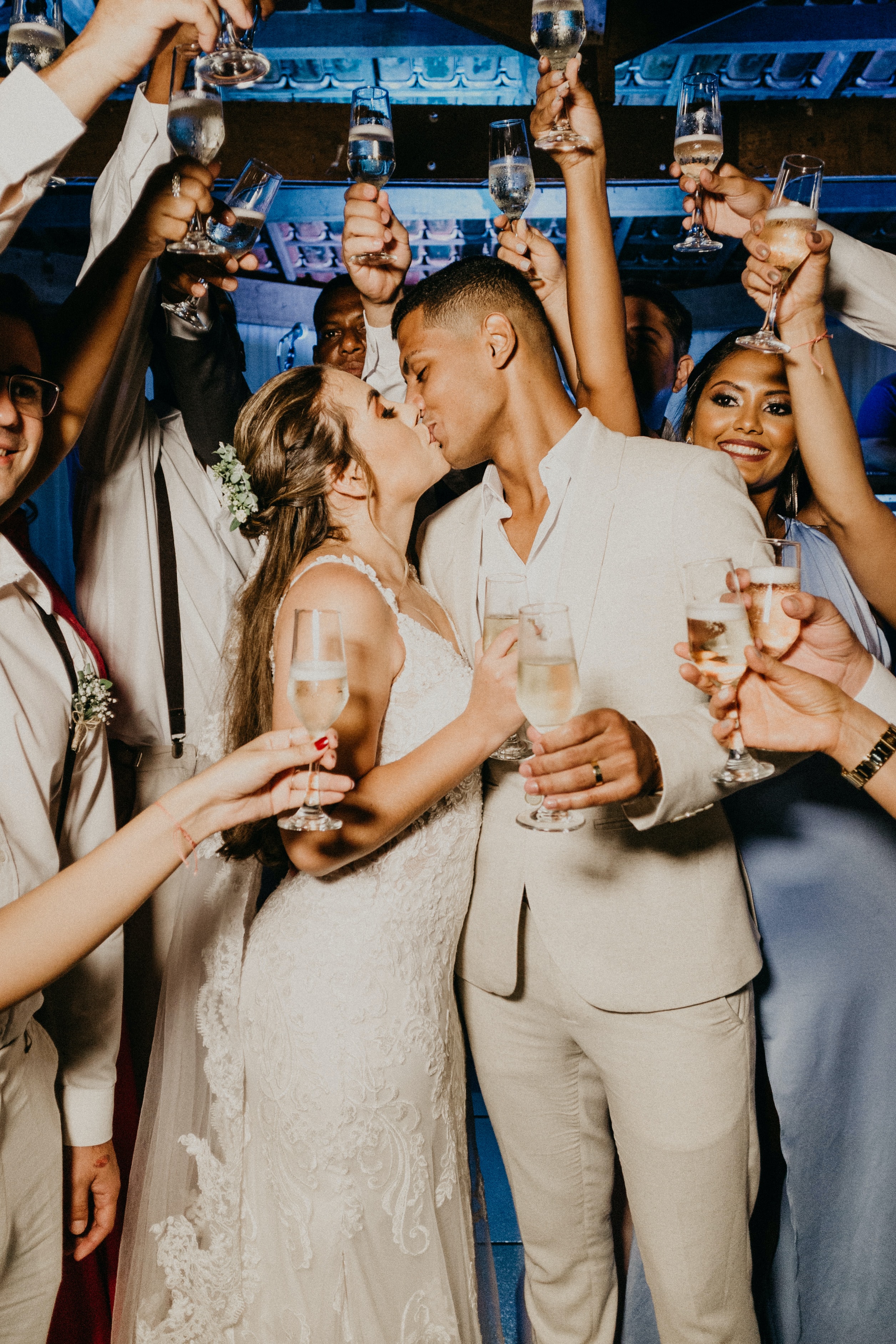 When it comes to your
bridesmaids
, the old rules no longer apply! They can wear mismatched gowns, you can have more bridesmaids than groomsmen, and -- surprise! -- your "maids" can include a few men too! More and more couples are opting for mixed-gender bridal parties, but some are still unsure how to make it work for them. Read on for our tips and suggestions.
What should they wear?
When it comes to attire, we recommend you style each side of the aisle. Traditionally, a couple might put bridesmaids in pink dresses and groomsmen in navy suits and pink ties. In this situation, the guys on your side could wear grey suits and the same pink tie as the groomsmen, while a woman on your partner's side could wear a navy blue dress that matches the men's suits, and a pink scarf or corsage. Having one color represent each side and choosing slightly different suits or gowns across the aisle will signify which side each person is on and help your guests identify who's who.
How do they walk down the aisle?
If you and your partner have equal numbers of men and women on each side (i.e. you each have two gals and two guys), you could still have opposite-sex couples walk down the aisle together. Otherwise, you can have each person walk alone, or just have a few same-sex pairs (which is so not a big deal). They can simply walk without linking arms, just like ushers (a role typically fulfilled by two men) do. Another creative idea? One recent groom who had guys and girls standing up for him had all his pals walk down the aisle in groups of two and three; then all of the bride's friends entered in groups of two and three. Photo by Sasithon Photography (The bridesmaids are in white dresses and the groomsmaids are wearing chambray)
Do we invite them to the pre-wedding parties?
When it comes to the bachelorette party or a pre-wedding brunch, we think there's always room for one more! If you want to cater to a mixed-gender crowd, opt for a
non-traditional bachelor
or
bachelorette party
. Or just make it a co-ed affair! You could also give your friends the option to just come to one portion of your party (hello, dinner and cocktails), but skip the rowdier antics later (see ya later, half-naked fireman). And if you and your partner are close with each other's people, consider inviting them to your more gender-specific events. For example, your man of honor could skip the pre-wedding mani and go get an old-fashioned shave with the groomsmen, and the groomsmaids might love to stop by your ladies-only bridal shower.
What about bridal party gifts?
If you were thinking of giving your bridesmaids necklaces but are worried about what to give your bridesman, don't stress! There's no rule that says the gifts have to match perfectly. We suggest giving him a nice gift that's slightly similar (e.g. a watch if you give the girls necklaces, or nice PJs if you give the girls matching rompers). You could also give everyone standing up for you the same gender-neutral gift; both men and women will appreciate a bottle of bubbly and a cool set of drinking glasses, a cozy blanket, a foodie-friendly gift basket, or a hip art print. 
What should we call them?
Groomsmaids, bridesmen, man of honor, best woman...or something else entirely! Choose a term you (and they) are comfortable with and don't overthink it. 
Stories you might like