Wedding 101
10 Festive Ways to Work the Holidays Into Your Wedding
Collect, manage, and organize your wedding guest information for each event and track their preferences.
If you're dreaming of a winter wedding, but don't want it to look like a holiday party, then this article is for you! 
We'll be discussing how to incorporate the festive spirit of the holidays into your wedding without having to resort to Santa hats and chocolate. From decorations to favors, we'll show you how to make your winter wedding special and unique.
So let's get started and make your dream winter wedding come true!
Seasonal Decorations
Seasonal decorations can add a special touch to your wedding venue. Wreaths are a classic symbol of the season and are a beautiful way to decorate your venue. You can find wreaths made from various materials such as pinecones, evergreen branches, and holly berries. Garlands are another great way to add a festive feeling to your venue. You can hang garlands of evergreen branches, holly berries, and twinkling lights to create a magical atmosphere. Finally, twinkling lights are a great way to bring a bit of sparkle to your venue. Use them to wrap around columns, drape across doorways, or place in bowls or vases to bring a touch of twinkle to your wedding celebration.
Festive Attire
For the bride and groom, a festive touch can come in the form of velvet or brocade tuxedos and gowns, or even in the form of a festive tartan suit for the groom. For the bridesmaids and groomsmen, consider wearing velvet or brocade suits and dresses. Accessories such as festive ties, pocket squares, and cummerbunds can complete the look. If you want to go all out festive, why not have your bridesmaids wear velvet or fur shawls or capes? For the groom, a velvet smoking jacket or a fur-trimmed top hat can help to add a touch of seasonal flair. Finally, for the ultimate in winter wedding style, consider having your wedding party wear fur collared coats or winter hats. These will add a touch of luxury and sophistication to your wedding day look and will keep your guests warm and stylish!
Winter Flowers
Winter flowers are a great way to get into the holiday spirit and add a festive touch to your home. Poinsettias are a classic holiday choice, and they come in a variety of colors like white, pink, and red. Amaryllis is a stunning flower that blooms around the holiday season, and it looks great in a tall vase with some holiday greenery. Holly is also a great flower to add a hint of holiday cheer to any arrangement. You can mix holly and poinsettias together to create a stunning centerpiece, or you can use amaryllis as the focal point of your arrangement. Adding some pine cones, berries, and ribbons to your arrangement can also enhance the festive look of your winter flower display.
Themed Food and Drinks
You could also serve traditional holiday dishes like roasted turkey with all the trimmings, mashed potatoes, green bean casserole, and stuffing. For desserts, consider making a pumpkin pie, apple crumble, and peppermint bark. Drinks could include spiced cider, mulled wine, and hot toddies. Add a touch of festive cheer by decorating the food table with candy canes and other holiday decorations. You could even provide holiday-themed napkins, plates, and cups to make the food and drinks even more festive.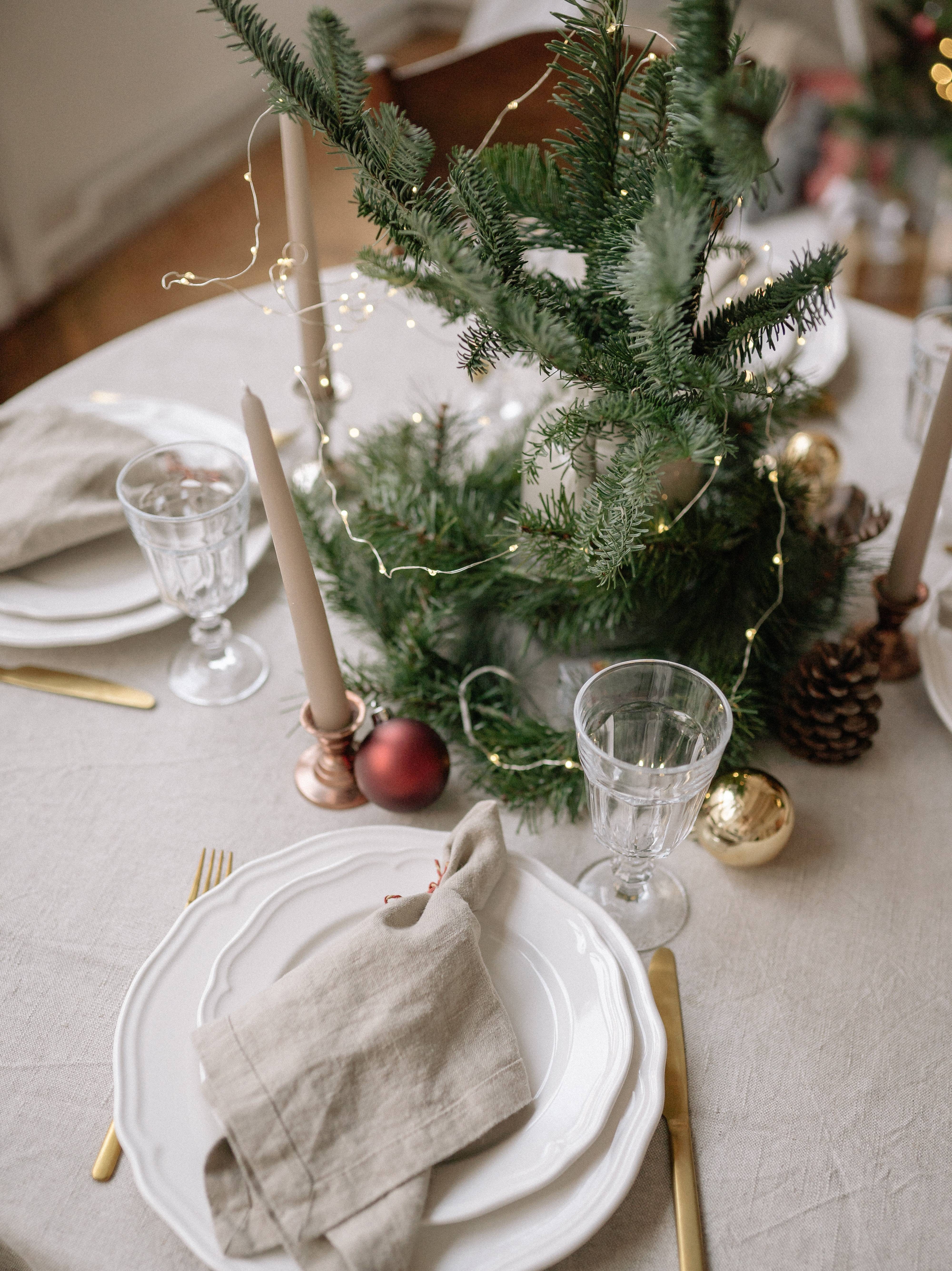 Christmas Tree 
One way to incorporate a Christmas tree into your wedding décor is to make it a centerpiece of the room. Place it in the center of the room, and decorate it with lights, garland, ornaments, and other festive décor. You can even have the tree match the wedding colors, or pick a classic white theme to make it look like freshly fallen snow. You can then invite your guests to add personalized ornaments to the tree. You can provide ornaments that match the wedding colors, or you might even have a special section for each of your guests to add their own family heirloom ornaments. This can be a great way to involve your guests in the special day, as well as to create a unique and meaningful keepsake of your wedding.
Holiday Music
Holiday music is a great way to make your wedding ceremony and reception more festive and special. Music can set the tone for the event and it can also help to create a unique atmosphere for the special day. Whether you choose to play classic holiday tunes or something more modern and upbeat, the right music will keep your guests in the holiday spirit and will create a memorable experience. Furthermore, you can even create a unique playlist that reflects your own style and personal preferences. With the right holiday music, you can bring your special day to life and create a truly festive atmosphere.
Snowy Photo Ops
Snowy Photo Ops are a great way to add a unique touch to your wedding photos. Not only do they add a beautiful backdrop to your photos, but they can also create some fun and memorable moments for your wedding. With the winter weather, there are plenty of opportunities to get creative and make your photos stand out. You can incorporate a sleigh for a romantic winter ride or have your bridal party pose with ice skates for a playful twist. You can also incorporate snowflakes into your photos for a whimsical touch. There are so many possibilities when it comes to snowy backdrops and props that it's hard to narrow it down. Take advantage of the winter weather and create some beautiful and unique photos that you can cherish for a lifetime.
Winter Wedding Favors
Make sure your guests feel extra special by giving them a festive and seasonal wedding favor! You could give them snowflake-shaped cookies, mini Christmas ornaments, or hot cocoa kits. Snowflake-shaped cookies can be made in any flavor or color and decorated accordingly. Mini Christmas ornaments could feature the initials of the couple, the wedding date, or a special message of your choosing. Hot cocoa kits will give your guests something warm to drink on a cold winter evening. You could include marshmallows, hot cocoa mix, and a festive mug or cup. Your guests will love the thought and effort you put in to create a winter-themed favor for them!
Charity Donations
If you want to incorporate the spirit of giving into your wedding, there are many ways to do so. One way is to make a donation to a charity of your choice. This could be done in both small and large amounts, depending on what you are able to give. You could also choose a charity that is special to you and your partner, such as one that is associated with a cause that is important to you. Another way to donate is to host a toy drive for a local organization. This would involve asking your guests to bring a toy or two to your wedding as a way of giving back. You could also choose a charity that serves children or families in need and donate the toys to them. Not only will this help out a great cause, but it will also add an extra special touch to your wedding. Finally, you could also look into volunteering with a charity organization. This could even be done together with your partner or with a group of your wedding guests. Volunteering your time and energy to help out a cause you believe in will be an incredibly rewarding experience, and it will help to bring your wedding day to an even greater level of meaning and purpose.
Countdown to New Year
If you're having a wedding close to New Year's Eve, why not incorporate a countdown to the new year into your reception? Set up a big countdown clock with a designated time to start the countdown, and encourage your guests to join in the fun. You can also provide celebratory props like confetti, balloons, and noisemakers to make the atmosphere even more festive. As the clock strikes midnight, have your guests cheer and blow the noisemakers to welcome the new year. What better way to end the night than with a celebration for the new year?
If you're planning a wedding, why not make it as cheerful as Christmas or any other holiday? Incorporating holiday themes into your wedding can help create a magical atmosphere that your guests will never forget. 
From decorations to the music, there are plenty of ways to make your special day as festive and fun as any holiday. With the right touches, you can ensure your wedding is as merry and bright as the holidays!