Everything You Need to Know About Garden Roses for Your Wedding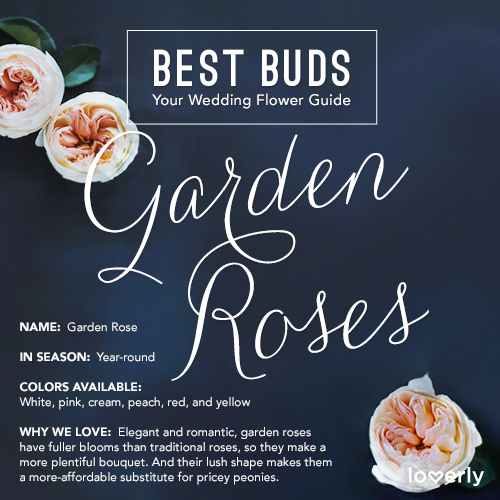 When it comes to choosing your wedding flowers, there's a lot to learn. Every Tuesday, we'll feature all you need to know about an in-season flower. From colors and care to costs and all sorts of wedding floral design inspiration, we're your "best bud."
This week's flower is the garden rose
.
Flower name
: Garden rose
Season: 
Year-round
Colors available: 
White, pink, cream, peach, red, and yellow
Care:
 Remove all leaves that will fall below the water line. While running each rose's stem under water, cut at a 45-degree angle about 1" from the bottom of the stem. Arrange garden roses in a vase filled with cool water. Garden roses tend to be thirsty blooms, so make sure to replenish the water frequently.
Fun fact:
 These hybrid roses are one of the most highly-cultivated flowers and are available in dozens of varieties. Just like traditional roses, different garden rose colors have multiple meanings. For a wedding, we recommend white which signifies innocence and purity or pink which denotes grace and happiness.
Photo by Adriana Leon
Average wholesale cost:
Between $3.50 and $4.50 per stem depending on the variety.
Why we love:
 Elegant and romantic, garden rose varieties have fuller blooms than traditional roses, so they make a more plentiful bouquet. And thanks to their lush blooms, many florists recommend them as a more-affordable substitute for pricey
peonies
. We're fond of mixing garden roses with anemonies, lamb's ear, and garden vine.  
More like this