Wedding 101
The 8 Things You Need to Elevate Your Micro-Wedding
Exclusive access to expert wedding planning advice and resources from top industry professionals.
Micro-weddings aren't going anywhere anytime soon, but that doesn't mean they can't be as amazing as a grand, 200-person wedding! We gathered up tips and tricks from wedding industry pros to tell you the eight things you need to elevate your micro-wedding and take it to another level. Scroll down to see what they suggest—trust us, these ideas are worth saving!
1. Incorporate lush floral pieces.
"Microweddings are an opportunity to create an unforgettable guest experience for those you love the most. There is no longer a need to sacrifice beauty in the details. Today our couples are excited to have much lusher and larger florals for their special day.
"The unexpected gift of a smaller guest count means fewer table centerpieces, fewer invitations, fewer meals, which add up to a unique opportunity. Seeing luxury florals that are no longer beyond the budget, brides and their guests experience moments that stop time." –Karese, Detailed Floral Design
2. Add statement decor—that can be repurposed later!
"Smaller, more intimate weddings allow you to focus more on being intentional with your decor and design details. Think a custom neon sign that can initially be used in your photobooth or reception, then taken home and placed in an office or bedroom as a forever memory of your special day." – Lisa Bowser, Founder, Brite Lite
3. Create a luxe lounge area.
"Give your guests an area to relax and mingle and get together with other guests!" – Raul Rodriguez, Lavish Event Rentals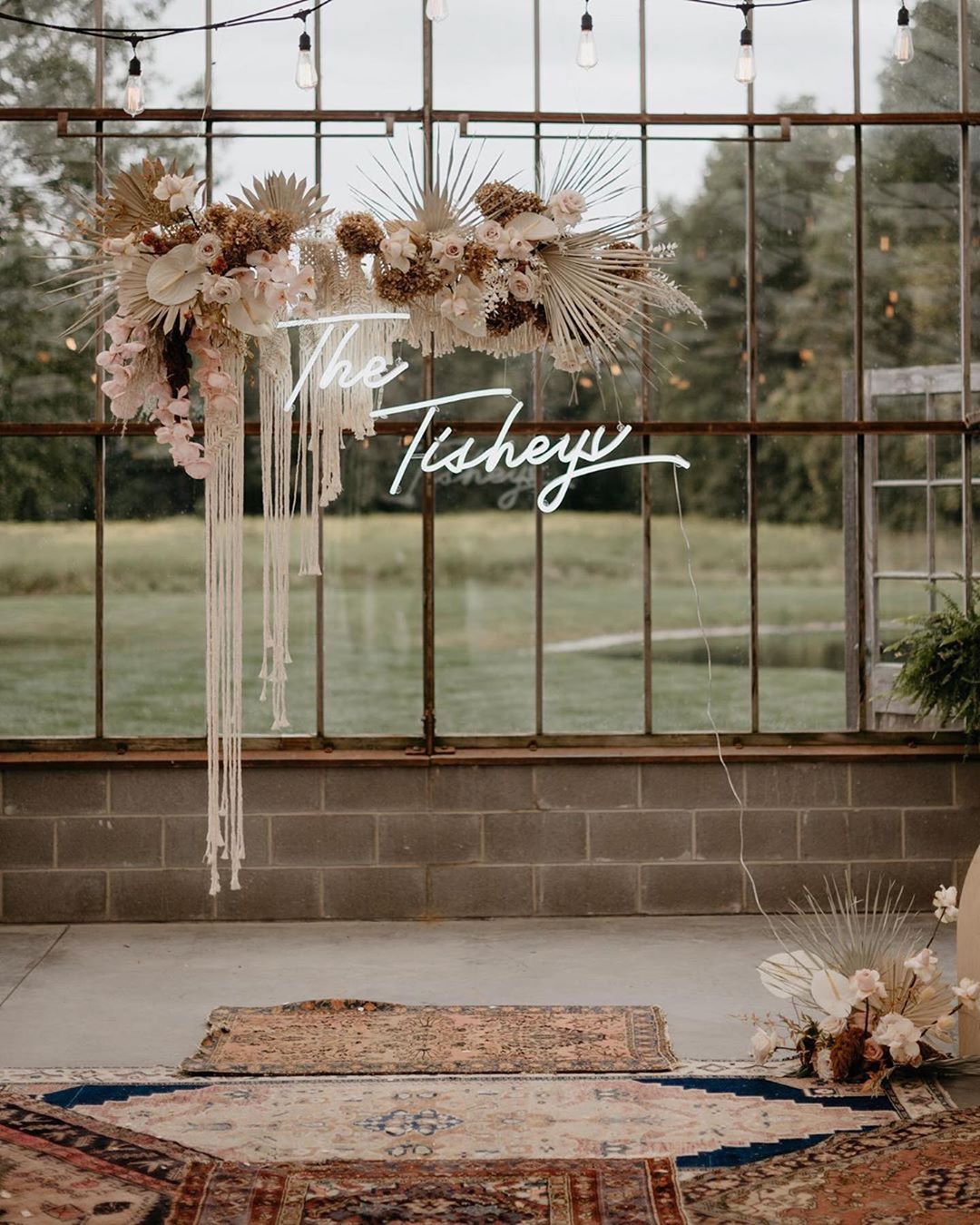 4. Include special music.
"Don't forego the live band just because you are having an intimate wedding! Opt for something small such as a guitar duo that can provide music for your entire wedding and make sure they can do vocals too!" – Erin Sprinkel, Co-Owner of Sterling Social
5. Create a fun photo booth moment.
"You've gotta have a photo booth or selfie booth! A little money-saving tip: if you don't want to pay for a camera and operator to manage the photo booth, just set up a great backdrop. Your guests will take their own pictures themselves!" – Raul Rodriguez, Lavish Event Rentals
6. Upgrade your bars! 
"Your bar is a large congregation area and a big visual focal point, so splurging and upgrading your bar is well worth it." – Raul Rodriguez, Lavish Event Rentals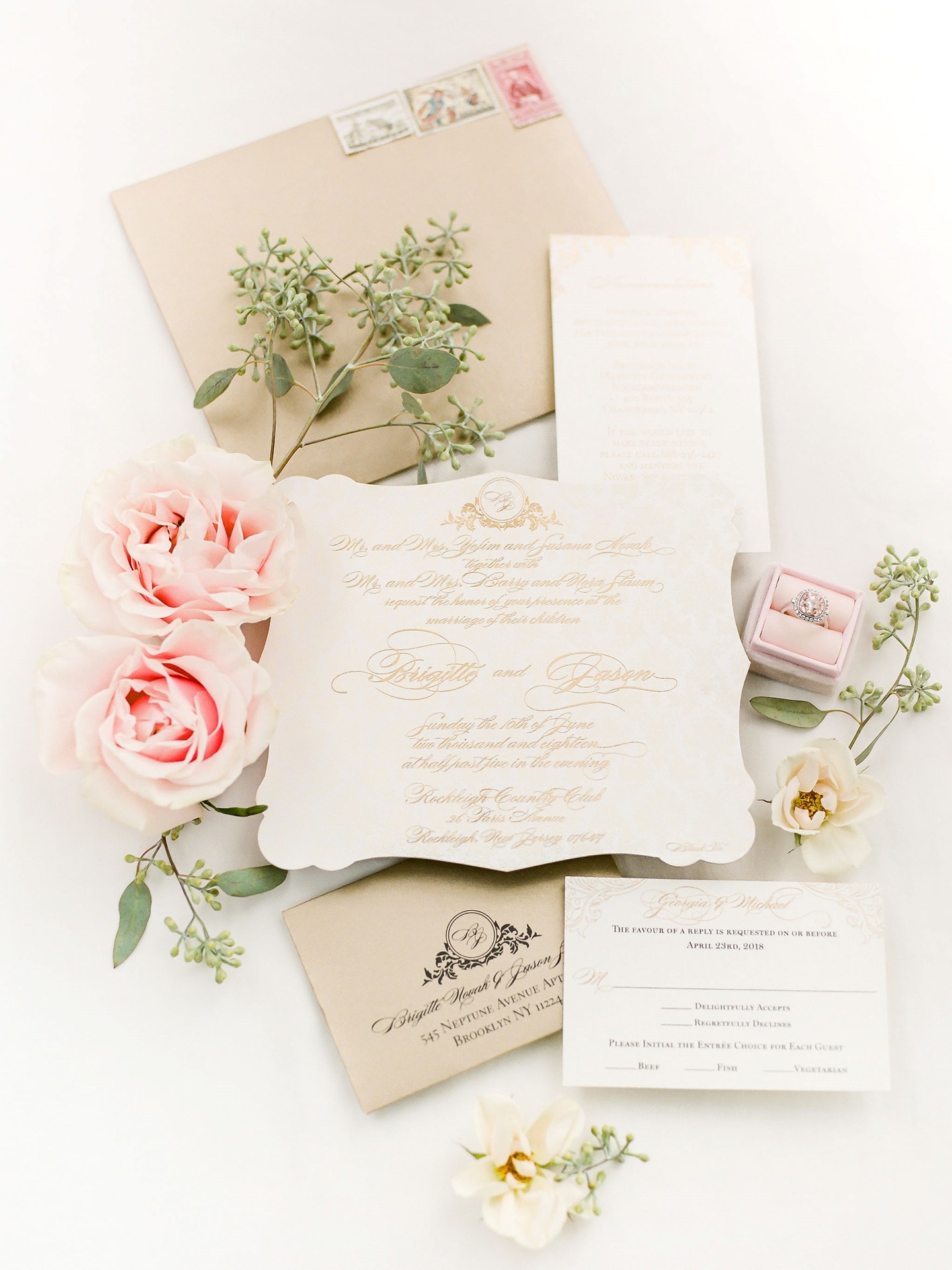 7. Don't skimp when it comes to your stationery.
"Since invitations are the first glimpse of the wedding your guests will see, you can splurge on something you have always dreamed of—thick luxurious papers, raised ink and gilded edges or custom menus for your guests during dinner personalized with their names, ceremony programs where you can include special thank you's and traditions.
A custom-designed monogram can intertwine not only your names but special places, features, or even beloved pets. You can get creative and have fun with your wedding signage—have a seating chart with your guests' photos instead of names, or instead of place cards hand out your guests' favorite candy." – Lilia Shatnaya, Owner and Designer, Plume and Stone
8. Create a custom logo and hashtag for your wedding.
"Personal details make all the difference—a custom logo and hashtag is definitely worth having for your micro-wedding!" – Raul Rodriguez, Lavish Event Rentals
If you're planning a micro-wedding and wanting to make things special, add these 8 things to your wedding checklist and you'll be good to go!