5 Things You Can Definitely Donate After Your Wedding
by Loverly Editorial •
10 Apr 2018 •
2 min read
Are you and your partner passionate philanthropists? Or maybe you just can't bear the thought of all that wedding waste? Well, nowadays, there are a ton of ways to give back to the community after your big day. Get the scoop on five things you can definitely donate after the last dance.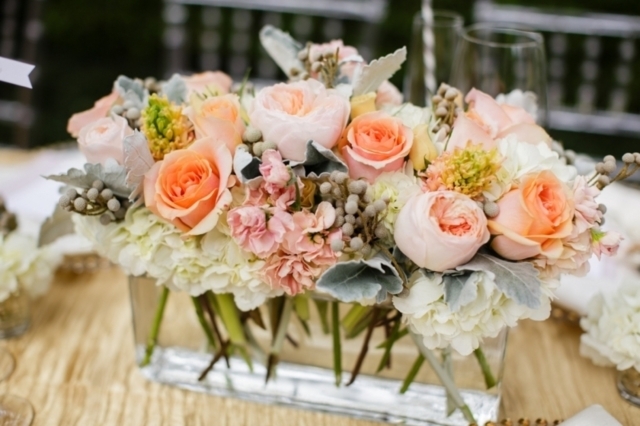 As we all know, finding the dress can be an expensive process. Add on alterations and accessories, and we're talking about a serious chunk of change. Instead of hanging that pricey piece in your closet, donate it to an organization like 
Brides Across America
, which accepts on-trend gowns to gift to military brides in need. Other organizations like
Brides Against Cancer
and
Brides For A Cause
accept gown donations and resell them to raise money for their causes.
2. The Flowers
This one's a no-brainer! Many hospitals, hospice facilities, and elderly communities will accept floral donations for their patients and residents. Ask your florist or wedding planner if they've donated flowers post-wedding in the past—chances are they'll know what to do. If not, call your local organization of choice and see what the guidelines are for donating. While many organizations will accept donations, you should always contact them beforehand to avoid any confusion after the event.
3. The Decorations
From votives and table numbers to architectural pieces and altars your decor is a great thing to donate after the big day. (Who REALLY needs 200 tiny candles anyway?!) Depending on the item, you can donate to your local
Goodwill
or
Salvation Army
. If it's something big (like old doors, windows, shutters etc) you can look into donating it to a
Habitat for Humanity Resale Store
, which collects home items to raise money for Habitat homes.
4. The Bridesmaid Dresses
Doubt your maids will really re-wear their gown? Donate them to a local organization like
Cinderella's Closet
, which collects dresses for students in need to wear at prom. Or, just go the traditional Salvation Army or Goodwill donation route. Another option is to sell the dress at a local consignment store, or on a shopping app like Poshmark, and donate the earnings to your charity of choice.
5. The Food
This one can be a bit more difficult, but can be super rewarding. Ask your caterer or venue if they're able to donate extra food to a local food bank or homeless shelter. While most have restrictions on the type of food that can be donated, there's still a chance you can make it work. Also consider donating leftover favors (especially if they're pre-packaged food goods!). To learn more about your local food bank and the donation restrictions, visit
this
site.
And if you're still looking for more ways to give back:
- 
Register for donations!
Ask guests to make a donation to the charity of your choice in lieu of a traditional wedding gift. - 
Donate instead of giving favors.
Take the money you would spend on guests' favors, and make a donation. Don't forget to put a sign out that tells guests you've made a contribution in their name! - 
Volunteer your time
 with an organization like
Wish Upon a Wedding
, which brings together vendors and individuals to produce weddings for couples in need.
Get more post-wedding tips now:
5 Ways to NOT Waste Your Wedding Flowers After the "I Dos"
8 Things You Can Do With Your Dress After the Wedding
4 Ways to Document and Remember Your Wedding Year