8 Reasons You Absolutely Need a Snapchat Geofilter for Your Wedding
You know all about wedding hashtags (and maybe you've already picked your perfect one), but now there's a new way to step up your social media game on the wedding day. More and more couples are creating special occasion 
Snapchat Geofilters
 for their "I dos." We can't get enough of this new trend. Not sure if you should try it? Here's why you should:
Introducing On-Demand Geofilters From Snapchat!
1. Your guests are already on Snapchat anyway.
We can pretty much guarantee that your guests will be snapping your wedding whether you have a filter or not. Giving them a fun design to add to their snaps just makes you the #besthostever.
2. You don't need to be a social media savant to make it happen. 
One thing stopping some couples from creating a custom filter is that you need some modest design finesse to do it right. But the more popular geofilters become, the easier it is to make your own or onboard someone with serious Snap skills to help you!
3. You can opt for a template from a brand you love and trust. 
 More and more wedding stationery designers are offering snapchat geofilters as part of your wedding invitation design. We've created a handful of gorgeous free Snapchat filters that you can download and customize yourself.  Here is h
ow to make your own Snapchat filter and t
urn up the wow factor on your wedding. Simply download the template you want and start customizing!
4. You can take it a step further and get a bit more personal.
 Websites like Etsy offer super chic fully 
custom Snapchat geofilters.
 So whether you're having a chic barn wedding or a swanky urban affair, you can purchase something that matches your nuptials completely - from your vows to your venue. You can add your names or even fun cartoon faces of you and your fiancé AND, of course, incorporate your pretty palette!
5. All that's left to account for is the geofilter fee (which will barely make a dent in your budget)!
The actual price of the geofilter depends on how big of an area you want the filter to reach, starting at $5 for 20,000 square feet (which is about half an acre), and the duration (# of hours) you'll want it to be live. Location is also a factor — it'll be more expensive for big cities and cheaper in less populated places.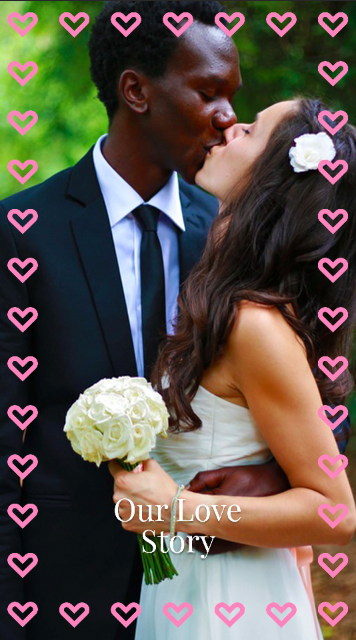 6. You'll get to see silly shots of your guests.
Honestly, you'll be so busy at your wedding that you'll miss some of the moments your guests cherish most. When all of those moments are on Snapchat, it's like you didn't miss any of them. Just remember to screenshot them!
7. If you're a numbers person, you'll love seeing the stats.
After the event, you can see exactly how many people used the Snapchat geofilter and how many people viewed it. The numbers can be pretty mind-blowing!
8. You get to see your wedding through your guests' eyes.
Sure, wedding photos can give you an outside glimpse of your wedding. But add in commentary, emojis, and more, and you'll get a whole new view of the soiree. Still not sure where how to create your own Snapchat filter? This handy how-to video will definitely help! https://www.youtube.com/embed/uQzaPt14c4A
Stories you might like