Wedding 101
How to Make Sure You Get the Wedding Photos You Want
Enter to win a 2.6 lab grown diamond ring, complimentary suit or tuxedo rental, photography and day-of coordination.
Photography that perfectly captures your wedding day is a top priority for most couples — and understandably, since wedding photos will last long after you cut the cake! But not all wedding albums are created equally. So how can you make sure you get photos you'll love for years to come? Follow these eight tips for swoon-worthy snapshots...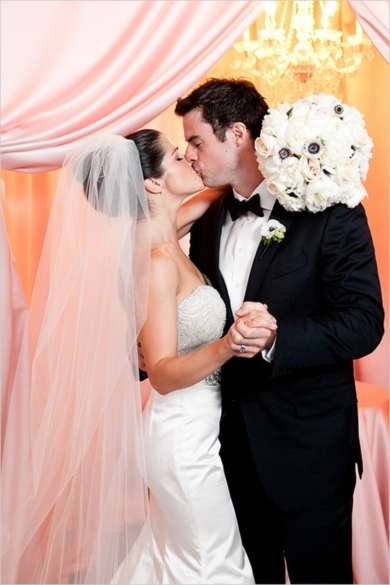 Photo by Betsy Wall
1. Pick a photographer whose style matches yours.
 Photographers all have different artistic styles. Some have a "photojournalistic" or "documentary" aesthetic, which means they'll capture your wedding as an observer. A "classic" wedding photographer will strive for more posed shots. If the photographer's style is "artistic" or "modern," you might end up with really dramatic, unexpected pics. How can you tell what the photographer's style is? They should tell you! But if they don't, review their portfolio to get an idea of what their finished photos look like. And how can you tell your own style? Start bundling photos you love, then click through to the photographers' sites to see how they define their styles or share your inspiration with the photog.
2. Take engagement photos with the same photographer.
Think of
engagement photos
as a test run (and a warm-up for you and your partner!). If you don't enjoy working with the photographer during your shoot or if you're not head-over-heels with the final product, it may be a bad match and you might want to consider looking for a new photographer. Although before you bail, you want want to have an open conversation to discuss what you didn't like and how it might be remedied.
3. Splurge on a second shooter.
A photographer can only be in one place at a time — but there's a lot going on at any one moment during your wedding! Make sure nothing is missed by asking your photographer about bringing on a second shooter. This doesn't mean you have to hire two separate photographers — most photogs will have an assistant who can step in for secondary photos. It'll cost a little more (you're paying two people, after all), but most couples agree it's worth it for the extra photos and peace of mind.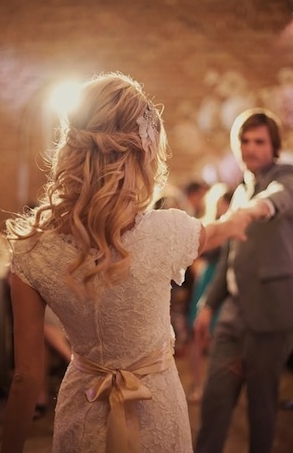 Photo by Alixann Loosle Photography 
4. Create a shot list.
If you're planning on portraits, be sure to make a list of must-have photos and who's in each one. Determining who's in each shot beforehand and listing out their names will save a ton of time, since your photographer won't know who's who on the day. It's also helpful to list out any posed photos you'd like to capture (and discuss them before the wedding), like a jumping photo with your whole bridal party or you and your partner surrounded by sparklers.
5. Share your schedule and special details.
Photographers aren't involved with every aspect of your planning, so they might not know that you have a
first look
or awesome daddy-daughter dance planned. If you don't tell them, they won't know to shoot it! By telling the photographer about these significant details beforehand, you can be sure there will be images of them in your final album.
6. Show your photographer examples of what you love.
If you've bundled and pinned a million photos you're totally obsessed with, share them with your photographer. Inspiration is key to any wedding vendor!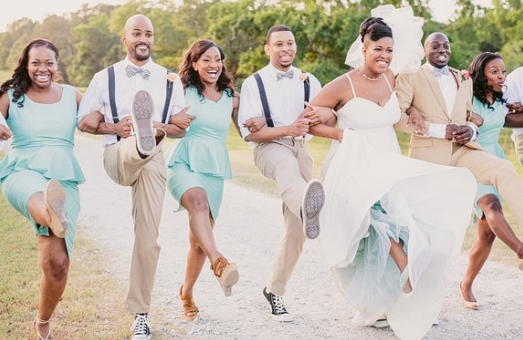 Photo by Our Labor of Love
7. Expose family dynamics.
 Tell the photographer about your family beforehand so they can help keep and family fights at bay. If mom and dad don't get along, your photographer can smartly keep them apart during photos — talk about some serious stress relief!
8. Know your priorities.
Are you more concerned about having candid photos from the reception, beautiful family photos that you can frame, or artistic pictures of you and your future spouse? Determining which photos matter most to you is key. You can communicate those priorities to the photographer, and they'll make sure to focus their energy there.
9. Speak up on your wedding day.
If things don't seem to be going to plan (like you're taking
waaay
more group pictures than planned or the photographer hasn't bothered to take any photos of your jewelry yet), say something! On the big day, your wedding vendors will do just about anything you ask. Of course, you should be polite, but your wish will be their command. The biggest rule when it comes to getting perfect photos? Talk to the photographer. Over communicate. Photographers can't read your mind — so make their job easier (and your pictures perfectly on-point) by telling them exactly what you want.
Find even more wedding photography tips here on Loverly:
10 Things Your Wedding Photographer Wished You'd Tell Them
How to Get Wedding Photos That Will Actually Stand the Test of Time
10 Conversations You NEED to Have With Your Wedding Photographer
Plan your wedding like a pro.