Wedding 101
10 Tips for Designing Your Dream Wedding Tablescape from Expert Designer Joanna Buchanan
Customize your own wedding checklist with due dates, personal reminders, and timelines for all your wedding to do's.
You've probably spent a number of days scrolling through social media saving countless photos of beautiful wedding tablescapes you wish you could recreate for your wedding. As you narrow down your options, it's starting to dawn on you that you don't exactly know how to pull your vision off. Even with all the creative freedom to design your wedding tables as you please, it can be overwhelming knowing where to begin or what to focus on. To help you get creative as you hone in on the ins and outs of your final wedding table designs, expert décor designer, Joanna Buchanan, is sharing her 10 tips for creating your dream wedding tablescape.
Having grown up in Hong Kong, before attending school in the UK and then working in London, New York and India, Joanna's wide array of cultural influences have immensely shaped her eclectic personal style. Her garden, in addition to her travels, have served as an inspiration behind her own collection of décor. As a designer with a love for color, patterns and sparkle, Joanna is always looking for fun and unique ways that couples can take their wedding tablescapes to the next level. If you're eager to know what you and your future spouse should be bringing to the table this 2023, you're going to want to read on for this expert's top tips!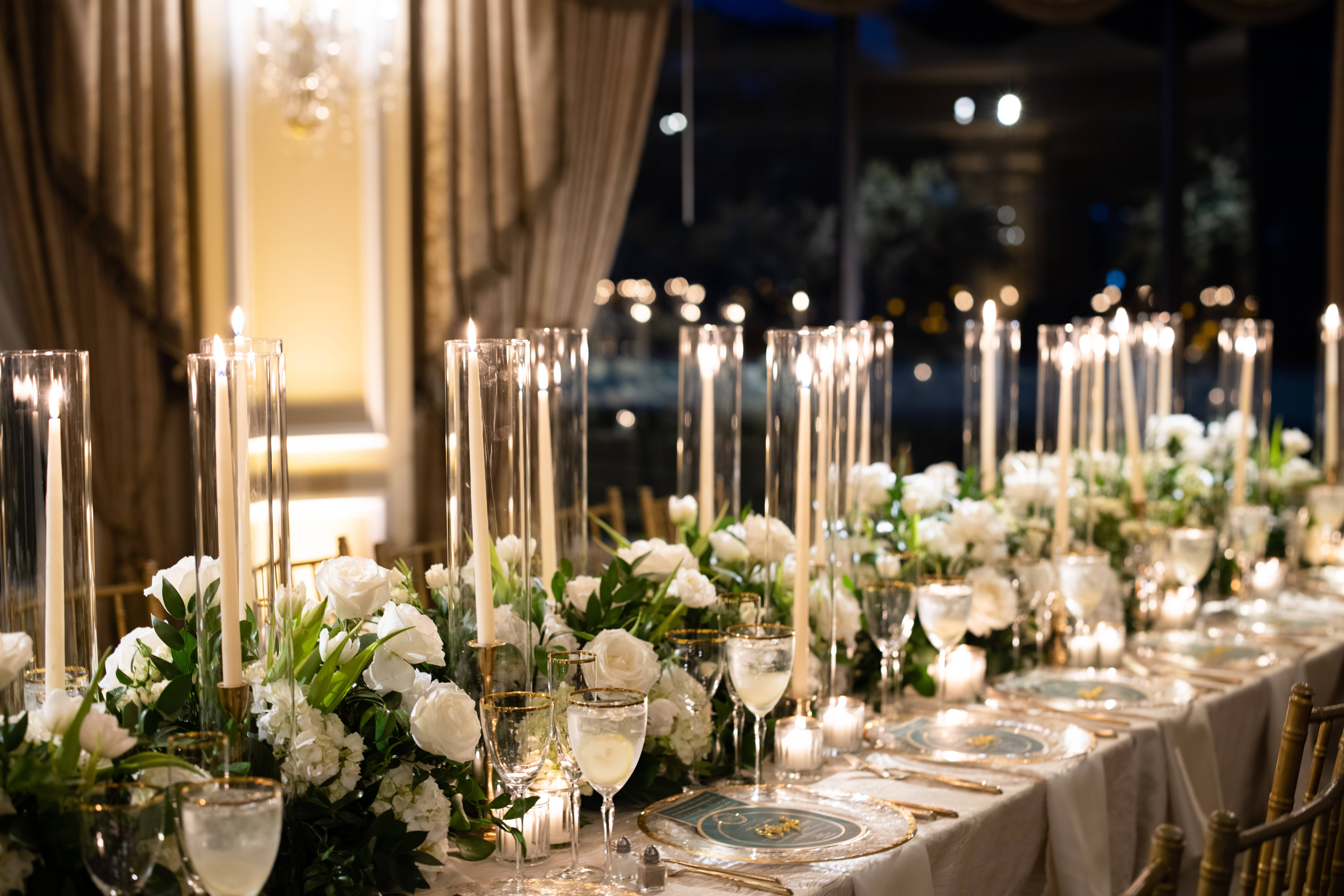 What are some wedding decor/design trends for brides to keep in mind for 2023?
I am so excited that we are moving away from using so much white in today's design trends. Even though I love the traditional element that white adds, it's lovely being able to bring in other colors like green or blue as an alternative. I also like the less stiff and formal vibe that I am seeing. The less formal designs are still as gorgeous, but there's a looseness to the physical spaces, arrangements, and overall vibe that definitely enhances the experience.
What are you top tips for designing the perfect wedding tablescape?
1
Combine you and your partner's tastes
Your wedding tablescape is your chance to create a fantasy and a story of your relationship. Think about the colors and places you love, think about what your partner loves and how you can combine those palettes together. Couples tend to worry about combining their design tastes onto one table, but it can be done! It will take some planning and research to fully understand how to incorporate your personal tastes into a cohesive style, but it's wonderful when it comes together. If you're having trouble on starting the process, try saving posts on Instagram or Pinterest based on your inherent interests instead of consciously thinking about what you think would look good. Once you look back, the common theme between you and your partner might be super obvious!
2
Personalize your tablescape
There is a great deal of emphasis placed on tying all of the elements of your wedding décor back into your overall wedding theme or aesthetic. While this is a necessity when it comes to designing your tablescape, it's important that your wedding tables mean something to you and your family. There should be unique and personal touches added to your tables that reminds you of your loved ones or that reminds your guests of their intimate connections to you and your family. For our wedding, we used my mother's collection of vintage blue and white Chinese teapots for the flowers on each table and those were pieces that meant something to my mother and I. She was so thrilled we could incorporate them onto the table. 
4
Invest in pieces that will last
We all know that weddings are far from cheap, and while there are certain design elements you simply cannot skimp on if you want to create your dream tablescape, the least you should do is invest in pieces that you can use long after your wedding day. When I was getting married, I bought some vintage blue and white China side plates on Ebay for a total mix and match look. Not only were they the perfect addition to my tablescape during my wedding, but I love that I still use them now for larger events. It is so worth investing in pieces that you will continue to use for years to come.
4
Enhance your table with florals
Adding florals to your tablescape is one of the easiest and most effective ways to enhance your tablescapes and tie them into your wedding theme. Flowers are my favorite part of a tablescape as they provide so much beauty and drama to the table that can't easily be achieved without them. When it comes to choosing the right florals for your centerpieces, go for the flowers that you not only personally love, but ones that will help to re-emphasize your color palette. Do be careful about overly scented florals because they can detract from the flavor of the food or be too overwhelming for your guests to constantly smell throughout the night.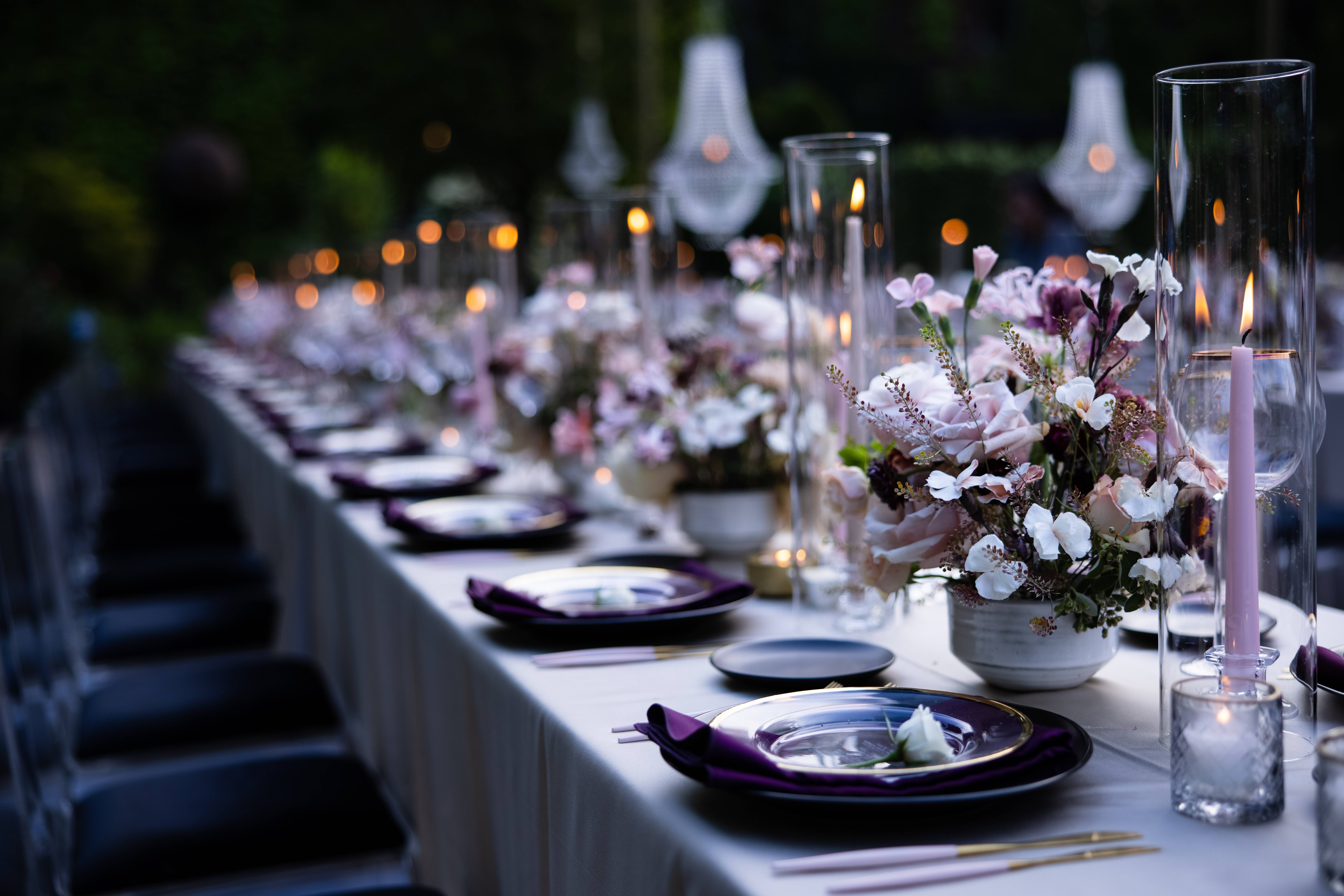 One thing that you must keep in mind is the size and placement of your centerpieces. You'll need to make sure that everyone can see and converse with those across the table. I don't believe in creating a barrier down the middle or center of the table. You can create height with tall skinny stems or candlesticks, but don't block the view!
I personally love a layered table, but achieving a perfect balance can be tricky. I often see tablescapes that are overdone where pieces clash with one another or get lost entirely among the influx of décor. Good layering starts from the foundation, which means every detail from the tablecloth, table runners, and napkins to the place settings, stationery and centerpieces should all be balanced and organized. You should be able to visually take everything in and appreciate each piece that contributes to the final look. Making those edits as to what should or should not be included is often the hardest part.
Pro Tip: Give yourself plenty of time to play with each element until you find what works.
Try to bring in different textures to your table to create a more immersive and lively experience for your guests. Adding textures contributes to the depth of the experience and elevates your wedding table on a visual and tactile level. For example, a clean China plate with a sateen napkin can look flat and unappealing. However, an embroidered linen napkin adds more dimension not only through the texture of the linen, but through the added look and feel of the embroidery. 
It's easy to overlook the smaller details when designing a wedding table, but the details do matter – and this is where I go over the top. For smaller weddings, you can really personalize the experience with beautiful name cards and table accessories such as napkin rings, place card holders, glassware, etc. These little touches may seem like an unnecessary additional expense or something that your guests may not notice, but all of these miniscule details contribute to the overall dining experience.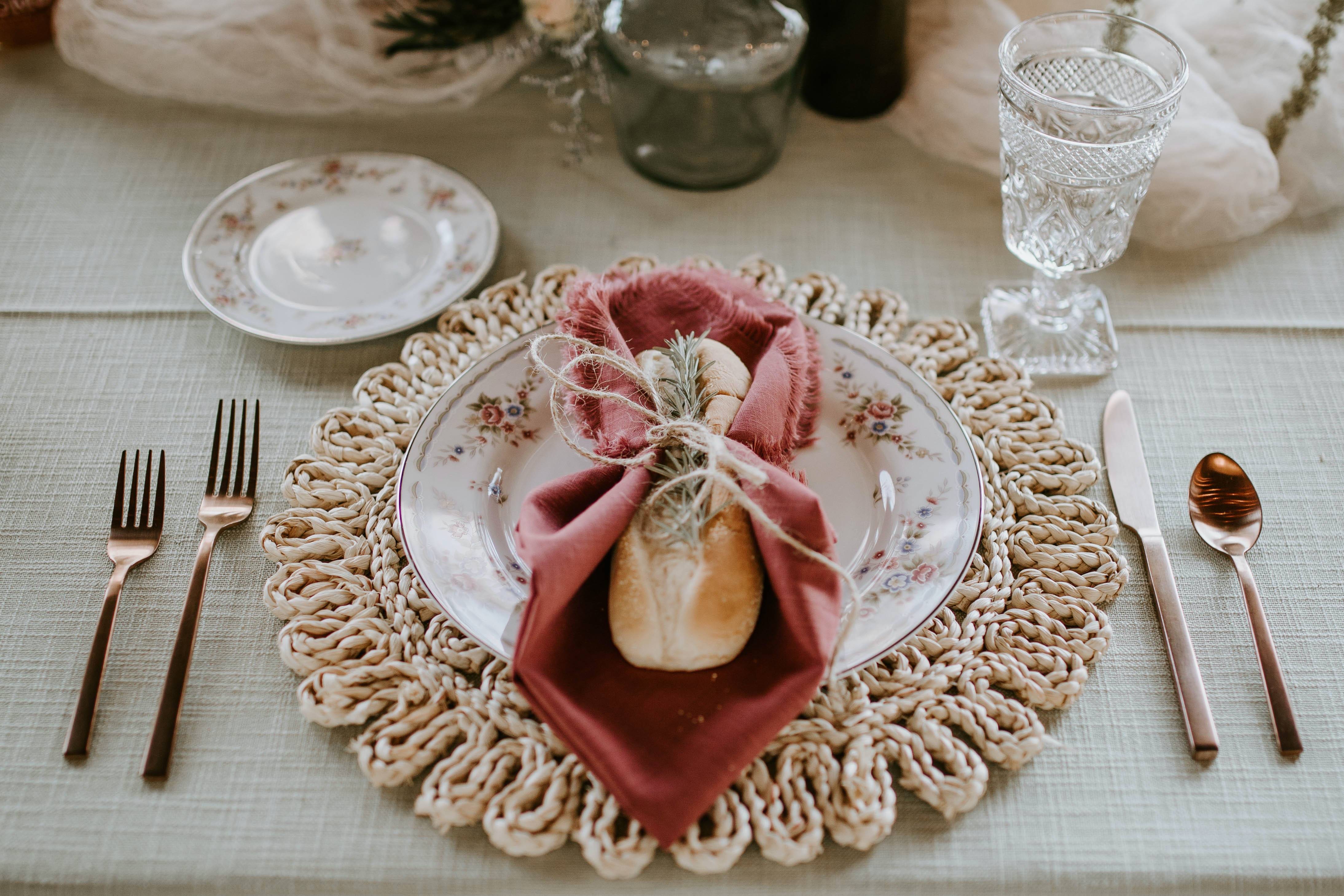 8
Add some high-end pieces
Regardless of the theme or level of formality you're looking to achieve with your overall wedding designs, I always advise couples to include a few high-end pieces to their tablescapes. It's totally fine to mix high-end and low-end items, but you do need at least a few high-end items to elevate the whole look. Your wedding is a one in a lifetime event that should consist of more elevated pieces than you would otherwise use. This can be achieved in a variety of way such as having a cotton napkin with a jeweled napkin ring for dazzle!
9
Have your tablescape reflect your menu
Your tablescape should be designed with your menu in mind. It should match the food and beverages not in appearance, but in formality. If you're planning on serving a formal meal, then mason jars will not be included in the dinnerware or as part of your tablescape. If you're looking to serve simple or fun meals then you would be fine to exclude some of the extra utensils or dinnerware that would not be needed for your menu. There should always be a sense of flow that is being maintained on your table even when food is being served. Use your discretion and design accordingly.
Before you set your sights on a rectangular table for your wedding, you should consider opting for a round table which are my personal favorites. This particular table plan encourages the mixing of friends and family as it's much more conducive to conversations and interactions among your seated guests. It will be such a joy you and your partner to witness your loved ones interacting and starting new friendships from the comfort of their seats, so do spend time considering how to best incorporate a round table plan into your wedding.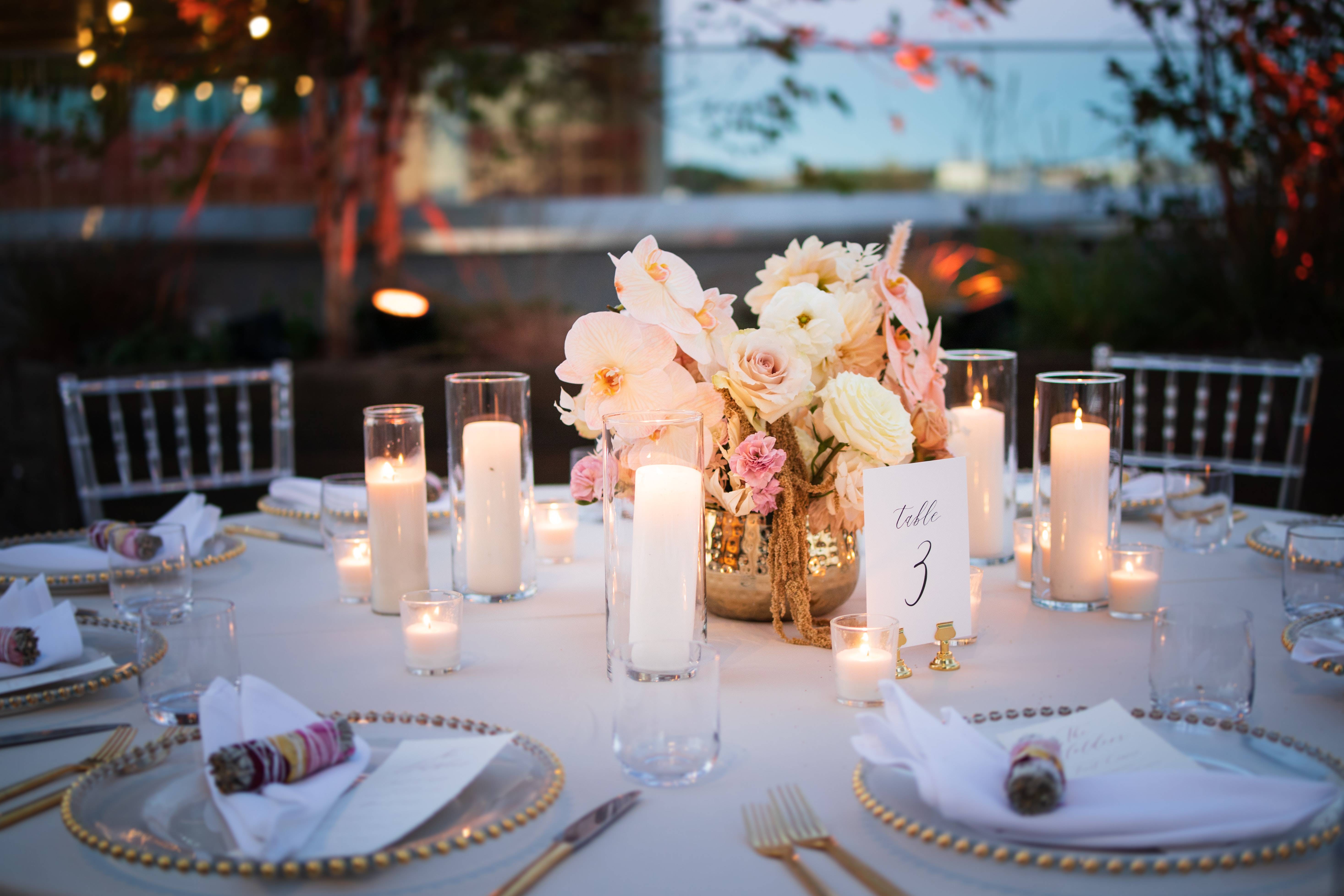 What are some dos and don'ts to keep in mind when thinking about wedding tablescaping?
Do make the place settings a total treat! It's your chance to make your guests feel spoiled so the details need to be fabulous. The smallest things will be noticed so make them special. I also really like having a gift at each place setting. It's a great ice breaker and so fun to open something as you sit down rather than picking it up on your way out!
Don't do anything just to 'check a box' or spend extra money on items or décor that don't add any value for you. Your tablescape must reflect you and your partner as a couple. Anything goes once it's a meaningful contribution that shares a part of your story as a couple.

With Joanna's tips in mind, designing your dream wedding tablescapes doesn't have to be as overwhelming of a process as you once believed it to be. Prioritizing you and your partner's interests and ideas should always take precedence over any trend that may be circulating, but it's important that you make your tablescapes an enjoyable and comfortable part of the wedding experience for your dear guests. Adding a variety of details of both higher and lower end décor is a great way to achieve balance while elevating the look and feel of your wedding's overall design. Most importantly, you should have fun designing your wedding tables so you can one day look back on all the meaningful elements that helped make your big day as special as can be.