A photo of the Vatican at sunrise showing a bridge over a waterway.
Travel
The Ultimate Honeymoon Plans for Rome, Italy
Customize your own wedding checklist with due dates, personal reminders, and timelines for all your wedding to do's.
We know it's not always easy to decide on a honeymoon destination, that's why we do the deep research, so you don't have to! One honeymoon hot spot we recently had the pleasure of visiting in our quest for the hottest honeymoon spots in the world is none other than Rome, Italy.
Now, its history speaks for itself, but it really doesn't compare to being able to experience this magical city firsthand with the love of your life! The romantic scenery, tons of incredible museums, and, of course, incredible food—what more could you want? 
If you're thinking about visiting Rome for your honeymoon, then we'll break down how to get there and where to stay to make the most of your romantic journey.
Destination Overview
Whether you're planning a wedding, honeymoon, or splurging on a bachelorx trip...Rome is ideal for anyone looking to have the time of their life. Undoubtedly, its reputation as a romantic travel destination definitely moves it to the top of the list for honeymooners in particular. Many say that the best time to visit Rome is during fall and/or late spring as crowds tend to be fewer and the weather is more consistent, so during these seasons, you'll find the perfect balance!
As far as why to visit Rome, it's really up to the couple to decide! But we recommend this destination for travelers who are looking to really immerse themselves in a specific culture through art, architecture, and cuisine. There's plenty of adventure to be had, as well, but this is a location better for saunterers than thrill-seekers.
Getting To Rome
 It's pretty easy to find direct nonstop flights to Italy if you live in or adjacent to a big city like New York or Boston. If not, connecting flights should not be too difficult to manage, especially as tourism starts picking up again! One general travel tip is to try to book your flight about six to nine months before your honeymoon, which is the 
standard
for most nearlyweds.
Once you get there, our favorite way to get around is on foot, of course! Not only is basically everything in this gorgeous city scenic but a majority of the major attractions you'll want to see are all clustered together in a central location. There are a number of transportation options with taxis, buses, and subways scattered throughout the city for longer journeys.
Where to Stay
 A key element of your honeymoon experience is choosing where to stay, and although there are tons of options in such a popular travel destination, we are only interested in the best of the best here at Loverly! Without a doubt, our number one pick for where to stay in Rome is the 
Sofitel Rome Villa Borghese
.
Situated in a former 19th-century Roman palazzo, Nuel has taken inspiration from the building's original architecture as well as the landscaped gardens of the adjacent Villa Borghese to bring a fresh look with a nature-inspired color palette for the city retreat. This is the perfect combination of historical cultural design elements with modern amenities and absolute luxury.
The Details
The 78-room hotel lies on a quaint street in the center of the city, just moments from iconic landmarks including the Villa Medici, Trevi Fountain, and the Spanish Steps. So whether you're coming or going, every walk is scenic when you're staying at the 
Sofitel
!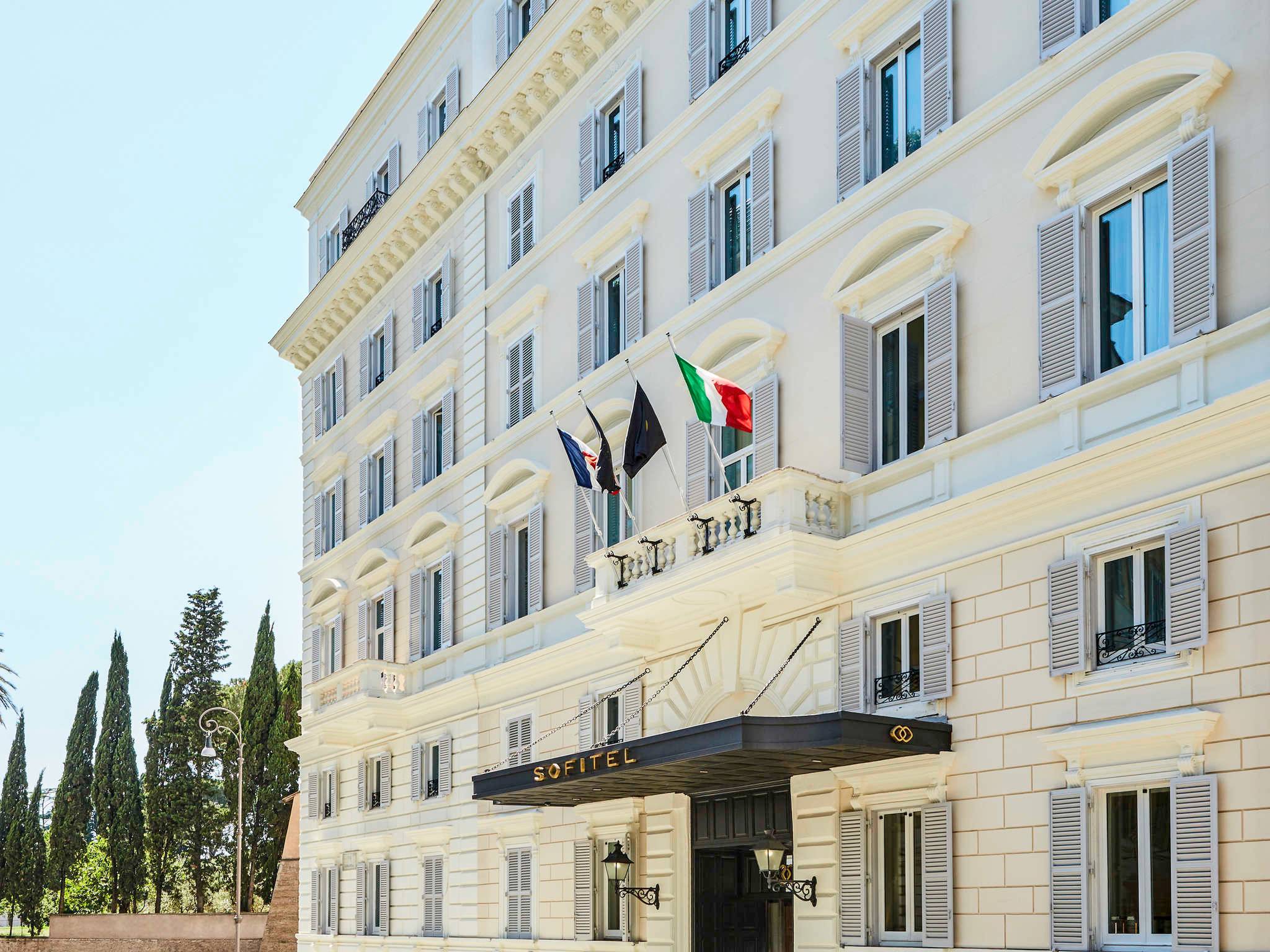 Rooms start at $375 per night and trust us, it is worth every penny. Besides, are you really going to penny-pinch when it comes to your honeymoon? How do you say "upgrade" in Italian?
The Wow Factor
The crown jewel of the
Sofitel Hotel
is situated on the seventh floor and offers panoramic views of the Eternal City is Settimo—an elegant rooftop lounge and restaurant with bold interiors and both indoor and outdoor seating.
The food is absolutely epic! Settimo offers contemporary Roman cuisine using locally sourced ingredients and Executive Chef, Giuseppe D'Alessio, incorporates traditional Roman culinary styles into all the signature dishes.
One Last Pro-Tip
Snag a spot on the terrace for sunset and enjoy one of their signature craft cocktails or order one of our personal favorites, an Aperol Spritz. The skyline is iconic will give you a sweeping view of the entire city while you enjoy some tasty bites with the love of your life!
Plan your wedding like a pro.