You'll Never Look at Your Registry the Same Way Again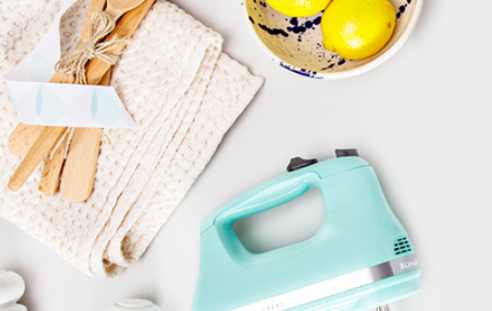 Zola
comes in. It's the new online wedding registry made for the modern couple, and it's making registering for wedding gifts easier and a lot more fun. Here's why we're loving this new approach to building your wedding wishlist:
You can really own your registry.
You're probably spending some serious time picking out invitations and favors that reflect your personality, so why not bring a little of your style to your registry as well? Zola lets you share your unique love story with customizable home pages; all you have to do is add some pretty photos and write a sweet welcome note.
You get to build the wishlist of your dreams.
Looking for new dinner plates? Want to learn how to cook? Or maybe you need some cash for your honeymoon? Check. No matter what your heart desires, you can find it on Zola. And, if there's anything you want that Zola doesn't carry, you can add literally anything from any store to your wishlist. If that little boutique you love has an online shop, all you have to do is use Zola's bookmarklet tool to pull information about the item you want and voila — it's on the list.
You'll never forget any of the essentials.
Creating your registry can be a lengthy process. You need to think through EVERYTHING you might need, after all. With all those items to consider, you're bound to leave something off the list. Well, Zola solved that problem with their clever Registry Guide, an interactive guide that walks you through some of the essentials you'll definitely need. Not sure where to start with registering? Check out Zola's
Starter Collections
for a curated list of suggestions to help get the ball rolling.
You're able to connect with your guests as they pick out gifts for you.
One of our favorite things about Zola is that it lets you bond (virtually) with your guests. You can totally customize your registry by adding notes and pictures to every item on your wishlist and organizing your selections into custom collections. The more personal you can make your registry, the more generous your guests will feel!
You can add things to your registry from just about anywhere.
Going to a store to register is
so
last year. Instead, make the most of your downtime with Zola's iPhone app. Waiting for your friend to show up for dinner? Browse through some registry-worthy experiences. Have a few minutes to spare before that conference call? Add those cute teacups you've been eyeing to the list. If you find yourself overcome with the desire to shop in person, the app comes equipped with a barcode scanner.
You won't have to feel guilty about registering for that $850 grill.
Sure, you have expensive taste sometimes. And your mom might have a point when she says it's presumptuous to ask for big ticket items. But why should you have to hold back when that expensive item is really all you want? Well, Zola's "Group Gifting" feature should solve all future registry etiquette arguments. Your guests can contribute what they want (or can afford) towards those pricey presents without having to take out a second loan on their house. The best part? Even if you don't get enough gifts to cover the price of the item, you'll still walk away with all the money pledged to you! It's a win-win, really.
You'll never have to lug unwanted items back to the store.
One of the worst parts about the whole gift giving process is that sometimes you end up with something you no longer want. And then you have to find a way to get that unwieldy item back to the store. Zola makes your life easier with its "
Virtual Exchange
" option, which lets you swap out your gifts before they ever ship.
You won't have to stress about a last-minute change of address.
If you're planning to move in together right before (or after) the big day, you might end up regretting registering for all those pots and pans as you're packing up your place. It would make more sense to have all your gifts magically arrive as you pull up to your new home. Well, Zola thought of that. Their "Send It Later" option lets you control exactly when you want your gifts to ship.
Those tedious thank you notes are suddenly a breeze.
It's a universal truth that writing out thank you cards for each and every gift is the not-so-fun part of the whole wedding planning process, but it's the polite thing to do. Luckily, Zola makes things easier on you with its "Gift Tracker feature, which lets you see who gifted what (and when). This compact little list will prove to be a lifesaver when it comes time to show some gratitude.
And we have a Loverly little bonus for you!
When you
set up your wedding registry on Zola
, you'll receive $50 in Zola credit! The credit will be placed into your account four weeks after your registry goes live, so it's time to get shopping.
Planning your wedding is a very personal experience, so why should your registry be any different? If you want to register for a stand mixer, a hammock, and a vineyard lunch safari in Malibu, California, you should be able to do so! That's where
Stories you might like