Super Smart Tips for Every Single Wedding Selfie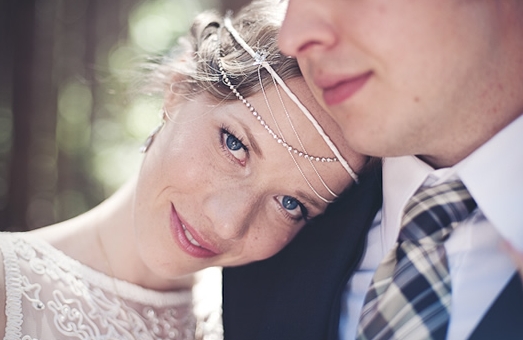 Whether you Instagram daily or only share your favorite photos, you're definitely going to want to share a few selfies during your wedding planning process! From the day you get engaged to the day you say "I do," you'll have plenty of opportunities to share all the big moments.
1. Your engagement ring selfie.
This might just be the most important wedding selfie there is! With the exception of your nearest and dearest, most of your friends will find out about your engagement when you post a pic of your new bling on Insta or Facebook. So how can you get it perfect? First, get a manicure! Even if you don't want a coat of color, a manicure will give you evenly shaped nails and smooth skin. Don't worry — all the attention will still be on your ring. Second, decide what else will be in the photo. You could include your fiancé or a prop in your picture, or it could just be a close up of your ring. And finally, look for some inspiration! We've got a few real-girl selfie examples here and here.
2. Your bridesmaids-ask selfie. 
We bet you'll be eager to take a picture with your bestie as soon as you ask her to be your bridesmaid. Unless you're planning to ask all your pals at the same time, it might be better to hold that photo for a little while. If you post a bridesmaid selfie with your cousin before you get around to asking your best friend, she might be confused and hurt at first as to why you didn't include her (even if you plan to in the near future). Instead, ask all your girls first, then post all the group selfies at once in a collage.
3. Your bachelorette party selfie.
You take a selfie pretty much any time you get together with all your friends, and your bachelorette party should be no different…to an extent. Of course, a bachelorette bash is a little different than your typical night out due to, um, some often not-safe-for-work details. While your pics don't need to "professional," per se, they do need to avoid damaging your reputation. If you're going to take a bachelorette selfie, follow these tips: First, do it before the drinking starts (or at least before the real drunkenness begins) and before anybody breaks out any inappropriate props or decor. If you have a cute sash or crown (assuming there are no phallic details), definitely include it! And finally, even if you're eager and sober, wait until the next day to actually share it online. After the hype of the day is over, you'll have a better chance to look closely and see if anything dirty showed up in the background of the image. 
4. Your planning selfies.
Wedding planning isn't all fun and games, but most of it can be really, really exciting. Who wouldn't want to Instagram their cake tasting or venue tours or registry shopping trip? Before you go snapping and filtering a photo of every single wedding planning sesh, consider what you're posting and who will see it. For example, sharing a picture of you tasting the ah-mazing appetizers at your tasting isn't likely to upset anyone who might see it on Instagram. But a snapshot of your guest list or seating chart? Those who aren't invited to your wedding might be a little bummed. Another thing: Do you have friends who ONLY post photos of their kids or their food or just one thing over and over again? It drives you crazy, right? Don't let that happen now that you're engaged! Remember, the rest of your life doesn't stop just because you're planning a wedding.
5. Your wedding day selfie.
Rule No. 1: DO NOT spend your whole day taking selfies. Enjoy the once-in-a-lifetime day and trust that your photographer will capture all the important moments. You like won't even have your phone on you for most of the day. Plus, plenty of your guests will want to take selfies, so you won't totally miss out on the day.
Stories you might like