Ideas
Everything You Need to Know About Engraving Your Wedding Bands
What to inscribe: So now that you've got all the logistics squared away, WHAT on earth will you have engraved? Remember that once the message is inscribed, it's hard to undo...so make sure you put some serious thought into the words you choose. Here are some inscription ideas to get you started:
Simple and sweet, this inscription makes sure you never forget your anniversary. It's a win-win, really.
2
The coordinates of a special spot.
Put the latitude and longitude of where you met, got engaged or will exchange your vows. It's a meaningful message, but since not too many people are well-versed on coordinates, it will also be like a secret code between you and your partner!
If you choose to change your last name, a wedding band is the perfect place to wear your new moniker. Your new monogram is another great option!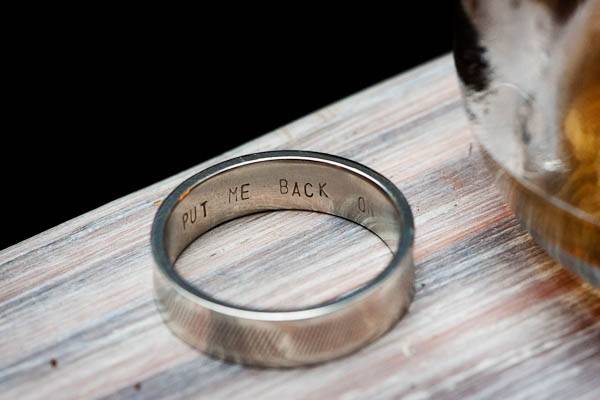 4
Your names, pet names or initials.
Don't overthink it! There's something so nice about a simple "AM + KT." Or, if you have a special nickname for each other, make it permanent with an inscription. It's bound to make your partner smile and think of you every time they put on their ring.
5
A special quote or phrase.
Do you two have an inside joke that perfectly captures your love? Maybe a phrase from your vows that sums up your relationship? If it's short and sweet, it might be the perfect fit for your ring!
6
Lyrics from your first dance song.
Pick your favorite line from your first dance song (or another tune that's special to the two of you), and have it engraved on the inside of your wedding bands. If the line is a little long, you could put the first half on your ring and the second half on your future spouse's.