The Sweetest Ways to Include Your Pets In Your Wedding Day
When it comes to your wedding day, there are some special people involved—parents, best friends, siblings, grandparents. But what about your four-legged friends?! Man's (or anyone's) best friend deserves a sweet way to be included in your big celebration, especially if they're such a big part of your life. We're loving these meaningful ways to include your pets in your wedding day: scroll down and get ready to fall in love all over again!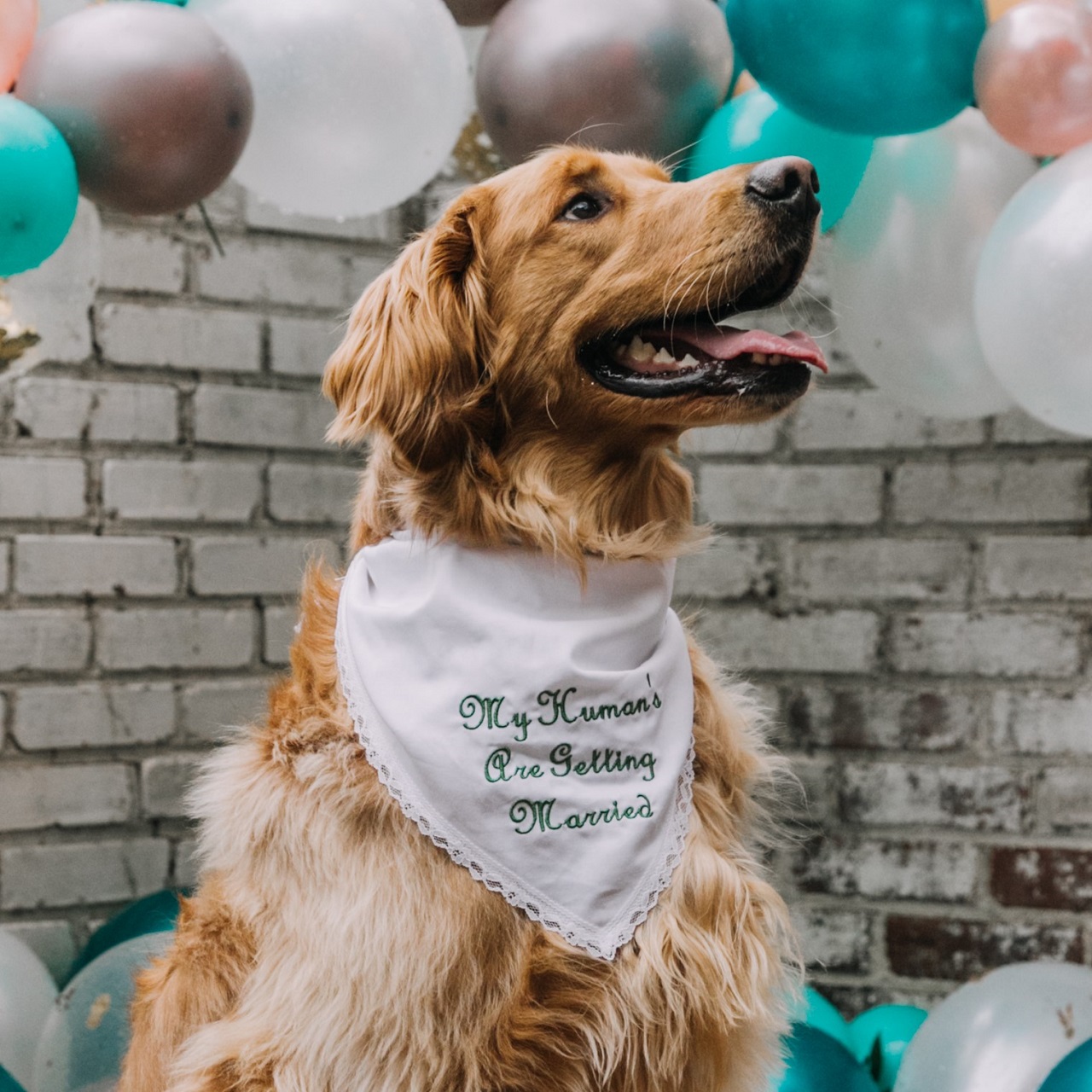 If your pup is attending the wedding, let's make things #official. The Puppy Academy suggests giving your pup an official title, and feel free to get creative. "Pup of Honor, Best Pup, Pup Ring Bearer, Flower Pup..." The list goes on and on!
It really helps to emphasize the fact that your little pal is just as important to you as the other members of your bridal party, so embrace the opportunity to make your dog feel included! The experts at The Puppy Academy also recommend practice, practice, and more practice if your dog is attending the wedding. "This is especially important if they're going to be wearing a special outfit or walking down the aisle, so they're comfortable with what they're in and what they're doing. They can carry the rings or written-out vows (attach them to their harness/collar or outfit they're wearing!) and some pups can even be trained to carry a small basket of flowers!"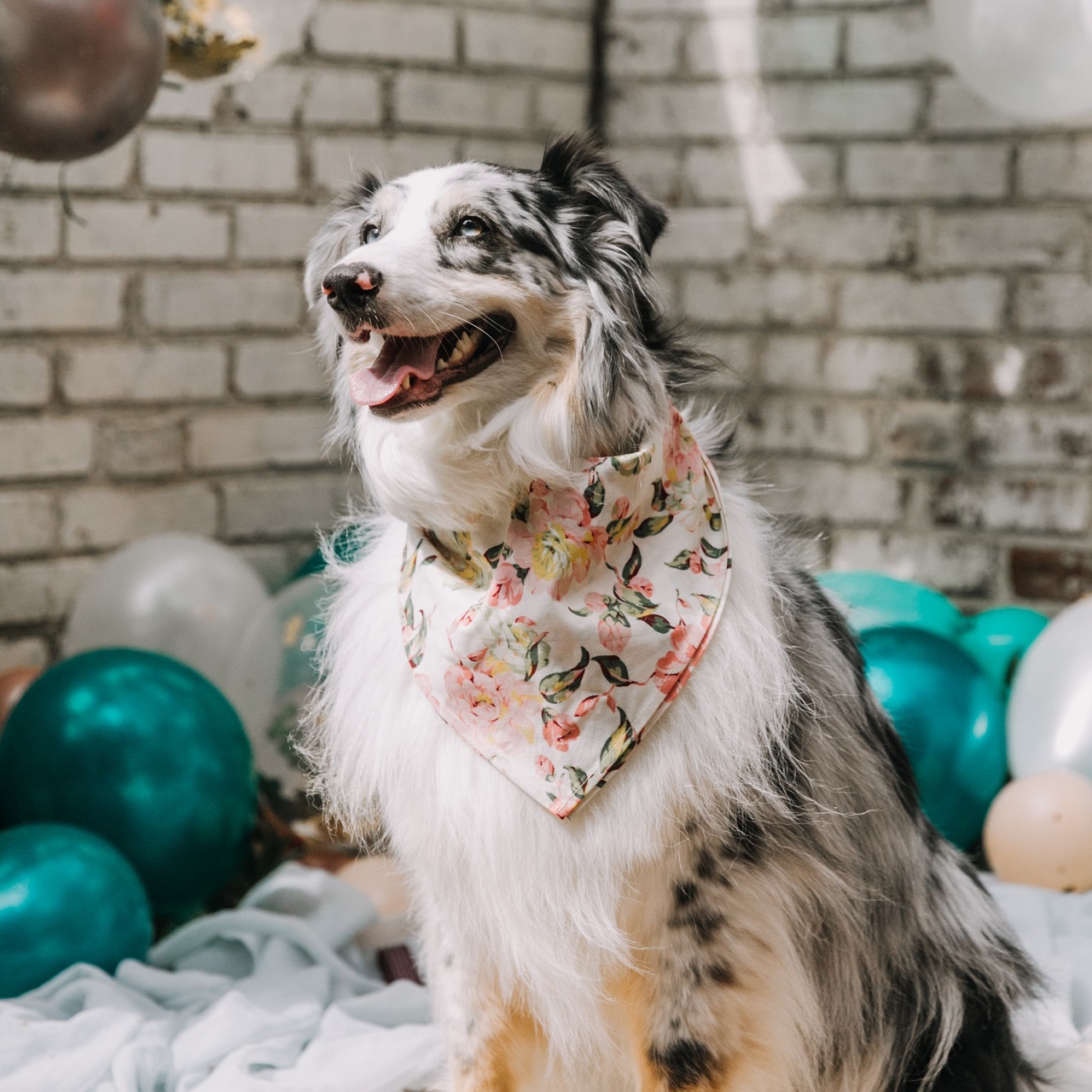 Accessories are a pet's best friend! As The Puppy Academy suggests, "get your pup a matching accent piece that matches the bride or groom's flowers, bowties, etc.—this can be a full outfit, a dog leash, or even a little bowtie!"
If you want to really kick it up a notch, go the personal route. Colleen Corcoran, Owner & Designer for The Handkerchief Shop shares "Your pet is your baby so you want to include [them] in your special day! A personalized pet bandana is the perfect detail for pets that will be a part of the wedding day or engagement session...and creative personalization may even spark some laughs."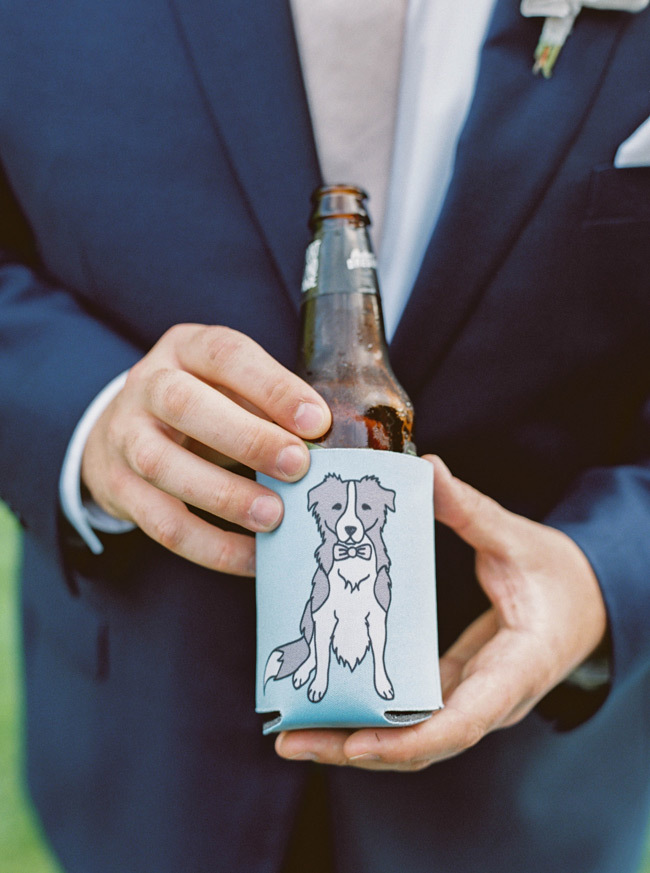 Of course, we know that you can't always get what you want, and sometimes your pet might not be able to actually be there on the day of the wedding. Don't worry: there are plenty of ways to still give your BFF some love!
"Include a speech from your pup (what your dog would say about you as a couple!" suggests The Puppy Academy—we're ALL about a doggo speech! They also advise to "include some gifts on the gift registry for them, include a picture or artwork of them to sign as a guestbook, or use pictures or artwork of your pets for thank you cards or table assignments." Jenna Miller, Creative Director at Here Comes the Guide says a cute (and useful!) idea is to get koozie wedding favors with hand-drawn illustrations of your pet.
"Koozies are an outstanding wedding favor in general. They're portable, useful, and great for keeping your beer cold. Add a hand-drawn illustration of your dog to the koozie? It just got taken to the next level. Rather than customizing it with your name and wedding date, customizing it with your canine is something all your dog-loving wedding guests will appreciate—and actually use!"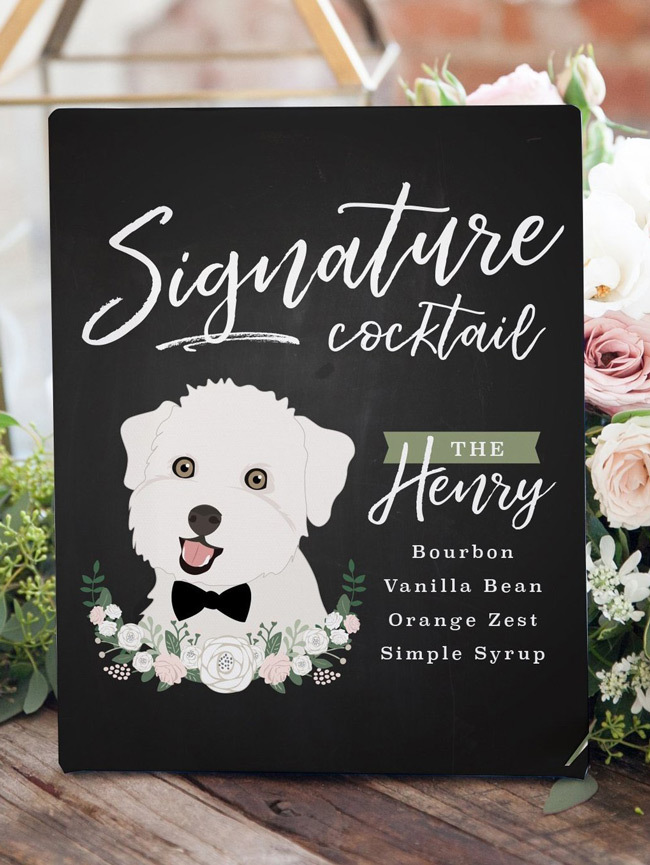 When pets get involved, happy hour just gets happier. "Get creative with your signature cocktail by dedicating it to your dog! Name your drink of choice 'The Cooper' or 'The Bailey' and proudly display a framed cocktail menu with a list of ingredients, along with a photo or painting of your pup. You'll think of your beloved pet every time you head to the bar. Bonus points if the booze is also dog-themed, à la The Greyhound or Salty Dog!" shares Jenna Miller, Creative Director at Here Comes the Guide.
Whether you're actually able to have your best furry friend by your side on your wedding day, or you'll be having them there in spirit with custom details and special touches, we're sure these ideas will help you include one of the most important members of your life on such a monumental day!