Why We're Absolutely Obsessed with This Wild New Pillow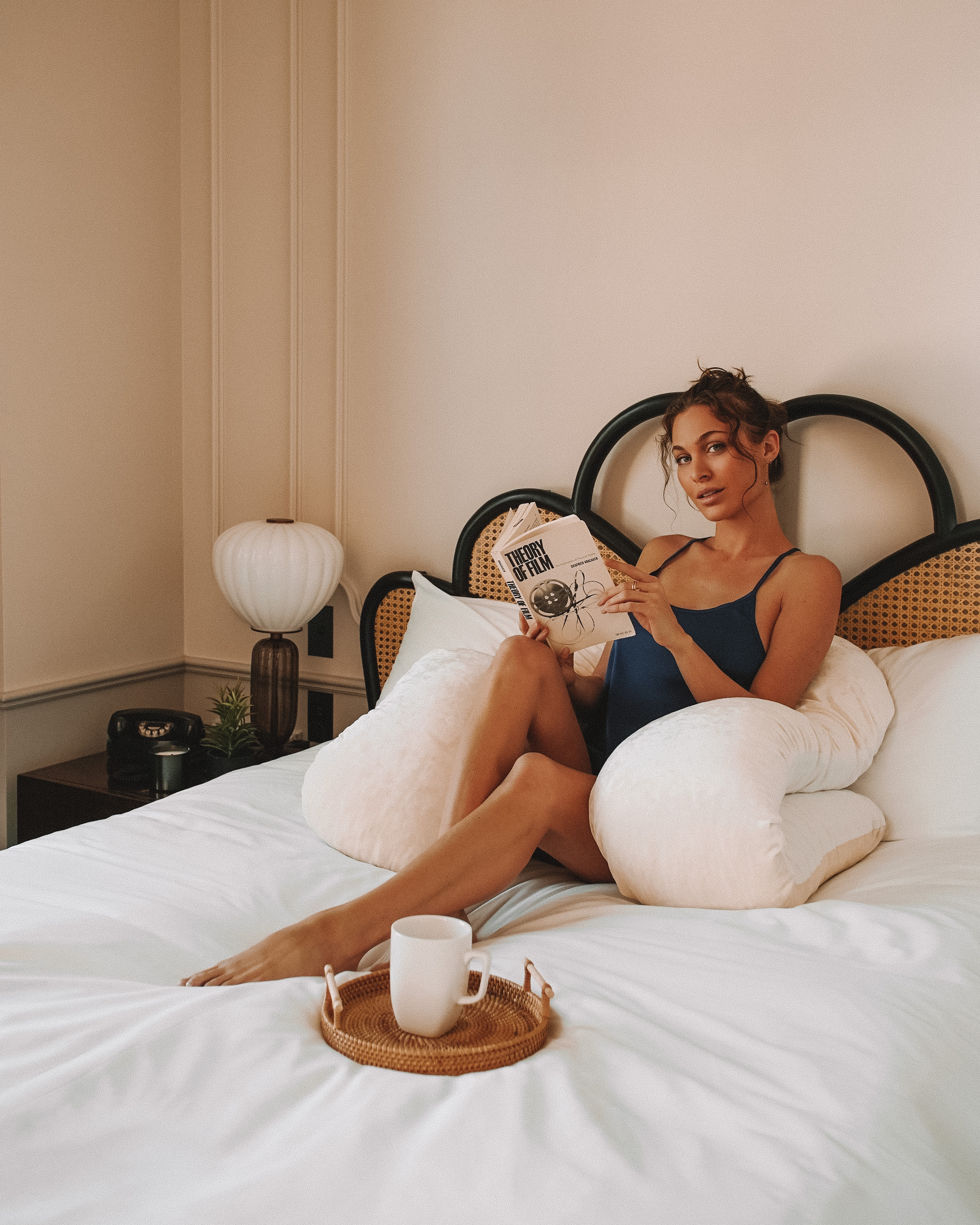 A woman sitting upright on a bed against a Yana Sleep Pillow and reading a book.
Trends in wellness come and go so fast that it can be difficult to keep up—even for us! What are we supposed to be doing to care for our bodies and our spirits? Personally, I've found that one fail-safe way to improve my physical and mental health is simply getting plentiful, quality sleep. That means putting my phone in the other room, turning off the television, and setting aside 8-9 hours to truly commit to getting all my Z's!
I have been coping with insomnia since I was a child, and it has followed me into my adult life, too. I have looked into every method under the sun to ensure I get my perfect night of sleep: weighted blankets, meditation, aromatherapy, the list goes on! But nothing excites me more than the
Yana Sleep Pillow
. Yana is an all-natural, cooling body pillow, ideal for those like me who cannot get comfortable for any reason whatsoever!
Here are just some of the reasons why we are all about this wild new pillow:
There is no simpler pleasure than a cold pillow on a hot night. When I am having a particularly rough night, I am constantly flipping my pillow to get to the cold side! But with this, every side of the pillow is the cool side. Unlike other pillows, Yana's Sleep Pillow is made with a premium organic fill, shredded latex, combined with a breathable cover made from bamboo velour and organic cotton. This combination is specifically designed to keep you cool and comfortable throughout the night. This technology is the answer for those prone to night sweats or those with sensitive skin. So say goodbye to tossing and turning, and say hello to blissful sleep!
One issue I regularly deal with is tension in my back and my joints. If joint-tightness is keeping you from experiencing an excellent night's sleep, Yana might be the answer to your problems, too. The all-natural, shredded latex delivers full-body support throughout the night.
3.
The Shape of Better Sleep
Yana's game-changing, U-shaped design will gently hug your curves to promote comfort and a night of deep, transformative sleep. Because of this thoughtful design, Yana's sleep pillow is commonly used as a pregnancy pillow. But people like myself who have difficulty sleeping will often find their pillows going flat after a couple of hours—pregnant or not! Yana's design and unique filling combat this issue for consistent support and comfort.
4.
Made for You But Fits Two
This unique pillow's size and shape make it perfect for one or even two people to share. It fits comfortably in a queen-sized bed, and its form facilitates a more peaceful night of sleep whether you're an individual or a couple. Your partner will thank you for less tossing and turning throughout the night!
5.
Low Mainenance and Customizable
This gorgeous pillow has a double-sided, removable, washable cover that is easy to care for and ultra-soft. It is extremely low maintenance in comparison to other cooling pillows, and it even features an inner zipper so you can add or remove filling based on your personal comfort level!
6.
All-natural, Luxury Materials
With all-natural materials, all-night support, and low-maintenance care, you can experience true luxury. Yana's organic cotton, shredded latex, and bamboo velour materials are gentle on the skin, so you can sleep well knowing you are treating your sleepy self to the best quality there is.
Whether you are pregnant, have joint or back pain, or have difficulty getting comfortable at night, Yana's sleep pillow is the perfect option for both individuals and couples. Take back control over your health and your peace of mind with
Yana's Sleep Pillow
.
The only thing you'll regret is not trying it sooner! 
Stories you might like