Photo by Jessica Lynn Photography
Ideas
Sip & Celebrate: 5 Alluring Ways to Infuse Rosé Into Your Next Event
Customize your own wedding checklist with due dates, personal reminders, and timelines for all your wedding to do's.
Your engagement party is a special occasion, a time to embrace love and mark the beginning of a beautiful journey together. It's an evening filled with joy, surrounded by your closest friends and family, creating lasting memories. If you're seeking to enhance this enchanting event with a touch of grace and sophistication, the idea of incorporating the charm of rosé might resonate.
Fleur de Mer Rosé
, with its delightful flavors and captivating character, could seamlessly become a delightful addition for toasting to your love and creating a truly enchanting engagement celebration. Keep reading to discover how you can elevate the night with our go-to rosé!
Transforming your engagement party into an elevated soirée doesn't have to be as challenging as it sounds. In fact, you can easily achieve a more sophisticated aesthetic by adding staple pieces of decor that can be dressed up or dressed down while also serving as a point of connection for your guests. Fortunately, adding a welcome bar is a simple, yet effective way to level up your space regardless of how much room you have to work with. To start, designate a dedicated area to place the bar, preferably near the entrance as it will set the tone as your guests enter. Decorate the space with personalized signage, flowers, and fairy lights to create a festive ambiance or stick to sleek decor choices with floating shelves, simple floral arrangements and backlit signage. Next, select a high quality rosé like to be the star of the show. In addition to the Fleur de Mer rosé and décor, this would be a great place for a welcome book or basket for cards. Be sure to break out your best stemware to serve your beverage in for that added touch of elegance. Not only will it be a memorable experience, but it will also create an ambiance of luxury and refinement.
2.
Rosé-Inspired Cocktails
Take your engagement party to the next level by creating unique cocktails for your guests. From the classic rosé spritzers to a fun rosé martini, there are plenty of delicious options to explore and include into your special day. These cocktails will not only add flair to the celebration, but will also cater to the varied palates of your guests. However, you'll ultimately want to create a cocktail that suits you and your partner's palates as your cocktail creation will remain a staple in your relationship for years to come. Here are our top three suggestions to help get you started:

Rosé Spritzer - Mix rosé wine with sparkling water or club soda for a light and refreshing spritzer. Enhance the flavors by adding a splash of elderflower liqueur or a few drops of aromatic bitters. Garnish with a twist of lemon or a sprig of fresh herbs.

Rosé Sangria - Combine rosé wine with fresh fruits like strawberries, peaches, and raspberries. Add a splash of brandy or a fruit-flavored liqueur, and sweeten with a touch of honey or simple syrup. Let the mixture sit in the refrigerator for a few hours to infuse the flavors before serving over ice.
Rosé Martini - Create a sophisticated martini by combining rosé wine with gin or vodka and a splash of dry vermouth. Add a few drops of rose water for an elegant floral note. Serve in a chilled martini glass and garnish with a rose petal.
Spicy Rose Margarita - Add a little spice to the festivities by combining tequila, rosé, fresh lime, and watermelon juice. Garnish with jalepenos for a kick of heat.
Lavender Rose Royale - Create a simple, yet classy cocktail by mixing rosé, fresh grapefruit juice, lavender simply syrup, egg whites and champage. Serve in your favorite champagne glasses for that added touch of elegance.
Enhance the culinary experience of your guests by pairing delightful dishes with the fruity flavors of your
Fleur de Mer Rosé
. The light and refreshing notes of the wine complement a wide array of foods, making it the perfect choice for pairing. Consider creating a dedicated grazing table where your guests can enjoy a versatile menu ranging from small bites to sweet treats-all carefully curated to seamlessly complement the floral and fruity notes of your rosé. For your main course, consider serving seafood, Mediterranean cuisines, light pasta dishes or French cuisines to create a harmonious blend of tastes that will leave your guests satisfied and impressed.
Sweeten the night with some rosé-infused desserts that will make for a boozy and fun addition to your engagement party. Whether you're handy in the kitchen or find baking to be a challenge, there are plenty of quick and easy dessert options you can make that will leave you and your guests wowed. For the best ways to incorporate your favorite rosé into your celebration, here are some of our dessert picks to help you transform the night:

Rosé Macarons - Create delicate and colorful macarons infused with a hint of rosé flavor in the filling. The soft and sweet macarons will complement the wine's floral notes perfectly.
Rosé Cupcakes - Bake light and fluffy cupcakes with a rosé-infused buttercream frosting. Top them with edible rose petals for a charming and Instagram-worthy treat.
Rosé Sorbet - Prepare a refreshing rosé-infused sorbet that can be served in individual cups or as part of a dessert bar. It's a light and palate-cleansing option for warm weather celebrations.
Rosé Mousse - Create a velvety and airy rosé mousse topped with whipped cream and a drizzle of raspberry sauce. It's a luscious and romantic dessert that will delight your guests.
Rosé Galettes
- For a fun and fruity pastry that will be a hit amongst your guests, try your hand at creating some delectable 
rosé-infused petite galettes
.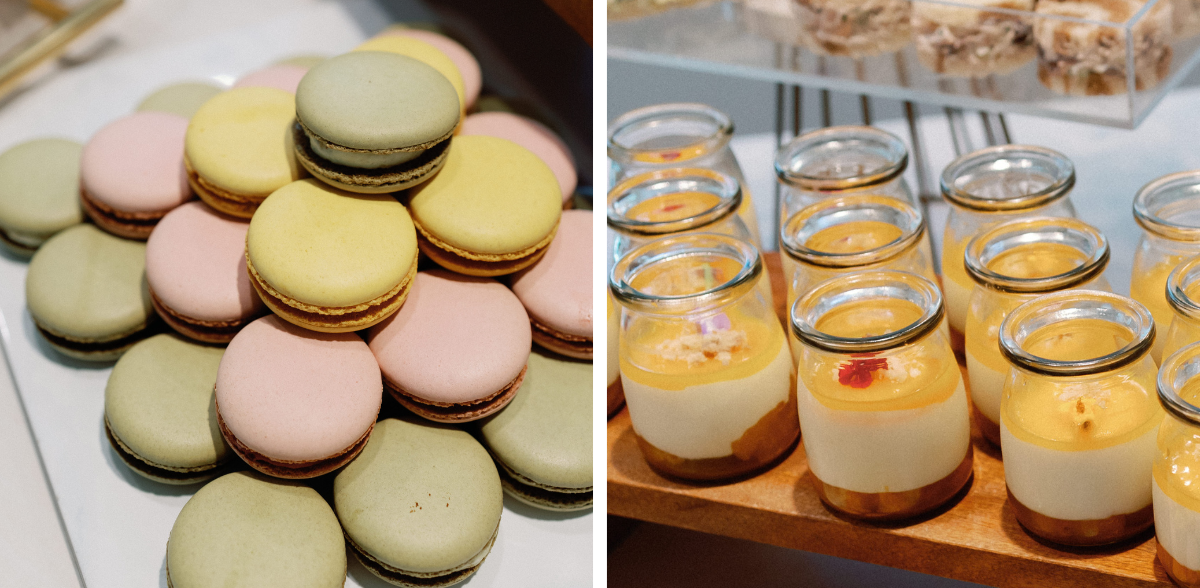 5.
Personalized Rosé Favors
Show your appreciation to your guests by gifting them personalized favors at the end of the night. It could be a bottle of rosé with a custom label or a bottle of rosé with a personalized wine glass etched with your names and the date of your engagement. Some additional trinkets you can gift alongside the bottles of rosé are stylish wine stoppers that come in various designs such as hearts, initials, or engagement rings, wine glass charms that guests can use to identify their wine glasses during the party and take home as a keepsake, or sleek and durable wine bottle openers engraved with your names or initials as a practical and stylish gift. These tokens of gratitude will leave a lasting impression on your loved ones and serve as a sweet reminder of the magical night they shared with you.
Incorporating
Fleur de Mer Rosé
into your engagement party is the perfect way to elevate the night by adding a touch of elegance and enchantment to your celebration. Your guests will find themselves effortlessly delighted by the captivating rosé welcome bar while also enjoying rosé-inspired cocktails throughout the night. The unique food pairings and rosé-infused desserts will certainly leave a lasting impression and might even have your loved ones asking for a recipe, and your personalized favors will be the ultimate tokens of appreciation to bring your Sip & Celebrate engagement party to a close. 
Make the moment Fleurish with Fleur de Mer Rosé!
Shop Now
Disclaimer: This article is sponsored by Fleur De Mer. While we adhere to strict editorial integrity, it is important to note that this is a paid partnership and this post may contain references to products from our partners at Fleur De Mer.