Ideas
8 Magical Master Bedroom Color Schemes to Rev Up Romance
Exclusive access to expert wedding planning advice and resources from top industry professionals.
Photo by Ike Kligerman Barkley, original photo on Houzz
Romance and bedrooms go hand in hand. Many of us in today's hectic world are looking for places to nurture one another, escape into fantasy, become stimulated by our surroundings or simply replenish our energy. A romantic master bedroom begins with selecting the right colors. READ UP:
The Best Beds for Two
There are a few variables to consider when creating your romantic bedroom. First, are you and your partner introverts or extroverts? Introverts require softer palettes with less contrast and fewer patterns. Extroverts require more pigment and stronger contrast to feel at ease. Extroverts tend to gravitate to the warmer, deeper shades of red, orange and yellow. Introverts will be best served by soft blues, greens, grays and lavenders. Red in any shade can stimulate feelings of desire and motion. Greens and blues can stimulate exploration and tranquility. START BROWSING:
See More Shades of Green From Sexy to Serene
The New York master bedroom seen here exudes strength, stability and safety. In this case romance is about feeling excited and stimulated. The natural materials used on a large scale create a sense of masculinity and permanence — the energy felt by the reddish-orange millwork against the rug in multiple shades of blue is pure electricity, giving off the energy of power and seduction. Orange and blue are complementary, so the combination is a good color dynamic to play with.
Photo by Ike Kligerman Barkley, original photo on Houzz
The romance in this master bedroom comes from its seductive and mysterious energy. While most of the finishes are in subtle, soft colors, each contributes to the overall feeling of a quiet seduction and nostalgia — all of the makings of a perfect romantic escape. Meanwhile, the warm tones contribute to the mystery and romance. The ceiling is a beautiful shade of pumice, with pink undertones, similar to Nebulous White by Sherwin-Williams. The painted walls are more a buttermilk shade that hints at yellow, similar to Westhighland White by Sherwin-Williams. The intricate mosaics that surround the fireplace and cover the headboard wall are a soft pearl gray, and appear to be made of actual mother-of-pearl. The blond wood floorboards project a warm glow throughout the space. The suspended pendants flanking the bed offer a flattering light. Don't we all feel most romantic when we are basked in a soft, warm, flattering light? And let's not forget the deep mahogany bed, which creates a comforting room within a room.
Photo by Jimmie Martin, original photo on Houzz
The color palette and architecture in this converted attic transport inhabitants to a romantic getaway. An epoxied floor in a beautiful warm white (similar to All White by Farrow & Ball) anchors the room. An original, soft, faded brick wall brings balance with its soft gray and lilac undertones. (Its color is similar to Olympus White by Sherwin-Williams.) These subtle warm and cool tones are what contribute to the excitement and nostalgia skimming across this romantic bedroom. The constant stream of daylight flickers around the space like a ferry, and three hanging crystal chandeliers complement it with their candlelight-like ambience.
Photo by Andrew Suvalsky Designs, original photo on Houzz
GET INSPIRED:
Decorating Ideas for Small Bedrooms
Here, the designer made brilliant use of an inset mirror headboard; it reflects the hot teal wall color to create constant stimulation. The optical illusion of a double mobile, reflected in the mirror, offers myriad shades of teal thanks to the light bounced around throughout the day. The teal wall color — a blue-green with quite a bit of yellow added, similar to Vardo by Farrow & Ball — is invigorating and unexpected. The teal allows its opposites in color terms, its complements, to be used for greater stimulation in the rest of the room. The pillow's orange shade is teal's exact opposite. The yellows and yellow-oranges, only one color away from teal's opposite, contribute to the sense of anticipation felt when someone enters this exciting bedroom. Furthermore, the space is beautifully balanced by the blond wood flooring, again complementing and balancing all the other colors.
Photo by Tucker & Marks, original photo on Houzz
Traditionally this look is more in keeping with the ideal of romantic bedrooms in the past. But that doesn't mean it doesn't work today. Louis XVl style is about extreme luxury, opulence, seclusion and feeling pampered. The coloring in this case is monotone. The walls are upholstered in soft celadon silk. The curtains and cornice drapes behind the bed are also lined in a soft celadon and gold. Each upholstered piece is designed to swallow you up, the only respite being the ivory ceiling (a color similar to Ivory White by Benjamin Moore). Even within the monotone palette, there are distinctly warm and cool undertones balancing out this luxurious room. The interesting blend of Italian and Chinese decorations also contributes to the romantic mood. The acoustics of the room — being in it probably feels like being surrounded by cotton batting — no doubt creates a personal cocoon with a safe, secure and romantic feel.
Photo by Group3, original photo on Houzz
This bedroom gives off feelings of nostalgia and sentiment through Raj Colonial style. Aside from being the combined Indian and British styles, Raj Colonial style was established out of necessity by people living in the hot and damp tropics. Today it is often the stuff of romantic getaways and aspirational living. White was the dominant color choice for this early style, as it does not absorb light or heat. Notice here how crisp and inviting the whitewashed walls appear against the deep mahogany doors and exposed beams. To achieve this look, try Simply White by Benjamin Moore. Sisal floor coverings, headboard, exposed beams, ceiling fans and dark mahogany detailing all set the tone.
Photo by Cornish Interiors, original photo on Houzz
Clean, crisp, modern, romantic — this master bedroom nods to Scandinavian design. Notice the beauty of its simplicity in style, colors and feeling. The palest of celadon-aqua on the walls (similar to Cabbage White by Farrow & Ball) shows up beautifully against the white ceiling (similar to Snowfall White by Benjamin Moore). The flooring is white oak with a dull oiled finish. The area that surrounds the custom wardrobe and four-poster bed sits comfortably on a ribbed ivory wool area rug. The light fixtures and upholstery all feature elements of the sea. A free-standing soaker tub is also a part of this suite, lending itself to long, romantic evenings.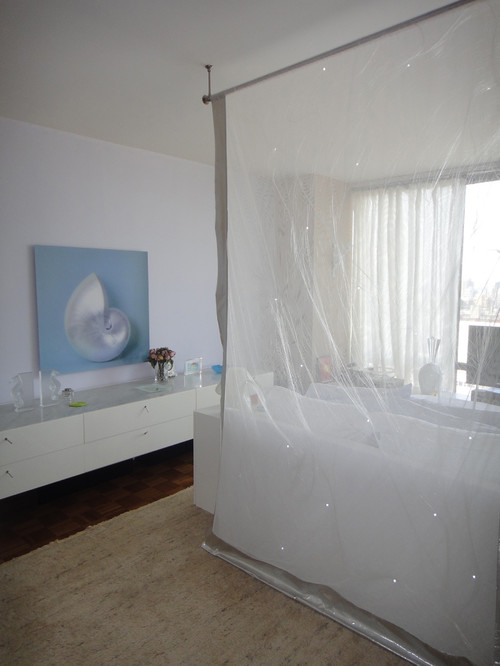 Gillian C. Rose Interior Design New York, original photo on Houzz
Here's a modern oasis in Midtown Manhattan that my colleagues and I designed. The art of seduction abounds. As you enter, you can see only partially into its inner sanctum, signaling mystery and intrigue. A custom fiber optic sheer tulle drape creates privacy. The fiber optic sheer lights up to look like a faint view of constellations. The lavender on the wall seen here (I Do by Fine Paints of Europe) is beautiful, but at night it can look too gray and seem too cool, so we painted the other three walls in a light coffee color (Coffee Light by Fine Paints of Europe) and the ceiling a soft white. The first two colors both have elements of red in them, and thus contribute to the feelings of desire. Meanwhile, the nautilus photograph, by Robert LeBeau, personifies eternal beauty and life.
- By Gillian C. Rose,
Houzz