Ideas
4 Tips This Floral Expert Learned While Planning Her Own Wedding
Collect, manage, and organize your wedding guest information for each event and track their preferences.
At Alice's Table, we live, breath, and sleep flowers. Over the past year, I've loved offering tidbits to readers including tips for working with your florist,
how to create pressed flower favors
, and
DIY decor ideas
. However, this time I'm writing to you from a different angle, as a bride-to-be!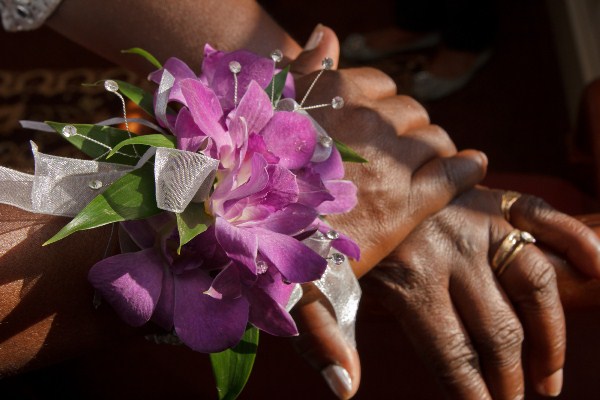 I got engaged in June and am planning my September wedding in Nantucket. It is such a different experience to be planning my own wedding rather than helping other brides! First, you enjoy all of the excitement and anticipation, and have so many big ideas that come to mind -- and then you have all of your family and friends sharing their excitement and ideas. (And drama if we are being honest!) Sorting through next steps can be a major challenge. Here is what has worked for me as I've gone through the planning process.
1. Get organized on Pinterest!
This might sound silly, but it is key! Create a board called Ideas and one called Wedding. Everything you like in the world of weddings goes onto your "Ideas" board. Pin away like crazy. Even if it is not totally what you think you want for your wedding, pin it to your ideas board if you like it. To be totally honest, I went through binges of pinning everything from welcome bags to shoes - you name it and there's a place for it on the Ideas board! My "Wedding" board then became the curated version of my Ideas board. I pinned the exact escort card board I want to mimic and the specific floral style I am going with for the big day. With this semi-obsessive way of organizing your pins, you don't lose any of the images you love by deleting them as you start to curate your vision. Sometimes a decor element you may have thought was a little out there in the beginning fits into the theme perfectly!
2. Figure out your budget.
This may seem obvious, but clearly
outline a budget
well before you get started. You'd be surprised by how many couples wing it, and the budget is one of the trickiest parts of planning your wedding. It requires some careful family conversations and a lot of thought. Once you have the big number nailed down - the hardest part is out of the way! Now you must divide up the budget into all of the line items. Find out
how much your venue
 and catering are going to cost and then pick your priorities from there. For me, flowers and music are the most important, but you might have "great Champagne" on your must have list. Once you divide out the costs of each item in your wedding - stick to it! Vendors are so happy when you come to them and say I have exactly X dollars to spend here. Also, you can pick your vendors much more easily with a clearly defined budget.
Photo by 
Rushina Morrison
3. My wedding Dropbox folder has saved my life.
Create a Dropbox folder for your wedding and share it with all key stakeholders - your husband-to-be, the MOB, your planner (if you have one), etc. This will save you so many unnecessary emails later… trust me! The Dropbox folder is a recent thing in my wedding planning experience, and I am loving it. No longer do I get emails from my mom asking for the guest list, or spend time searching for the contract I think I might have signed… but did I pay them yet? Eek! I created a folder that has subfolders for all Contract, Guests, Decor, etc. Now everything is all in one place and everyone has access to it. It also makes it easier to delegate. Now when my mom is talking to the caterer she has images, floor plans, and more right at her fingertips, and I don't get the panicked call while I am at work.
4. Simple flowers are the way to go!
With so much to plan and keep track of, keeping your floral vision simple is a fantastic idea! It doesn't have to mean your flowers won't be high impact, but rather that you should think about how you can execute your vision in the most straightforward way. Of course, you can achieve a soft, elegant look with peonies, two kinds of roses, dahlias, hydrangeas, anemone, orchids and protea - but you might be able to achieve the same vibe with a simpler bouquet of gorgeous peonies and some soft greens. This allows a few star flowers to really shine, and you're not driving yourself (and your florist) crazy trying to mix and match 10 different varieties. And peonies bring us to another important point -- seasonality! In today's world, where you can get blueberry's from California during a snowstorm in Massachusetts, it's easy to forget that your flowers are going to look best and last longest when they're in season. Sure you can have those peonies shipped in from overseas in January, but your mental state and wallet will thank you for choosing ranunculus for your winter wedding instead. Utilize that Pinterest board I talked about earlier to capture your vision, and then have an open, honest conversation with your florist about how to accomplish it simply, on budget, and with your specific needs and timing in mind.
Photo by 
Kelly Jean
The wedding planning process can be really crazy, but it doesn't have to be! I've found with a little organization, some helpful tech tools, a strong vision, and some honest prioritizing, you can make your planning experience run a lot more smoothly. In fact, as I write that, I realize planning a wedding and running a business aren't that different after all!  
Read on for more floral tips:
4 Flower Trends for the Fall Bride
6 Things No One Tells You About Wedding Flowers