You're Going to Want to Snap a Selfie With These Creative Photos Displays
If a picture is worth 1,000 words, then a photo display at your wedding is sure to get guests talking! Whether you're sharing sentimental photos of you and your sweetheart or
honoring loved ones who have passed
, photographs are a great way to add a personal and meaningful touch to your bid day decor. Here are some creative ways to display those pics throughout the ceremony and reception!
1. Create a rustic chic photo display. 
Tie those classic pictures 'round an old oak tree. Wrap decorative ribbon or twine around the trunk of a tree and adhere pictures using clothespins or ribbon. Use a mix of vintage and modern photos for a unique look that highlights all the generations you're celebrating.
Feather and Stone Photography
2. Use photos to make a table runner.
Print multiple copies of your favorite family photos (or wedding photos from generations past!) onto card stock or photo paper; then trim and glue the copies together to create beautiful table runners. (Hint: turn the photos to black and white, sepia, or a blue scale before printing for a stylish monochromatic look!) Guests will love looking over the photos and sharing stories of the people and events pictured.
Photo via
Pinterest
3. Create a balloon chandelier.
 Tie photos to helium-filled balloons and -- if the ceilings aren't too high -- let the balloons float upwards. Photos will be at eye level, so they'll catch your guests' attention. You can also let guests take the balloons (and photos) home as a favor.  
Photo from OhToBeHappy
4. Use Polaroids as place cards.
Create one-of-a-kind table settings by placing a photo on each plate. We love the idea of giving each table a theme -- like wedding photos, birthdays, baby photos, or school pictures -- and then using different family photos at that table's settings. You could also place a picture of you/your significant other and the guest at each spot, and write them a sweet note on the back.
photo: aok photography
5. Carry a photo memento. Place a special photo in a locket to wear on the big day, attach it to your bouquet, or make it part of the groom's boutonniere. It's a sweet way to keep your loved ones in your heart even if they can't be at your wedding.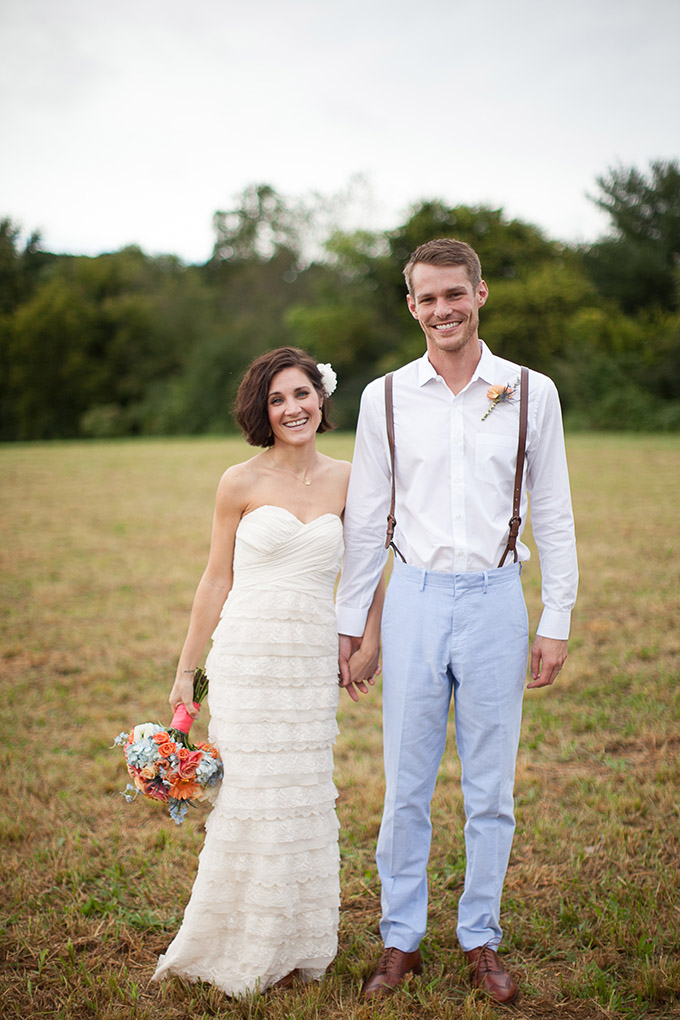 Photo by: Ashley Seawell Photography 
Browse more pretty picture inspiration:
How to Make Sure You Get the Wedding Photos You Want
What to Do If You HATE Your Engagement Photos
9 Snapchat Filters That'll Make You Wish The Photos Didn't Disappear