Ideas
Creating the Ultimate Grazing Table for Your Bridal Shower: Perfect Pairings with Fleur de Mer Rosé
Customize your own wedding checklist with due dates, personal reminders, and timelines for all your wedding to do's.
If you're on a mission to host the ultimate bridal shower that'll leave your guests absolutely wowed, then we've got a game-changing addition for you: a classic, yet sophisticated grazing table! This delightful spread is not just about the delectable cheeses, charcuterie, fresh fruits, and dips, but it serves as an experience that fosters connection and social interaction among your cherished guests. To further elevate the occasion and make the moment fleurish, you'll want to create the perfect pairings between your menu, wine, and décor with Fleur de Mer rosé at the heart of it all.
Create Iconic Toasting Moments
No bridal shower is complete without a celebratory toast to the couple and to those who will share their special day with them. As you toast to your engagement and more, what better beverage to have on hand than
Fleur de Mer rosé
? With a swirl of the glass, Fleur de Mer rosé unveils a symphony of inviting aromas - white peach, citrus, wildflowers, and herbs, reminiscent of the serene coastal shores and fragrant hillsides. The exquisite fruit-forward rosé showcases flavors of cherry, fresh raspberry, and honey crisp apple—perfectly complementing any menu while catering to every palate.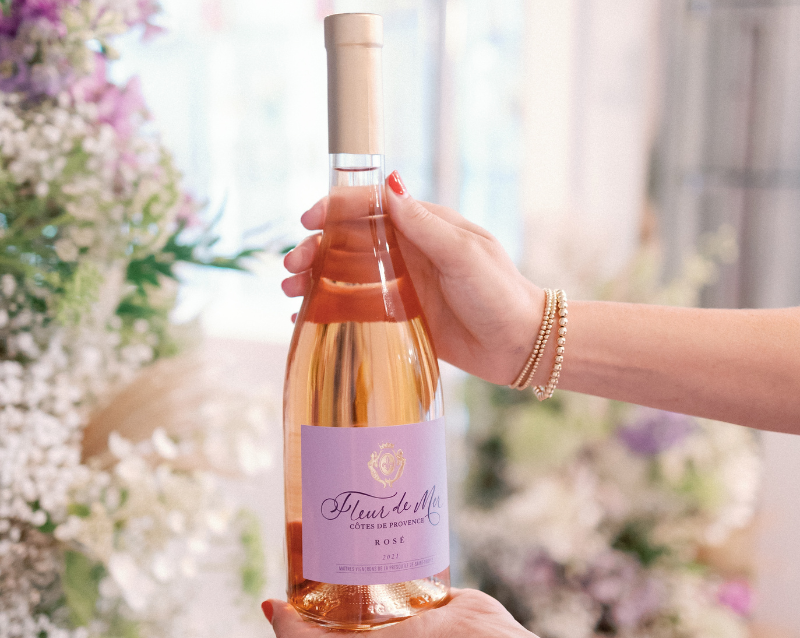 Build a Mouthwatering Menu
Your menu will be the focus of your grazing table which means you'll need to select quality foods to truly elevate the experience. To get things started on a high note, prepare an unforgettable Living Crudites Station, where a delightful assortment of seasonal baby vegetables sits atop quinoa "soil," just waiting to be dipped into roasted pepper hummus or green goddess dressing. If you want to add a more adventurous twist, pair them with whipped feta dip and ripe strawberries, and your guests will be in for a treat! This dish pairs exceptionally well with the rosé's citrus, wildflowers, and herbaceous notes playfully complementing the veggies' zesty flavors, while the strawberries bring out the wine's luscious fruity undertones.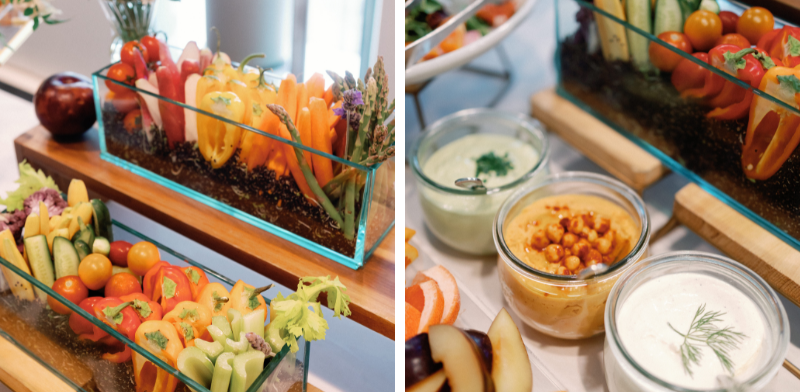 Next, indulge in the Summer Fruit + Cheese Station, a symphony of imported cheeses and colorful tropical and local fruits drizzled with golden honey. Fleur de Mer's ripe raspberry, wild strawberry, and crushed watermelon notes harmonize elegantly with the cheeses, making every bite a celebration of summer. Savor the nostalgia of Mini Tea Sandwiches, featuring classic egg salad, chicken Waldorf, and turkey with brie and caramelized pear jam. The wine's white peach, and wildflower notes offers a tasteful balance to these delicate sandwiches, served on milk bread and marble rye.
For a burst of vibrant flavors, indulge in the Fennel Orange Salad—a fresh mix of frisée, red endive, arugula, marcona almonds, watermelon radish, and Manchego cheese, dressed in a lively citrus-white balsamic vinaigrette. The rosé's citrus and wildflower aromas accentuate the salad's refreshing notes, creating a work of art on your plate. For the citrus lovers, a Mandarin Orange Mousse Parfait will be a beautiful addition to the dessert section. The layers of citrus-infused mousse and almond crumble beautifully complement
Fleur de Mer's
 citrus notes, making each spoonful a moment of pure bliss.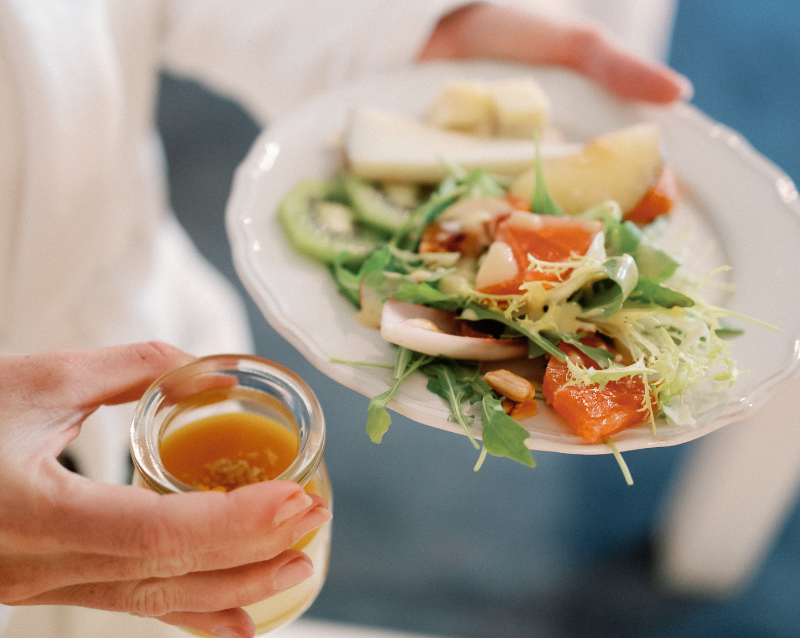 And of course, no grazing table is complete without Seasonal Macaroons. Lemon, raspberry, and pistachio flavors bring decadence to every bite. The rosé's citrus and lavender notes take the macaroons to a whole new level of delight. Pairing perfection achieved!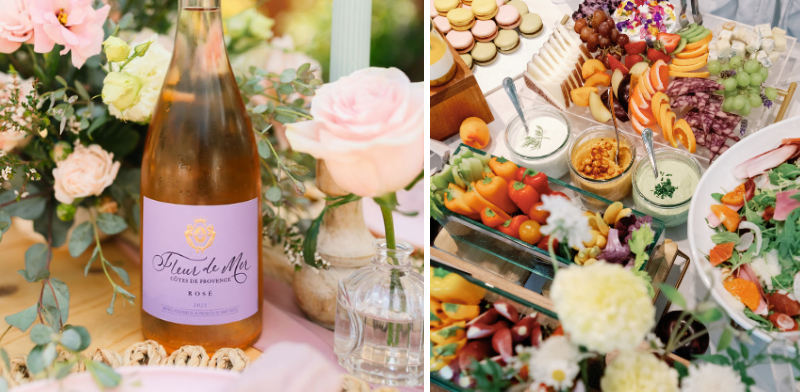 Nail Your Decor
Creating the perfect grazing table for your bridal shower involves so much more than having a showstopping menu. To truly impress your guests and elevate the dining experience, careful attention to decor is paramount and can be easily achieved. Start by incorporating elements like elegant table linens, tasteful floral arrangements, and decorative accents that match your theme. Consider incorporating unique stemware that will add dimension to your table while also setting up trays and boards at different heights. Creating cute labels is a great way to let guests know what pairs best with the rosé as they peruse.
For a visually stunning and Instagram-worthy backdrop, set up a beautiful floral wall adorned with blooms in various shades and create a simple rosé cart lined with glasses and bottles of Fleur de Mer. The harmonious blend of the colorful floral wall and the elegant display of rosé bottles will create an enchanting atmosphere and leave your guests in awe.
Express your gratitude to your beloved guests by presenting them with unique and thoughtful favors. Consider putting together a personalized gift package that includes a bottle of
Fleur de Mer wine,
a lavender sachet, and a heartfelt thank you note. The delicate scent of lavender will complement the wine's aromas, and the thank you note will show your appreciation for their presence on your special day.
This content is sponsored by Fleur De Mer