Ideas
Cheers to Forever: How to Incorporate Rosé into Your Wedding Weekend
Discover, manage, and track all of your vendor communication, contracts, and timelines in one place.
With your big day just around the corner, it's impossible not to get swept away in the dream of each joyous detail - from your heartwarming welcome party to the euphoric reception that awaits. It's a moment to treasure, surrounded by the love and warmth of your dearest ones and the promise of forever with your partner. But guess what? We've come up with a few fun ways to make your celebration even more enchanting by adding rosé into your wedding festivities! The unique addition of rosé is the secret ingredient that will add a touch of romance and sophistication to every single moment, turning your wedding weekend into an extraordinary experience. From an unforgettable welcome party to the grand finale, we're here to guide you on how to infuse your celebration with the timeless charm of
Fleur de Mer rosé
.
Mesmerizing Rosé Pours at the Welcome Party
It's no secret that first impressions matter the most so when it comes to your welcome party, you'll want to woo your guests from the very start. As you welcome your loved ones, treat them to a delightful pour of rosé to get them excited about the events to follow. Set up a gorgeous rosé station ahead of time adorned with charming glasses, chilled bottles of Fleur de Mer rosé, and tasting cards that will help guests explore the unique characteristics of the wine even after the first sip. As they indulge in the delicate flavors of your exceptional choice of rosé, they can spark conversations with other guests about their own personal tastes and opinions.
A Toast to Love While Getting Ready
When it comes to making toasting moments extra special on the morning of your wedding, it's all about creating a memory that'll warm your heart for a lifetime. Gather your bridal party and family around a beautifully arranged rosé station to pass around glasses of 
Fleur de Mer rosé
. This delicate and fragrant wine is the perfect way to add a touch of romance and elegance to your busy morning especially as you prepare for a toast. Personalize the toasting experience with custom wine glasses or quirky glass charms for each guest. Don't forget to pen down heartfelt toasts and perhaps choose a designated toastmaster to lead the way. As you clink glasses, take a moment to appreciate the love and support surrounding you on this momentous day and thank them for everything they have done for you leading up to your special day.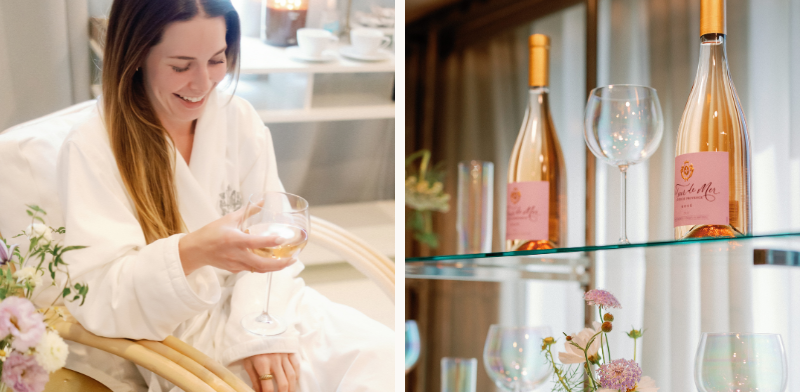 Elevate the Ambiance with a Rosé Tower
If you want to add a touch of whimsy to your wedding celebration, then you're going to want to consider adding a rosé tower to your festivities that will leave your guests in awe! We've all seen how beautiful those iconic champagne towers are, but recreating it with wine glasses can be just as stunning. Creating a rosé tower is also a delightful way to enhance the ambiance of your special day. Arrange the glasses in a tiered tower, like a beautiful centerpiece, using elegant acrylic or glass stands. Consider incorporating some greenery or delicate flowers to add a touch of romance and elegance. As the evening unfolds, invite your guests to serve themselves from this breathtaking display, creating a memorable and interactive experience. The rosé tower not only adds a visual feast but also allows your guests to savor the diverse flavors and nuances of the wine while also serving as a great 'photo op' for that 'Instagram-moment'.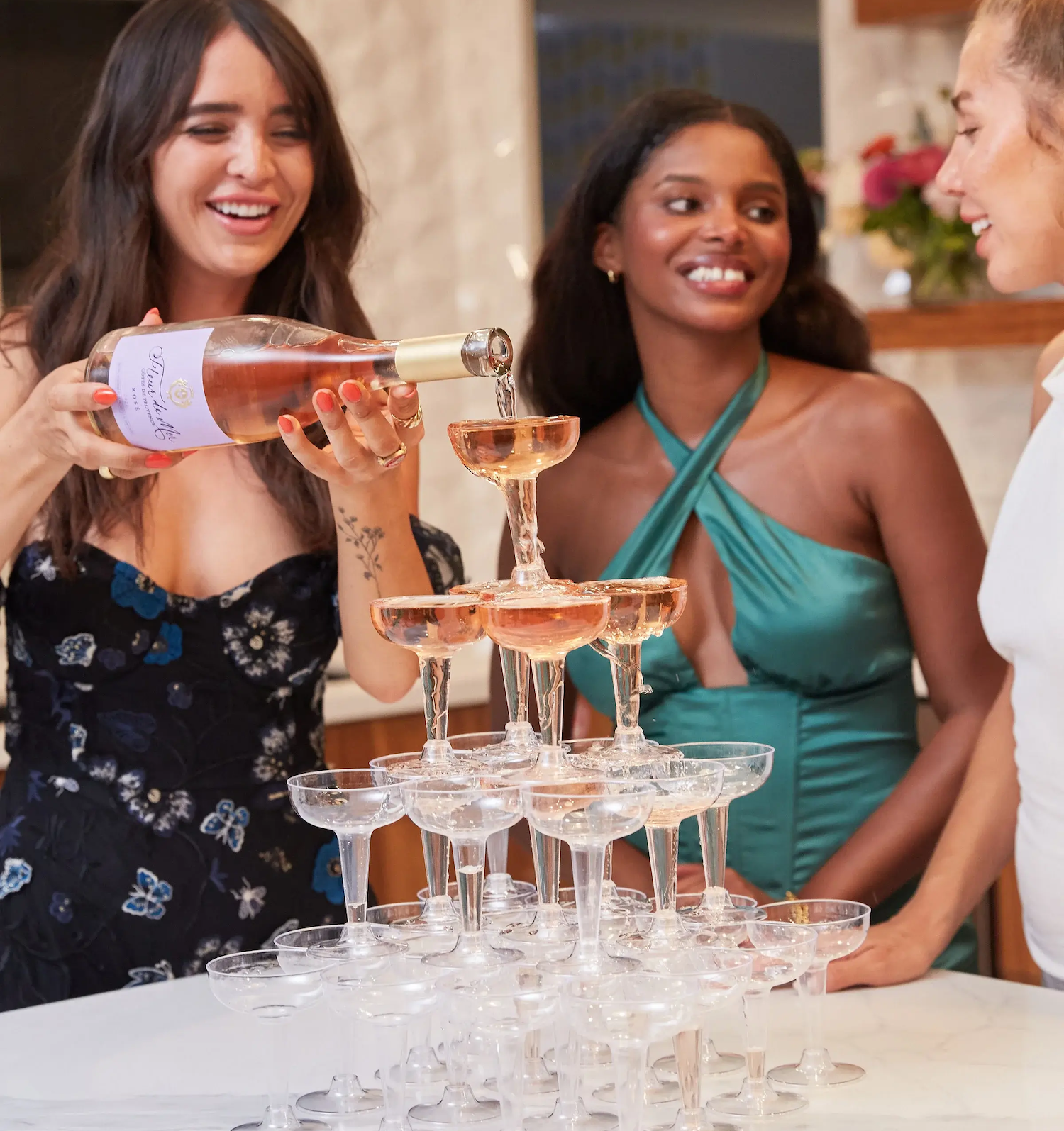 A Memorable Rosé Signature Cocktail
Creating your very own signature cocktails is a great way to make the moment truly memorable. With a crisp and refreshing rosé as your base, you can create an endless variety of unique cocktails that suit your taste and aesthetic. The foundation of any great rosé cocktail is the quality of the wine itself so you'll want to be sure that you chill a few bottles in advance. For a refreshing and simple twist, add some fresh fruit like sliced strawberries or juicy watermelon to your glass of
rosé
. If you're looking to add a bit of zing, adding a splash of elderflower liqueur and a squeeze of citrus will do the trick. Or, you can try your hand at a sparkling rosé cocktail by topping your rosé with some bubbly soda water. Remember, the key is to experiment and find the perfect blend that suits your taste. Having a variety of cocktails will also ensure that there is something for everyone to enjoy regardless of their preferences.
Thoughtful Rosé Favors
Before it's time to bid your guests farewell, consider gifting them something special that will remind them of your special day. For a gift that can be thoroughly enjoyed after your wedding festivities are over, gift your beloved guests their own individual bottles of rosé as a wedding favor. Personalize the bottles with you and your spouse's names and wedding date and add a customized sachet of lavender. These enchanting sachets, infused with the calming fragrance of lavender, will perfectly complement the aroma of the rosé creating a memorable multi-sensory experience. Embodying love, joy, and tranquility, these lavender-scented keepsakes will not only be a great wedding scent, but will serve as a cherished memento, reminding your guests of the beautiful union and the enchanting celebration they were a part of. 

From the first toast to the final farewell, Fleur de Mer's captivating
rosé
will weave its magic through every moment of your wedding weekend. With its delightful flavors and unwavering charm, this exceptional wine promises to elevate each celebratory occasion into a truly memorable and joyous experience. Whether you're sharing a toast with your friends and family, creating a show stopping moment at your reception, or sending your guests off with a special keepsake from your special day, the possibilities when it comes to intertwining your favorite rosé into your wedding weekend. 
Make the Moment Fleurish with Fleur de Mer
Shop Now
Disclaimer: This article is sponsored by Fleur De Mer. While we adhere to strict editorial integrity, it is important to note that this is a paid partnership and this post may contain references to products from our partners at Fleur De Mer.